It's been almost two months since PAUSE went into effect in New York state. And since then, so many of us have moved our lives indoors with our pets and houseplants by our side as we patiently wait out the rest of quarantine (however long that is).
Without the ability to go to bars, restaurants, or public gatherings, (a fundamental part of NYC life for most), this unintentional social experiment has New Yorkers really missing their local places, and makes them even more eager to resume their regular routines as soon as this is all over. But for now, all we can do is daydream. We tapped some of our favorite New Yorkers to share their fantasy "first day back" plans -- aka the very "New York things" they can't wait to do when quarantine is over.
So compare notes with your own planned itinerary, and stay strong and healthy as we all hang tight together until then.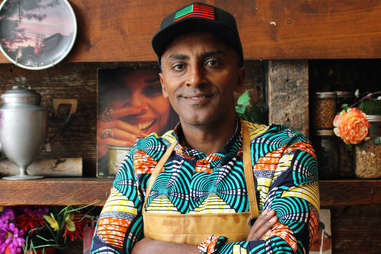 A picnic lunch in Morningside Park and date night in Harlem
"First up, I would head over to Lolo's Seafood Shack to grab some delicious food for a picnic lunch with my wife and son at Morningside Park where he can run around and play. They have amazing seafood, of course, but it's the jerk ribs that I am always craving there. Later on, I'd love a date night out with my wife starting with a glass of wine over at Vinateria, then go on over to Melba's where she always makes it feel like you're coming home. We'd get her amazing crab cakes to share to start and I can't resist slow braised short ribs and collards with smoked turkey. Then there is no better way to close out the night than listening to Rakiem Walker and his band back over at Red Rooster Harlem." -- Marcus Samuelsson, Chef/Owner of Red Rooster, Author, and TV Personality
Church, a stroll with the family, and drop by a bookstore
"My perfect day will hopefully include our usual Sunday routine before. It would start with Sunday service at Madison Avenue Baptist Church, my church for several years now. Then brunch with my husband and son, Moses, followed by a nice walk, dipping into book stores and boutiques." -- Tamron Hall, host of the "Tamron Hall" syndicated daytime talk show
Museum hopping followed by bar hopping in the Village and BK
"I am a big fan of art, and was a regular museum goer when I first moved to NYC a decade ago. Work and life got busier, and this eventually fell to the wayside. With that said, it was sad to see The Met close. I would go there, see the Greco Roman galleries, and works by Valesquez, Watteau, and Balthus, followed by a trip to The Frick. After that, a stroll through the West Village, to pop into Dante for a mini Martini - with a good friend of course (viewing art is a solo thing for me but having drinks isn't). On the way home, I'd stop at Grand Army for a glass of bubbly." -- Shannon Mustipher, Bartender and Author of Tiki: Modern Tropical Drinks
Low-key brunch on the LES and then gelato with the kids at Tompkins Square Park
"I think one of the things this pandemic has taught us is to appreciate the simple things that we used to take for granted. I can't wait to have a typical, low-key Saturday in the city with my wife and kids. We would start at Supermoon Bakehouse and sit down inside for a bunch of croissants and doughnuts and talk like normal people again with the friends we've made there. We always go to a playground when it's nice out, so we would go to Tompkins Square Park after, one of my favorites since it's so lively and it's near lots of good food. I would take a break from pushing the kids on swings to walk a couple hundred feet to the cramped little Superiority Burger and grab a few cups of gelato to bring back to the park." -- Mike Chau, Instagrammer, Food BabyNY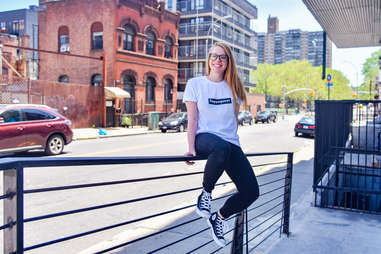 LES food crawl, hug in the streets, and walk over the Williamsburg Bridge
"My day will be filled with an abundance of meaningful embraces interrupted only for the best local bites. After I pick up an iced coffee from Win Son, I'll excitingly run up to my girlfriend for a long hug and then we'll frolic on over to the Lower East Side for a slice of Scarr's Pizza, a bowl of Kopitiam's Nasi Lemak, and a scoop of banana ice cream from Morgenstern's. Then we'll walk over the Williamsburg Bridge, catching a glimpse of the city on our way to Domino Park for an afternoon picnic with all of our best buddies. The day ends with a raspberry sour at Grimm Artisanal Ales." -- Gabrielle Lenart, Baker and CEO/Founder of This Queer Kitchen
Eat in Greenwich Village and soak up its energy
"I look forward to welcoming students back on campus, building personal connections, participating in university events, and enjoying that back-to school excitement and creative energy. I also look forward to in-person conversations over leisurely meals and beverages in my Greenwich Village neighborhood and elsewhere in the City, including Crispo. I derive energy and inspiration from the people around me, and even though we've adapted to a virtual world in this moment, engaging one-on-one and making personal connections is something I truly miss."-- Dr. Dwight A. McBride, President of The New School
Jump into a mosh pit in any of the five boroughs
"When it's safe to do so, I am going to find the nearest mosh pit (literally anywhere) and jump right in." -- Nicolas Heller, Instagrammer, New York Nico
Have friends over and cook for them
"I cannot wait to be able to cook for friends and invite them into my restaurant for a proper meal, show them the space, with some nice background music and intimate chats in person. Our restaurant opening was put on hold so I can't wait to see the dining room light up again with some life form other than mounds of to-go boxes. And I definitely can't wait to visit friends back in their establishments and to support local businesses." -- Helen Nguyen, Chef/Owner of Saigon Social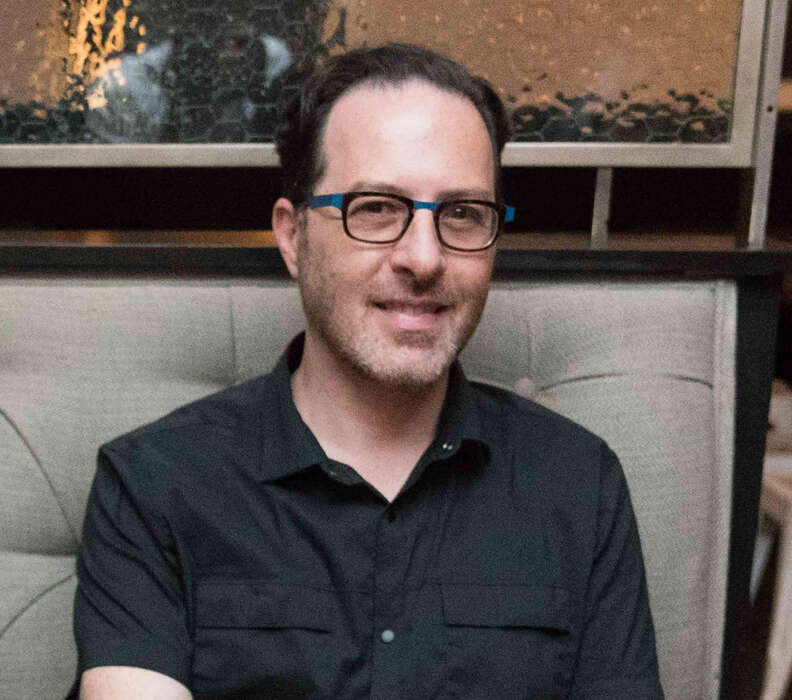 Grab a slice, shoot some mezcal, and head to my favorite bar for a nightcap
"I would head to Knickerbocker Bar & Grill for French Onion Soup and a shaken Manhattan, with just the right amount of ice chips. After that I would grab a slice of pizza at Baker's, enjoying it on a flimsy paper plate as I head further into Alphabet City. Next stop, my mezcal bar, The Cabinet. I would stare at the hundreds of bottles of mezcal, and drink some! Finally, off to Lucy's bar to check on Lucy herself and finish the night with a bottle of Zywiec and a shot of Krupnik." -- Greg Boehm, CEO/Founder of Cocktail Kingdom and Hospitality Group
People watch on the subway, eat in different boroughs, and late night dancing
"I plan to buy an unlimited monthly Metrocard again and spend the entire day being on the subway or inside a restaurant. I'd first get on the D Train from where I live uptown, and snag one of those corner seats by the window to do some people watching out of it. I'd take it all the way to Brooklyn and marvel at the East River and Brooklyn Bridge as the train rolls over the Manhattan Bridge and get off at Industry City to eat at Ejen and Taco Mix. After a full day of subway swipes and eating, I'll end up at Nowhere to dance it all off." -- Tae Yoon, New York City Local Editor at Thrillist
Sign up here for our daily NYC email and be the first to get all the food/drink/fun New York has to offer.