The annual NYC concert to end all annual NYC concerts is going down with headliners like Drake and The Black Keys.
You're locked in a room, with a zombie, and you need to escape. But, you know, it's a game.
5th Ave opens up to pedestrians and tons of small concerts from jazz bands and 10 of NYC's best museums become free to all goers.
Join in the festivities.
A ton of the Lower East Side's best restos (Meatball Shop, Black Tree, Pies 'n' Thighs...) and vendors are coming out for this celebration of the neighborhood. Also: there will be giant Jenga.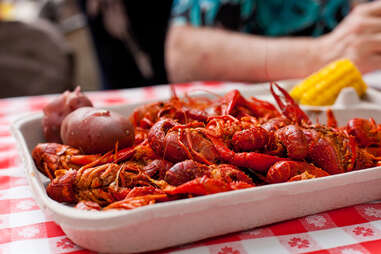 Taste all the local booze that's fit to drink at this fourth annual event.
Drink all kinds of beer in a zoo.
Spend the day downing 2lbs of crawfish, plus there's a DJ and NOLA-style marching bands.
Thrillist's Best Day of Your Life is back and it's taking over tons of bars on the Lower East Side. There'll be piles and piles of oysters, whiskey flights, breakfast cereal martinis, pizza, boozy cupcakes, and a shitload of other awesome stuff we're not telling you about yet.
Go out to Coney Island and see all the (probably naked) craziness that goes along with this NYC institution.
NYC's first-ever country music festival is happening, here's your excuse to wear that cowboy hat.
Every Saturday throughout the summer MoMA PS1 is bringing back their banging courtyard parties.
Described as "Fight Club meets Wrestlemania" but for cheese, this is a killer party and a killer chance for you to eat a bunch of cheese.
There's plenty of events celebrating throughout the month, but it all culminates with this.