Everything Fun You Can Do in NYC This Weekend
Plus, a famed bakery launches brunch, nerd trivia night, and a lively Chinatown night market.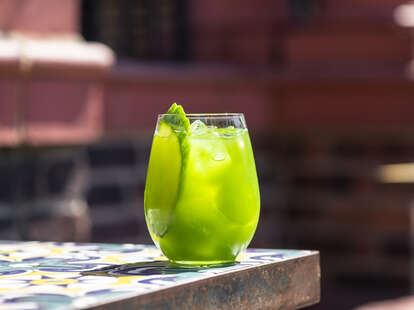 The ongoing COVID-19 pandemic continues to fluctuate rapidly and NYC currently is experiencing a rise in infection rates due to Omicron variants. If you're venturing out, triple-check safety protocols and be safe out there.
With COVID cases sadly on the rise again, we know we're all feeling a little frustrated. But there's good news: We still found plenty of actually fun and safe activities for you to do this weekend. Whether that involves taking a dip in a brand-new rooftop pool or rocking out to a music festival in Central Park is all up to you, but we've got the details on both (and much more).
Read on for everything fun you can eat, drink, and do this weekend in NYC. And for even more activities, make sure to check out all of the city's exciting new restaurant openings and our neighborhood guide to DUMBO, Brooklyn.
Weekend-long (until sold out)
Bed-Stuy
We really shouldn't have to sell this one too hard: Fan-Fan Doughnuts and Guittard Chocolate Company have joined forces this weekend for their second annual Chocolate Doughnut Festival. Before you dash off to grab pastries, though, here are a few more details: There will be many donuts, of course, in flavors like Starry Night (chocolate caramel); as well as owner Fany Gerson's signature Fan Fans (similar to an eclair); and plenty of loaded sundaes, like the Snowy Mountain, made with mint ice cream, donut tres leches, hot chocolate sauce, whipped cream, and candied rosemary.
Cost: Donuts from $4
Harlem
Weekend-long
Until this weekend, there was not a single fast-casual salad spot in all of Harlem. But for everyone who loves a good Thai Chicken Crunch, you're now in luck: Just Salad opened its first location on 125th St. this week. To celebrate, every person who orders a salad in-store through this Saturday will pay only $5. And if you've got dietary restrictions, never fear: the store has vegan, keto, gluten-free, and paleo options available.
Cost: $5
Friday, May 20, 7 pm
Chelsea
The only thing New Yorkers love more than a good trivia night is showing off our deep knowledge of obscure subjects. And now you can actually combine both, courtesy of Nerd Nite, returning to Slate this Friday night. The event will kick off with a few rousing rounds of trivia, followed by informative (and quick!) presentations on topics like The Rise and Fall of the Atari Empire and Is Beginner's Luck Real? Stick around after to play Slate's slew of games like mini-bowling, giant Pac-Man, and pool.
Cost: $16 a ticket
Weekend-long
Murray Hill
We are finally in full-on rooftop season, which is why we're delighted that one of our favorite sky-high watering holes is back. Empellon Al Pastor Rooftop and Bar at Pod 39, however, has been completely reimagined from its previous incarnation. The draw here now are the killer margaritas, from the Classic made with Pueblo Viejo Blanco, to the refreshing Frozen Coconut. And of course, don't miss the tacos: the Al Pastor is one of the best versions in the city.
Cost: Cocktails from $15
Friday May 20, 8 pm
Chinatown
As we all know, Chinatown has suffered from a lack of foot traffic since the start of the pandemic. This weekend, you can do your part to keep the neighborhood thriving by swinging by the Chinatown Night Market event, sponsored by Think!Chinatown. The nighttime festival will feature AAPI vendors selling traditional crafts, an energetic drumming performance from Soh Daiko, sugar painting artists, treats like mochi donuts, and most importantly, create a safe public space for the community. And to continue to support the area's local businesses, check out Yu & Me Books and other essential AAPI-owned businesses across the city.
Cost: Free to attend
Saturday, May 21 and Sunday, May 22
Upper East Side
While Breads Bakery is a perennial favorite for their famed babka, as all pastry lovers know, pretty much everything there is best-in-class. And this weekend—for the very first time—the brand tries their hand at a true New York classic: weekend brunch. Hungry diners at the UES location can order a giant brunch board, which features a variety of spreads and dips, fresh-baked breads and pastries, veggies, and your choice of a scrambled egg sandwich or tomato-filled shakshuka.
Cost: $60 for a brunch board for two
Saturday, May 21, 12 pm
Long Island City
Unlike our West Coast counterparts, we may not have backyard pools, but we also don't have to clean them. Instead, we get to day drink at pool clubs like LIC's brand-new The Summer Club, which kicks off its inaugural season this Saturday. The opening day party will include DJ sets by DJ Laidback Luke and Vinny Vibe, a drinks menu with eight different frozen cocktails, and private poolside cabanas with a rooftop lawn.
Cost: Tickets from $50
Saturday, May 21, 4 pm
Central Park
To put it lightly, we've all seen better years than the last two. And if your mental health is not the best, you're not alone. This weekend, you can take steps to begin your healing process and jam out to live music during Sound Mind Live's Fourth Annual Music Festival. The show, which features headliners Cold War Kids and Big Boi, will also have information and activations on mental health resources, suicide prevention, and self-care. Even better: The festival's ticket sales will benefit the National Alliance on Mental Health.
Cost: Tickets from $40
Sunday, May 22, 7:30 pm
Gowanus
Sometimes, you just have to laugh so you don't cry, right? The attacks on abortion care have certainly elicited plenty of emotion, but this Sunday, you can channel that despair and rage into fundraising and belly laughs. Bro v. Wade is a comedy show at The Bell House hosted by comedian Joyelle Nicole Johnson and features talent like Dave Hill and Dean Obeidallah, with proceeds going to the Abortion Access Front. AAF works to destigmatize abortion by using humor, and to expose anti-choicers working to destroy access to reproductive rights across the country.
Cost: Tickets from $40