If you got stuck in your co-op's elevator during last Saturday's blackout, you're about to have a way better weekend. (Unless, of course, the predicted nearly-100-degree high shorts the city's ancient power grid again). If you found yourself outside when the lights went out, though -- listening to an impromptu Carnegie Hall concert, or connecting with strangers as you walked back home across the bridge -- you got to experience that New York magic that just can't be planned. 
While we wait for de Blasio to give up on winning over the good people of Iowa and come back to fix Con Edison, we've got a lot to keep us occupied -- in the light, or in the dark. This weekend, you can dance to summer hits of the '80s and '90s, celebrate the 50th anniversary of the moon landing, or try every flavor at an ice cream social -- we've rounded up everything you absolutely have to eat, drink, see, and do.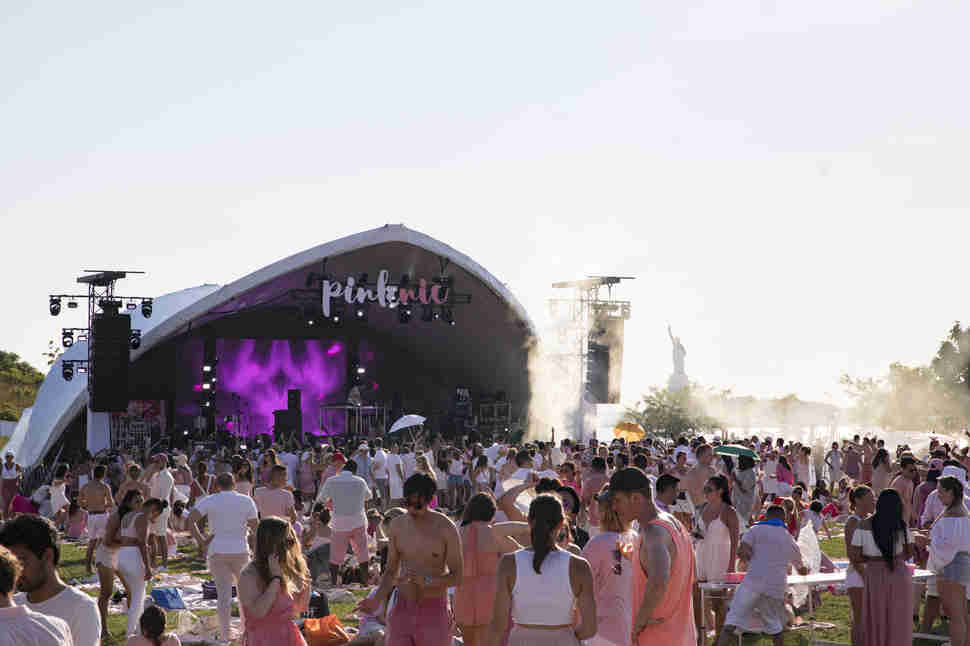 Friday, July 19 - Saturday, July 20
Randall's Island Park
With performances by Mark Ronson and Chromeo and food from NYC-favorites like Roberta's and Van Leuween, the Pinknic is a festival inspired by the summertime bliss of rosé. Put on your finest pink-and-white outfit (trust me, you'll stick out like a sore thumb in an LBD) and head to Randall's Island, where the lawn will be filled with thousands of fellow rosé enthusiasts. A ticket includes a souvenir Pinknic wine glass, access to the food and drink gardens, and plenty of Instagram pic opportunities. 
Cost: GA tickets start at $95; food and drinks available for purchase
Friday, July 19
Gowanus
The Bellhouse is hosting Music Video Time Machine, which gets the dance floor going with fan-favorite -- and long-forgotten -- music videos from the '80s and '90s. This party is summer-themed, so expect lots of pre-Y2K beach bods on the big screen. Music Video Time Machine is produced by music video historian (yes, it's a job!) Stephen Pitalo, so you'll have a blast whether you're a film nerd or just there to dance the ass off of your vintage mom jeans. 
Cost: Free to enter, drinks available for purchase
Weekend-long
The Metropolitan Museum of Art
This weekend marks the 50th anniversary of the Apollo II moon landing. The Metropolitan Museum of Art is celebrating America's incredible achievement with "Apollo's Muse," a collection of art inspired by that big hunk of Swiss cheese hanging above us. Including portraits of the USSR's ill-fated canine cosmonauts and Galileo's sketches of the moon, the exhibit might just make you want to join the Space Force. (For a really good time, take your Flat Earther friends). 
Cost: Adult admission is $25; pay-as-you-wish for NYS residents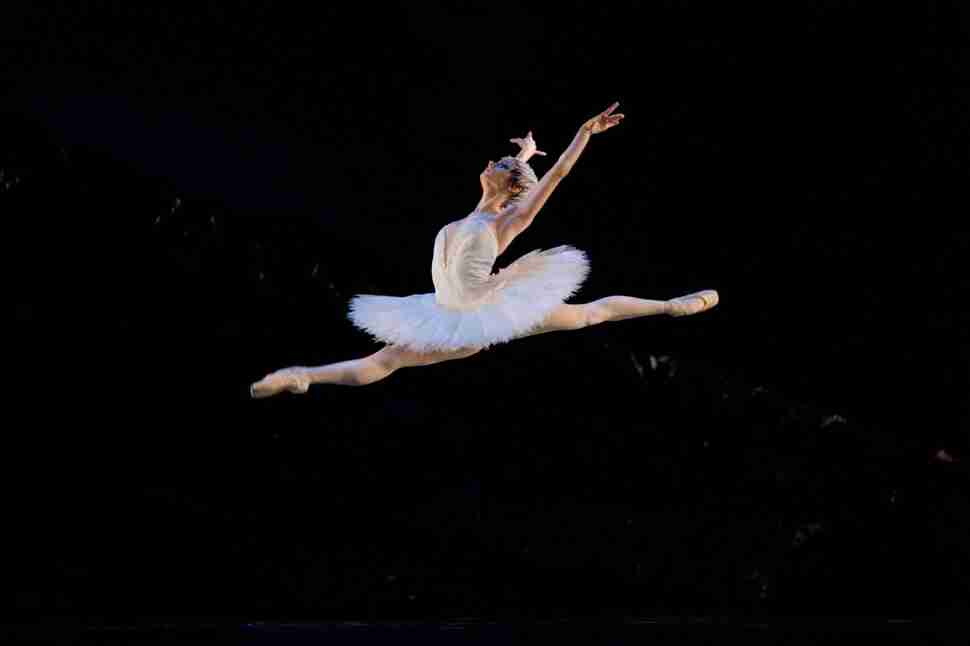 Weekend-long
Chelsea
Ballerina Maria Kochetkova -- who was a principal dancer at American Ballet Theater and the San Francisco Ballet -- is back in New York to showcase a performance of her own at The Joyce Theater. Works from William Forsythe and San Francisco Ballet's Myles Thatcher will be joined by conceptual artist Jérôme Bel's vision of Kochetkova in a brand-new solo. The Joyce Theater was founded for dancers, by dancers, in order to support this kind of out-of-the-box work. 
Cost: Tickets start at $71
Saturday, July 20
Lower East Side
To celebrate Ice Cream Month, Hester Street Fair -- the Lower East Side's summer-long sidewalk festival -- is hosting an ice cream social. For $10, you can sample scoops from the city's top creameries, then cast your vote for the best of the best. In a city filled with contenders (and pretenders) for the ice cream throne, your opinion might be the deciding factor. Once you satisfy your sweet tooth, have a bite from Empanada Papa or Mixto Tacos, then explore the rest of the street fair while they tally up the hanging chads.  
Cost: $10 for a vote and 2-ounce ice cream samples
Saturday, July 20
Coney Island
Down by the Riegelmann Boardwalk, you'll be having some fun… Jersey-born band The Feelies, fresh off a reunion, will be headlining the Coney Island Music Festival; they'll be joined by Bane's World and Los Wilds. If you get too sweaty singing along in the summer sun, you can cool off with a margarita from Margarita Island, a shaved ice from Kona Ice, or a blast of rushing air from a freefall on the Cyclone coaster. 
Cost: Free, food and drinks available for purchase
Saturday, July 20
Upper East Side
Sprinkler Day at Asphalt Green is exactly what it sounds like: A lawn full of sprinklers designed for you to run through. Saturday's slated for a high of 98 degrees, so I can't imagine a better way to spend your afternoon. Bring a bathing suit, or just run through the water in your clothes -- doesn't that capture the long-gone feeling of school being out for summer? Bring a towel, or just spend the rest of your day air-drying in the sun. 
Cost: Free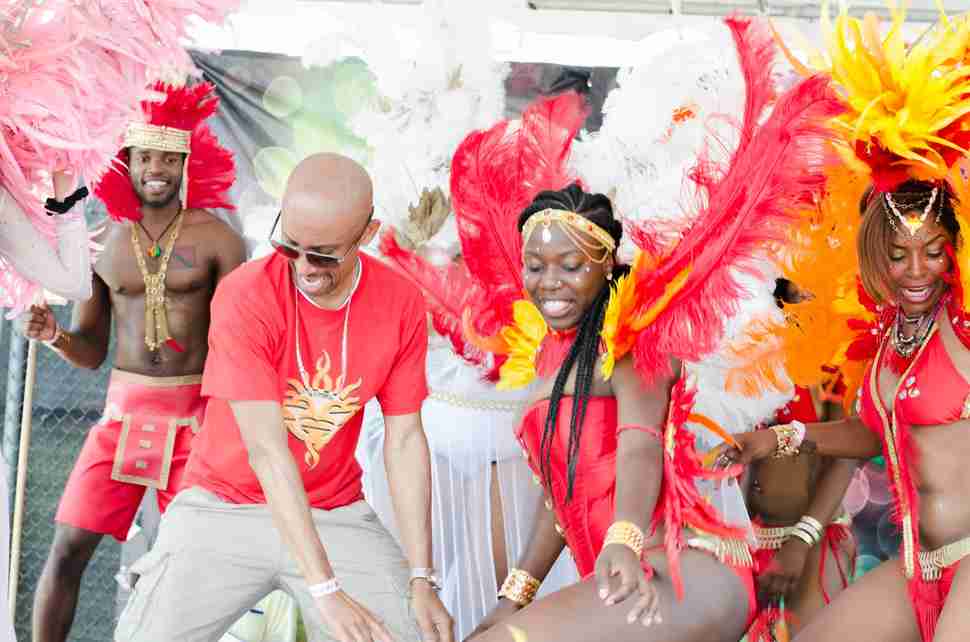 Sunday, July 21
Jamaica, Queens
Celebrate Caribbean food and culture at the Grace Jamaica Jerk Festival in Roy Wilkins Park. Jerk -- a Jamaican style of cooking with spicy jerk seasoning or marinade -- will be celebrated by a variety of food and drink vendors. There'll be DJs spinning reggae, too, and as the sun goes down, expect live performances from Shenseea and Capleton. Jerk cooking relies heavily on Scotch bonnet peppers, so expect to meet the heat of the day with, well, even more heat. 
Cost: GA tickets are $39 in advance, $49 at the door; food and drinks available for purchase
Sunday, July 21
Riverside Park, Central Park
Even if you don't get to the gym much, you can still root for the athletes of the New York City Triathlon. The swimming portion is first -- they'll start at 5:50 in the morning on the Hudson at 98th St., then swim down to exit the water at 79th St. From there, those poor, soaked souls will strip off their wetsuits and start running along 72nd to Central Park West. Cheer them on while you consider booking a SoulCycle class, then head home and order a pizza, instead. 
Cost: Free
Sunday, July 21
East Williamsburg
Spanish duo Chus & Ceballos -- originators of the underground electronic "Iberican sound" -- will be spinning their Iberian jams on the big open terrace at Elsewhere. The rooftop bar opens at 2pm, so start your afternoon slow with a BBQ sandwich and a frozen mango margarita. As the sun slowly sets and the grooves get groovier, don't be surprised to find yourself staying awhile. The show ends at ten, but the rooftop will stay open until 1am -- that gives you plenty of time before you have to be at work on Monday morning.  
Cost: $20 - $30, food and drinks available for purchase
Sign up here for our daily NYC email and be the first to get all the food/drink/fun New York has to offer.