Oktoberfest at Edge at Hudson Yards

| Photo courtesy of Edge at Hudson Yards
Oktoberfest at Edge at Hudson Yards

| Photo courtesy of Edge at Hudson Yards
There's a lot to celebrate this weekend. The WGA strike is finally over, which means at least one of your friends is probably back in a job (this is New York, after all)—plus monster trucks have rolled into town and it's the unofficial start to Oktoberfest parties. But, if your interests don't fall neatly into one of those three categories, we also have the details on a new cannabis pop-up in Prospect Park South, and everything you need to know about the multiple block parties happening this Friday through Sunday.
Read on for everything fun you can do in NYC this weekend. And if it's been a while, it's time to book an upcoming dinner cruise.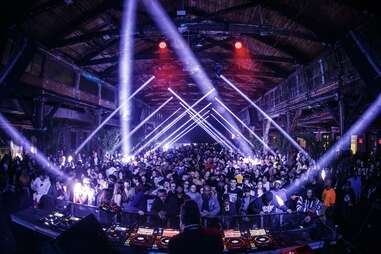 Music & Nightlife in NYC
September 29, 10 pm
Maspeth; tickets from $25.50
House and techno fans are already probably familiar with Desert Hearts: an organization that's equal parts festival, record label, and "party brigade." That last one is what we're most interested in, so make your way to Knockdown Center this Friday night, where the collective will be hosting performances from celebrated DJs Porky, Marbs, Mikey Lion, and Rafa Barrios.
September 29–30, 8 am–5 pm
Bed-Stuy; free to enter
While the technical 50th anniversary of hip-hop may have been earlier this year, we're all about celebrating for the rest of 2023. This weekend, music lovers should clear their schedules to check out BKLYN Rocks, a two-day event held at Restoration Plaza featuring a hip-hop symposium on Friday, and a music festival and block party on Saturday. Keep an eye out for special performances like a dance demo from The Brooklyn Nets, fashion show from Walker Wear by the iconic April Walker, and even old-school double dutch.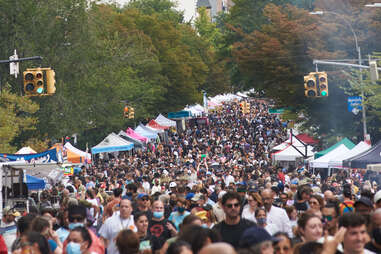 Arts & Culture in NYC
September 30
Barclays Center; tickets from $63.25
Do you know what New York City doesn't have nearly enough of? Monster trucks. Specifically, glowing ones. Thankfully, our prayers have been answered this weekend because Hot Wheels Monster Trucks Live is (literally) rolling into town. What can you expect? Well, trucks with names like Mega Wrex and Gunkster, for starters, plus a dance party, laser light show, and car-eating and fire-breathing robot named Transaurus.
October 1, 12 pm–6 pm
Downtown Brooklyn; free to enter
This Sunday brings the anticipated return of Brooklyn's largest street festival. Spanning 10 blocks and four neighborhoods, Atlantic Antic is an old-school (multi) block party at its finest. There will be food from vendors from around the world, local arts and crafts and fashion to peruse, and live music all afternoon. And yes, there is face painting: We promise we won't tell them how old you are.
Cannabis in NYC
September 29–October 1
Prospect Park South; prices vary
Navigating the newish world of NYC dispensaries can be a little confusing. So, we'll make it simple for you: Make a beeline for the Good Grades pop-up on Flatbush Ave. The family-owned business (Michael and Extasy James call themselves the "Cannabis Cousins") has carefully curated a selection of the buzziest flower strains (Sour Diesel, Gorilla Blue, and Cake Mike, to name a few), plus edibles, vapes, and concentrate, all sourced from organic, New York-based cannabis farms. And, if you don't know what to pick, don't worry: Knowledgeable budtenders are on hand to give expert recommendations.
Drinking & Dining in NYC
September 29–30, 5 pm–12 am
West Village; entrees from $46
Real ones may remember the scene that was The Beatrice Inn. And, we have good news: She's back, kind of. Opening this week in the same space is Le B, chef Angie Mar's new uber-chic spot serving elegant Continental dishes. This is a menu of proper showstoppers: Don't miss the Dungeness Crab Wellington or the Onions Nancy, an onion dip to rule all others that can be paired with cocktails like M. Wallace with yuzu and white truffle gin.
October 1, 1 pm–6 pm
Noho; free to attend, food and drink prices vary
C as in Charlie, the playful Noho restaurant that blends Korean and Southern cooking, is turning one this weekend, and everyone is invited to its birthday party. Pop by this Sunday for the Good Time Charlie block party, which will feature delights ranging from boozy snow cones, to live DJ spin sessions, and special one-day-only menu items. We promise it'll be more fun and have way more alcohol than your average one-year-old's birthday celebration.
September 29–October 1
East Village; omakase from $250 per person
You already know Rosella as one of the city's buzziest sushi spots. We're pleased to introduce her new sister: Bar Miller. Diners here will be treated to a 15-course omakase menu featuring sustainably sourced North American seafood, and a killer beverage program that highlights domestic wine and cider, plus small-batch sake. Make sure to save room for dessert; we have a feeling the Corn Ice Cream served with caviar will be the sleeper hit of the fall.
Oktoberfest Events in NYC
September 29–October 1
Locations vary; prices vary
It's no secret that New Yorkers love a themed reason to drink. Case in point: The month-long celebration of steins and sausages that is Oktoberfest. Aside from dipping into any German beer bar this month, a few of our other favorite watering holes are also getting in on the action: City Cruises is hosting New York Alive After Five Oktoberfest, a boat trip up and down the Hudson complete with giant pretzels, live DJs, and lots of beer. This weekend's Bronx Night Market is rechristened Bronxtoberfest: look out for a stein-hoisting contest, pretzel-eating competition, and tons of traditional German food and drink. And for the highest celebration in the city, book a ticket to Edge at Hudson Yards this Saturday or Sunday. The observation deck will be hosting an oompah band, plus serving beer steins and pretzels.