By the end of this weekend, we'll finally find out who will sit on the Iron Throne (rumor has it that de Blasio thinks he's got a pretty good shot). While you're waiting for HBO's Sunday night series finale -- or just waiting for your friends to stop talking about Game of Thrones -- New York City's got plenty of ways to keep yourself occupied.
Now that the weather has taken a long-overdue turn for the better, we can spend our free time out of doors again. Mid-May means boxed wine and picnics in the park, boisterous crowds at outdoor food festivals, and going dancing without having to pay six bucks to check our goddamn puffy coats. This weekend, celebrate Brooklyn's own Walt Whitman, check out a new old food hall, and get down at an indie dance party for those who still remember what modems sound like. Here's everything you've absolutely got to do in NYC before you watch [GoT SPOILER REDACTED].
Weekend-long
Lower East Side
Essex Market, which began as a hub for herring-hustling pushcart peddlers in the 1880s, has seen a lot of changes in the last 131 years. The latest iteration opened this week in the shiny Essex Crossing development, its pushcarts having been replaced with vendors like the Arancini Bros. (known for their fried arborio rice balls), the L.E.S. Ice Cream Factory (from the purveyors behind the Original Chinatown Ice Cream Factory), and the strange, beloved Shopsin's. And if you're in the market for herring after all these years, there's still plenty of smoked fish to be found.
Cost: Free to enter, prices for groceries and prepared foods vary
Friday, May 17
Maspeth
Basement, a newly-opened club beneath the contemporary arts space Knockdown Center, is readying itself to become the city's one true techno club. Housed in an old glass door factory in Maspeth, the underground space is gritty, industrial, and extremely Berlin, Ja? On Friday night, it's hosting DJ Vatican Shadow's release party along with Headless Horsemen, Volvox, and Becka Diamond. Leave your Patagonia vest at home and don't worry -- it's gotta be easier to get into Basement than Berghain.
Cost: $25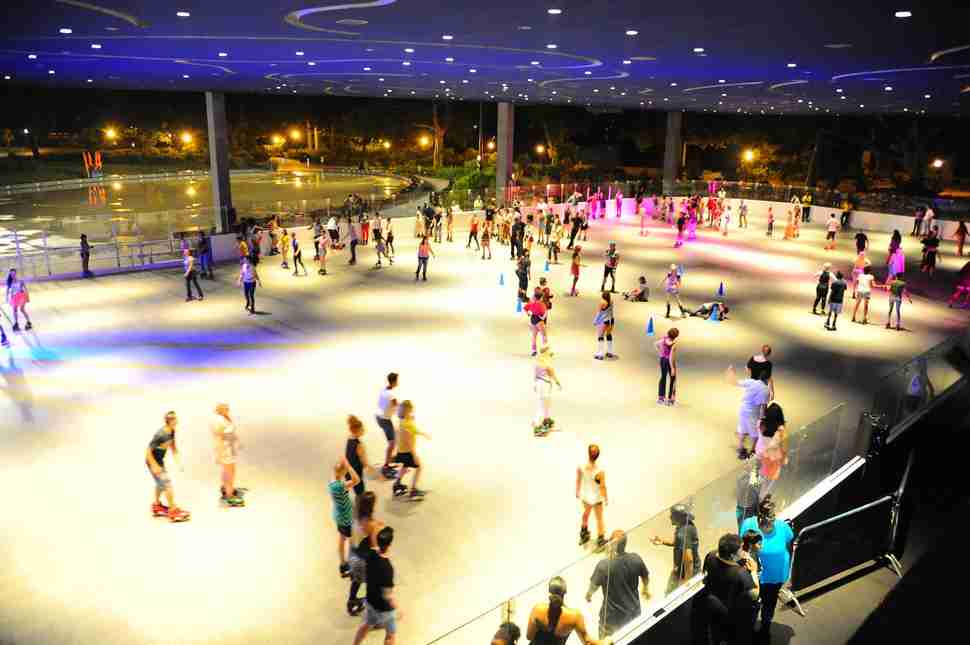 Weekend-long
Prospect Park
The Prospect Park Alliance is ringing in the season with a series of outdoor events including a 90's-themed roller disco at the LeFrak Center, an early-morning Neotropical bird walk, a costumed recreation of an 1860s ballgame, a staged reading of Molière's The Misanthrope, and an art and architecture tour. It's an eclectic celebration befitting an eclectic piece of New York: Covering 526 acres of rolling hills artisanally shaped, Brooklyn-style, by glaciers, Prospect Park is a must-do weekend destination unto itself.
Cost: Free to enter the park, event costs vary
Friday, May 17
East Village
If you're not into techno but you still want to dance, go ahead and relive your best (and worst) college memories at this Indie Dance Party. They'll be playing the Yeah Yeah Yeahs, Hot Chip, the White Stripes, and all those other bands that made up the soundtrack to your squandered youth. Just remember that kids born in 1998 can legally drink now, so try not to get offended if they think they're grooving to the oldies.
Cost: Free before 1am; $10 after
Advertisement
You can't face the weekend head-on if you're not taking care of your face. Bulldog Skincare for Men products are formulated to help you look and feel your best, wherever your plans may take you -- whether that's busting a move at an outdoor concert or eating your way through the city's tastiest food trucks.
Saturday, May 18
Flatiron
The New York Dance Parade kicks off from 21st Street and Broadway features over eighty types of dance -- including tango, square dance, and "waacking" (that's a little bit like Vogueing, if you were wondering) -- in a joyous, colorful march that weaves its way down 8th street to its destination: DanceFest at Tompkins Square Park. DanceFest has five stages, performances and lessons, so wear your yoga pants and come prepared to learn a few new moves.
Cost: Free
Saturday, May 18
Gowanus
Another new-ish venue, Public Records is an intimate performance space, café, and magazine shop at the edge of the Gowanus canal. On Saturday night, it's hosting Amir Abdullah, the historian, DJ, and owner of 180 Proof Records. A self-identified "crate digger," Abdullah is committed to releasing back catalogs of Detroit jazz and preserving the history of Black American music. When he spins, expect rare vinyls, a no-bottle-service vibe, and a party that goes long into the night.
Cost: $16.50
Saturday, May 18 - Sunday, May 19
Prospect Heights
Mark the 200th birthday of Brooklyn's own Walt Whitman with a series of lectures, readings, and workshops inspired by the Leaves of Grass poet himself. The Brooklyn Public Library's Central Library at Grand Army Plaza is hosting scholars, poets, and artists to celebrate Walt Whitman's legacy. Stop by to get inspired and remember that Whitman's family believed his poems were, and I quote, not "worth reading." So there's still hope for your Avengers fanfiction!
Cost: Free
Saturday, May 18 - Sunday, May 19
Hell's Kitchen
The streets between 42nd and 57th are filled with the smell of smoke and oil from gyro carts, empanada stands, and donut shops at the 9th Avenue International Food Festival. Come hungry and without a destination in mind: The crowd's shoulder to shoulder, but that's easily forgotten while sipping a cold beer as you walk down the street. Pause to take in some live music, then follow your nose to the fried Oreos, Kobe beef hot dogs, and bacon-topped cocktails.
Cost: Free to enter, but bring cash for street food
Sunday, May 19
Harlem
OK, so it's not the Delaware Water Gap, but you really can row a canoe in the still waters of Central Park. Plus, it's way easier to get brunch after! Trained Park Rangers will teach you the how-tos of canoeing (oars in, oars out, etc.) in the glassy pond of the Harlem Meer at 110th Street. Get there early if you want to score a spot, and plan for a quick safety lesson before they let you out on the open water.
Cost: Free
Sunday, May 19
Williamsburg
This Sunday marks the series finale of Game of Thrones -- and eight years since the show's premiere. In that time, babies have been born, your friends have probably gotten married and divorced, and George R.R. Martin still hasn't finished those goddamn books. Whether you're a fan or just want to watch a bunch of grownups lose their shit over a show about dragons, head to Our Wicked Lady, where they'll be screening the finale on their rooftop. Speaking of Our Wicked Lady... who will be sitting on the Iron Throne come Monday?!
Cost: Free to enter, nightly drink specials
 
Sign up here for our daily NYC email and be the first to get all the food/drink/fun New York has to offer.