8 Actually Fun Things to Do in New York This Weekend
Bust out all the rainbows for the last weekend of Pride month.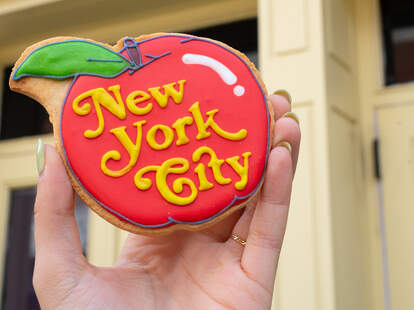 Photo courtesy of Funny Face Bakery
Although this week marked the official end of takeout cocktails in NYC (R.I.P. pal, and thanks for all the pandemic memories), we've still got plenty to look forward to this weekend as the next few days also marks the culmination of the city's Pride festivities.
While the NYC Pride March may certainly take center stage, it seems every corner of the city is celebrating in its own way, from glitter stations to impromptu weddings. There are also revamped luncheonettes to visit, free concerts in the park, and much, much more. Read on for eight actually fun things to eat, see, and do this weekend in NYC.
And for more actually fun things to do, check out our podcast streaming below.
Weekend-long
Seaport District
We are big believers that there is no such thing as a bad cookie, but some are definitely more fun than others. New bakery Funny Face certainly makes some of the wackiest out there, with bright designs that feature everything from a crying Kim Kardashian to, yup, a New York City Metrocard. They can even custom-make confections with your face (make note of that for Mother's Day next year). And if you're looking for something a bit more classic, they've also got stellar versions of chocolate chip and oatmeal.
Cost: Cookies from $5
Weekend-long
West Harlem
College dining hall food can be called a lot of things, but generally, tasty isn't one of them. That all changes with the opening of Manhattanville Market, a food hall on the grounds of Columbia University that is also open to the public. Helmed overall by chef Franklin Becker (Galinha, Little Beet), the concepts include Southern-inspired Butterfunk Biscuit Co., Mediterranean spot Shai Hummusiya, fresh "living" salads at The Botanist, and Sicilian pizza from Benny Casanova's.
Cost: Prices vary
Friday, June 25, 7 pm
Bryant Park
Looking for something different for date night this weekend? Bring your partner to Bryant Park for one of their summer Picnic Performances. This Friday, the New York Chinese Cultural Center is curating a show featuring professional folk dancers, traditional Chinese instruments, and even a yo-yo artist. Visitors are welcome to bring their own picnic blankets and food, but there will also be vendors on site selling meals and beverages. Entry is first-come, first serve, with proof of vaccination or a recent negative COVID test.
Cost: Free
Saturday, June 26, 11 am–6 pm
Williamsburg
Every NYC institution that reopens post-COVID is cause for celebration, but we'd be lying if we said we hadn't been especially excited forthe return of Smorgasburg. Finally, after months of waiting, the food market's famed Williamsburg location will start its season this Saturday, with social distancing rules in place. Expect to sample bites from over three dozen vendors on the market's opening day, like fan-favorite, Thai-style fried chicken fromThai Bird, with many more to be announced.
Cost: Prices vary
Celebrate Pride the way only NYC can
Weekend-long
Citywide
Pride month is always one of the most joyous times in our city, but the week leading up to the NYC Pride March is especially climactic. And this year, after most celebrations were canceled in 2020, is sure to be epic. Some of our favorite events to look out for this weekend:Sweet Hearts hosting pop-up weddings at theAce Hotel New York, Pride-themed DJ sets atLe Bain, Little Island's Bring Your Own Beautiful free variety show on Saturday, a complimentary glitz station with professional glitter makeup artists on Sunday atShowfields NY, and thePride Island watch party also on Sunday atThe Greens on The Rooftop at Pier 17.
Cost: Varies
Weekend-long
Financial District
We know there are a lot of immersive and VR happenings right now, but here's one that's actually not aboutVincent Van Gogh. SuperReal, produced by Moment Factory (the creative team for Billie Eilish's tour), is located inside the iconic and soaring downtown Cipriani building on Broadway. Part of what makes this experience so unique is the mirrored floor: visitors feel as if they're actually inside the installation instead of just watching a projection. For a limited-time, ticket holders can explore five, dream-like spaces, each with its own narrative and custom music.
Cost: $35 per ticket
Saturday, June 26, and Sunday, June 27
Upper West Side
It's picnic season: do you know where your basket is? If you can't find it, no worries: Resy and Amex Gold Card are swooping in to help with some tasty outdoor lunch spreads. This weekend, the companies are partnering with Pastis (Saturday) and Roberta's (Sunday) for three-course feasts that are certainly an upgrade on tuna salad. At a pickup location of 72nd Street and Central Park West, Pastis's menu will include marinated bean salads and Parisian ham sandwiches, while Roberta's features a porchetta sandwich and fresh crudité.
Cost: $45 per person, with reservation
Weekend-long
SoHo
The world is opening back up: is your passport still valid? If it's not, get on that quick because the wait times are long. But more exciting: we found a place to take actually nice passport photos and it's free. At Rimowa's new Passport Studio, visitors can use a self-service photo booth (with really flattering lighting) to take a new shot and then have the pic printed and emailed. Don't blame us if you walk out of there with a new suitcase though; the new ones arereally sweet.
Cost: Free