This week, you'll be able to see a full moon just after the stroke of midnight on Friday the 13th... but don't let that scare you. There hasn't been a full moon on a Friday the 13th since October 2000. This is the sort of night that only happens a few times in a life.
 
If you're superstitious, you can play it safe and stay indoors with a copy of Friday the 13th. Or you can tempt fate, push your luck, and have a night you'll still be talking about by the next full moon on Friday the 13th in August 2049. Make it a weekend to remember with a honey tasting in a Brooklyn cemetery, a $13 flash tattoo on the Lower East Side, or a late-night screening of The Warriors on the streets where it was filmed -- we've rounded up everything you have to eat, drink, see, and do in NYC this weekend. 
Friday, September 13
Midtown
Part comedy-show, part cringe-fest, and part clear-eyed take on the trauma of dating in the swipe-happy surveillance state, UpDating puts New Yorkers on their first dates live on stage. During the show, you can DM the daters discussion topics, give real-time feedback on their performances, or even offer yourself up as an alternative. It's the perfect place to bring your own date -- even if that goes disastrously, at least you didn't have an audience. 
Cost: Tickets are $15; drinks available for purchase
Recommended Video
Timothy DeLaGhetto & David So Take Over LA's Premier Foodie Event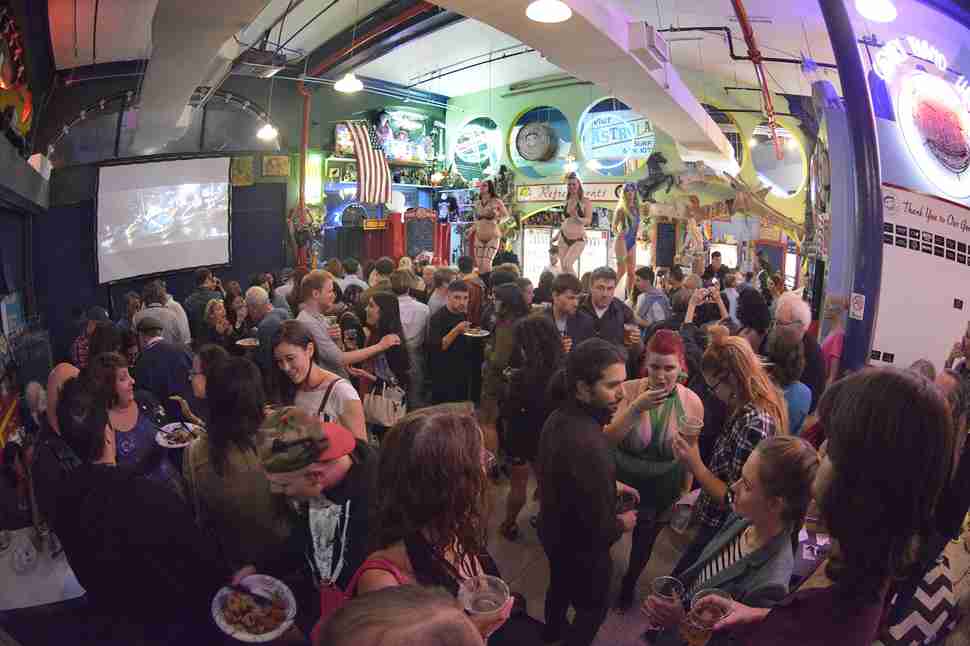 Weekend-long
Coney Island
The Coney Island Film Festival is quirky, bizarre, and one-of-a-kind, just like the island itself. Hosted at Sideshows by the Seashore and the Coney Island Museum, the festival features screenings of experimental films, horror shorts, animation, comedy, sci-fi, and Coney Island-themed flicks. On Saturday night, you can head to the shore for a 10:30 pm screening of the Coney Island cult-classic The Warriors. Here, the film gets the full Rocky Horror Picture Show treatment -- creepy beer-clinking-fingers and all.  
Cost: Full festival pass costs $50; The Warriors tickets are $10
Friday, September 13
East Village and Flushing, Queens
The Mid-Autumn Festival is celebrated in China by eating mooncakes -- round pastries shaped like the full moon and filled with lotus seed or sweet bean paste -- to toast to family unity and togetherness. You can join in the celebration (and shake off any bad vibes from Friday the 13th's full moon) by heading to the Sichuan restaurant Szechuan Mountain House's Manhattan and Queens locations, where they'll be giving out free mooncakes customers on the night of the festival. 
Cost: Entrees start at $16.95; mooncakes are free while they last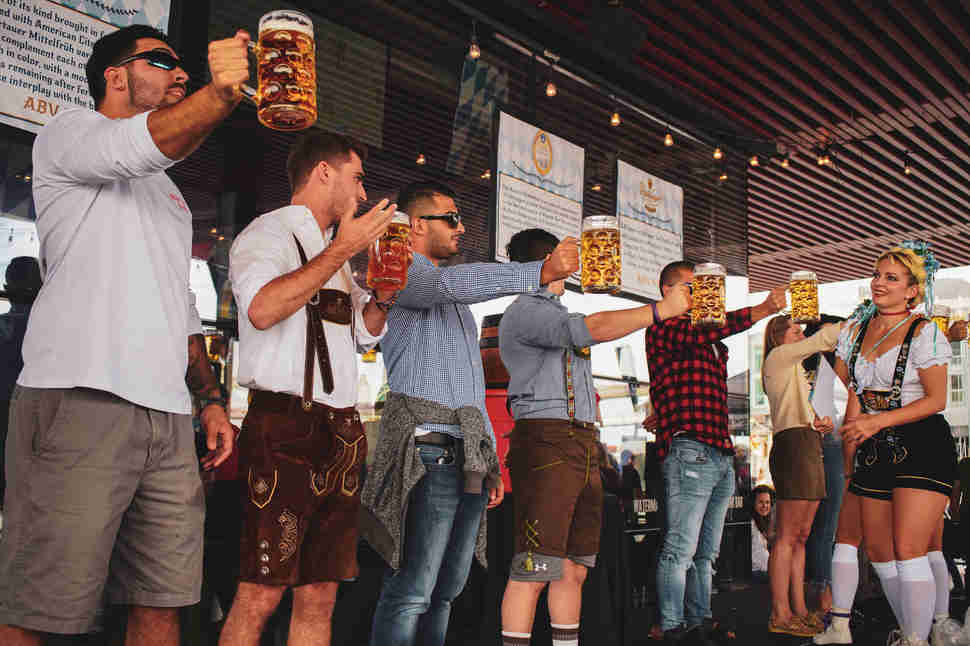 Weekend-long
South Street Seaport
What's that smell on the crisp autumn air? Could it be...beer and wienerschnitzel? This Friday, Watermark is kicking off its Oktoberfest festivities a whole month early. (It should probably be called "Septemberfest," but let's not quibble about branding when there are pretzels to eat and beer steins to hoist.) The party stretches over six weekends, so if you go every weekend, you can significantly bring down the cost-per-wear of your dirndl or lederhosen.
Cost: Free to enter; food and drink available for purchase
Friday, September 13
Lower East Side 
Daredevil Tattoos honors a longstanding Friday the 13th tradition -- flash tattoos for $13, plus $7 tip. You can only choose a tattoo from their posted sheet, which will go up at noon on Friday. They tattoo about 200 people between noon and closing time, so show up early to scope the sheet and get your name on the list. On Friday the 13th, they won't do necks, hands, bellies, sides of feet, faces, or chests, but that still leaves a lot of skin to celebrate the day. 
Cost: Flash tattoos are $20 with tip
Weekend-long
Little Italy
The Feast of San Gennaro began on Mulberry Street in 1926. Italian immigrants gathered outside their cafes to honor Saint Januarius -- the patron saint of Naples -- and gather donations for their neighbors in need. Today, the festival has grown to an 11-day street fair that lights up all of Little Italy. There will be deep-fried, sugar-dusted zeppole, sizzling sausages, and all the other Italian foods you can eat standing up. The parade will march on Saturday afternoon if you want to catch a glimpse of the statue of San Gennaro himself. 
Cost: Free to enter, food and drink available for purchase
Saturday, September 14
Prospect Heights
Need a little retail therapy to get you through the changing of the seasons? The market at the Brooklyn Museum invites local vendors to hawk their handmade clothes, art, jewelry, and home goods in the museum's outdoor plaza. Find something for yourself, or pick out (and then hoard) presents for the holidays -- they're coming up way faster than you think. You'll appreciate your forward thinking when you're not in line at CVS to buy a gift card on December 24th. 
Cost: Free to enter; prices of handmade items vary
Saturday, September 14 - Sunday, September 15
Flatiron
Hosted by New American Economy -- a Michael Bloomberg- and Rupert Murdoch-founded advocacy and research organization for immigration reform -- the New American Festival aims to highlight the contributions immigrants make to America's culture. Featuring Padma Lakshmi, Dr. Ruth, Hasan Minhaj, and Aminatou Sow, there will be art installations, panels, food tastings, music performances, film screenings, and a Smorgasburg pop-up. Ticket purchases will go toward funding the New American Economy's continued research. 
Cost: Standalone event tickets start at $25; $125 for one day all-access pass; tickets not available day-of festival
Sunday, September 15
East River State Park
Taste the best of North Brooklyn with a tour of the block-party style TASTE Williamsburg Greenpoint. Go from tent to tent getting tipsy on more than 40 samples from local restaurants, breweries, and bars. Tickets include a taste from everywhere, but arrive early -- it's first-come, first-served, and you don't want to miss out on most Instagrammable bite. With food from Baba's Pierogies, The Meatball Shop, and Tacocino, to name a few, you might just find a new restaurant that's worth taking the G train for. 
Cost: General admission tickets start at $60
Sunday, September 15
Green-Wood Cemetery
Sorry, the job of Head Beekeeper at Green-Wood Cemetery has been filled -- apiarist Nick Hoefly of Astor Apiaries got the dream gig. This Sunday, he's hosting a honey tasting on the cemetery grounds featuring Green-Wood's own "Sweet Hereafter" (get it?) as well as other local honeys. The tasting will be hosted in the Modern Chapel, right past the arches of the main entrance. After you find your favorite honey, take a quiet stroll around the cemetery to get in the spooky fall mood. 
Cost: Free to attend, RSVP recommended; honey available for purchase
Sign up here for our daily NYC email and be the first to get all the food/drink/fun New York has to offer.