Well, it's finally happening -- winter is coming. With the dreaded wintry mixes and Arctic blasts threatening to break cold weather records, it's a wonder any of us ever leave the house at all. While the city waits for Mayor de Blasio to inevitably mishandle the first real snowstorm of the season, we can pretend that it's still summer by sweating through our Amazon coats on the subway.
 
If you do manage to leave the house after a long week of blistering commutes, you'll be handsomely rewarded. You can watch a four-team tourney of the ancient Irish sport of Hurling at Citi Field, attend a fashion show where every garment is made entirely of sweet, sweet chocolate, or run a grueling "Beerathon" as you drink your way through 13 bars and 26 beers -- we've rounded up everything you need to eat, drink, see, and do in NYC this weekend.
Friday, November 15
The Bronx
The Bronx Brewery is releasing a limited edition pilsner -- the Bodega Boys Beer -- to celebrate the Bronx's hometown boys Desus Nice and The Kid Mero, hosts of the late-night Showtime show Desus & Mero. The brewery is kicking off its crispy new pilsner with a party where you can crack a cold one with the Bodega Boys themselves. $20 gets you guaranteed entry to the party, plus an icy can of the limited edition brew.  
Cost: Tickets are $20; drinks available for purchase
Weekend-long
Fort Greene
BAM's Next Wave Festival has been inviting artists on the cutting edge to Brooklyn for nearly forty years. This season, it's bringing The End of Eddy, based on Édouard Louis' autobiographical novel about coming of age in France, and User Not Found, a site-specific work that contemplates the endless nature of the internet, to the stage. The Great Tamer, choreographed by Dimitris Papaioannou, reworks the famous Blue Danube waltz into a strange and masterful dance. 
Cost: Tickets start at $25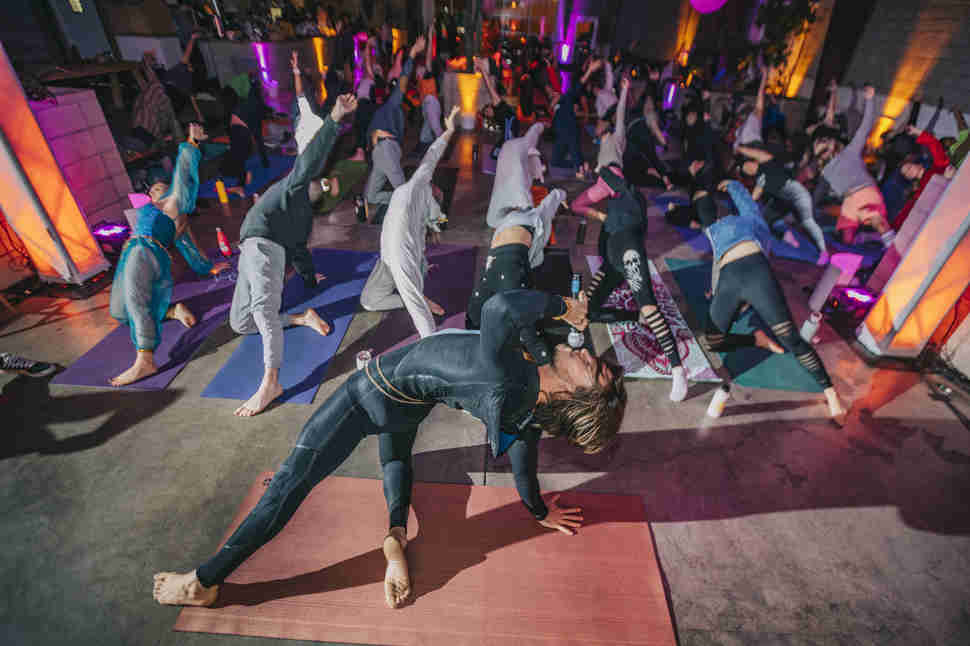 Friday, November 15
Theater District
Daytime dance party Daybreaker is hosting a seasonal Friendsgiving at 7am on Friday morning. The theme is "pajama party in outer space," so you can roll out of bed in your long johns and and head straight to the dance floor. If you could use a refresh on your attitude of gratitude, hit up the 6am yoga session; otherwise, bring your friends (or your soon-to-be friends) and get intergalactic. We promise your Boomer uncle will hate hearing about this party at Thanksgiving dinner.
Cost: Tickets start at $25
Weekend-long
Multiple locations
Do you only wear Jovani? Do you wish you were a yachtie? If you don't know what either of those sentences mean, you'll definitely want to skip BravoCon. For those of you who never miss a #RHONY, this is your chance to meet your favorite "Bravolebrities." There will be photo opps with your faves, a Bravo-inspired costume contest, and a filming of Watch What Happens Live. This might be your only chance to have Teresa Guidice close enough to flip a table on you! 
Cost: Tickets now available at resale only; prices start at $198
Saturday, November 16
West Village
The New York City Beerathon, now in its tenth year, is the drinking man's marathon. Created for those whose "enthusiasm for running includes making a beer run," it's a competition to see who can drink 26 6oz beers from 13 bars in the shortest time. (For those of you counting at home, that's about the equivalent of two six-packs.) The rules explicitly ban "belligerent behavior," so be nice. But ask yourself: Are you here to make friends, or are you here to win? 
Cost: Tickets start at $50 and include all 26 beers
Saturday, November 16
Gowanus
For a benefit to honor celebrity chef and friend of Pig Beach Carl Ruiz, the Gowanus BBQ joint has invited 20 award-winning barbeque pit masters and Food Network stars to cook up some of Ruiz' favorite foods. Sample all the chefs' signature dishes, bid in the silent auction, and try your luck at the raffle -- the cost of your ticket will go towards scholarships to the International Culinary Education Center and the Alzheimer's Foundation.
Cost: Tickets start at $75
Saturday, November 16
Citi Field
Hurling, an ancient Irish sport, has been played for 4,000 years. This weekend, it's coming to Queens, where you can watch a four-team tournament in which Limerick will defend their title against Kilkenny, Tipperary, and Wexford. The games will give you some idea of how Hurling is played, but if you don't catch on, don't worry -- there will be plenty of drinking, music, and Irish dancing to distract you from the prehistoric rules. 
Cost: Tickets start at $45
Saturday, November 16 - Sunday, November 17
Hell's Kitchen
Chocoholics can get their much-needed fix this weekend at the Salon du Chocolat in the Javits Center. There will be demonstrations by world-renowned chocolatiers and pastry chefs, tons of tips about baking for the holiday seasons, a lot of delicious samples, and a dangerously melty chocolate fashion show. Plus, there will be an international chocolate shop where you can find gifts for everyone on your "impossible-to-buy-for" list. 
Cost: Adult tickets start at $25
Sunday, November 17
NoHo
Showfields, a "retail concept" that received $9mm in seed funding, is the mall reimagined as millennial bait. The 14,000 square foot space, which covers nearly a whole city block, takes online shopping to its logical conclusion: An Instagram-worthy store where you can touch, try, and taste offerings from startups without their own retail space. When you purchase something in-store on Sunday, they'll gift wrap it for free -- with eco-conscious paper, naturally! 
Cost: Free to peruse; must purchase a gift to get free gift wrapping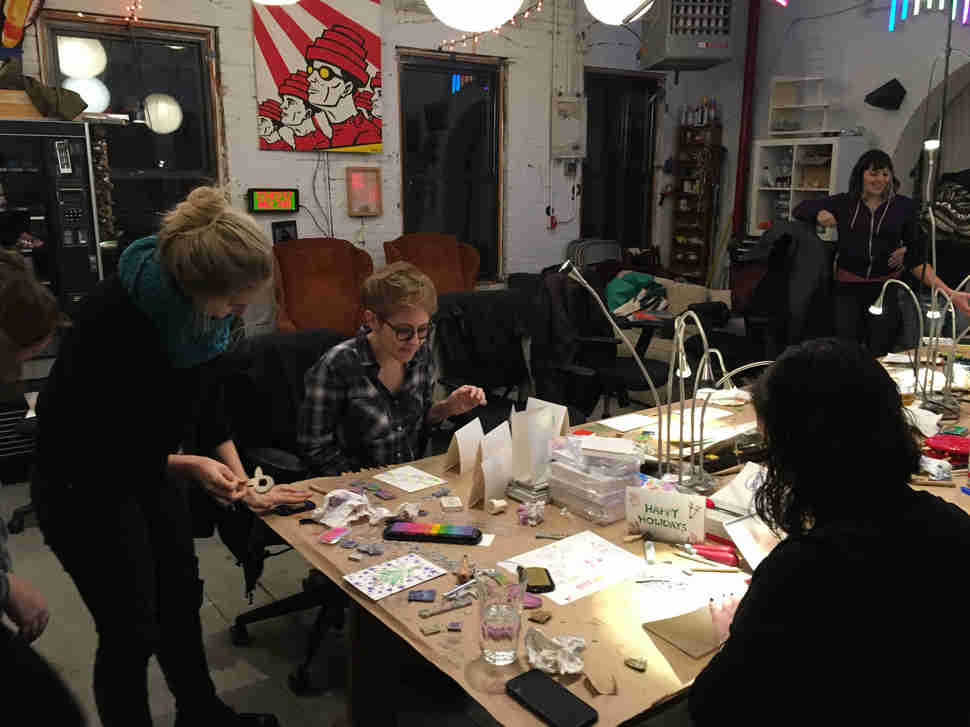 Sunday, November 17
Boerum Hill
Make-Along, a monthly craft workshop, is hosting a stamp carving and card making class in anticipation of the holiday season. Turns out, it's not just your mom who likes homemade gifts -- a card made with love is appreciated by everyone. All skill levels are welcome, so both master crafters and total novices will find the class fun. You can make up to 20 cards, so that should keep you covered all the way through wedding season. 
Cost: Tickets are $15 and include all materials
Sign up here for our daily NYC email and be the first to get all the food/drink/fun New York has to offer.