Everything Fun You Can Do in NYC This Weekend
Plus, pickleball, Oktoberfest celebrations, and Brooklyn Mirage's last music festival of the season.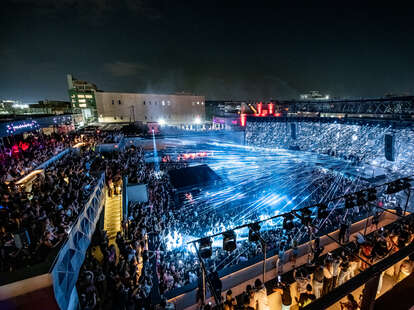 Photo courtesy of The Brooklyn Mirage
A silver lining of the pandemic is that many more restaurants now offer dining al fresco nearly year-round (refresher: check out the best new places to eat outdoors this season). There's plenty of other outside happenings this weekend as well, from the opening of brand-new pickleball courts at Hudson Yards, to Oktoberfest celebrations, to an all-night, multi-day music festival. For everything fun you can eat, drink, and do this weekend, read on.
And for even more activities, make sure to check out all of the city's latest restaurant openings and the best new bars in NYC right now.
Friday, September 30, 5 pm–9 pm
West Village
It's no secret that New Yorkers get extra giddy about fashion once October rolls around. It's sweater weather, after all. So if your closet is looking a little bare, head to The Center this Friday, where The Queer Closet will be showcasing a variety of sustainable, queer fashions. Look out for vintage and upcycled clothing, as well as playful acrylic earrings from Silly Brown Boy, genderfluid clothing from Ashika Kuruvilla, and more.
Cost: Free to enter, clothing prices vary
Saturday, October 1
Hudson Yards
If you still haven't played a game of pickleball yet, don't worry: Now you don't need to leave the five boroughs to find a custom court. CityPickle opens its pop-up facility this Saturday at the Backyard at Hudson Yards, with free court registration, and paddles available to rent for $10 (or you can bring your own). And if you're feeling really dedicated, you can also book a lesson with pro Katherine Hedden, USA Pickleball's Manhattan Ambassador. Look out for another court to open in Long Island City early next year.
Cost: Free with registration
Saturday, October 1, and Sunday, October 2
Times Square
Celebrate both the flavors of Nigerian cuisine and the country's Independence Day this weekend at Lagos Restaurant and Lounge from Nigerian-native and restaurateur, John Paul Wadibia. Saturday night at the Times Square eatery will feature a late-night party, with music provided by tons of DJs, including DJ Buka, Ola Akin and DJ Norie. And once you've slept off the partying from the night before, you can swing by on Sunday for a special Independence Day brunch, featuring Nigerian-American classic dishes like Chicken & Sweet Plantain Waffles, or Nigerian-style egg sandwiches, all accompanied by live Afrobeat music.
Cost: Entrees from $16
Saturday, October 1, and Sunday, October 2
Bed-Stuy
Do you know what would have made high school chemistry more fun? Liquor! Such is the MO behind The Drunken Laboratory, a bar that lets you conduct actual science experiments while you drink. And while this may sound like a recipe for disaster, we promise not everyone working there is drunk, and you will have safety goggles on. This Saturday marks the launch of their Haunted Edition programming, which will include special ghostly experiments, creepy science games, and live music. Zombies not included.
Cost: Tickets from $54.99
Dig out your lederhosen for the start of Oktoberfest
Weekend-long
Citywide
While New Yorkers never really need a reason to drink more beer, this weekend brings the start of October, and with it, Oktoberfest. Many bars and restaurants are celebrating with special events all month long: Throw on your traditional German garb before heading to TailGate Outdoor Sports Bar this Friday; their event will feature brews from Brooklyn Brewery, Threes, and Ebbs, as well as traditional bites. Zum Schneider makes a triumphant return after a three-year hiatus to host their famed Oktoberfest Tent, with what is certainly one of the most authentic celebrations outside of Munich. Beer snobs are probably already headed to NYC Brewers Guild's Blocktoberfest at the Brooklyn Navy Yard, but for the rest of us who don't know, expect 35-plus different local breweries. If German food is more your thing, stop by Chelsea Market, where vendors will take over the side street with bites like Oktoberfest pretzel brownies from Fat Witch Bakery and hearty sausages from Berlin Currywurst. And for something a tad less chaotic, make a beeline for the New York Botanical Garden, where their seasonal beer garden is open and serving tons of craft beer and cider.
Cost: Prices vary
Saturday, October 1, and Sunday, October 2
East Williamsburg
Sadly, the outdoor music festival season is drawing to a close, but not before one of the city's most epic celebrations. Cityfox Transcend Festival takes over The Brooklyn Mirage this weekend, with major acts like Ben Böhmer, Christian Löffler, and Giorgia Angiuli playing the massive outdoor venue. But make sure you're well-caffeinated: On Saturday, the music starts at 7 pm and goes until sunrise on some stages.
Cost: Tickets from $34.51
Sunday, October 2, 12 pm
Greenpoint
Tørst has long been one of Brooklyn's premier beer bars, with a whopping 21 draft lines and an additional 200 bottles on the menu. But tacos? Not so much, until this weekend. Equally beloved Taqueria Ramirez will be taking over the bar's kitchen this Sunday, serving Tacos Dorados de Barbacoa, as well as Caldo de Camarón (shrimp soup), and a hearty Gordita de Chicharrón Prensado (a pressed pork rind sandwich). There will, of course, also be Mexican beer on tap, including Monstruo de Agua and La Bru.
Cost: Prices vary
Weekend-long
East Village
One of our favorite stores to stock up on lotions and potions is Kiehl's. And while you may have walked by the East Village storefront before, did you know it's been around since 1851? To celebrate its 170th anniversary, the store recently received a glow-up and now has a ton of fun, high-tech toys, including skin activator wands, skin photo analysis, and brand-new facials at Spa 1851. The brand is also becoming more sustainable, with the introduction of Kiehl's Refillery Station to reload your favorite products rather than buy new bottles.
Cost: Prices vary
Sunday, October 2, 12 pm–6 pm
Boerum Hill
Head to Atlantic Avenue between the waterfront and 4th Avenue this Sunday for Atlantic Antic, one of New York City's most lively festivals. Produced by the Atlantic Avenue Local Development Corporation, the all-afternoon event will feature food from around the world, live music, and local crafts ranging from fashion to homegoods. For more info, you can check out the map here.
Cost: Free to attend