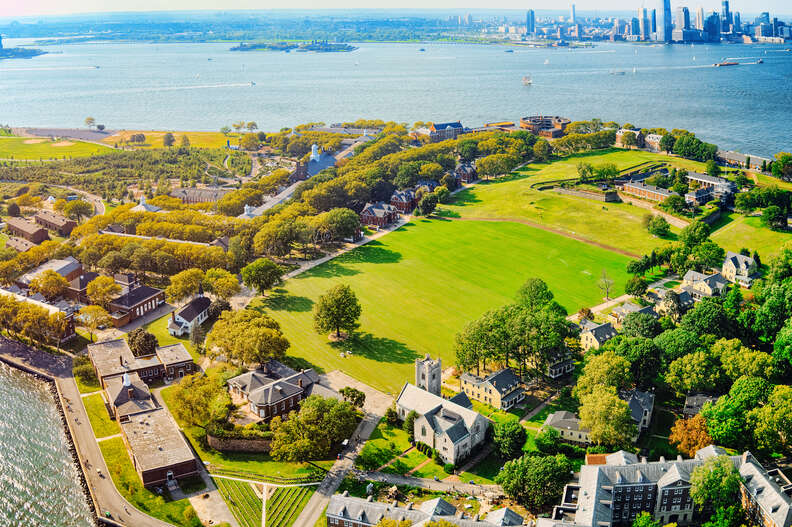 Governors Island

| V_E/Shutterstock
Governors Island

| V_E/Shutterstock
Summer in New York City is all about the getaway. Whether it's a quick weekend trip upstate or a leisurely August holiday abroad. The only thing New Yorkers love more than the city itself is hitting the road when it gets hot: we covet our Summer Fridays and beachescapes and daydream about summer vacations basically every moment between Memorial Day and Labor Day. But are would-be travelers to do when time, money, and expired passports we've been meaning to renew for a year now prevent us from absconding to the Jersey Shore or Greek Isles?
Lucky for us, NYC is home to many of it's very own islands (besides Manhattan) that are ripe with fun events throughout the season, giving us plenty of reasons to be excited about staying local this summer. Get away without going away via these tours, shows and festivals -- and still make it home in time for dinner, in case you have to get back to reality sooner than you'd like.
Through Labor Day
Roosevelt Island
Each year, Roosevelt Island luxury apartment complex Manhattan Park has a local artist transform its 60-foot long outdoor pool into a technicolor tour de force. For the 2019 swimming season, Elizabeth Sutton used 18 different shades to evoke a Tropical Skittles-hued sunburst that contrasts dramatically against the backdrop of Manhattan's skyline. Although it's ensconced in a private development, the pool is open to the public through the summer for a fee.
Cost: Day passes are $40 on weekdays and $60 on weekends for non-Roosevelt Island residents; $25 on weekdays and $30 on weekends for residents
Saturday, June 22
Randall's Island
Punk Island is an annual festival born of a local collective of artists and musicians aiming to "bring the vitality, diversity, and intensity of the various NYC punk scenes together and into the light of day." This year's all-ages show will feature more than 75 performances on six stages, including The Muslims, an all-queer black and brown trio, and Pancho Villa's Skull, a band that blends traditional Mariachi with punk.
Cost: Free
Sunday, June 23
City Island
Explore City Island, a quaint seaside town in The Bronx that's as full of charm as it is history, in this two-hour walking tour. Once home to thriving shipbuilding and oystering industries, every corner of City Island looks like a postcard from the set of The Voyage of the Mimi. Make it a real getaway with this full-day itinerary: Head out early, rent a boat from Jack's Bait & Tackle, and spend a couple hours on the water. Then grab lunch at Johnny's Reef ahead of the tour. Finally, top it all off with a sundae at Lickety Split before you do the same.
Cost: $29 (early bird admission), $32 (general admission)
Thursday, June 27
Randall's Island
As much fun as the Fourth of July is in NYC (ooohs and aaahs galore), it can also be expensive and exhausting -- rooftop cover charges are inflated to ludicrous degrees and staking out a square of grass in public can play out like The Hunger Games. Save yourself the drama and head to Randall's Island the week before Independence Day. Bring a picnic and settle in early to enjoy live classical music by Diverse Concert Artists while you watch the sunset before the fireworks begin.
Cost: Free
Thursday, July 4
Liberty Island
Again, the Fourth of July in NYC can be expensive. But if you're willing to shell out some bucks, there's perhaps no more on-brand place to celebrate American independence than aboard a Statue of Liberty cruise. The four-hour tour loops leisurely through the waters surrounding lower Manhattan and under the Brooklyn Bridge, promising unparalleled views of both the fireworks and the city skyline.
Cost: $279 includes dinner and drinks
Friday, July 12
Roosevelt Island
Manhattanhenge happens twice a year, when the sunset aligns perfectly with the city's street grid, setting the stage for both astronomical awe and photographic glory. Four Freedoms Park is celebrating this truly and uniquely New York City phenomenon with a sketching session lead by artist and architect Hugo Barros Costa from 6:30-8pm ahead of the sunset at 8:20pm
Cost: Free, but registration is required
Friday, July 19 and Saturday, July 20
Randall's Island
Now in its fourth iteration, this rosé-themed picnic/pool party invites guests to "dress summer chic in pink and/or white" for the festivities. This year may be the biggest Pinknic yet, with Mark Ronson and Chromeo headlining (plus 20 more DJs performing over two days), and an expanded food and beverage lineup that includes options from 25 local restaurants shops (and half a dozen types of rosé plus pink cocktails!).
Cost: General admission is $95 Friday, $105 Saturday, and $185 for a two-day pass; VIP tickets start at $250; Cabanas are available for . . . maybe you should just see for yourself
Saturday, July 27 and Sunday, July 28
Governors Island
Cruise over to Governors Island for the ninth annual New York City Poetry Festival, which was created to "liberate poets and their work from the dark corners of bars, bookstore[s] and coffee shops... to bring together as many NYC poets as possible, in the bright light of day..." With readings every 30 minutes, set against the woodsy, colonial backdrop of Governors Island, the festival is the perfect place to spend a literary day. If you're feeling really inspired, bring a poem to share on the open mic stage.
Cost: Free
Saturday, August 24 and Sunday, August 25
Governors Island
The Jazz Age Lawn Party is one of Governors Island's most anticipated events every year. Inspired by the roaring twenties, guests are encouraged to wear their Prohibition Era-inspired best for the event, which happens over two weekends each summer. This year the party features performances from seven different orchestras and bands (headlined by party founder Michael Arenella and his Dreamland Orchestra, as well as a dozen different pop ups and activities, including a Charleston dance contest and 1920s motorcar exhibit.
Cost: $45 (general admission), $55 (admission + 2 cocktails/beers/wine), $75 (admission + a picnic toolkit and two glasses of rosé), $175 (admission for two + a picnic toolkit and a bottle of rosé)
Saturday, August 31 and Sunday, September 1
Governors Island
There are plenty of people with odd talents in NYC, and riding a unicycle (often while juggling, fire breathing, or flipping omelettes) is certainly one of them. For the 10th year in a row, the NYC Unicycle Festival is rolling into Governors Island for Labor Day weekend. And while the festival is mostly a spectator event -- with unicycle sports, exhibitions, and skills courses on display -- if you're brave enough (and sign a waiver), you can test your own one-wheel readiness.
Cost: Free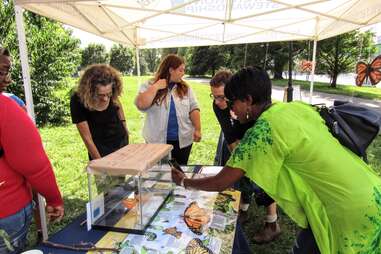 Saturday, September 14
Randall's Island
Though not being known first and foremost for its natural landscape, NYC is an important hub for butterflies (and birds!) migrating for mating season every year. During the Monarch Celebration, you'll explore the Randall's Island's gardens in the hopes of catching a glimpse of the butterflies while learning about ways to support their conservation as they make their way to Mexico for the winter.
Cost: Free
Saturday, September 21
Roosevelt Island
When the weather cooperates, late summer is truly the best time of the year in NYC. It's warm, but not hot, and slightly breezy without the chilly bite of the fall. The good folks at Four Freedoms Park must've had that in mind when they planned Kite Flight for Peace, an event that coincides with the United Nations' International Peace Day. Guests are invited to design their own kites using colors and symbols that represent their ideas of peace and freedom, then hit the skies. Complementary kite making and flying workshops will run throughout the day.
Cost: Free
Saturday, September 21
Governors Island
Do you have strong feelings about who makes the best street food in NYC? Then hit the last ever Vendy Awards, which pits 25 of the city's best street food vendors (chosen by public nomination) against one another in categories like "best breakfast vendor," "best rookie" and "best dessert." In addition to bragging rights for the winners, the event serves as a fundraiser for the Street Vendor Project, a nonprofit organization that advocates and provides legal services for vendors.
Cost: $100 (general admission, all you can eat and drink), $170 (VIP, all you can eat and drink + early admission, VIP tent and swag bag)
Sign up here for our daily NYC email and be the first to get all the food/drink/fun New York has to offer.