Everything to Know About 2023 NYE Times Square Ball Drop in NYC
Whether you're planning to brave the crowd or watching virtually, here's how to join in on the celebration.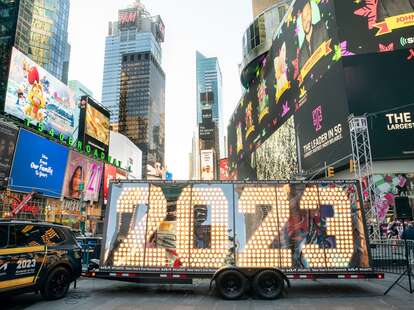 Times Square

| Photo courtesy of Countdown Entertainment, LLC.
Times Square

| Photo courtesy of Countdown Entertainment, LLC.
Since 1907, New Yorkers have been gathering in Times Square on New Year's Eve in revelrous celebration to watch the New Year's Eve ball drop. Making its descent every year at midnight from the flagpole atop One Times Square, this more than a century-old tradition is now considered one of the biggest parties in town and broadcasted live for all of the world to join in on the excitement.
While last year's crowd averaged at about 15,000 due to pandemic precautions, this year, we can count on the festivities shaping up to their former glory with about 58,000 attendees, live performances, and tons of confetti. Whether you're ready to brave the cold and secure a prime spot early in the day or take part in the merriment from the comfort of your own apartment, here's everything you need to know about the 2023 New Year's Eve Times Square ball drop in NYC.
And if you do decide to go IRL, be sure to check out our guide on what to Eat, See, and Do in Times Square while there.
Do I need tickets to watch the ball drop?
No. Times Square is open to visitors on New Year's Eve on a first-come, first-served basis. All you need is to arrive before the space fills.
When should I arrive?
The celebration begins shortly before 6 pm, but the earlier you arrive, the better your chances of snagging a prime spot are. That being said, New Year's Eve in Times Square is considered more of a bucket list item than an annual tradition, since it requires a hefty amount of standing in cold and windy conditions.
If you're super serious about having the best view in the city, start camping out in the morning or early afternoon. If you would prefer to minimize standing time and are okay with a less idyllic viewing spot, aim to arrive around 3 pm when the masses start gathering.
What if I need to use the restroom?
There are no public restrooms available in Times Square on New Year's Eve, and once you've been admitted into a viewing area, you're not allowed to leave without forfeiting your spot. So, just keep in mind that this means everyone in the crowd is attempting to hold their bladder throughout the entire experience and handling the situation how they see fit (or perhaps even wearing a diaper).
What should I wear?
Usually around this time of year, we're looking at chillier weather in the Big Apple. So essentially, spending hours outdoors in winter conditions can be hazardous if you're not properly prepared. We highly recommend packing on as many layers as you can—including some sort of waterproof or windproof fabric like Goro-Tex and polypropylene—as well as a thick hat and cozy scarf. If you can find hand, body, and feet warmers to bring along also, even better. If it looks like there's a chance of rain, consider topping the 'fit off with a plastic poncho.
How do I get to Times Square?
As with any major event in New York City, public transportation is your best bet for traveling (unless, of course, you are staying within walking distance). Unfortunately, planning your subway route can be tricky as certain stations are skipped and entrances are closed off ahead of the celebrations. If crowds become unmanageable in certain areas, subway service may also be disrupted as a response.
In any case, the MTA always recommends that people avoid getting off at the 42nd Street Subway Station due to crowding concerns. Instead, plan to get off at a surrounding station and walk to one of the event entrances, located along Sixth and Eighth avenues. Or since Times Square is so centrally located in Manhattan, getting there by foot via a scenic NYC stroll is also an option.
For help planning your route amid detours and closures, use a mobile app like Citymapper or keep an eye on the MTA website and Twitter for service updates.
Are there any other tips I should know?
Pay attention to what you consume early on the day of December 31. Bodies can easily get dehydrated in cold weather, meaning you should avoid drinking alcohol and caffeine before arriving. The event organizers recommend that, for your health and safety, you should drink a lot of water to prevent dehydration, but that also means more frequent bathroom trips (so try to strike an even balance).
Additionally, be sure to eat, because there will be no food and beverage vendors in Times Square on New Year's Eve—and just like with bathrooms, you can't return if you leave to find sustenance. We suggest carrying smaller snacks on you to munch on throughout your wait.
Will the festivities be broadcast?
Yes! While only a select few are fortunate enough to watch the ball drop in person, the entire world can stream it and feel a part of the action. Hosted by Mean Girls star Jonathan Bennett and media personality Jeremy Hassell, the Times Square website will stream commercial-free coverage of the event from 6 pm ET till after the ball drop and features performances by Chelsea Cutler and JVKE.
You can also watch any of the holiday's television specials, like the beloved Dick Clark's New Year's Rockin' Eve with Ryan Seacrest 2023, which airs on ABC beginning at 8 pm. This year, New Year's Rockin' Eve is co-hosted by media personality Liza Koshy and singer Jessie James Decker, and touts an impressive lineup of musicians from across the nations, including performances by Duran Duran, J-Hope, Ciara, Aly & AJ, Shaggy, Halle Bailey, Dove Cameron, Wiz Khalifa, and more.
Another favorite for at-home viewers is CNN's NYE coverage, which is being co-hosted by Andy Cohen and Anderson Cooper for the sixth year.