There are few things in this world more objectively enjoyable than an afternoon of tacos and tequila… except maybe a whole weekend of tacos and tequila. So this weekend, with the help of our friends at Cannonball Productions, we took over The Well in Brooklyn to offer New Yorkers just that. For three-hour windows on Saturday and Sunday, we invited guac-enthusiasts to gorge themselves on an unlimited selection of tacos from some of the city's most notable vendors, all while dancing to live mariachi and bobbing for churros (yes, really). Oh, and did we mention the free-flowing tequila? First, here's a look at the taco lineup:
Oktoberfest Tacos
Oaxaca Taqueria
While a German-style taco doesn't necessarily sound appealing, these Oktoberfest tacos were a surprising crowd favorite. Each came piled with crumbled bratwurst, chili beer cheese, hibiscus pickled cabbage, and rosemary-mustard crema.
Rabbit Tacos
Mexico Lindo
These dainty little hard shell tacos were each loaded with banana-leaf-roasted rabbit topped with a red almond mole sauce.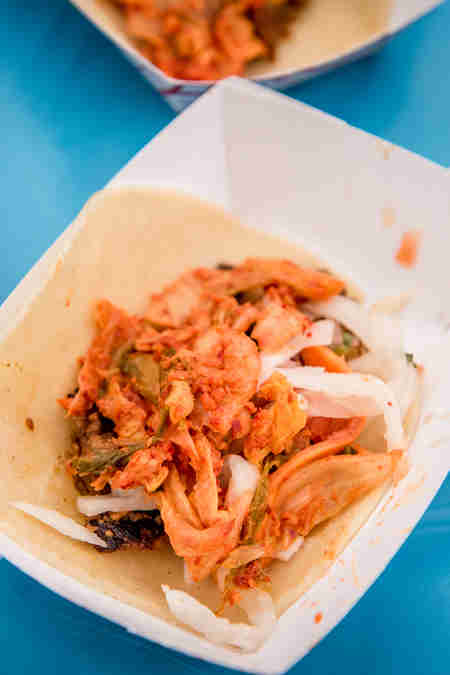 Kimchi-Stuffed Pork Tenderloin Tacos
Kimchi Grill
Among the most intriguing of the available tacos, these fresh kimchi-stuffed delicacies came with seared spicy pork tenderloin marinated in red pepper paste, garlic, onions and pico de gallo.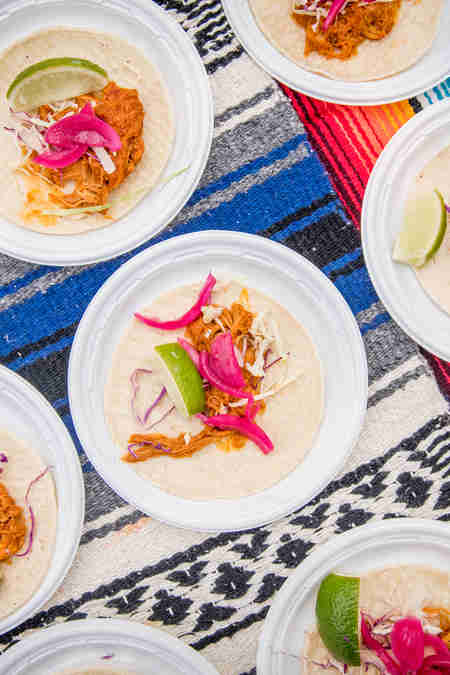 Spicy Chicken Tacos
Bodega Negra
Perhaps the most photogenic of the tacos on display, these spicy chicken pibil tacos were each topped with shredded cabbage and pickled red onions. For the more daring eaters, spicy sauce was available on the side.
Pineapple and Pork Belly Tacos
Zengo
These seasonally-appropriate pork belly tacos were each topped with an impressive helping of sweet, grilled pineapple salsa.
Jerk Tacos, Two Ways
Natwerks
Natwerks was serving up a Jamaican twist on your typical Mexican fare, offering both jerk chicken tacos  (topped with caramelized pineapples) and jerk pork tacos (with Caribbean slaw and spicy bacon bits) -- what could be better?
Specialty Pork Tacos
Maya
There is truly no such thing as too many pork carnitas. These corn tortillas from Maya came piled with the place's specialty pork carnitas, salsa verde, chicharron (you know, because more pork is never a bad thing), and cilantro.
Classic Carnitas Tacos
Cafe De La Esquina
La Esquina, a New York favorite for Mexican cuisine, served up classic pork belly carnitas with salsa verde, fresh cilantro, and onion, on house-made corn tortillas.
On the side
While tacos took the main stage, Empanada Pap offered remarkable empanadas al pastor with pineapple habanero and an avocado Serrano sauce. For VIPs, there was a full guac bar available for use, and for everyone else, the standard salsa station offered plenty of prime chip-dips. Beyond the classic spread of red and green salsas, Cafe Cochera served a creamy black bean dip with sour cream and roasted red peppers, while Burger Envy offered a spicy sweet potato and bacon sauce with scallions and chipotle mayo.  
Better yet, here's what we were drinking
Each member of the event was given their very own Taco Takeover glass, which they were welcome to refill as many times as they liked with a bottomless supply of cold Model Especial and Modelo Negra, frozen hibiscus margaritas, classic margaritas on the rocks, and fresh grapefruit palomas. And for those hoping to head straight for the good stuff, there was a tequila shot-bar open all day.
We brought a generous spread of desserts
For those who still had room for dessert, there were boozy mango margarita ice cream tacos from Tipsy Scoop, a full cart of fresh fruit paletas, a cotton candy machine, and best of all, a decorate-your-own-churro station, complete with melted chocolate and rainbow sprinkles by Dulcinea Churros.
And for some friendly competition
Beyond the live mariachi, the giant connect four boards, and the endless games of cornhole, there was a churro bobbing competition, which involved jumping, mouth-first, for bits of churro on strings (sounds kind of like what Heaven is like, right?).
And because no feast is complete without an eating contest, several brave (read: hungry) volunteers willingly tied their hands behind their backs for a face-first nacho eating competition. "If I'd known I was going to compete I wouldn't have eaten like 15 tacos first" Saturday afternoon's winner told Thrillist.  "But I guess I came here to eat." Eat, he did. Now feast your eyes on a few of our best shots from the day: