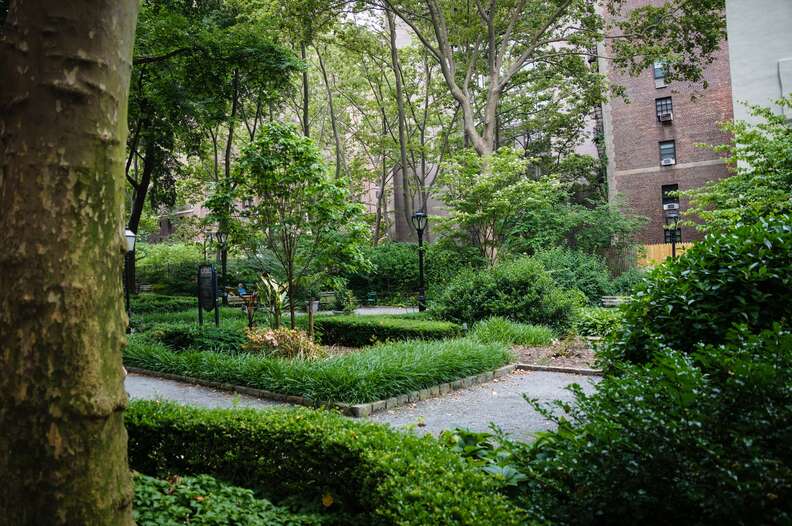 Tudor City Greens

| Jeffrey Zeldman/Flickr
Tudor City Greens

| Jeffrey Zeldman/Flickr
Before the lockdown, my interaction with Green-Wood Cemetery was limited to a stroll maybe once a month to check out impossibly gorgeous swans in the pond, find Basquiat's grave, or wave to the Statue of Liberty from one of the highest natural points in Brooklyn. But now its 478 acres of open space and over 7,000 trees is a lifeline, offering fresh air and a safe nearby place to roam beyond my apartment, with an abundance of room to observe six feet of distance. Beyond physical exercise, my daily walks are also a mental salve: Afterward I'm calmer, my brain noticeably quieter.
I'm forest bathing, a mindful and meditative technique I was first introduced to last year on a trip to Sedona. "The point is to just be present with your surroundings," explained Devani Paige, the in-house yoga expert and spiritual concierge at the L'Auberge, where forest bathing is offered as a complimentary hotel amenity. "Be aware of how you and your environment interact together." Some folks might go to the woods to hide, but with forest bathing, you go to nature to heal. Beginning in the early 1980s in Japan, the medicinal practice of shinrin-yoku (shinrin in Japanese means "forest," and yoku means "bath") has since become viewed as preventative healthcare in the country, with proven benefits like reduced blood pressure and stress, boosted immune functioning, and increased energy level and cognitive functioning.

And who hasn't felt better after taking a walk in nature? (Barring allergies, of course.)
For beginning forest bathers, especially those in New York, it's important to note that like with the cemetery, you don't even need a forest, just anywhere green to turn your technology off and go.
And if you don't live near a park, botanical garden, or a nontraditional urban green space like Green-Wood, you can always get some potted plants and create your own, to reap the benefits of this handy and easy tool for healing. But if you're within the NYC city limits, below is a short primer on some of the biggest wide open green spaces, ideal for safe forest bathing, that actually let you maintain social distance during the time of Corona (don't forget to wear a mask).
Four New York spots for forest bathing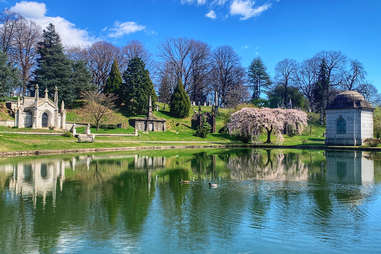 Green-Wood cemetery opened as a rural burial ground in 1838 but by the 1860s had attracted all manner of elite as both a cemetery and tourist attraction, with 478 acres of rolling hills, glacial ponds, and welcoming greenery, partially inspiring the establishment of public parks like Central Park and Prospect Park. Now a National Historic Landmark, famous graves include Leonard Bernstein, Boss Tweed, and Jean-Michel Basquiat, and its trees number over 7,000, with 700 species including redwoods, cedars, camperdown elms and the oldest sassafras in New York City. And if you're looking for a particular tree to park under, there's a map for that.
Not only are there trees and all manner of greens at the Queens County Farm Museum, but there are sheep. And chickens. And cows. And pigs. Dating back to 1697, the 47 acres in the eastern neighborhoods of Floral Park and Glen Oaks is the longest continually farmed site in New York State and holds livestock in addition to historic farm buildings, a greenhouse, planting fields, an orchard and herb garden. Admission is free to visit over 35 species of trees including the tropical-looking American Pawpaw, which produces the largest edible fruit indigenous to the United States, savored by George Washington himself.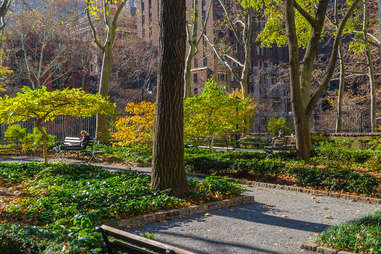 The two-block-long gardens of the residential development Tudor City may feel off-limits but they're actually open to the public daily from 7am to 10pm. On the National Register of Historic Places since 1986 and a short walk away from Grand Central, the greens serve as a respite from midtown chaos, with trees like magnolias, oak, Japanese maples and much more, all listed on their website for reference. And while you're in the area, stop by Ford Foundation Atrium for another dose of oxygen, an unexpected subtropical garden with 39 species of trees, vines, and shrubs, a reflecting pool, and a fountain that "offers a unique reverberation effect."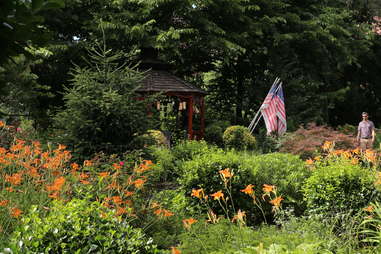 Up in Inwood, Bruce's Garden -- which recently turned 50 -- is a pocket of serenity named for Port Authority Police Officer Bruce Reynolds, who died on September 11 while in the line of duty. He began working on the underdeveloped plot of land adjacent to Isham Park as a child, and today the grounds are teeming with life and volunteers keeping them in shape. Meander on a path through the lush enclave for trees, flowers, and two beehives, before taking a break at the gazebo.
Sign up here for our daily NYC email and be the first to get all the food/drink/fun New York has to offer.
Vanita Salisbury is a writer and editor on Twitter and Instagram @valisbury and IRL in Brooklyn.