Independence Day celebrations include consuming excessive quantities of grilled meats, patriotic day drinking, and watching choreographed sky lights. But if you live in NYC, it's best you not try to do all of these activities in your one-bedroom sublet. Instead, head to any of these viewing spots around town to see Macy's annual fireworks display over the East River. Show starts at 9pm!
Editor's Note: City pyrotechnics aren't limited to July Fourth. A complete list of permitted and definitely legal fireworks shows this summer is here.
Recommended Video
Join Us for This Year's Best Day of Your Life
Where: 334 Furman St, Brooklyn
When: If you want to see any of the controlled explosions, you will need to declare your blanket-sized share of land on the early side so you can take full advantage your proximity to '90s legend Gloria Estefan! The NYC Department of Parks and Recreation is billing BBP as one of the go-to spots for the fireworks explo-tacular, which means it will be jammed.

Where: Montague St & Pierrepont Pl, Brooklyn
When: Fireworks will start at 9:20pm, so that means benches will be full by 5pm. After that, be prepared to work on your lotus pose.
This is another area that will be crushed with onlookers thanks to its proximity to the music and pyrotechnics. If you're frugal, but opposed to interacting amicably with strangers, consider watching from afar so you avoid needless un-American spats over who has a right to what part of the limited public space.

Where: Grand St, Brooklyn
When: Show starts at 9pm! Plan accordingly.
Grand Ferry Park is always a little bumping in the summer, as it's in a neighborhood filled with adults who love artisan picnic baskets and RedRover. This park isn't exactly the place if you want to experience everything about the fireworks, but if you just want to look up and see bright colors changing in the sky, it will do the trick.

Where: Alice Austen Park, Staten Island
When: The orchestra starts at 6pm. The official fireworks follow.
SI will be just hard enough to get to for city dwellers, which means it'll be way less dense. Make a day out of it!

Where: 19 Fulton St, New York
When: Food's 1pm to 8pm, fireworks are 9:30pm
It's prime viewing real estate for sure, but the bigger draw might just be "The Festival of Independence," an all day food, drink, and live music affair. Landhaus, Milk Truck, and Lumpia Shack's halo halo stand will all be there.

A rooftop
Where: At that guy's who you met that one time
When: Send the "Hey man let's catch up soon" text, yesterday, very yesterday.
Is it really free when you have to sacrifice part of your humanity? No, but, I mean, a NYC rooftop! Or you could try any of these other bar rooftops. Just consider what might get in the way, so it should be on the East Side and/or really tall.

Your television/tablet
Where: Your couch
When: Whenever. It's your world.
The show is so big it will be televised live, so you choose how to celebrate.
Where: 187 Columbia St, Brooklyn
When: Other equally savvy people will have the same idea, around 6pm.
Alma's panoramic roof can point you directly at the main event's explosive glory. If you aren't able to land the coveted July Fourth table, keep in mind it's are open year-round. Sunsets on a roof are always in season.

Where: Pier 6, Brooklyn Bridge Park
When: Early, but not too early. It's going to be popular.
Last year Fornino had a ticketed event, and may again this year, so pay attention to see if/when tickets go live.

Where: 1 Water St, Brooklyn
When: As close to 9pm as possible
River Cafe likes to keep things real classy (see dress code), so having a linger-y meal isn't out of the question. Others will have the same thought, though, so don't be surprised if you need to get moving if your reservation doesn't naturally hit that 9:30pm fireworks window. Tell your date you had your guy include her favorite color in the show, wink.

Where: 134 Metropolitan Ave, Brooklyn
When: Hit up a show. Stay for the lit-up "wild blue yonder."
Its July event calendar isn't posted, but up-and-coming and established acts are here every night of the week, as is its rooftop bar.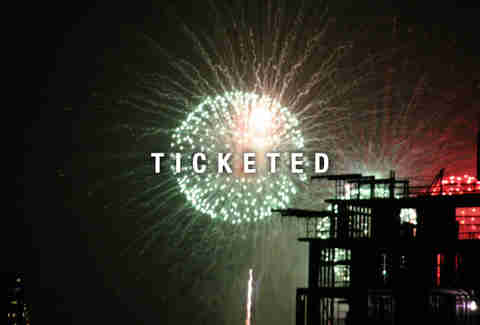 The East River
Where: On a boat cruise!
When: Depends
There are almost too many to name (this is a popular one). Being on the water puts you right in the action while allowing you to pretend you're that one character, from that one Leo movie where he is tossing money off a boat. If the "sharing economy" is more your idea of being aquatic, try one of these and skipper your own ship. Someone make a Dread Pirate Roberts joke!

The Penthouse at Hotel on Rivington Where: 107 Rivington St, New York
When: Doors at 7pm
360-degree views of the city and an open bar start at $75 a ticket, but that will likely increase closer to the event.

Where: Where the Staten Island Yankees play, Staten Island
When: Game starts at 7pm
The minor league Yankees will have their own fireworks followed by relatively easy viewing of the NYC show. Tickets start at $10.

Where: 2-01 50th Ave, Long Island City
When: 6-10 PM
Load up on shrimp and oysters and chase them with bottomless booze. Don't forget to toast Freedom. Tickets are $170.

Where: 11-01 43rd Ave, Long Island City
When: 3-10pm
$175 gets you two alcoholic beverages, the usual suspect food items for a backyard BBQ, and a view of the fireworks from the safety of Queens. Kids welcome.
Coney Island Beach
Where: Coney Island
When: Friday, July 3rd, 9:30pm
Fireworks happen most Fridays in the summer on Coney Island anyway, so you aren't limited to Pre-Independence Day. However this is a great excuse to check the "attending a Coney Island sideshow" box off your NYC bucket list.

Where: 1395 Beech St, Atlantic Beach
When: Friday, July 3rd, 9:30pm
You most likely aren't a member, but it's only $15 for the weekend if you make the journey.

Where: Where the Brooklyn Cyclones play, Coney Island
When: July 4th, right after the Cyclones are crowned victors over their mortal foes the Williamsport Crosscutters. The game starts at 6pm.
Tickets for the twilight tilt can be purchased here or you can simply make your way to the boardwalk. GO CYCLONES!

Where: Yonkers, New York
When: July 4th, 9:15pm
The Hudson actually extends north of the city. End geography lesson. The live music in Yonkers starts popping at 6pm.
Where: 1 Bronx River Parkway, Valhalla
When: July 3rd, 6-9:30pm
There will be DJs and then an orchestra playing America's favorite American tunes.

Where: 149 Girdle Ridge Rd, Katonah
When: July 4th, 8pm
You can get close to this venue via Metro North. Not only do you get a fireworks spectacular, you can bounce to some patriotic jams while picnicking. Tickets range from $30-$85.
Sign up here for our daily NYC email and be the first to get all the food/drink/fun New York has to offer.
Matthew Moll is a contributor for Thrillist and wonders if Katy Perry would consider him a firework, and if so, which kind? Follow him here.