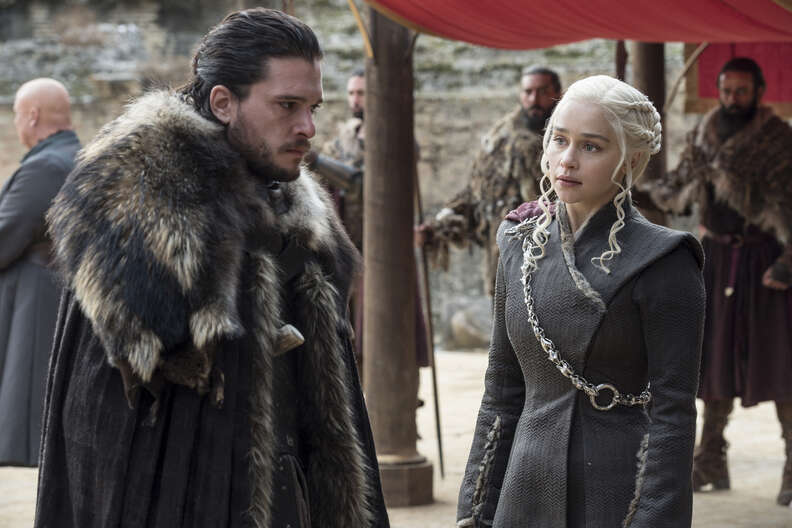 Game of Thrones

| Helen Sloan/HBO
Game of Thrones

| Helen Sloan/HBO
Enjoy spring while you can, because winter is coming one last time. On April 14, Game of Thrones will usher in its eighth and final season, and we're not quite sure how to feel. We've spent several years of our best sweat, gasps and tears watching in fascination and abject horror as the show proved to us that no one was safe. We've seen main characters killed off in droves, witnessed bouts of incest, had to redefine the word "wedding," and we're still working through the revelations that made us feel that, like Jon Snow, we know nothing.
What we do know is that New Yorkers are obsessed with this show. Maybe because we can relate to the cut-throat nature of Westeros pretty easily. Like NYC, Game of Thrones exists in a universe where you've got to stay on your toes to stay on top -- and even then you're promised nothing. Plus, it's almost got as much sex and drama as the city itself.
In honor of the beginning of the end, we've rounded up the best places in NYC to celebrate, commiserate and prepare yourself for the final season of Game of Thrones. Ah, the things we do for love.
Daily
Hell's Kitchen
It's not easy being drunk all the time, but Barcelona Bar's Winter is Coming shot sure makes getting there a hell of a lot of fun. The fire and ice (cinnamon and mint) concoction comes with props, and if you think the golden crowns and swords are attracting attention, just wait until the Game of Thrones theme song starts blaring over the bar's sound system and everyone is pointing at you, yelling "Shame!"
Cost: $8 a shot
Mondy, April 8; Thursday, April 11 - Sunday, April 14
Upper East Side
Want to feast your eyes on a real weapon made of Valyrian Steel? Fable and Lark lead an unofficial Game of Thrones tour around The Met, searching out the real-life myths, relics, and mangled history that seem to connect our world to Westeros. Maybe skip this one if you're still haunted by Viserys' gruesome death in season one.
Cost: $47.50
Monday, April 8
Midtown
Sip from poison-free cups and flaunt your knowledge at the Hudson Hotel's Library Bar. Themed cocktails like the Beyond the Wall (Cocchi Americano, mezcal, grapefruit, lime juice, honey, club soda) nod to some of your biggest questions and favorite characters, and five pretty intense rounds of trivia covering all seven seasons will weed out heirs to the Iron Throne from those who have always just been bastards.
Cost: Free to play; cocktails hover around $16 each
Friday, April 12
Chelsea
Turns out the Rubin Museum's Faith and Empire: Art and Politics in Tibetan Buddhism exhibit has its own hidden (and not so hidden) links to Game of Thrones. This official tour dives deep to examine how the show's storylines and characters intersect with art, politics and religion.
Cost: Included in $19 museum admission
Saturday, April 13
Upper East Side
If you've ever wanted to run loose in a museum like a Stark with his head cut off, now's your chance. Museum Hack's (unofficial) take on The Met will unearth hilarious and horrifying pieces said to have inspired George R.R. Martin's Game of Thrones. You'll escape a trial by combat, but come armed with your wits and well-stretched calves anyway.
Cost: $59 per person
Saturday, April 13
Williamsburg
What better way to celebrate the return of Game of Thrones than by partying with Hodor himself? As luck would have it, actor Kristian Nairn has been reincarnated as a house DJ, and his Evolution Tour just happens to be hitting Brooklyn the night before the season 8 premiere. Dance all night and get home with just 16-and-a-half hours left until the main event. Hold the door, we're on our way!
Cost: $30
Sunday, April 14
Forest Hills
Looking for a creative way to kill some time before the premiere on Sunday? Throw on your best Game of Thrones gear and head to Queens for a Westeros inspired painting class. Commit your house to canvas while you play a few easy rounds of trivia and sneak a few photo ops with character cutouts. And, as a Lannister always pays his debts, be sure to bring extra cash for the bar!
Cost: $45 for the class; beer and wine available for purchase
Sunday, April 14
SoHo and NoMad
As if free popcorn and candy weren't enough of a draw for a viewing party, the Arlo SoHo and Arlo NoMad have created a selection of craft cocktails that riff off of the show's fire and ice themes. These lobby screenings don't require an RSVP, but we advise getting there early for a good seat (preferably one closest to an Iron Throne).
Cost: Free to view; drinks available for purchase
Sunday, April 14 and Sundays through the end of the season
Midtown
If it's got to end, Refinery Hotel wants you to celebrate in spendy style. The "Lannister's Lair" suite has fur throws, dragon eggs, and access to HBO and HBO GO for all your viewing needs. Lucky Lannisters can veg out, tune in, and order up Thrones-themed room service while gulping wine from goblets every Sunday until the season's end.
Cost: $619 for the room at publication time; standard inflated room service prices
Sunday, April 14
East Village
No matter your house, you'll find your tribe at Professor Thom's. This pub is known for its competitive costume contests, and this season's start is no exception. All action stops once the show starts, so don't even think about uttering a word until the credits roll.
Cost: $20 advance ticket includes one drink and lets you skip the line
Sign up here for our daily NYC email and be the first to get all the food/drink/fun New York has to offer.
Katherine Alex Beaven is a Thrillist contributor.