The UFC dives gloves-first into the decade with the highly anticipated return of former two-division champion Conor McGregor after a 15-month hiatus. McGregor will face off against Donald "Cowboy" Cerrone at Las Vegas' T-Mobile Arena on Saturday, January 18, at 10pm EST, and New Yorkers can catch the fight right here in the city.
Fight night isn't complete without a crowd of fans reacting to every blow, and the closest you'll come to recreating the arena's buzz in NYC is at a bar with high-octane energy for the occasion. Whether you're a UFC megafan or desperately seeking Saturday night plans, here are the best NYC bars screening the showdown.
Bushwick
Cover charges aren't common at 895 Bar, but neither is a McGregor fight. On Saturday, entry is $10 at 895, but gets you access to a whole card of fights from 8pm on in a vibrant environment that features billiards and air hockey for the slower moments.
East Village
UFC fighter Tony Ferguson is hosting The Ainsworth's East Village fight watch, and if that wasn't reason enough to stop in, the $20 cover includes a drink. Get advance tickets online or pay at the door, and gear up for a wild night that also incorporates beats from a DJ. Meet & Greet packages with Tony are also available, and large groups can make table reservations by emailing events@paigeconceptsny.com or calling 332-209-4755.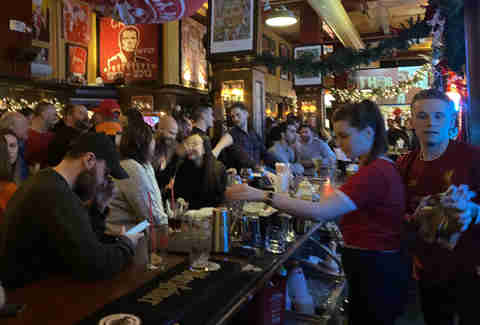 Garment District
All three of Carragher's bar areas will join in on the UFC madness. Reservations can be made on its website and seating begins at 7pm. Walk-ins can also find a place at the bar starting at 7. At 9, customers will owe a $20 cash cover, and the bar expects to reach capacity shortly after. Beer pitchers run from $20-30.
Williamsburg
Watch the ESPN prelims free here until 9pm, when a $10 cover charge goes into effect in preparation for The Big Bout. Fight night specials include $5.50 Modelo pints and $15 Modelo pitchers.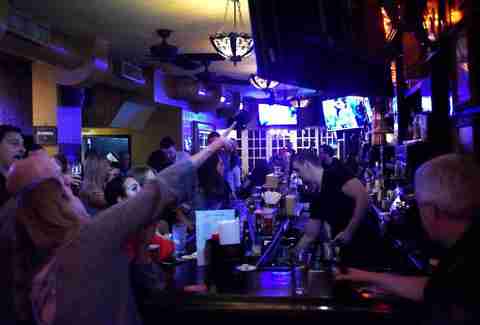 Upper East Side
Doc Watson's cares for its customers: They're not charging a cover at any point during the night, and they're planning to offer a special appetizer combo in the ballpark of $15, plus domestic draughts for $5 and Bud Light for $4. If you're cheering for the Irishman, what better environment than an Irish pub?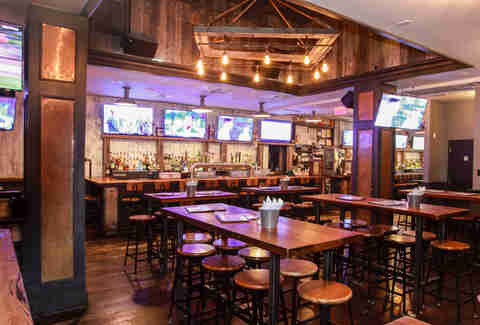 Chelsea
Smithfield Hall will play host to Saturday's preliminary fights and -- of course -- the main event. There's a $20 cover to stay for the pay-per-view fights at 10pm, but you can make up for the money spent on admission by going in on beer buckets with friends. Buckets of Budweiser and Bud Light are $25; the longer you stay, the better your value.
Upper East Side
If you want to sit at the bar, bring $10 to enter. If you're with a group that prefers a table, there's a $40 minimum for each person seated in lieu of a door charge. Five-bottle buckets of Bud Light and Miller Lite will go for $25, and the preliminary fights start screening at 8pm.
Astoria
You won't miss a single spin kick at Sweet Spot, where 50 LED flatscreens ensure good views of the action no matter where in the bar you are. It's $20 to enter during the fights, you can text or call 347-944-0295 to reserve tables. For a little extra flair, they're serving Proper Twelve, Conor McGregor's brand of Irish whiskey, for $10 ($12 on the rocks).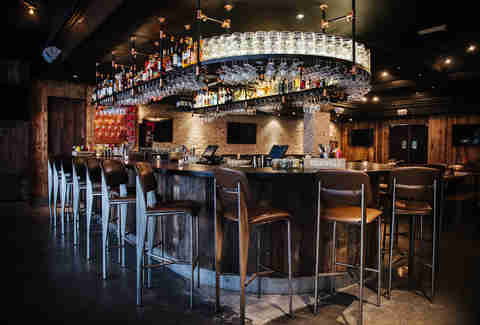 Hell's Kitchen
Ding ding ding, it's another bar without a cover charge! Treadwell Park West doesn't have a designated fight night menu, but you can pregame the bouts during their 4-6pm happy hour and settle your drunchies with its late-night menu between 10pm and midnight.
Sign up here for our daily NYC email and be the first to get all the food/drink/fun New York has to offer.