Check out our guides to some of the other biggest Women's March protests around the country in Los Angeles, Las Vegas and Washington DC.
On January 21, 2017, some 4 million people took to streets across the US in what was later declared the largest single-day protest in American history. In New York, 400,000 bodies moved through the city, traversing miles, holding banners high and belting protest anthems -- a force to be reckoned with. The city glowed pink.
That post-inaugural energy has ebbed and flowed in the intervening year. The close of 2017 was fraught with news of sexual assault and harassment, a deluge of demoralizing remarks from the White House, and continued bleak reports on gender-based discrimination. But the same determination that defined last year's nationwide marches will roar again.
This Saturday, January 20, hundreds of thousands of people are expected to march through the streets of Manhattan for victims of sexual assault, for LGBTQ+ rights, for racial equality, and for basic human rights that the majority has the privilege of taking for granted. This march is for the disenfranchised and the voiceless -- the political, and the personal. And this march is for New York, a city that has long served as a home for all of the above.    
Here is everything you need to know before you join the movement.
Recommended Video
Free, Awesome Activities You Can Do in Los Angeles for Every Day of the Week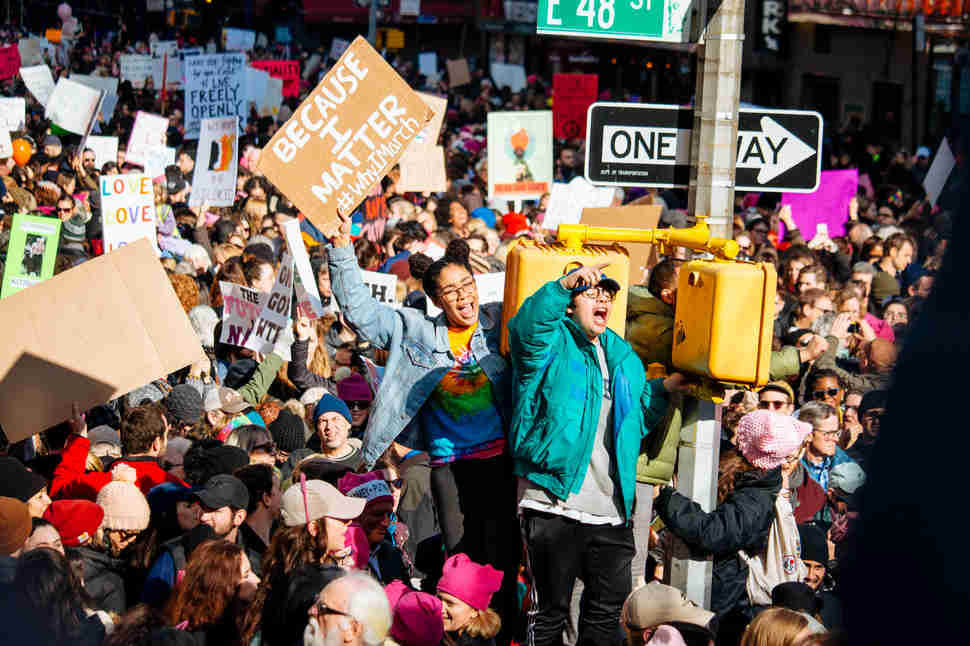 When and where
Saturday's events will kick off at 11:30am with a pre-march rally at Central Park West and 61st Street, where Women's March organizer Katherine Siemionko, #MeToo creator Tarana Burke, and other speakers will stir the troops and speak out against injustice onstage at the edge of the park. The march begins around 12:30pm near the West 72nd Street entrance to Central Park. The march will pass Columbus Circle, swing east on 59th Street and continue down Sixth Avenue. Organizers have created a helpful map so you can easily follow the route.
Upon arrival at Bryant Park, protesters will be led south where a number of (indoor) follow-up activities will take place.
How to get there
Stay off the roads, as several will be shut down to accommodate the crowds and (and you'd pay an arm and a leg in Uber surge prices anyway). If you plan to make it in time for the rally, grab the 1, 2, or 3 train to Lincoln Center, or the A, B, C, D to Columbus Circle. And if you're heading straight to the march, take the B, C, 1, 2, or 3 train to 72nd Street. If you get lost, you're bound to meet several fellow marchers en route.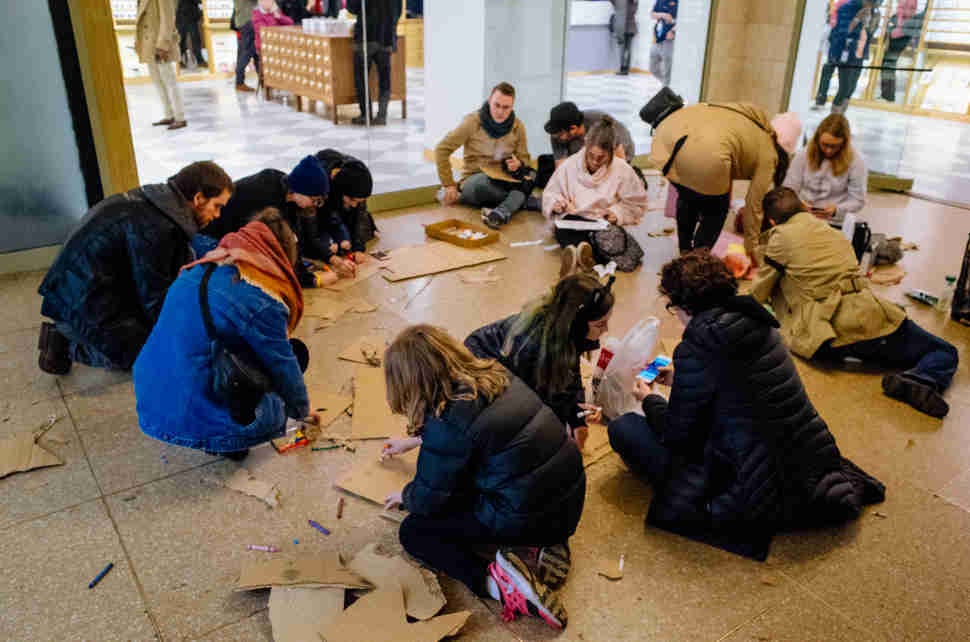 What to wear/bring
You'll be on your feet all day, so wear comfortable shoes. If you're into sartorial expression, go ahead and purchase the official women's march shirt. The weather could not be more forgiving for late January: The forecast promises a sunny Saturday in the high 40s -- practically paradise. Wear a coat, but maybe not your puffer, as you'll be working up a sweat while you march. We suggest you bring a snack (you should always bring a snack), a portable phone charger (you'll need to stay juiced to get the word out via social media as well as document the day), and a guide to your rights to protesting in NYC. This is a show and tell demonstration, so draw some sign-making inspiration here.
Where to re-fuel en route
Rallying for your rights is taxing, and you'll surely require some sustenance throughout the day. Before you the march, grab a sandwich to-go from White Gold Butcher's on 78th Street and Amsterdam Avenue. Helmed by famed female chef April Bloomfield, the nose-to-tail butcher shop and restaurant specializes in thick cut, hearty beef. If you've got more time you can treat yourself to a cheap, tasty sit-down meal at the Olympic Flame diner, a classic, third-generation-New-Yorker-owned diner. On the lighter side, hit the Chelsea location of Christina Tosi's Milk Bar on your way uptown for some excellent coffee and a pastry to go. If you get hungry en route, stop off at The Halal Guys -- founded in the '90s by a team of three Egyptian immigrants -- for an unrivaled falafel plate.
At the end of the march, make your way downtown and hit some of the city's most established women and minority owned venues. Grab innovative, rich, vegetarian pates at Amanda Cohen's Dirt Candy; treat yourself to a new-American feast at De Maria, the latest project by lady-chef-prodigy Camille Becerra; or check out Atla, a creative Mexican spot run by Thrillist's chef of the year, Daniela Soto-Innes -- a mastermind in the kitchen, born in Mexico City.   
What to do post-march
The city has plenty of options to keep you engaged for the evening once the march concludes. (Continued civic engagement in the weeks and months to come is up to you.) First, leave your posters at the sign drop-off location on 6th Avenue between 46th and 47th street to lighten your load and get ready to celebrate.
RunVoteLead, in collaboration with Bustle, is hosting an event called "Women Run 2018" in the Helen Mills event space on West 26th Street. From 4-8pm, female activists will speak out about converting energy into action, followed by an open discussion about the culture of sexual assault -- and what to do about it.
At sundown, on the steps of the main branch of the New York Public Library, the Center for Fiction will lead a public reading of literary works that target xenophobia, sexism, racism, and hate. The readers will include prominent writers like Anne Carson, Tina Chang, and Sahar Muradi.
Additionally, the New York Society For Ethical Culture on the Upper West Side will provide free hot cocoa for folks who want to warm up and talk about their experiences.
For some serious well-earned reveling, stop by the Reclaiming My Time Day Party at Public House on East 41st Street. Relax with some festive drink specials, plenty of food, and tons of great company -- your $20 suggested donation ticket will be split evenly between Emily's List and the Time's Up Legal Defense Fund (your ticket includes one free drink).
If you're outer-borough-bound, hit the BAM Cafe for a free post-march concert with Flor de Toloache, the first all-female mariachi ensemble. Or head to the Astoria World Manor in Queens for a full evening of drinking, dining, and dancing. All the proceeds from your $125 ticket will go towards efforts to support the LGBTQ movement, and your ticket will include dinner, live music, and an open bar for the duration of the event, from 7pm until midnight.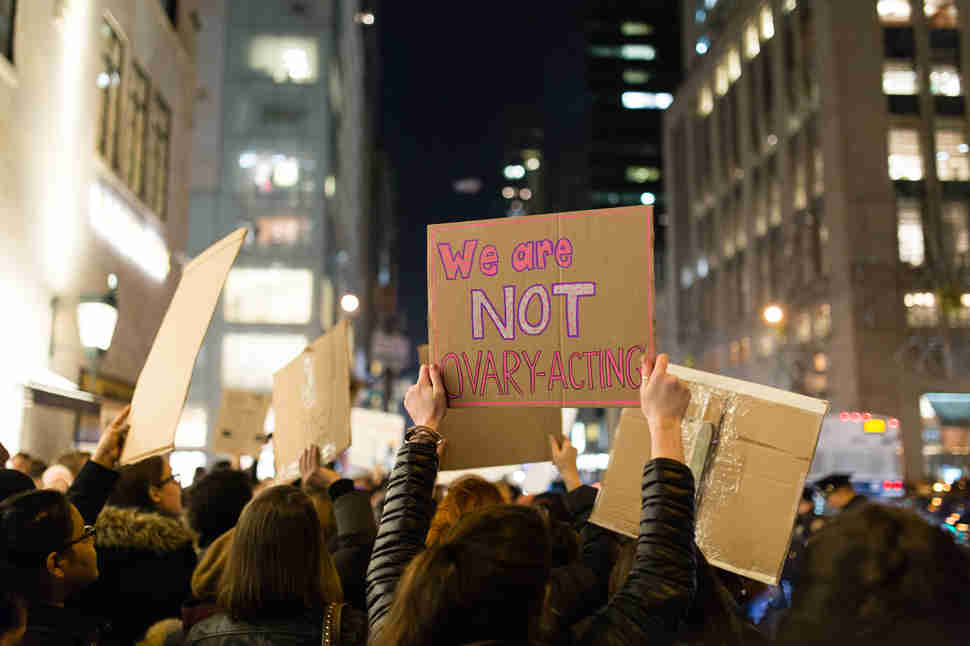 How to follow along if you can't make it
Showing support in person isn't always possible. If you can't make it, soothe your protest FOMO by catching a livestream here, or following the Women's March Alliance on Facebook and Twitter for photos, videos, and frequent updates on the march. A separate account, @NYCWomensMarch, will be live-tweeting all day, and if you search #NYCwomensmarch on Twitter or Instagram, you'll find plenty of minute-by-minute updates from participants all over the city.      
Sign up here for our daily NYC email and be the first to get all the food/drink/fun New York has to offer.