Halloween started creeping into the mind and spirit Philadelphians as soon as Labor Day Weekend started, and there are as many things to do as there are spotted lantern flies to squish. Whether you're in the mood to be scared senseless, imbibe in a spooky manner, or simply want to be duly recognized for your brilliant costume, Philly has it all -- along with the staples of pumpkin picking, hayrides, and scary movies. Start planning your season now.
Through October and early November
Fairmount
Terror Behind the Walls is back for another season, giving you the chance to tour through a probably-haunted-all-year institution, the Eastern State Penitentiary, and be exorbitantly more frightened by its endless haunted house maze. The space is broken into six different horrifying installments, from the Machine Shop to the aptly titled Blood Yard. You can also upgrade the scare and let the performers grab you, take you away from your friends, and indulge you in all your horror catharsis. 
Cost: $24 and up
Through November 3
Center City
Townsend Wentz has officially transformed the space at 1123 Walnut Street to The Pearl Tavern, and with renovations came the discovery of an already-spooky, long forgotten upstairs tavern. The team behind Wentz figured it was the perfect spot for a pop-up bar, and pop it up, they did. Head upstairs to Haunt, a romantically spooky cocktail lounge covered with dripping candles and gothic ambiance. Throughout the season you can also expect Haunt to host movie screenings and other festive events.
Cost: Free admission
Through November 2
Callowhill
Why not combine the thrill of a haunted house with the thrill of a strong drink? Dark Passage has opened in Philly for the Halloween season, giving guests the chance to step through a "glowing portal" to the other side. You can spend as little as 30 minutes to as long as two hours wandering around the space in search of thrills, but you can also get your thrills tallied up at the cocktail lounge, which is aglow with blue lights. You can expect a lot of immersive experiences, but overall Dark Passage is staying fairly vague about the experience -- they want you to be fully surprised and fully live in the mystery.
Cost: $35
Weekends through October 27
Chadds Ford, Pennsylvania
It's a legitimate bummer that trick-or-treating is no longer acceptable after puberty, but for those who still harbor a sweet tooth (for wine or candy), there is Chaddsford Winery's Adult Trick or Treat. The special makes for a perfect fall day. Surrounded by all the crisp foliage you could ever desire, make your way around the winery's vineyards and houses for a mini wine tasting. You'll have the chance to pair each Chaddsford Winery wine with a classic Halloween candy, then you can stay and share a bottle with friends when you're done. There's also food trucks on site every weekend, and live music if weather permits.
Cost: $25 online; $30 at the door
Through November 2
Midtown Village
It's truly the season for the pop-up Halloween bar in Philly. For two years, Ted Sourias has opened Tinsel, a Christmas-themed pop-up bar, in Center City for the holiday season. This year he's taken it up a notch, converting the jolly decor into a terrifying maze for The Nightmare Before Tinsel, a Halloween pop-up bar that is shamelessly designed to enhance your Instagram grid. Every corner is a backdrop for your selfie -- from the closet of severed doll heads to bright red drinks served in a blood bag.
Cost: Free admission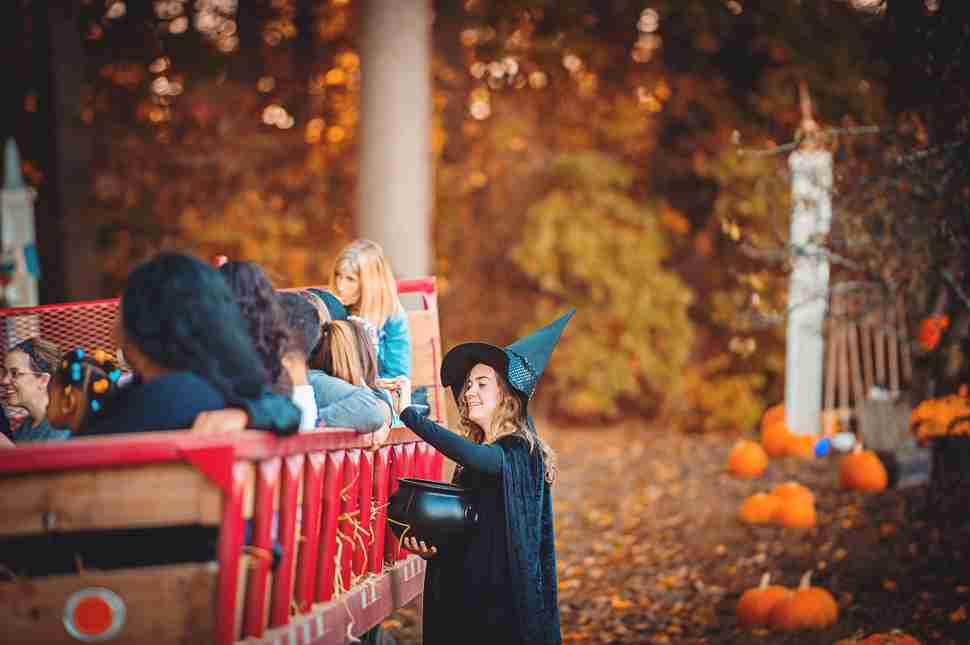 Through October 30
Media, Pennsylvania
Philadelphia is surrounded by idyllic farms an hour or less outside the city, offering farm-fresh produce, bountiful pumpkins, and, if you come at dusk, spooky hayrides and haunted houses. Linvilla Orchards is home to Pumpkinland, as well as Autumn Moon Rides and family-friendly hayrides to a good witch's house. If you're into something more intense, the Bates Motel and haunted hayride is pretty self explanatory, with additional options to check out the new zombie haunt laser tag (amazing) and the scarecrow's revenge trail. You can also try a hopefully scare-free session of axe-throwing.
Cost: Varies
October 23
Passyunk Avenue
For the sweet price of $6.66, join the Witch Craft Beer Crawl through Passyunk Avenue, stopping at bars along the way to enjoy discounted drink specials -- plus you get a free witch hat. The more specials you drink, the more chances you have to complete the bar crawl map and win some prizes. No one will judge you if you lose the map (not speaking from experience here, this is purely hypothetical). Bars including Garage South, Bob's Happy Birthday Bar, and Manatawny Still Works.
Cost: $6.66
October 18, 19, 25, and 26
Mount Airy
Did you know that Philadelphia has its very own circus arts school? Now is the perfect time to learn more about it, as performers will be all around the city this season, particularly at the Haunted Circus Mansion. The event takes place at a 100-year-old property, each corner filled with unworldly performances and frights. You can opt to attend on Friday nights, where adults will enjoy features such as an escape room and haunted trail. You can also opt for the Saturday version, which is a much more PG-rated Halloween celebration appropriate for any age. 
Cost: $10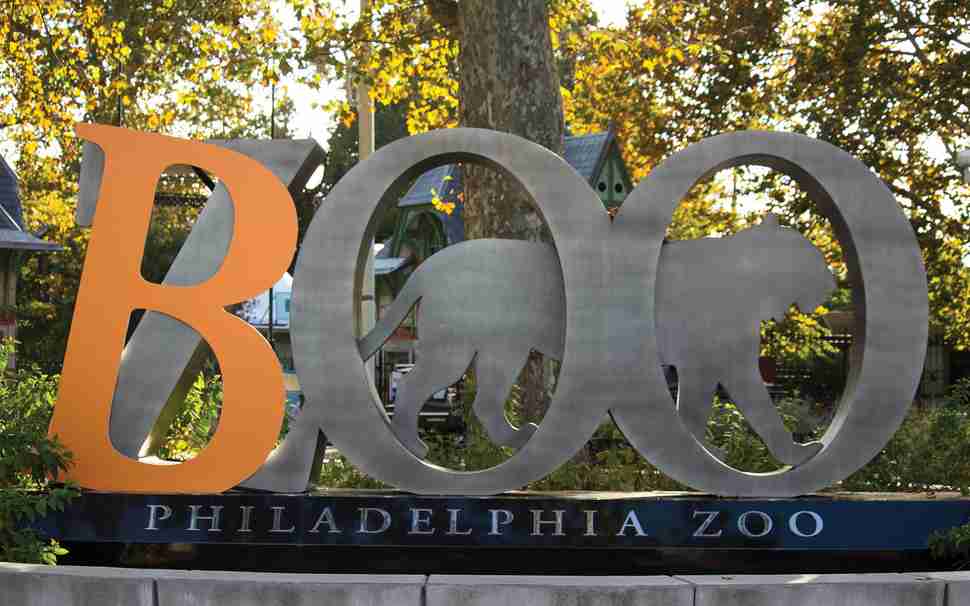 Weekends through October 27
Centennial District
Even animals at the Philadelphia Zoo are getting in the spirit. For Halloween, the zoo is kicking off Boo at the Zoo, a family-friend invite where costumes are encouraged. You can trick-or-treat your way around the zoo, which will also include a hay bale maze, pumpkin wall, and impala lawn for the occasion.
Cost: $24
Learn about all of Philly's haunted landmarks
Ongoing
Various locations
Considering how old the city is, there are haunted tours for tourists all year, but we really kick it up a notch for Halloween. The Grim Philly tours have a myriad of options, from pub-focused bar crawls to spine-shivering nighttime tours focused on vampires, sex, and ghosts, according to them. See Grim's Halloween offerings here. On Halloween night, you can also try Horror on the Hill, a creepy crawl through Callowhill featuring stops at Wood Street Pizza, Love City Brewing, and The Trestle Inn. Pizza, beer, and dancing... can't go wrong there!
Cost: Varies
Dance all night and try to win a costume contest
October 26
Various locations
Speaking of dancing, it's worth showing off your costume at some of the best Halloween dance parties in Philly this month, some of which will reward you for your genius. The Trestle Inn holds a costume contest during its Halloween dance party on October 26, and the Concourse will be celebrating all Halloweekend, so make sure not to lose any of your costume in the ballpit -- you could win a $500 prize for it!
Cost: Varies
Thursdays through Sundays in October
West Fairmount Park
Not far from the Mann Center, you can take full advantage of the darker fall skies and walk through a third-mile trail of expertly carved jack-o'-lanterns. It's like taking in the spectacle of Longwood Gardens at Christmastime, only Halloween-themed. You can also watch live carving while grabbing seasonal food and drink throughout the trail.
Cost: $23
Ongoing through October
Old City
The Victoria Freehouse kicks it up a notch with their event offerings for Halloween, with week after week of festive drag shows, brunches, and dance party to take part in. You can catch the Stranger Things-themed drag show on October 24 and finally get to see Barb again, or head there early this month for a Harry Potter-themed drag show. There are also themed Halloween brunches every weekend this month. 
Cost: Varies
Catch some classic Halloween films
Ongoing
Various locations
There's nothing like getting cozy to get freaked by a Halloween movie. In honor of the holiday, you can head to Media for Nightmares on State Street, presented by the Media Film Festival and featuring six of the best independent horror short films in the last several years, all upstairs at the Sligo Irish Pub. If you want long over short, the Exhumed Films 24-Hour Horror-thon is back again at the Lightbox Film Center in University City. The movies being screened are kept a secret, kicking off in the afternoon on October 26 and going nonstop into Sunday afternoon.
Cost: Varies
Sign up here for our daily Philly email and be the first to get all the food/drink/fun in town.