15 Spooky Ways to Celebrate Halloween in Philly this Year
A candy-themed exhibit, haunted tours of the city, and more.
Halloween is back in Philadelphia! After letting our costumes collect dust last year, there are more ways than ever to get spooked, spirited, or just capture some festive vibes in a zero-scare environment. Whether you're looking for the scariest haunted destinations (real or imagined), itching to carve some pumpkins, or simply want the best environment to show off your outfit, there are plenty of options all throughout the Halloween season. Take a look at our 15 picks for what do in Philly this Halloween.
Now through November 13
Fairmount
For many years, taking a trip to this very haunted-looking ex-prison around Halloween meant signing up for one of the scarier interactive experiences in the city. This year, though, the team at Eastern State Penitentiary is switching things up so there's something for everyone—whether you're a horror lover or a certified jump-scare wimp. The new Halloween Nights now features four themed bars and lounges (including a beer garden with Down North Pizza!), three live performance spaces with spooky ambiance, and four (very optional, very scary) haunted houses. Choose your own fright level for a night sure to please any Halloween lover.
Cost: $34–$79
Now through October 31
Midtown Village
Pop-up Halloween bar Nightmare Before Tinsel is back and all the scarier. Enjoy festive cocktails under the gaze of creepy dolls, clowns, ghosts, and other fixtures, plus an extra underworld installation that puts you in Satan's living room along with the Grim Reaper. Make sure to stop in before the space gets transformed for the holiday season.
Cost: Pay as you go
Now through October 31
Old City
Go for a round of mini-golf that's extra spooky. Franklin Square is doing it up with fog, lights, music, and an all-around Halloween spectacle that's sure to put you in the spirit. Keep the Halloween festivities going right nearby at the Betsy Ross House, where you can go for a shadowy after-hours tour of the historic building.
Cost: $12–$15
Now through November 1
Fashion District
Candytopia is like an IRL Candyland, straddling the line between confections and artwork with interactive sugar-rushed walkthroughs. For Halloween, come in costume and expect extra festive exhibits and decorations for the holiday. Plus, if your costume is really good, you might win some extra candy.
Cost: $20–$28
Sunday, October 31
Wharton
The last week of October marks Philadelphia Cider Week, with festivities culminating in a party at Irwin's in the Bok Building on Halloween night, aptly titled Nightmare on 8th Street. In addition to good food and plenty of cider, you'll have the chance to strut yourself and show off your costume at an official Costume Catwalk Contest. You can also venture into the unknown with Tarot card readings, raffles, and spooky DJ tunes.
Cost: $10 at the door, pay as you go
Now through October 30
Glen Mills
Heralded as one of the best scary attractions in the country, a visit to the Bates Motel is a must for any Halloween horror junkie. Located about an hour outside Philly at Araspaha Farms, the new 25-minute haunted tour is full of crazy visual effects, dedicated actors, and a ton of pyrotechnics. You can check out scenes like a creepy New England church (Midnight Mass, anyone?), a 200-foot cave, and a walk through a haunted corn trail. If you survive all that, treat yourself to a round of Zombie laser tag or a (hopefully) scare-free session of axe throwing.
Cost: $30–$120
Take a haunted tour of all of Philly's creepy landmarks
Ongoing
Old City
Considering how old Philadelphia is, one could argue that every tour here is a haunted one. Grim Philly Tours leans into this quite a bit, with pub-focused bar crawls and spine-shivering nighttime tours focused on serial killers, espionage, murder, vampires, ghosts, and the like. You'll never see Old City quite the same again.
Cost: $25–$29
Friday, October 29
Mt. Airy
See all the good stuff the Philadelphia School of Circus Arts can do at this year's one-night-only Haunted Circus event. Before the show, walk through as performers show off spooky circus skills, from firebreathing and aerials to juggling and dance. For the main event, you'll see the acrobats pull out all the stops, including duo trapeze and cyr wheel, for a performance titled "Grave Space."
Cost: $35
Solve a mystery while noshing on some pizza
Now through October 31
Various locations
If you're looking to stay in this Halloween but still do something festive, Vampire Pizza is offering interactive at-home experiences that deliver goods from Pizzeria Stella or Slice Fishtown, along with an interactive dinner mystery game. Your food delivery will come with clues and instructions, plus if you solve the mystery you could win some prizes (like tickets to Eastern State Penitentiary or an Oculus VR set). You can play with up to six people.
Cost: $29 per player
Saturday, October 30
East Fairmount Park
A visit to a storied old cemetery feels very appropriate right now, even better with some Halloween-centric programming. On Halloween Eve, Laurel Hill invites you to True Tales from the Tombs, featuring stories told by some famous dead graveyard residents themselves (via The Not Ready for After-Life Players). Take in the stories on a candlelit tour of Laurel Hill, then reward your bravery with some candy by the fire pits.
Cost: $12.50–$25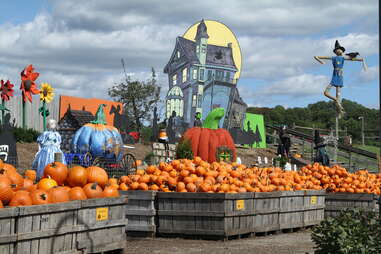 Get lost among the pumpkins at Linvilla Orchards
Now through November 7
Media
About 30 minutes outside the city, Linvilla Orchards is a one-stop shop for all your festive Halloween needs. For starters, it's home to Pumpkinland, which is just as great as it sounds, as well as apple picking and hayrides that end with cider and roasted marshmallows. It's a great family-friendly Halloween option that won't lead to nightmares.
Cost: $4–$15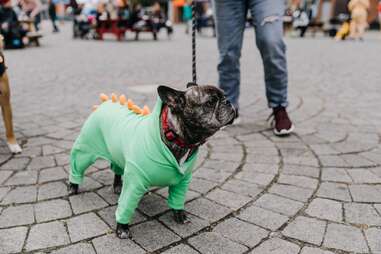 Sunday, October 31
Northern Liberties
Show off your pup's Halloween style at a massive dog costume contest in Northern Liberties. The event benefits Street Tails Animal Rescue and will feature 40 "contestants" up for a myriad of prizes. Dress you and your dog up, and enjoy food and drink from El Camino Real.
Cost: Free
Weekends through October 31
Philadelphia Zoo
Even animals at the Philadelphia Zoo are getting in the spirit. For Halloween, the zoo is welcoming the return of Boo at the Zoo, a family-friendly event where costumes are encouraged. You can trick-or-treat your way around the zoo, which will also include a hay bale maze, pumpkin wall, and impala lawn for the occasion.
Cost: $19–$24 (free for infants)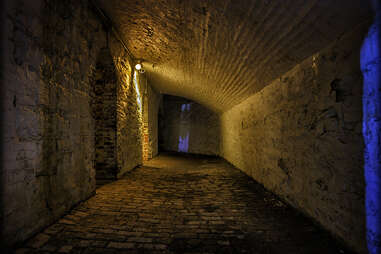 Now through October 31
Fort Mifflin
Fort Mifflin out on the Deleware River was built in 1794, and as such, it is rumored to be super haunted. Take an hour-long candlelit tour of the grounds and hear all the myths and legends of Fort's longtime residents. Afterward, you can drown your fears at a pop-up bar courtesy of Warehouse on Watts.
Cost: $15–$20
Spend a spooky Saturday on East Passyunk Ave
Saturday, October 30
East Passyunk
Head to South Philly for Fall Fest & Spooky Saturday, where you'll find craft vendors, grab-and-go pumpkin patches, sidewalk sales, seasonal restaurant specials, live performances, and lots of costumes to ogle at. You can also take part in a digital scavenger hunt and remember the moment in a free costume photo booth. If you have trick-or-treaters in your midst, they can go door to door to different businesses for treats.
Cost: Free