Philly New Year's Plans You'll Actually Enjoy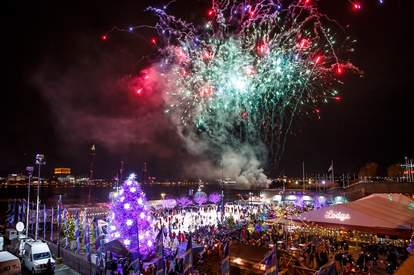 It's the most poetic night of the year: The clock strikes midnight and suddenly, miraculously, it's a new year and you're a new person, and you may or may not be incredibly intoxicated and wanting to make out with someone. Yup, it's New Year's Eve, baby! Kiss 2019 and the rest of this dreadful decade with its bodycon dresses, cardigans, and mom jeans goodbye. While we can't run away from all of our problems in the new year, you can ignore them for one night at any of the following Philly New Year's Eve bashes. Whether you're a low-key kind of celebrater or would prefer to go all-out, we've got parties to suit your every desire.
Moshulu
If fireworks are your thing, this party on the Moshulu offers some of the best views of the midnight pyro spectacle -- and you don't even need to stop partying. The tall ship-turned-restaurant on the Delaware River waterfront turns it out for NYE with three dance floors, one ballroom, five bars, two DJs, and one live band. Oh yeah, and a three-to-four hour open bar (depending on how much you want to splurge).
Cost: $85-115
Xfinity Live!
The South Philly party complex, comprised of multiple bars and venues, allows guests of this massive bash to move freely between five venues. Get down to live music from Split Decision in Victory Beer Hall or dance in complete silence at the silent disco in 1100 Social. Other activities and amenities include karaoke, bull-riding, a food buffet (chicken piccata over linguine, penne marinara with meatballs, braised short rib, roasted potatoes, seasonal vegetables, Caesar salad) and plenty of booze. 
Cost: $130 and up
Pyramid Club, 52nd Floor
For the last decade-and-a-half, locals have partied on the 52nd Floor of a downtown high rise in their semi-formal best for the Pyramid Club's annual Celebrity Style New Year's Eve Gala. This year, expect a five-hour open bar, passed hors d'oeuvres, a buffet, desserts, DJs, plenty of dancing, and prime views of the city and the fireworks via the floor-to-ceiling windows. 
Cost: $140-155 
Crystal Tea Room
With a venue name like Crystal Tea Room, you know the event is going to be fancy. This elegant ballroom, host to some upscale weddings, is your spot for partying, complete with a six-hour open bar (and a special martini bar), a buffet, massive dance floor, a DJ, lounge seating, and a live broadcast of the ball drop in New York. 
Cost: $100 and up
Bellevue Hotel
Dubbed the Glitter City Gala, this party isn't nearly as annoying and messy as its name implies. (Or maybe it is? That's up to you.) Get dressed up and get down on one of multiple dance floors, grab a drink during the five-hour open bar, gorge on a buffet, get your picture taken at various photo stations, shield your eyes from a laser show, and marvel at, in lieu of a ball, a Liberty Bell drop at midnight.
Cost: $99-189
Craft Hall
Summertime bar Morgan's Pier didn't want to get left out of the New Year's festivities, so they're bringing the fun indoors at Craft Hall for their first-ever NYE party. You'll be treated to a five-hour open bar, Morgan's Pier hot dogs, and plenty of dancing. It's like it's summer all over again. 
Cost: $75-90
Voltage Lounge
For the sad music lovers among us (of which we know there are many), Sad & Boujee, the city's emo and trap party throws a bash featuring music of those two genres, plus a live performance from Hellogoodbye, whom you may have thought got lost in the first decade of this millennium, but who have been releasing consistently great music this decade, too. Oh yeah, there's an open bar, too. 
Cost: $50
Tower Theater
If R&B is more your thing, the touring party R&B Only rings in the new year at the Tower Theater with a soundtrack of -- you guessed it -- R&B only. DJ Dauche spins all night while you sip and sway.
Cost: $39-100
The Fillmore
A monthly staple, Dirty South Joe's So Far Gone Drake nights offer the perfect opportunity to groove to the 6 God. There's no better time to jive to "Hotline Bling," God's Plan" and "One Dance" than New Year's Eve. Dirty South Joe and DJ Magglezzz have got you covered all night. 
Cost: $25
The Dolphin Tavern
Famous for its incredible parties year round, South Philly club The Dolphin keeps the vibes going with a decade-ending banger where DJ Ed Christof will play hits from the last 20 years (read: since 2000 -- feel old yet?). Get there early for $1 drinks from 9-10pm and enjoy a free champagne toast at midnight. 
Cost: $10
Underground Arts
Whenever the West Philadelphia Orchestra graces the stage, you can bet on it as the most lively party in town. The Balkan brass band will have you dancing into 2020 along with a bill of other funky and soulful acts by Johnny Showcase & The Mystic Ticket, Taylor Kelly, and Muscle Tough.
Cost: $40
Spirit of Philadelphia
Part buffet, part views and ambiance, the Spirit of Philadelphia's New Year's Eve cruises are ideal for those looking for a romantic evening. Step on board and enjoy an open bar and a buffet menu of salads, veggies, baked ziti, baked cod, sesame chicken, roasted pork loin, slow-roasted prime rib, and desserts. Then catch the fireworks show at midnight from the Delaware River. Or if you're more of an early bird, there's a cruise that departs at 4:30pm
Cost: $114-189
ThirstyDice
As we head into the '20s, naturally, contemporary parties will harken back to the glamorous bashes of this decade last century. The Fairmount board game cafe is hosting an interactive murder mystery game, complete with a full menu of pomegranate glazed leg of lamb, pineapple jalapeno chutney baked ham, a chocolate fountain, and featured cocktails made with Slow and Low, a locally produced rye whiskey flavored with bitters, orange, rock candy, and honey.
Cost: $75-85
Chart House
Because the Delaware River waterfront is the place to be, make your reservations at Chart House for NYE dinner. They'll have seatings from 4-11pm with a four-course menu of appetizers (beef carpaccio, jumbo shrimp cocktail), soups and salads (butternut squash and kale salad, lobster bisque), entrees (Chilean sea bass imperial, filet mignon with grilled shrimp) and dessert (black and blue crumble and cherry cheesecake). And don't forget: views of the fireworks.
Cost: $95-145
New Year's Eve menu

| The Twisted Tail
The Twisted Tail
While you're sipping on whiskey and munching on charcoal grilled meats and comfort food, enjoy live tunes from the Mikey Junior Band and burlesque performances. You'll be treated to a champagne toast at midnight, too. 
Cost: $25-125
Great Plaza at Penn's Landing
Since we've been talking so much about fireworks -- and all the parties that give you a good view of them -- we might as well give you the deets to the spectacle itself. Head out to Penn's Landing (or anywhere along Columbus Boulevard for that matter) for a front-row seat of the fireworks show. They go off at both 6pm and midnight.
Cost: Free
The Grey Lodge Pub
At this Northeast Philly bar, it's just another normal night. No dress code, no extreme cover charge, no pretense. Come dressed however you're comfortable, with whomever you want, and indulge in a few brews from their world-class selection. 
Cost: Pay-as-you-go
Broad Street
It wouldn't be New Year's Day in Philly without the Mummers Parade. The intricately and ornately dressed dancers and musicians have been strutting down Broad Street for over a century to the delight of revelers -- some of whom haven't slept since the night before. If you find yourself in that camp, head to Broad Street and then Two Street for even more party.
Cost: Free
Fox & Hound
Didn't get enough booze last night? Love brunch? This bar crawl will take you a handful of Center City bars like Fox & Hound, Fado, and Misconduct Tavern for complimentary breakfast cocktails, a brunch buffet, and live music. 
Cost: $30
Sign up here for our daily Philly email and be the first to get all the food/drink/fun in town.
Allie Volpe is a Philadelphia-based contributor for Thrillist, who has only been to the Mummers Parade once. Follow her on Twitter.