Philly Events You Absolutely Shouldn't Miss This Spring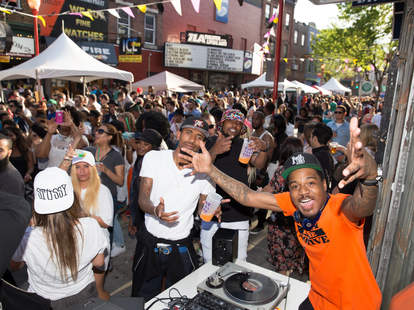 Courtesy of South Street Headhouse District
Returning for the 10th consecutive year, more than 75 breweries will descend on the Navy Yard for Philly's Craft Beer Festival for an afternoon of craft beer, food trucks, and unlimited pours.
While the rest of the city's getting its St Patrick's Day drink on, the nation's largest and longest-running horticultural show returns to the Convention Center with a show full of displays from some of the world's best floral designers and landscapers.
You're never too old for the Erin Express... well, that's not exactly true, but if you're looking to drink like a college student on the two weekends before St. Patrick's Day, the Erin Express will take you on a tour of the city's "most Irish" bars (take that as you will).
See the behind-the-scenes magic on how some of your favorite Pixar movies were made at the Franklin Institute -- the six-month exhibit opens on March 12th.
Have a Sunday funday at Brewer's Plate at the Kimmel Center where you can try out food and beer pairings from some of the city's favorite breweries and chefs.
The eight day celebration for all things wine returns this year, with specials and events at more than 40 spots throughout the city for Philly Wine Week.
JPG Photography
One of our favorite street festivals, Manayunk StreEAT is basically an all-day Night Market with 50+ food trucks and vendors offering strawberry-themed dishes.
Visit Japan without leaving Philly during this year's Cherry Blossom festival. The weeklong celebration includes martial arts and ikebana flower arranging demonstrations, a restaurant week, and Sakura Saturday.
The 15-day Philadelphia International Festival of the Arts features more than 60 performances by local and international artists, with everything from an interactive fire and sand performance to a circus built on a foundation of yarn (you read that right).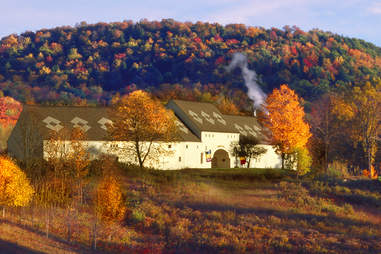 Courtesy of Ommegang Brewery
Philly Beer Week and Ommegang brewery are partnering for an adult camping trip -- $100 will get you a roundtrip bus ticket (you can drink on the bus) to and from Cooperstown, NY, a tour of the brewery, dinner buffet, and a late night bonfire.
Since science is cool, bust out your bunsen burners and lab coats for one of 100+ STEM-themed events occurring throughout the city during the Science Festival. #GetNerdyPHL.
Rain or shine -- it is April after all -- Passyunk Ave will host its neighborhood block party, Flavors of the Avenue, under the big tent, with tastes from some of South Philly's favorite restaurants.
See some of the top runners in the world -- high school, college, and pro -- at the Penn Relays, the nation's oldest track and field event.
Run it if you're one of the lucky people to a) be in good enough shape to run 10 consecutive miles, and b) win the lottery for a spot in the race -- the rest of us will be waiting at the finish line to share some post-race drinks with you.
South Street's annual block party returns again with 12+ blocks of food, drinking, shopping, and entertainment. Last year's event attracted more than 58,000 visitors, making the Spring Festival one of the city's biggest outdoor events.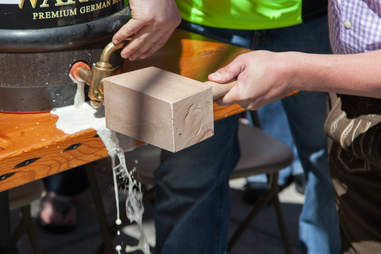 Courtesy of South Street Headhouse District
If you've had your fill of Spring Fest, head further down South St for Maifest, Brauhaus Schmitz's block party featuring German beers, Bavarian food, and traditional German music (and dancing).
Rittenhouse's annual block party will close six blocks of Walnut St, between Broad and 19th, for a Saturday filled with food, art vendors, and shopping specials.
Everyone's Italian the weekend of May 21st. Celebrate on South 9th St by stuffing your face with Italian food, sampling Italian wines, and trying to win one of the many competitions -- our favorite is the meatball stacking contest.