How to Celebrate Pride Month in Philadelphia
Support LGBTQ organizations and sip rainbow cocktails.
While the grand Philly Pride parade and party we've come to know and love has been postponed until the fall, the city still turns it out for Pride Month.
In the weeks to come, bars and clubs will host parties (remember those), drag shows, and other events celebrating the local LGBTQ community. Plus, there are plenty of local organizations to donate to and other ways to support the community. Following a year of virtual events and cocktails to-go, this year's Pride Month festivities are surely welcomed—so get out there and celebrate.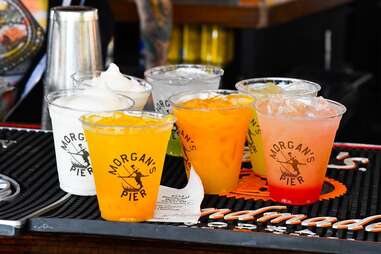 Have a month-long Pride party
All month, several bars including The Garden at Cherry Street Pier, both Parks on Tap locations, and Rosy's Taco Bar will serve special cocktails associated with the colors of the Philadelphia Gay Pride Flag: Black, brown, red, orange, yellow, green, blue, and purple. Juno's got the black cocktail with an activated-charcoal mezcal margarita; Craft Hall has brown with a German chocolate cold brew martini; Rosy's Taco Bar is seeing red with Stateside Rose (Stateside vodka, Casa del Mar cava rose, pomegranate, lime, agave); head to Morgan's Pier for an organize vodka Red Bull with mango puree; Harper's Garden has the yellow drink with Driftin' Away (Bacardi black rum, Blackbird's coconut moonshine, grilled pineapple, lime); Lola's Garden has a green gimlet with basil; The Garden at Cherry Street Pier is serving up a blue Frozen Electric Lemonade; and Parks on Tap has a purple Pride Punch with grape vodka, razzmatazz liqueur, and blue curacao. A dollar from each of the Pride cocktails will go to LGBTQ-serving nonprofits in the area including William Way Community Center, The Attic Youth Center, Galaei, and Philly Asian Queer.
For the nights you want to stay in, LGBTQ film festival qFlix is putting on a virtual Pride Film Festival with a selection of LGBTQ documentaries, feature films, short films, and web series available to stream all month long. Ticket prices range from $7-$10 per viewing, with $1 of each viewing going towards local LGBTQ nonprofits.
The William Way Community Center will show work from 28 local artists documenting the events, memories, and heartaches of the last year. You can see all the pieces in the exhibit, Moving Forward When the World Stopped: Queer Life 2020-2021, online any time you want throughout the month.
The Free Library of Philadelphia has a number of virtual events for Pride, including a virtual book discussion and a talk with Sarah Schulman, author of Let the Record Show, which documents the widespread impact of ACT UP, the diverse community AIDS activist group.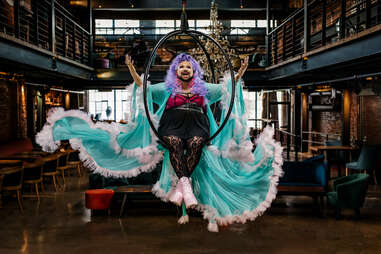 Check out drag performances around the city
What would Pride Month be without a slew of drag shows? RuPaul's Drag Race contestants Aquaria, Asia O'Hara, Kameron Michaels, Vanessa "Vanjie" Mateo, GottMik, Rosé, and Violet Chatchki will perform on a huge stage in the parking lot of the King of Prussia Mall for drive-in performances June 11-13, with two showtimes each night.
Back in Philly, Devil's Den hosts two outdoor drag shows benefiting the nonprofit True Colors United on June 10 and 13 with Stefani Steel, Hannibal Lickher, Ariel Versace, and Sapphira Cristal on Thursday's lineup, and Rosey Hart, Lady Geisha Stratton, Bev, Kali Coutour, and Aloe Vera sashaying on Sunday.
Spill the tea at the Sofitel Philadelphia at Rittenhouse Square's Drag Tea on June 12, featuring Brittany Lynn's Drag Mafia (and lots of small sandwiches and pastries).
As a part of Drag Sunday, various venues are holding shows (many of them over brunch) on June 13, including two drag brunch seatings at The Wayward, again starring Brittany Lynn's Drag Mafia; the Ladies of Tabu Drag Brunch; a drag matinee at Level Up (formerly JocksPHL) hosted by Diva Luvsit; an all-day affair at SoulJoel's Comedy Club and Lounge in Royersford with Ariel Versace, Aunt Mary Pat, Roxxxy Andrews, and more; brunch at Fabrika, hosted by Eric Jaffe; a drag competition dubbed Cutthroat Queens, hosted by Onyx Ondyx, will take over the stage at Tabu during the evening; and finally a live game/drag show will close out the night at Level Up.
Mark your calendar for more IRL events
Pride Night at the Philadelphia Flower Show is June 10, and you won't want to miss it. Not only will you get to see ornate floral designs in the open air at FDR Park, but you'll save $5 on admission to do it.
The first party party in well over a year, Concourse Dance Bar (yes, that's the spot with the adult ball pit) hosts DJ K!RK for a night of underground dance vibes on June 11. That same night over on Cavanaugh's River Deck is a women's LGBTQ happy hour mixer, complete with riverfront views and drink specials.
The Trails End location of Parks on Tap is hosting its first-ever Pride in the Park event on June 12 where local LGBTQ organizations will be tabling to share their organization's mission and to answer questions, DJ Robert Drake will be spinning, and, of course, Pride Punch will be flowing.
Spend a Saturday evening in Northern Liberties where local artists—including several LGBTQ makers—will be showing off their work and wares at neighborhood businesses on June 12. The day kicks off at gay-owned, female-owned, Black-owned, and veteran-owned boutique and gift store. Trunc, with live music outside the shop and free pet portraits.
Before there were dating apps there were speed dating events, so kick it a little old school on June 16 for an in-person speed dating event for gay men at Stir.
The Philadelphia Zoo is also holding a Pride Night on June 18 with extended hours, another set from DJ Robert Drake, displays from local LGBTQ organizations, and beer and burger pairings.
As a part of Philly Asian Queer's ongoing virtual tea and discussion events, participants will share in safe and supportive conversation over Zoom on June 20. Keep in mind that this event is intended for Asian/Asian American and LGBTQ identified individuals only.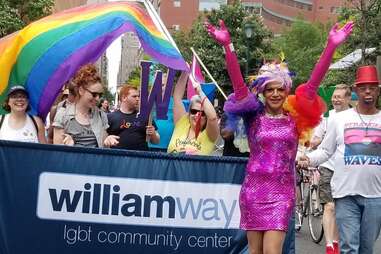 This year, whether you're ready to party all month long or partake in virtual events, you can still send your dollars to local organizations doing important work in the LGBTQ community. The Attic Youth Center provides programming and counseling for LGBTQ youth, and William Way Community Center is a pillar in the community, providing events and wellness programming. GALAEI works to educate the queer Latinx community on cultural literacy and HIV prevention, Philadelphia Fight offers healthcare to low-income members of the community, Bebashi serves the health needs of people of color living with HIV/AIDs, and Philly AIDS Thrift distributes funds to nearly two dozen local AIDS organizations.