All of Philly's Outdoor Music Festivals and Concerts Worth Going to This Summer
Xavi Torrent/WireImage/Getty Images
Besides oppressive heat, two things say summer in Philly like nothing else: beer gardens, and outdoor live music. We've got you covered when it comes to the beer part, but now's the time to plan ahead for what acts you'll catch this summer. Take a peek at the outdoor music festivals and concerts coming your way in the months ahead:
<strong>Usher |</strong> <a href="https://www.flickr.com/photos/frf_kmeron/16090612024" target="_blank">Flickr/Kmeron</a>
Fantasia competed on American Idol back when you used to watch it in 2004. Along with R&B heavy hitter Anthony Hamilton, the outdoor concert season at Mann Center is in full swing.
Philly loves when The Roots show their hometown pride. This year, expect Usher, DMX, Willow Smith, and others, too.
One of Philly's remaining alt-rock stations kicks off its summer concert series; bands are still TBA.
Wilco, one of the biggest modern rock acts/your dad's favorite band that he just discovered, comes to town for a stop on its Star Wars tour.
Even if it's not of your time, you can't deny that "Sweet Home Alabama" is a quintessential summer anthem.
If you're in the market for some West Coast reggae tunes, this is your jam.
The band headlines a daylong celebration of 104.5 radio's ninth birthday.
The somber mountain man returns to Philly to soothe you with his heartache-riddled slow tunes and ashy timbre.
Spend three days finding your inner festival child in the woods of Delaware with headliners like Mumford & Sons, Kings of Leon, Florence & the Machine, and deadmau5.
If you're still angsty, and if you're hair is still everywhere, this lineup of early-aughts emo bands will always get you.
Enjoy your usual summer walkabout with music floating from all directions. Musicians will take to the streets throughout Philly's neighborhoods and busk on restaurant patios, breweries, your intolerable SEPTA stop...
The Philadelphia Orchestra provides a stunning backdrop to your favorite wizarding movie. If you don't go, you'll never know love or friendship, and you will lose your nose and resemble a snake.
It's summer and you're drinking Bud Light in a parking lot, which probably means that DMB is probably back in town again.
Go see him bouncing into Graceland.
Both nights are somehow already sold out, so either scout StubHub (or a scalper), or catch them on the next farewell tour.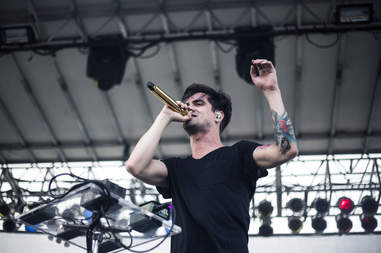 <strong>Panic! At the Disco |</strong> <a href="https://www.flickr.com/photos/cwalex/18051438965" target="_blank">Flickr/alexlisciophotos</a>
Like you'd forget this one. Take to the Parkway for a day of patriotic activities and live music (welcome back to The Roots) followed by fireworks.
Weezer has a new record out, and it's not the worst thing we've ever heard. You should dress just like Buddy Holly for this one.
The annual punk teen favorite, Warped Tour's lineup this year features bands like New Found Glory, Reel Big Fish, Less Than Jake, Yellowcard, and other pop-punk bands... plus Waka Flocka Flame.
The official orchestra of PA's second-best city represents in the
first
with a live score of the cult classic film as it plays on the big screen.
Billy gives the Phillies a break for a night.
Rome, Dirty Heads, Tribal Seeds, and Bleeker will also play.
As of publication, the next installment of the concert series has yet to announce its lineup, but you'll probably want to be there.
Catch another Pittsburgh orchestra performance, this time to the pop-anime stylings of Ash, Misty, and Pikachu.
Both bands will perform complete headlining acts.
Brought to you by local advocates of sustainable agriculture,
Hemp Heals
.
Watch acts like Alabama Shakes, Father John Misty, and The Felice Brothers at WXPN's annual summer music fest.
Come early to catch opener MisterWives.
LOTR's score gets a boost from the Philadelphia Orchestra.
Unleash your inner metalhead on the banks of Camden.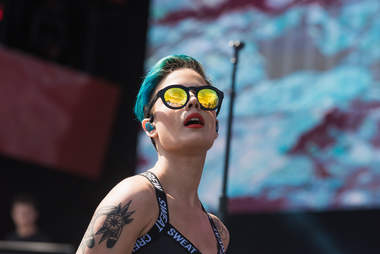 <strong>Halsey |</strong> <a href="https://www.flickr.com/photos/deshaunicus/21576055409" target="_blank">Flickr/DeShaun Craddock</a>
Local rock station WMMR hosts this rain-or-shine stop on Deftones' tour supporting their latest record.
By August, you know the deal. Stay tuned for lineup details.
Buy tickets if you were raised on Biggie and Nirvana.
The Philadelphia Folksong Society hasn't unleashed this year's lineup, but a few things about the festival remain certain: there will be camping, candlemakers, and puppeteers.
The band makes another nod to Star Wars on its "Return of the Red Eye" tour.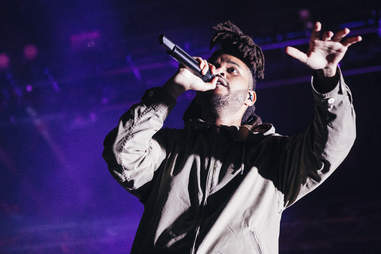 <strong>The Weeknd |</strong>&nbsp;<a href="https://www.flickr.com/photos/kaylajohnsonphotography/21367628469" target="_blank">Flickr/Kayla Johnson</a>
Jay Z's annual brainchild always promises the biggest acts of the year, and it's all in our backyard. Last year, we saw Beyonce, The Weeknd, and J. Cole headlining, so you know 2016 will be just as promising.
The final installment of the concert series made it just under the wire before the official end of summer.