Update: Philly's St. Patrick's Day Parade Has Been Canceled Due to Coronavirus
On March 10, it was announced that the 2020 Philadelphia Saint Patrick's Day Parade had been canceled amid coronavirus concerns. "While this decision is disappointing, we acted with a general concern for the well-being of everyone. In days to come, we will continue with great enthusiasm to plan the 250th Saint Patrick's Day Parade on March 14, 2021," the Philadelphia St. Patrick's Day Observance Association said in a statement.

The following article was published prior to the announcement and includes other St. Patrick's Day events in and around Philadelphia unrelated to the parade.
The luck of the Irish runs deep in Philadelphia -- we are ranked as the second-best city to celebrate St. Patrick's Day, after all. Such a distinction isn't altogether surprising when you consider all the Irish pubs in the city -- McGillin's, Fergie's, The Irish Pub, both the fictional and IRL Paddy's Pub -- the seemingly endless supply of themed bar crawls, and that we have the second-oldest St. Patrick's Day parade in the country.
First held in 1771, the Philly St. Patrick's Day parade is technically older than the country itself. This year marks the 250th anniversary of the event and performers are sure to deliver. Held on Sunday, March 15, this year's parade has a theme of 250 Years of Faith, Family, Friendship, and Heritage. Read on to find out more of what to expect for 2020's jaunt.
What time does the parade start, and what is the route?
Mark your calendars for Sunday, March 15, for the 2020 Philly St. Patrick's Day Parade. The festivities kick off at 11am at 16th Street and JFK Boulevard. The procession will then head on JFK toward City Hall, then turn south on Juniper to Market Street and east on Market to Front Street, where the route again heads south until wrapping at Front and Dock Streets.
There'll be a performance area between 5th and 6th and Market Streets where Irish step dancers, bagpipers, and Irish-influenced bands will put on a show. And remember: The event is on regardless of rain, snow, sleet, or some combination of all of the above.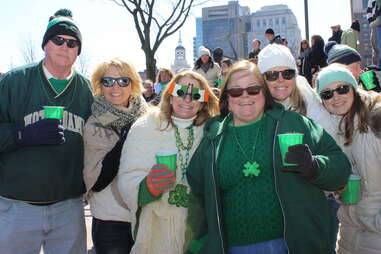 How do I get there?
As most of the route runs along Market Street, taking the Market-Frankford line to any stop east of City Hall is a solid bet. If you're coming from South Philly, hop on the Broad Street line and get off at City Hall. City Hall and the surrounding blocks are a hotbed for SEPTA bus stops, too.
If you're coming from South Jersey, take PATCO and get off at 8th and Market for prime access. (Basically, any PATCO stop will leave you in walking distance of the route.) For those coming from the west, many regional rail lines will take you into the city at Suburban Station, conveniently located right at the start of the parade route. There are a number of parking garages in the area, too, for those dead-set on driving.
What should I wear and bring to the parade?
While this winter has basically been pre-spring for months, Philly weather in mid-March typically ranges from high 30s at the low end to low 50s for the high. Don't ditch your jacket quite yet, but all the extra layers might not be necessary. As with any standing event, comfy shoes are a must, though there is seating at the performance area. But since the route is extremely walkable, you might want to stroll along if the mood is right. Oh, and don't forget your green attire, from leprechaun hats to novelty eyewear.
Where should I watch (aka drink) from?
Stop in for a pint at any of the following bars along the parade route:
Are there any other ways to watch?
Rather stay in bed? Check out coverage on Fox 29 from noon to 1:30pm and then after that on streaming platform Buzzr.
Sign up here for our daily Philly email and be the first to get all the food/drink/fun in town.
Allie Volpe is a freelance writer based in Philadelphia who loves a good parade. Follow her on Twitter.