December Weekends in Philly Are All About New Bars, Sports, and the Holiday Paranormal
Fun things to do in Philadelphia this weekend (and every weekend throughout the month).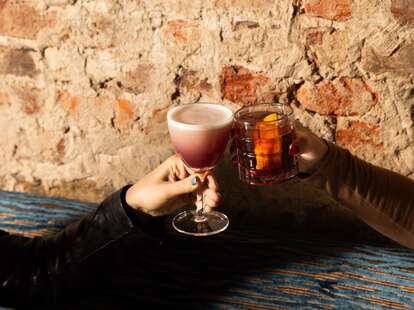 48 Record Bar, a new listening room and cocktail bar

| Photo credit: Gab Bonghi, photo courtesy of 48 Record Bar
48 Record Bar, a new listening room and cocktail bar

| Photo credit: Gab Bonghi, photo courtesy of 48 Record Bar
December is your last chance to fulfill all those New Year's Resolutions that went, well, unresolved. As it pertains to Philly, maybe that means finally seeing the holiday lights at Longwood Gardens (and all of the other best holiday events of the season). Or, perhaps it's checking off your list from the All-Time Greatest Things to Do or a visit to the German-inspired Christkindlmarkt in Bethlehem.
If you need a little inspiration with your December to-do list, look no further. The final weeks of 2023 promise plenty of seasonal cheer in the form of ice sculptures and holiday tunes performed by an ensemble of tubas as well as plenty of pro and college sports and a new watering hole to check out. Here's everything fun to do on the weekends in Philly this December. We update this Weekend Guide each month, so be sure to check back often.
Where to Spend Time Outdoors in Philly
December 2, 5 pm
Market Street, Free
Kick off the holiday season in style with a holly-jolly parade starting at 2nd and Market Streets and ending at City Hall. Expect floats dedicated to Hanukkah, Christmas, Kwanzaa, and Lunar New Year, marching bands, dance groups, and plenty of twinkling lights and colorful costumes to go around.
December 9, 7 pm
Southwest Philadelphia, $49
Get paranormal at Fort Mifflin for an opportunity to search the historic fort (that dates back to the Revolutionary War) for spirits. Both experienced and amateur paranormal investigators are invited to access areas of the grounds that aren't typically available to the public. BYO equipment if you have it, but honestly, just a cell phone and flashlight will do. Warm up by the fire with complimentary snacks afterward.
December 9–10
Fishtown, Free
Fishtown transforms into an icy winterscape during the two-day Fishtown Freeze. Dozens of ice sculptors will carve intricate designs outside of local businesses for you to marvel. (In the past, the artists have posted up outside of Suraya, Garage, and Rivers Casino. Stay tuned for a full list of participating storefronts.) All weekend long, neighborhood businesses will offer shopping discounts (keep your eyes peeled on Fishtown District's socials for a complete lineup of deals) and Santa will be making a visit to Frankford Hall.
December 9, 8:30 am
Manayunk, Free
Make like the song and run like Rudolph for a holiday-themed three-mile trot. Check in for the run at Philadelphia Runner's Main Street Manayunk location at 8:30 am and enjoy the low-stress fun run along the Manayunk Canal starting at 9 am. Holiday attire—antlers, lights, red noses, ugly sweaters—is definitely encouraged.
December 17, 2 pm
Delaware River Waterfront, Free
Get ready to blow. An annual holiday tradition, Tubachristmas brings over 100 tuba players together to perform classic holiday tunes. The free event is at Cherry Street Pier this year and is conducted by Jay Krush, artist-in-residence and lecturer in tuba and euphonium at the Boyer College of Music, Temple University, and tubist with the Grammy Award-winning Chestnut Brass Company and the Philadelphia Ballet Orchestra.
Where to Drink in Philly
December 3, 2 pm
Society Hill, $40
Pairing two delicacies that aren't typically paired, this cookie and beer tasting event is a tasty collab between Blind Bear Beverages and Sam Shaw's Treatery. Held at Sam Shaw's Treatery, the shop's namesake and beer server Claire Trindle of Blind Bear Beverages will lead attendees through a combo of four beers and four cookies.
Month-long
Old City, Free entry
Tucked away on the second floor above Old City bar, Sassafras, comes a brand-new listening room and cocktail bar, 48 Record Bar. The 37-seater features a high-fidelity vinyl soundsystem and a constant soundtrack of vinyl records. On the menu are signature cocktails Industry Negroni (Fernet-Branca, green Chartreuse, Campari, orange bitters), Mexico City (Del Maguey Vida, Cynar, Byrrh, Luxardo, flamed orange), and Bond Girl (Barrel-Finished Blue Coat Gin, Cocchi Americano, bitters). The bar also hosts listening events throughout the month, like Hoagiewave on December 2.
December 9, 11 am
East Passyunk Avenue, Free entry
Over a dozen cafes, bars, and restaurants on East Passyunk Avenue are doling out piping hot cups of cocoa all day during the second annual Hot Chocolate Crawl. Either pay as you go or nab a commemorative cup from participating businesses for discounted sips. On offer is standard hot chocolate, spiked hot chocolate, and ice-cream topped hot chocolate, depending on how wild you want to get. Participating locations include Essen Bakery, Milk Jawn, Pub on Passyunk East, Cantina Los Caballitos, Flannel, Stargazy, and so many more.
Until December 23
Rittenhouse Square, Free entry
A once vacant lot at 17th and Walnut Streets is now a winter wonderland, complete with seasonal drinks and Christmas trees for you to take home. Walnut Garden has both outdoor seating and warm tables under a heated tent for visitors who want to sip on a warm S'mores cocktail, made with vanilla vodka, hot chocolate and topped with marshmallow and chocolate syrup. Just try and resist the triple chocolate, salted caramel, sugar, and s'mores cookies.
December 23, 6 pm
Graduate Hospital, Free entry
Grad Hospital restaurant Rex at the Royal hosts regular cocktail series, dubbed Regina, featuring a one-night-only cocktail menu. This month's edition, led by beverage director Joshua Scheid, is inspired by spending the holidays solo. (Think: movie theaters, Chinese take-out, and ignoring phone calls.) The menu is a la carte, so try one cocktail or try them all. Reservations are encouraged.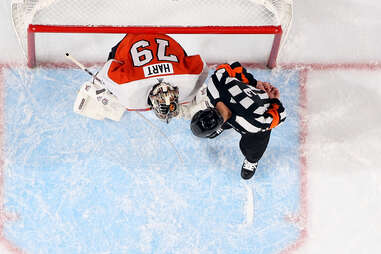 Where to Enjoy Sports in Philly
December 2, 2 pm
Stadium Complex, Starts at $45
Three games for the price of one. The first-ever Big 5 classic pits the Big 5—the local college hoops conference, which includes the University of Pennsylvania, La Salle University, Saint Joseph's University, Temple University, Villanova University, and, as of this year, Drexel University—against one another to determine the champion of the city. In the weeks leading up to the big event at the Wells Fargo Center, the six teams faced off, round-robin style, to determine the matchups for the classic.
December 3 and 31
Stadium Complex, Starting at $210
As the regular season winds down, the Eagles look to continue their dominance. The last two home games of the year at Lincoln Financial Field are against the San Francisco 49ers on December 3 and New Year's Eve against the Arizona Cardinals. (The Birds have a Monday Christmas Day game squeezed in there too against the New York Giants, also at home.)
December 15 and 22
Stadium Complex, Starting at $30
Embiid, Maxey, Harris, and Co. bring the heat to the Wells Fargo Center for two home weekend games mid-way through the month. First up is a faceoff against the Detroit Pistons on December 15, then the Sixers host the Toronto Raptors a week later on the 22nd.
December 16, 7 pm
Stadium Complex, Starting at $39
Come pay Gritty a visit at the Wells Fargo Center during the Flyers' only home weekend game this month. The Detroit Red Wings are the night's opponents.
December 16, 9 pm
Stadium Complex, Free entry
Watch two grown men pummel each other in style at Xfinity Live!'s Edwards vs. Covington watch party. Entry is free and the fight will play on the venue's many TVs and projection screens. If you're looking to get cozy, make a table reservation before they're all spoken for.