Ordinarily, this space is devoted to urging you to get out and to enjoy the rich culture of our city. However, for everyone's safety, we're encouraging you to do the opposite -- but don't worry, staying in can still be fun, enriching, and very Philly-centric. Round up your buds for a virtual happy hour and take a digital tour of a museum together or live stream yourselves getting sweaty from your living room. You've got this. 
Traverse the Ben Franklin Bridge by foot or bike
Take in the views of the Delaware River, Camden, and Philadelphia waterfronts on a leisurely stroll, run, or bike ride on the Benjamin Franklin Bridge Pedestrian Walkway. The 1.5-mile path can be accessed at 5th and Race Streets on the Philly side and at 4th and Pearl Streets in Camden. Just remember to keep at least six feet between you and others. 
Take a digital tour of a local museum
Just because our storied institutions have shut their doors for the time being doesn't mean you can't marvel at the art and artifacts. The Museum of the American Revolution offers a virtual tour of the galleries and exhibits, plus plenty of digitized versions of artwork and excerpts from books about the American Revolution. For a look inside the country's oldest penitentiary, Eastern State Penitentiary has an online tour with close-up views of the cell blocks. Digitized versions of the collections at the Barnes Foundation and Philadelphia Museum of Art are available to view online and to maybe project onto your wall. 
Relive the glory of the Philadelphia Orchestra
On March 12, the Philadelphia Orchestra played to an empty concert hall, but the performance was filmed and aired on WHYY -- and you can watch it from the comfort of your home, for free. Check out "BeethovenNOW: Symphonies 5 & 6" as it occurred a few weeks ago. Because if an orchestra plays in an empty room and no one is around to hear it . . . it most definitely still makes a beautiful sound. 
Live stream a workout from a local gym
If you're in need of your daily workout, a number of local gyms have taken their operations to the internet to provide at-home online workouts. Tuck Barre & Yoga are offering four free yoga and barre sessions a day, streamed live via Facebook. The Wall Cycling Studio will host a combo HIIT and barre class for free, streaming on Facebook. On Instagram, WarHorse Barbell is posting at-home body strength exercises to get your heart rate up. 
Support local authors
Philly's literary scene is bumping. Take advantage of any down time by getting caught up on the latest from our local authors, like Carmen Maria Machado's In The Dream House, Liz Moore's Long Bright River, Emma Copley Eisenberg's The Third Rainbow Girl: The Long Life of a Double Murder in Appalachia, and Kiley Reid's "Such A Fun Age." Remember to support your local independent bookstore if you can.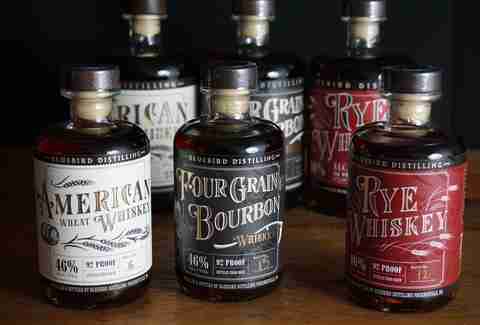 Order booze to your door
Instead of making the trek out to grocery stores (or even worse, New Jersey) for booze, get your goods delivered. Stateside Vodka is offering no-contact home delivery to folks in Bucks, Chester, Delaware, Montgomery, and Philadelphia counties. There's a two bottle minimum per order, so stock up on their vodka and bourbon. To order, just call Stateside at 215.425.4200. 
Phoenixville's Bluebird Distilling will deliver bottles of bourbon, rye whiskey, rum, gin, and more with free shipping to anyone who orders within a 15-mile radius of the distillery. Residents of the Philadelphia five county area can also score free delivery on orders over $100 (plus free goodies). Just enter the code "LOCALLOVE" (if you're within 15 miles) or "PHILLYLOVE" (for purchases over $100) at checkout. 
Get all your Philadelphia Distilling spirits -- like Bluecoat Elderflower Gin and Vieux Carré Absinthe Supèrieure -- sent to your door by ordering online. (The distillery is also offering an in-person, no-contact drive-through, too.)
Sign up here for our daily Philly email and be the first to get all the food/drink/fun in town.