Do you ever stay up at night thinking about the weekend to come? Ever feel an immense fear that you'll squander your days off by picking the wrong things to do? Well, worry no more: This weekend, Philadelphia collectively celebrates Oktoberfest, women's empowerment, and Latino culture. Don't miss out: Here's everything you need to put on your calendar in Philly this weekend.
Recommended Video
You Can Fit This Grill In Your Backpack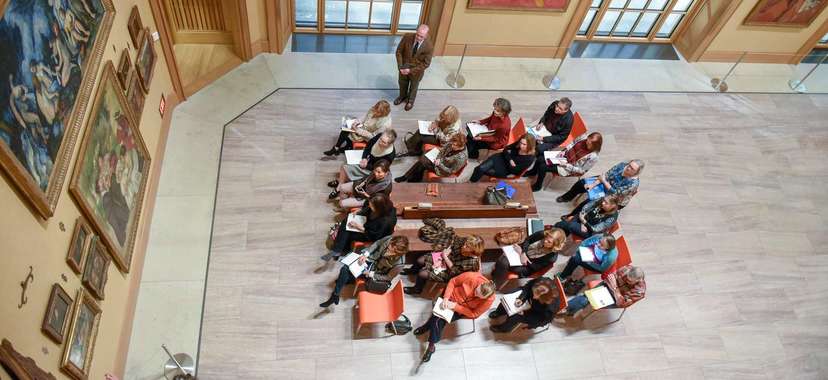 Friday, September 21
Barnes Foundation
Ahead of Barnes' newest exhibition Berthe Morisot: Woman Impressionist opening next month, the museum hosts a party featuring a lineup of female talent. Expect performances and displays by choreographer Annielille Gavino, drummer LaTreice Branson, performance artist Nikki Powerhouse, singer Vessna Scheff, and clothing designer Nicole Haddad, as well as a dance performance from Cambodian American Girls Empowering, and an acrobatic showcase by Tangle Movement Arts.
Price: $10
Friday-Saturday, September 21-22
Vox Populi
Before the Fringe Festival comes to a close, make sure to see at least one performance: "WOLFCRUSH" is a late-night BYOB show about a missing boy from a small town that evolves into quite the fantasy. There will be bondage and gay werewolf sex, which undoubtedly makes for great watercooler talk come Monday.
Price: $20
Saturday, September 22
700 block of South Street
Brauhaus Schmitz's annual Oktoberfest celebration turns 10 this year for another rain-or-shine event. A huge tent populated with huge communal tables will be the meeting place for beer and food lovers; 10 German beers will be offered, in addition to an authentic food menu including roast pork and sausage sandwiches, sauerkraut, Bavarian pretzels, and bratwurst. Shell out a bit more cash for an exclusive VIP experience with a buffet, six beer tokens, and your own private bathroom area.
Price: Pay-as-you-go, $115 VIP
Saturday, September 22
Xfinity Live
The entertainment complex will feature multiple beer tasting areas both indoors and outside offering samples of over 250 Oktoberfest, pumpkin, fall, and early winter beers. Between the multiple indoor food vendors and the outdoor food trucks, you won't go hungry, either.
Price: $35-60
Saturday, September 22
Philly AIDS Thrift
Now that Philly AIDS Thrift is a teenager -- lucky 13 to be exact -- it's throwing a block party with carnival games, dancing in the street, a pie-eating contest, sword swallowers, magicians, food trucks, and more.
Price: Pay-as-you-go
Saturday, September 22
The Borgata
Now that the Miss America pageant is over, head to the event's home base, Atlantic City, for another kind of beauty event. Contestants in the Miss'd America Pageant will display their talents and answer questions in the hopes of being crowned the country's best drag queen.
Price: $35-100
Saturday, September 22
23rd Street Armory
Get your boogie on at this disco party -- open bar and disco ball included. Come in your best disco attire, feather your hair, and do the hustle all night long while feeling good about your choices: half of ticket sales go to MANNA, a nonprofit that delivers nutritious meals to people battling life-threatening illnesses.
Price: $74.99
Sunday, September 23
North Fifth Street from Huntingdon to Somerset
Feria Del Barrio -- an outdoor festival celebrating Latino culture, art, and food in El Centro de Oro neighborhood -- will be the perfect opportunity to feast your eyes on live Latin music and dancing, to frequent neighborhood businesses, and to chow on authentic food.
Price: Pay-as-you-go
September 23-October 5
Various Locations
The fall edition of Center City Restaurant Week kicks off this weekend with thrifty dining deals: three-course, prix fixe $20 lunches and $35 dinners. Get your fill on the cheap with meals from Bank and Bourbon, High Street on Market, Pub & Kitchen, and more. Pro tip: If you're coming from out of town, selected garages offer discounted parking.
Price: $20-35
Sunday, September 23
Morgan's Pier
Who goes out on Sundays? You, that's who. For one of the outdoor waterfront bar's final weekends of seasonal event programming, they're hosting an emo night where a DJ will play some of the early aughts' most gut-wrenchingly nasal tunes all night.
Price: Free
Sign up here for our daily Philly email and be the first to get all the food/drink/fun in town.