Every Outdoor Concert in Phoenix You Must Go to This Summer
We get it -- it's a little bit warm outside in Phoenix this time of year, but why should 100-plus degree temperatures force you to stay inside all summer long? There are so many huge musical acts heading to the Valley, and just as many great local artists braving the heat. So, grab a cold beer, embrace the sweat, and have a blast listening to these DJs, country stars, hip-hop heroes, and classic rockers.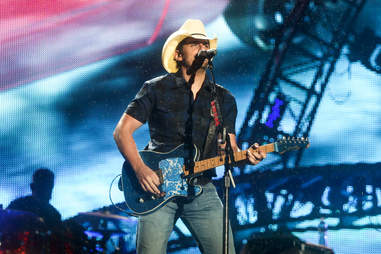 Brad Paisley

| Debby Wong/Shutterstock
Kick off the weekend with Grammy-winning country powerhouse Lady Antebellum and up-and-coming superstars, Kelsea Ballerini and Brett Young.
Good vibes are what summer's all about, right? And that's exactly what you can look forward to at this rock-reggae extravaganza.
Dutch electro house legend, Bingo Players, provide the soundtrack to day in the pool.
For punk fans of a certain age, there are few things as classic as Warped Tour, checkered Vans, and mixtapes. Don't miss your chance to see The Ataris, GWAR, Hawthorne Heights, Sammy Adams, and more at the iconic festival.
Enjoy the sounds of the dueling pianists, who will be taking any requests the audience can throw at them at the Valley's most beautiful outdoor venue.
Let Brad Paisley remind you how great an outdoor, summer country concert can be.
Future brings his "Nobody Safe Tour" to Phoenix with Migos, A$AP Ferg, and Kodak Black, one of the best rap lineups you'll find all year.
Experience one of the greatest guitarists of all time at Phoenix's largest outdoor concert venue.
The Valley's most well-known rock station is bringing metal bands Stone Sour, Powerman5000, and Ded to Mesa.
The double punk bill is joined by former My Chemical Romance guitarist Frank Iero, who now fronts his own band.
Shady Park
, just outside ASU's Tempe campus, is the spot to be these days, and it's sure to be a groovy time with house DJ Justin Martin.
The rapper, featured on Lil Wayne and Wiz Khalifa's "Sucker for Pain," comes back to Phoenix as a headliner, with Joey Bada$$ opening.
The Australian house DJ will keep the summer party going strong.
Matoma's tropical house sounds make for a great day of splashing around.
One of Phoenix's favorite hometown groups, Jimmy Eat World, come home to support Incubus.
It's OK to play air guitar along to "Smoke on the Water," and all the other classic hard rock songs you'll hear.
You're not going to want to miss the country heartthrob's return to Phoenix.
If it wasn't so hot, you'd be required to wear a jean jacket.
The chart-topping American rock band is coming to town to perform hits like "Counting Stars," "If I Lose Myself," and "Wherever I Go."
Remember when Nelly was featured on the remix to Florida Georgia Line's "Cruise"? Now's your chance to see it happen live.
Sign up here for our daily Phoenix email and be the first to get all the food/drink/fun in town.
Jamie Killin is a Phoenix writer who loves nothing more than the outdoors and great music, especially when you put them together. Follow her on Instagram at @jamiefayekillin.