What to Do After Dark in Phoenix
See a different side of the city with these fun nighttime activities in Phoenix.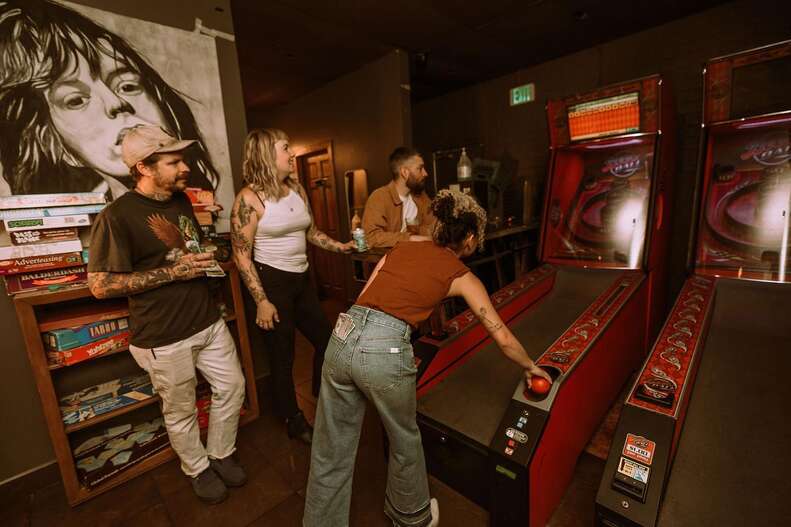 Photo by Nadya Sanchez, courtesy of Linger Longer Lounge
Photo by Nadya Sanchez, courtesy of Linger Longer Lounge
Quick: Name the first thing you think when you hear "Phoenix." Sunshine, you bet. Phoenix and sunshine are basically synonymous. In fact, we get about 300 days of sunshine here annually; they don't call it The Valley of the Sun for nothing. But all that sunshine can be exhausting, sometimes you just need a break from the constant blaze of the daytime sun. Fortunately, Phoenix is just as cool, literally and figuratively, after dark.
Go hunting for grails at a vintage night market
Citywide
If digging through t-shirt piles sounds like a good time to you, you are definitely not alone. The vintage community in Phoenix is growing and so is the vintage market scene. Get to know your fellow vintage heads at one of the Wang's Vintage night markets or roll into the Ivory House Rollin' Retro Market where you can skate and shop for single-stitch tees and sneakers.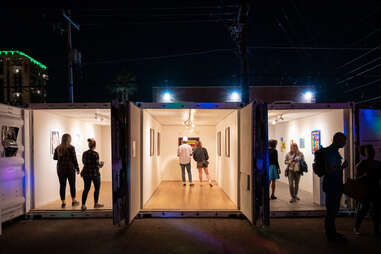 Get acquainted with the local arts scene
Downtown Phoenix
Regarded as one of the largest, self-guided art walks in the nation, First Friday brings out big crowds to Phoenix's arts districts. Art galleries, artist studios, collectives, museums, community spaces, and shops located throughout Roosevelt Row, Historic Grand Avenue, Calle 16, the Warehouse District, and the Central Arts District all show out for the monthly arts-centric event. For even more art, check out Third Fridays.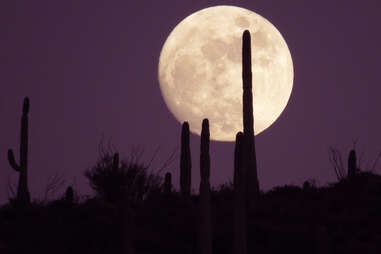 Switch on your headlamp for an urban hike under the stars
Citywide
The Phoenix Metro has hundreds of trails to explore. And that's a lot of ground to cover. There's only so many hours in a day, after all. And if you're more night owl than early bird, sunrise start probably isn't in your vernacular. So, gear up and explore your city's urban trails after dark. Recreation hotspots like South Mountain Park Preserve, Lost Dutchman State Park, McDowell Mountain Regional Park, Piestewa Peak, Papago Park, and Usery Mountain Regional Park all offer prime after-dark hiking ops as well as programming like ranger-led moonlight hikes, wildlife walks, and more.
Meet the plant-based community at Vegan Social
Downtown Phoenix
Whether you're vegan curious or entirely plant-based, there's a good chance you'll encounter something new and delicious at the next Vegan Social. The outdoor, night market-style pop-up features dozens of the city's top vegan-friendly and plant-based vendors each month for a night of good eats and solid hangs. Bring your friends. And your appetite.
Eat, drink, dance, and shop around Pemberton PHX
Downtown Phoenix
Head to the Pemberton PHX where you can take a choose your own adventure approach to your next night out. The community space meets art collective hosts dance nights, live music performances, and other artsy events. It's likely the only place in town where you can pair your French wine with fish tacos. And, it's a one-stop-shop for unique gifty things; you can find everything from vintage threads and curated crystals to bespoke jewelry here.
Take your night out to new heights at a rooftop lounge
Citywide
Have your drinks, and views, too. If you're looking to take your night out to the next level, literally, make your way to a rooftop bar. Head to Pedal Haus Downtown, Don Woods' Say When, Sotol Modern Cocktail Kitchen, Upstairs at Flint, From the Rooftop at Cambria Hotel Downtown, Floor 13 Rooftop Bar, Skysill Rooftop Lounge at The Westin Tempe, Outrider Rooftop Lounge at Canopy by Hilton Scottsdale, or Alibi Rooftop Lounge at Canopy by Hilton Downtown Tempe for unparalleled views of the twinkly nighttime skyline and boozy libations.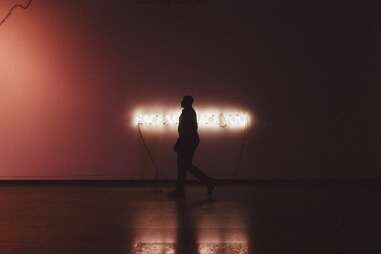 Explore the exhibits, galleries, and installations at the Phoenix Art Museum
Central Phoenix
Each Wednesday from 3 pm to 9 pm the Phoenix Art Museum drops general admission. It's called Pay What You Wish Wednesday. And just like the title implies, you pay what you want for entry. Experience the museum's permanent, mind-bending mirror room, You Who Are Getting Obliterated in the Dancing Swarm of Fireflies, and other notable art collections. And, don't miss the museum's special exhibitions.
Watch your favorite comedian bring down the house
Citywide
Sure, Netflix has an insurmountable sum of binge worthy comedy specials. But it's much more fun to see your favorite comedian live than from the sofa at home. So, pull on some pants and secure tickets to a show at Tempe Improv, Stand Up Live, or CB Live. Other local comedy haunts like House of Comedy and Stir Crazy Comedy Club are worth checking out, too.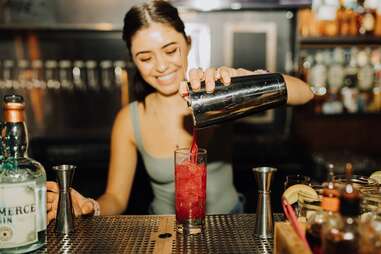 Order drinks, nosh on pizza, and hang out with your neighbors at The Churchill
Downtown Phoenix
This trendy community space is made entirely of shipping containers and it's the perfect spot for those indecisive friend groups who can't settle on just one place. The Churchill has a huge open-air courtyard with lots of picnic table seating and a lineup of food and bev options to choose from. Roll up to So Far, So Good or the The Brill Line for drinks and order food from Freak Brothers Pizza, Stoop Kid, or Provecho to fuel your night out.
Experience art, music, and community at Walter Where?House
Phoenix's Walter Where?House oozes cool. The self-proclaimed house of fun knows how to throw a party—think laser light shows, loud music, and art cars. The community-space draws in crowds for its lively atmosphere, late night kitchen, happy hour, live music, and all-around good vibes.
Crush craft beer and read mystery novels at First Draft
Phoenix
Grab your favorite book and pull up a seat… at the bar. Changing Hands Bookstore's First Draft Book Bar is basically the stuff of any literary junkies' or logophiles' dream. The buzzy book spot has happy hour every single day of the week. And, First Draft Book Bar regularly hosts events like author appearances, classes, and workshops, including crash courses on storytelling and how to write poems.
Play for a high score, and bragging rights, at an arcade hotspot
Citywide
Phoenix is experiencing an arcade bar renaissance. When the glow of the neon arcade bar calls, pocket your tokens and hit the local arcade bar circuit; Electric Bat Arcade, Linger Longer Lounge, Cobra Arcade Bar, Stardust Pinbar, Social Hall, The Hot Chick, Lucky's Indoor Outdoor, The Little Woody, and Cham Pang Lanes are all solid spots to play for 8-bit glory.
Channel your inner Attenborough and go bat-watching on the Arizona Canal
Phoenix
Every year thousands of bats migrate to Phoenix. Storms of these tiny mammals have been returning to the Arizona Canal area and the Phoenix Tunnel since the 1990s. But to see them, you've got to be in the right place at the right time. The bats arrive as early as March and stay as late as October. But your best bet for bat watching is the summer season, from June through August. Like clockwork, the colonies put on a spectacular sunset show as they emerge and take flight into the night.
Savor fancy cocktails inside a hidden speakeasy
Citywide
Enjoying cocktails in dark, hidden places is objectively more appealing than drinking in a regular bar. And, there are a number of super-secret drinking dens and underground basement bars around the city that provide the opportunity to do just that, including Rough Rider,Valley Bar, Pigtails Downtown, Merc Bar, The Captain's Cabin, The Ostrich, Undertow, Melinda's Alley, and The White Rabbit. Now you just have to go out and find them.
Lauren Topor is a culture and food reporter, artist, and photographer living and creating in Phoenix, Arizona. She has a background in nutrition science, takes her coffee iced, and frankly has too many hobbies to list here in this bio. Follow Lauren on Instagram where she posts her favorite coffee shops and desk lunches,
@hungryinphoenix
.