Usually, our weekend guides give you all the best that Phoenix has to offer, but this go-round we're doing something a little different. In an attempt to flatten the curve and lower the spread of COVID-19 in our city, we're encouraging our Phoenix readers to stay in -- because it really is the best thing you can do this weekend. 
Below, you'll find alternatives to things you might have done this weekend under different circumstances. We've paired those activities with streamable content and a local restaurant that offers take-out and delivery, because staying inside doesn't mean you should have to be bored or hungry. 
During these uncertain times, our nonprofits and charities need our help now more than ever. Support your neighbors, choose to give to Arizona's charitable organizations. United Food Bank, CASS AZ, Meals on Wheels, The Salvation Army, St. Mary's Food Bank, Local First Arizona, American Red Cross, and the Arizona Humane Society are all working overtime to bring support and supplies to those who are most in need.
If you planned on stuffing your face at the Barbecue and Beer Festival…
Stream: Barbecue, 2017
Weekend-long
Cost: Included with Netflix subscription
Eat: Joe's Real BBQ has rolled out a drive-thru option and is accepting take-out orders online via DoorDash, Postmates, Grubhub or by phone. 
Gilbert
Cancellations and postponements of festivals, shows, and events have us all in our feelings, and we could all use some comfort food. Barbecue might not be able to solve all of your problems, but it's sure to remedy your hunger. Bring on the ribs, baby! 
If you had a ticket to the Arizona State spring game…
Stream: Jerry Maguire, 1996
Weekend-long
Cost: Included with Netflix subscription 
Eat: College Bar is taking orders by phone or DM for items like wings, pretzel bites, burgers, and chicken fingers. They also have a gift card special; when you buy a $50 gift card you get $10 on the house. 
Tempe
Tempe's Sun Devil Stadium will be empty this weekend, but you can still cheer for ASU… sort of. Get behind the fictional Sun Devil Rod Tidwell in Jerry Maguire and quote-along with the movie from the comfort of your couch, not the stadium bleachers.
If you would have gone to a comedy show for some laughs…
Stream: The latest comedy specials
Weekend-long
Cost: Included with your Netflix subscription
Eat: Clever Koi is offering 25% off on all take-out and curbside delivery orders. They are also delivering via UberEats, Postmates, DoorDash, and Grubhub. 
Central Phoenix
Laughter is contagious, and so is COVID-19. So please, please, please stay in this weekend and watch some of the newest comedy specials from your favorite comedians on Netflix.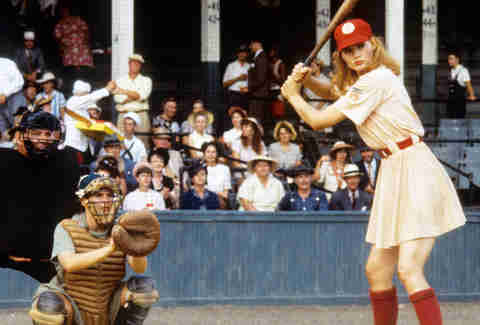 If you had lawn seats for a spring training game…
Stream: Any of these iconic baseball flicks
Weekend-long
Cost: Streaming prices vary
Eat: Detroit Coney Grill is offering take-out and delivery options via Postmates, Uber Eats, Grubhub.
Scottsdale, Tempe 
Even with ESPN8: The Ocho's alternative programming that includes action-packed footage of competitive rock skipping and vicious bouts of cherry pit spitting, there's a big hole where pro sports used to be. But, what can you do? Well, for starters: get a coney dog, wash it down with a cold beer, and queue up a list of legendary baseball flicks. It's not the same as going to the ballpark, but it's close... kind of. 
If you would have gone out for a round of beers…
Stream: The Hangover trilogy
Weekend-long 
Drink: Arizona Wilderness Brewing Company is delivering cans, bottles, and kegs to the East Valley and Phoenix. Minimum order for delivery is $30. Pick-up options from the Gilbert Brewpub are also available with no minimum purchase. 
Gilbert, Downtown Phoenix
Who else could use a drink after this long, long week? Luckily, angels do exist -- and they deliver beer directly to your door, too. Arizona Wilderness Brewing Company is delivering cans, cases, bottles, and yes, even kegs of sweet golden hoppy nectar (read: beer) to thirsty people all over town. There's a 24-hour delivery window, Don't be an Alan; be like the leader Wolfpack, Phil. Be pragmatic and get those orders in now. 
If you finally landed a date on Bumble...
Stream: Any rom-com of her choice 
Weekend-long
Cost: Included with your Netflix subscription 
Eat: Postino is offering a date night-in special for $25 that includes a board of bruschetta, one "snacky thing," and a salad. And all bottled wine is $15 to-go. You can order online via Uber Eats, Postmates, DoorDash, Grubhub.
Central Phoenix, Tempe, Arcadia, Gilbert, Scottsdale
Thanks to the not-so-secret Netflix Party Chrome extension, you can practice safe social distancing and watch anything on the streaming app in sync with your cyber sweetheart. When this is all over, you can make plans to hangout IRL. 
If you were up for an excellent adventure…
Steam: Bill & Ted's Excellent Adventure, 1989
Weekend-long
Cost: Included with Hulu subscription, streaming prices vary
Eat: Ziggy's is running a take-out special that includes a one-topping 18" pizza and an order of 12 wings for $25. They are also on Postmates and Grubhub. 
Downtown Phoenix
If they don't ace their history report they'll flunk and metalhead bros Bill and Ted will ultimately face separation. I wonder how the duo would be doing today with social distancing? Sure, the movie is set just outside of Los Angeles, but Valley movie buffs will probably recognize more than one locale featured in the '80s flick, like the Circle K and AMF Village Lanes in Tempe, Golfland Sunsplash, and Coronado High School in Scottsdale. And there's the fictitious Zyggies, which at the time of filming was the now-shuttered ShowBiz Pizza; today it's a Chuck E. Cheese. Bill and Ted rely on time travel to solve all of their problems, which honestly sounds like a pretty good option these days. Party on, dudes!
Sign up here for our daily Phoenix email and be the first to get all the food/drink/fun in town.