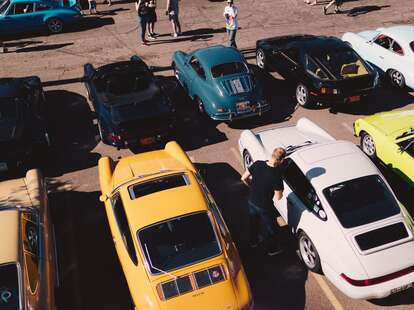 Photo courtesy of Fourtillfour Cafe
If you're not starting your weekend with barbecue, you're doing it all wrong. May is National Barbecue Month, as if we needed another excuse to eat more 'cue, and your local pitmasters are pulling out all the stops to bring delicious ribs, brisket, and links to the table. Aside from the lineup of incredibly tasty meats on deck at your city's 'cue joints, this weekend is essentially an epicurean's dream. Arizona Restaurant Week makes its full-flavored return. Civic Space Park is hosting a food truck lunch on Friday. Fourtillfour Cafe's Cars and Coffee is back. And it's peach season at Schnepf Farms. Hungry for more? We've got just what you ordered. Here's what's happening in your city this weekend, Phoenix.
Friday, May 20, 11 am - 1:30 pm
Downtown Phoenix
When lunchtime rolls around Friday, Downtown Phoenix's Civic Space Park will be filled with a lineup of local food trucks. A handful of local food businesses will roll up for the lunch hour pop-up including Lobstar, 2 Fat Guys Grilled Cheese, Mr. Wonderful's Chicken and Waffles, and 99 Sunny's Thai Kitchen. The trucks open for business at 11 am.
Cost: Varies
Friday, May 20 - Sunday, May 22
Citywide
Arizona Restaurant Week returns to the Grand Canyon State this weekend for a multi-day culinary showcase that highlights some of the tastiest cuisines and top restaurants that State 48 has to offer. With more than 126 participating restaurants so far, your options are practically limitless. See a full lineup of the participating restaurants right here. Reservations are encouraged.
Cost: Starting at $33, $44, or $55 per person
Friday, May 20 - Sunday, May 22
Queen Creek
It's the tastiest time of the year. Peach season is upon us. And there's no better way to enjoy the fruit of the season than picking it fresh from the trees at Schnepf Farms. The Queen Creek farm has been growing peaches for more than 50-years. And this year is no exception. Make your reservations for U-pick and see what's in-season here.
Cost: Varies
Friday, May 20 - Sunday, May 22
Tempe
The ASU Art Museum in Tempe recently debuted a new exhibition, A Country is Not a House: Ronald Rael + Virginia San Fratello. Fusing activism and design, the new exhibition features a myriad of prints, drawings, models, videos, and newly commissioned sculptural installations inspired by the border region. A Country is Not a House: Ronald Rael + Virginia San Fratello is on view now through October 9, 2022.
Cost: Free
Saturday, May 21, 7 am - 2 pm
Old Town Scottsdale
Car heads and coffee geeks come together every weekend at Fourtillfour Cafe in Old Town Scottsdale. The artisan coffee shop's weekly car meets draw out droves of unique rides, ranging from slick Porsches to air cooled Volkswagens. Each go-round has a unique theme, and this weekend it's all about the vintage European rides. Start your day with some fantastic coffee and check out the cars, too.
Cost: Free, food, and drinks available for purchase
Saturday, May 21, 8 am - 11 am
Tempe
The Arizona Coyotes and the Tempe Community Action Agency Oasis Drop-In Center for Homeless and Underserved are teaming up this weekend for a community water drive. The charitable partnership is asking for water donations from the greater Tempe community, with a goal of 5,000 bottles. These donations will be available to those without access to water during the summer months at TCAA's Oasis Drop-In Center. You can drop your donations at the Escalante Multi-Generational Center. Find more details here.
Cost: Free
Saturday, May 21, 9 am - 2 pm
Downtown Phoenix
This weekend, support the local artisans and vendors in your community at Sidewalk Saturdays. Happening just outside of the buzzy The Churchill in Downtown Phoenix, this recurring seasonal market gives local makers and creatives a community-oriented platform to get their work out there. Stick around, shop around, and cruise around The Churchill where you can score brunchy eats and drinks from a number of the vendors inside.
Cost: Free, food, and drinks available for purchase
Saturday, May 21, 5 pm
Scottsdale
Dive into pool season with Dutch EDM superstar Oliver Heldens. The electronic music phenom is taking over Release this weekend with an epic one-night only set happening poolside at Talking Stick Resort. Cabana rentals are available. Doors open at 5 pm.
Cost: $35
Lauren Topor Reichert is a Phoenix-based nutritionist, multimedia storyteller, vintage clothing lover, and photographer. Her work has been featured in travel guides, national publications, and the social feeds of some stellar local restaurants. Follow her around Arizona, and beyond, on Instagram
@hungryinphoenix
.