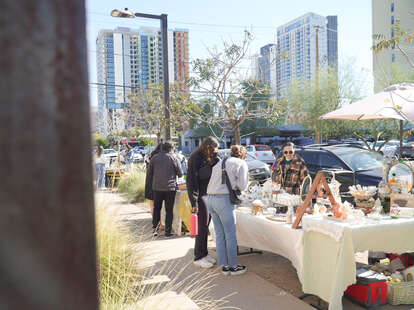 Photo by Lauren Topor, courtesy of Good Karma Photo
There's always something happening in the nation's fifth-largest city. The Phoenix Metro is home to all four major sports leagues; whatever the season, there's always a game going on. A short list of the city's restaurants have received national and global recognition—we love to support them all. The Phoenix arts scene is thriving; First Friday is the nation's largest self-guided art walk. We're surrounded by nature and adventure is always just a day-trip away. Millions of people from all over choose to vacation here and snowbirds come here to spend winters in their second homes. More people moved to Maricopa County (aka Phoenix) than anywhere else through 2020 - 2021—and that trend doesn't seem to be slowing down. Sidenote: Maricopa Country is roughly the size of New Hampshire. And, our weather is as close to perfect as you can possibly get—that 75 degrees Fahrenheit year-round average isn't too shabby. Phoenix is pretty damn great. In the daytime, and after dark. And these are some of the places, things to do, restaurants, pop-ups, and places and spaces that make it that way.
Friday, January 27 - Sunday, January 29, 9 am - 7 pm
Pueblo
The hippest plant shop in town is a great place to grow your green thumb. Whether you're a serious plant person or just getting into the whole plant thing (they've got air plants!), Pueblo can help you plant the seeds, so you can have a little bit more green in your life. In addition to the plants, Pueblo stocks home goods like glassware and plant stands plus posters and plant care kits to get you started. Learn more about Pueblo right here.
Cost: Varies
Saturday, January 28, 8 am - 1 pm
Downtown Phoenix
Grocery shopping got you down? Honestly, same. For the folks who hate long lines, high prices, bright overhead lighting, and overall lack of freshness and locally made things, there's the Downtown Phoenix Farmers Market. The open-air weekend market brings out local vendors from across the region who dish fresh produce, in-season items, baked breads, and other local snacky goods. There's music, community, art, and food to eat from a gang of trucks and vendors. Can't make it out this weekend? The Downtown Phoenix Farmers market is recurring every Saturday. Plot your next market run and peep the vendor list right here.
Cost: Varies
Saturday, January 28, 10 am - 3 pm
The Churchill
The Phoenix art scene is growing and we love to see it. For example: each weekend, dozens of artists, makers, and craftspeople come together at The Churchill for Sidewalk Saturday. This arts-focused outdoor market highlights the work and craft of the city's creative community. Sidewalk Saturday showcases a little bit of everything, from photo prints and herbal teas to jewelry and floral bouquets, you can probably find it here. Plus, you'll get to know the artists in your neighborhood and you'll get those warm fuzzies knowing that your purchase is supporting somebody's dream. Sidewalk Saturday takes place every Saturday at The Churchill. Get a feel for the vibe right here.
Cost: Varies
Saturday, January 28, 7 am - 10:45 am
Monsoon Market
Strawberry Coffee, formerly Hakiri Coffee, is rolling into the Monsoon Market parking lot with their coffee bus this Saturday. If you do one thing this weekend, let it be this: roll yourself out of bed and order yourself one of Strawberry Coffee's specialty lattes. And, since you're already out of bed, head into Monsoon Market for zero proof bevs, locally made things, and other cool stuff you didn't know you needed. Find Strawberry Coffee every Saturday morning at Monsoon Market.
Cost: Varies
Saturday, 11 am - 3 pm
Modified Arts
Play isn't just for kids. In fact, research has shown that play is essential for everyone and it's even been linked to decreased stress and better relationships—sounds pretty great, right? This weekend, make time for play and visit PLAY is the latest exhibition to debut at Modified Arts. The collective exhibition features the work of 10 artists who all explore the concept and nature of play in their own mediums. PLAY will be on view at Modified Arts now though February 11, 2022. Learn more about the art space right here.
Cost: Free entry
Saturday, January 28 - Sunday, January 29
Futuro
At Futuro, coffee and tamales go together like avocado and toast. This weekend, bring your rumbling stomach to Futuro where you can choose from a shortlist of tamales wrapped and steamed in banana leaf. Early risers get the tamale—they're available until sold out. If you miss 'em consult the lineup of signature coffee drinks, like the café de olla or the moca with stone ground cacao. See what Futuro is all about right here.
Cost: Varies
Sunday, January 29, 9 am - 4 pm
Jobot
Hungry for an anything-but-basic brunch? Good. Arepa Babe is taking over the kitchen at Jobot. And, every Sunday she's going all out for brunch. Here, you can feast on dishes inspired by the different regions of Colombia, like ajiaco soup (a traditional soup from Bogotá) and pandebonos (a Colombian take on chicken and waffles). The menu changes weekly and it's available until sold out. Don't miss another brunch, bookmark the Arepa Babe Instagram right here.
Cost: Varies
Sunday, January 29, 11 am - 3 pm
Bacanora
This Sunday, head to Bacanora for brunch and fill your table with fat burritos, plates of pork chops and chorizo packed with beans, eggs, and tortilla, and wash it all down with a round of watermelon juice and bubs. Want more? Follow Bacanora so you never miss a Bacanora Backdoor. Start your next reservation right here.
Cost: Varies
Sunday, January 29, 5 pm
Garden Bar
Every Sunday, Garden Bar and Downtown Phoenix based The Fates Bread Co. come together for good times and grilled cheese. The Fates Bread Co. kitchen takeover is recurring every Sunday at Garden Bar and grilled cheeses are available until sold out. Can't get enough gluten? Get your own baked-to-order loaves from The Fates Bread Co. to devour at home. Start your next bread order right here.
Cost: Varies
Lauren Topor is a culture and food reporter, artist, and photographer living and creating in Phoenix, Arizona. She has a background in nutrition science, takes her coffee iced, and frankly has too many hobbies to list here in this bio. Go behind the lens with Lauren on Instagram,
@goodkarma.photo
.