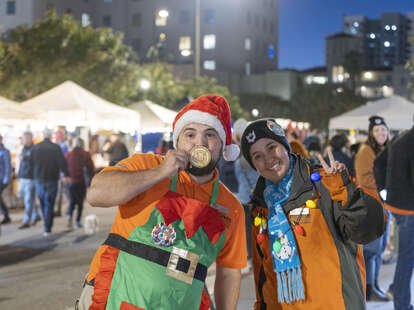 Courtesy of Phoestivus
Courtesy of Phoestivus
Phoenicians make the most of their desert climes by knowing when to get outdoors and when it's time to stay cool inside. Just peep the variety of options: museums, indie bookstores, restaurants, bars, music venues, local shops, and a strong sports landscape, too.
As for the actual landscape, the Valley of Sun has lots of beauty and wonderful hikes to help you appreciate it. And if you're just visiting, there's plenty of great hotels for your post-outdoorsy adventures. Further afield, travel to nearby wonderlands where dude ranches proliferate, or where you can gaze at the night sky unencumbered.
With all this in mind, our monthly events guide will help keep your calendar full with a variety of fun things to do in December 2023. Stay tuned here to discover the best things to do in Phoenix, updated monthly.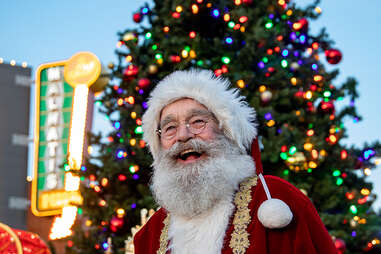 Holiday Events in Phoenix
December 8
Scottsdale, Free
The Foster Alliance is partnering with M3F Music Festival to host a free benefit concert at the Scottsdale Quarter to help collect presents for foster children across Arizona. The concert will feature local artist Jay Allan, known for his funky folk, blues-style rock. Accompanying the free concert, Fill Santa's Sleigh will include favorite holiday characters, giveaways, and a chance to win prizes like tickets to see the Harlem Globetrotters. Guests are encouraged to bring their donations of unwrapped gifts to the event.
December 14–16
Downtown, Free
The beloved and famously quirky holiday craft market Phoestivus presented by Community Food Connections is returning for its fourteenth year in Downtown Phoenix at the Downtown Phoenix Farmers Market location and has expanded to three festive days of local shopping and holiday cheer! The three-day outdoor holiday market kicks off Thursday, December 14 through Saturday, December 16 and will feature more than 150 small businesses, music, live performances, delicious and diverse food and of course, the beloved Phreddie the Yeti and Hipster Santa.
December 16
Uptown
Get in the holiday spirit with Uptown Plaza's family-friendly event!
Uptown Plaza is hosting a holiday event on December 16 from 11:30 am to 1 pm where families are invited to come take photos with Santa, make holiday crafts and interact with the Dickens Carolers.
December 16 & 17
Downtown, $20 and up
The Arizona Nutcracker, presented by DanceStudio 111, is the only one of its kind! All of the performers are young actors and dancers ages three through 19. The Arizona Nutcracker invites Arizonans to come enjoy the magic of the holiday season as dolls and clowns come to life, a Christmas tree grows through the roof and it snows inside the theater. Watch the Nutcracker defend himself and Clara from the Mouse King and its army of mice. See the Angels dance on clouds and the Sugarplum Fairy as she welcomes Clara and her prince into the land of sweets.
Winter Solstice
December 21
Scottsdale, $25
Welcome Winter Solstice and commemorate the longest night of the year with meditation, sound healing and intention setting at Four Seasons Resort Scottsdale at Troon North. The evening begins at 5 pm with guided meditation and sound healing. Following the class, guests are invited to set their intentions and release any negativity or energy that no longer serves. Complimentary wassail, a hot mulled cider drink, will be served. To reserve, contact The Spa at 480-513-5145.
Now through December 24
Rawhide, Chandler, $25 and up
New this year, this premier light show and family experience is ready to enchant visitors for the holidays. Guests can expect to enjoy more than six million lights, a dazzling light show, a magical train ride, a nightly parade, jaw-dropping stunt shows, holiday shopping, and live entertainment.
Sport Events in Phoenix
December 1 & 2, 15, 17, 29 & 31
Footprint Center, $42 and up
The Suns' season is underway and the boys are making it a fun one so far! Come root on Phoenix's basketball team during their home games in December; maybe you'll even get lucky enough to see the long-awaited combo of Beal, Booker, and Durant on the court? You'll just have to come downtown to find out!
December 17
State Farm Stadium, tickets start at $132
To say it's been a rough season so far for our football squad is putting it mildly. With QB Kyler Murray back in action, the Cardinals will host the 49ers for their only home game in December. Could the RedBirds pull out a win before Christmas? Miracles do happen. In any case, tailgating should be fun.
Outdoor Events in Phoenix
White Tank Mountains Conservancy Trail Cleanup
December 9
White Tank Mountains
The White Tank Mountains Conservancy invites all to join in the December trail cleanup at White Tank Mountain Regional Park. Volunteers can meet in front of the WTMRP Nature Center at 9:30 a.m. Come spread some holiday cheer while keeping nature clean!
December 21
State Farm Stadium, adults $30 and kids $20
Elevate your Heritage Night Market experience to new heights! Embark on an adventure with Rainbow Ryders and be captivated by the desert landscape and soar into the night sky in a tethered Hot Air Balloon experience. Their highly trained and experienced pilots will keep your adventure safe. Afterwards, enjoy exploring all that the West Valley's Heritage Night Market has to offer.

Special Events in Phoenix
December 9 & 10
Queen Creek
Queen Creek Olive Mill is celebrating all things EVOO with the return of their annual Olivepalooza Harvest Festival with two days of tastings and tractor tours of the estate! Attractions include Olive Oil 101 classes, olive crown making, cooking demos, live music, a gourmet vendor section and more.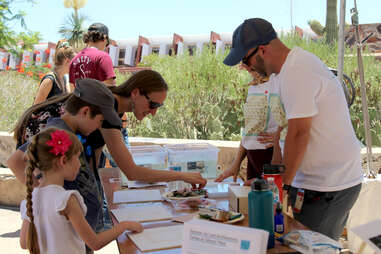 Cultural Events in Phoenix
December 9
Scottsdale, $5
Biannual event offers visitors a discounted opportunity to dive into the realms of art, architecture and nature while exploring Frank Lloyd Wright's winter home and studio at their own pace. This family-friendly, immersive experience provides guests the ability to explore this site, as well as bring art, culture and history to life, in a whole new way and at a discounted rate. Advance reservations for an entry time slot are required. Visitors can immerse themselves in the essence of the iconic architect's work and philosophy through performances, interactive demonstrations and hands-on crafts led by various Frank Lloyd Wright Foundation staff members.
December 9 & 10
Sky Harbor, $5
The 46th Annual S'edav Va'aki Museum Indian Market (formerly known as Pueblo Grande Museum Indian Market) will feature more than 110 Native American artists vending fine art, crafts and cultural items, as well as main stage performances, cultural demonstrator area and food sales. Main stage entertainment includes hoop dancing, Native American flute, an Indie Rock band, traditional dance and solo guitar. The cultural demonstrators in the Ki:him (O'odham word for village) area provide hands-on learning in hoop dancing, beading, gourd art, shell etching, mask making and other activities suitable for all ages.
Asonta Benetti is a Phoenix-based freelance writer specializing in travel, food, and beverage. Her credits include
Food & Wine
, VinePair, AFAR, Eater, and
Bon Appétit
, among others.