Tavit Daniel
Tavit Daniel
We just got back from the first Cuervo Tradicional Taco Takeover and Cocktail Competition in Phoenix and we can officially confirm that there's no better food than tacos. The Clayton House was completely transformed into a taco paradise and the city's finest came out to fix us their very best taco variations and delicious drinks.
You see, every restaurant and mixologist was competing for first place -- and the grand prize was better than money or a brand-new car. That's right: bragging rights. There were just a couple of rules. Everything had to be delicious, and the cocktails needed to be made with Jose Cuervo Tradicional. Easy enough, right? Check out the contenders: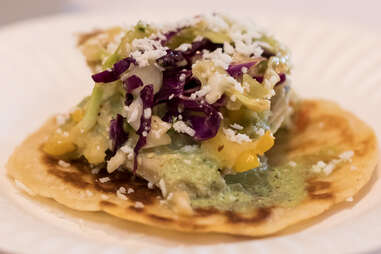 Of course, we couldn't forget dessert
For guests who still had some room left after all the tacos, Latin-inspired desserts from churro gonutz and nitro live icecreamery were there to round out the meal.
In the end, everyone voted for their favorites and the gadzooks festival taco was a bite above the rest, while maxton kennedy's Heart of Jalisco cocktail was what everyone wanted to be sipping on all day.
We let guests do-it-themselves
As if there wasn't enough food already, the VIP experience came with a do-it-yourself churro bar and a nacho cheese fountain. First, guests got to take churros and layer them with caramel, chocolate sauce, Fruity Pebbles, sprinkles, and Oreo crumbles. But since everyone loves queso, we knew this celebration couldn't be complete without a nacho cheese fountain. Everyone loved piling up their plates with chips, cheese, and salsa.
Also in VIP, our friends at Jose Cuervo served up their signature Paloma cocktail. Their recipe -- if you feel like throwing a little Paloma party of your own -- uses grapefruit juice, Jose Cuervo Tradicional Silver, tonic, and a grapefruit wedge to garnish.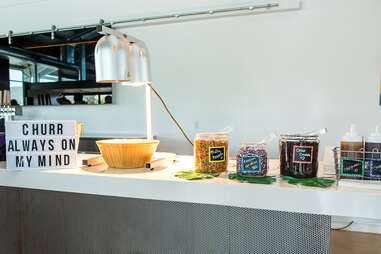 There were tastings and takeaways
There was no shortage of entertainment at Phoenix's Taco Takeover. While DJ Mars was spinning, guests got to make their way around the stations -- including a Cholula hot sauce bar where they could sample six different kinds of the spicy goodness, including chili lime and chili garlic. Over at the Cuervo Tradicional Tasting Bar, neat samplings of both Reposado and Plata Tequila were being poured.
Finally, everyone got to make their own taco seasoning. Spices like cayenne pepper, chili powder, garlic powder, and cumin were available for combining, and we suggested either a smoky chili salt or classic taco spice mix. Of course, the more creative you got, the better. Over 250 custom spice jars were made and taken home. We see a lot of flavorful tacos in our guests' futures.
If you missed the Phoenix Taco Takeover, there's no need to worry. Next time you're in town, stop by any of the restaurants or a few more of our favorites: cien agaves (with two locations in Scottsdale) and old town gringos.
Or meet us at the next Taco Takeover. We're having three more of these in Seattle, Miami, and Los Angeles. Head over to thetacotakeover.com for more info. In the meantime, check out more shots from the day. We couldn't believe how many guests showed up in taco apparel! Taco 'bout commitment!