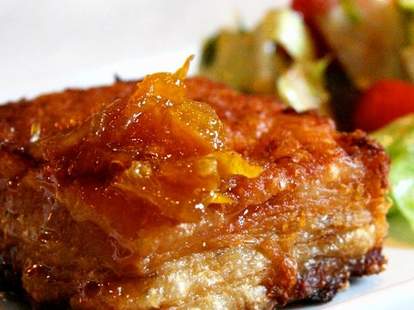 Not getting to choose what you eat can suck -- if that weren't true, why are people so reluctant to go to prison? But it can also be a wonderful surprise, like at PIG (Pig Is Good).
An all-hog-meat experimental feast, and the latest in a series of guest-as-guinea pig dinners from a local foodie blog, PIG asks swine fiends to give up choice and allow themselves to be filled with culinary creativity and new concepts from the mind of Rick Ross personal chef/"pork fetishist" Jeremiah Bullfrog, who was a good friend of swine (until he started feeding them to people). Housed in Harvey's By The Bay, the menu for the Sunday afternoon pig out (oh!) is top secret, but Bullfrog intends to work Iron Chef-style to create up to six different dishes, utilizing the pig "from nose to tail -- the entire animal apart from the innards"; he's leaked that he'll use French technique for one dish, create a Latin-inspired affair with Vietnamese flavors, another with Chinese influence, and work in some New American, although unfortunately for Bowie, Young American will have to wait for the veal dinner. For reference, Chef Bullfrog's previous experimental dinners included creative stuff like a Greek salad with tomato water, compressed cucumber & Hendrick's Gin, 72hr Shorties (braised short ribs, parsnips, big Zin reduction), halibut with rye streusel & pastrami dashi broth, and flan made with Krispy Kreme donuts -- clearly, at that dinner, the guests were the pigs.
After the VIP event, you can still show up and try and nab the suckling pigs Bullfrog'll be roasting in Caja China boxes. If all else fails, Harvey's rocks a full bar with $3 beers and $6 pitchers, and they're planning a DJ set by the overly-fitting Electric Porkchop, and live jams like an acoustic set from local stars Afrobeta, Uncle Scotchy, and Elastic Bond -- the jumping of which is the very reason you're stuck eating Salisbury Steak off a stamped metal tray every day.