The Creepiest Haunted Attractions Around Pittsburgh
Have you had your fill of pumpkin spice and apple picking? Do you detect an insatiable craving for the macabre brewing deep in your guts? Lift yourself from that picturesque pile of fall leaves you've been taking selfies in, because it's time for terror. Get ready to be pursued by serial killers and overly dedicated local actors sporting some truly impressive monster makeup. Metro Pittsburgh (and Western Pennsylvania in general) is full of haunted attractions that have something for everyone, even the real sickos… you know who you are. Let this guide aid you in your journey to find the best scares of the season.
Hundred Acres Manor
Bethel Park
Price:
GA starts at $23 with add-ons available; Escape Rooms $22/person
Dates:
Open every Friday through Sunday September 6 - November 9. Extended openings throughout October.
Haunted Acres Manor is Pittsburgh's largest haunted house, covering over a mile of land, and hosting several different themed attractions every year. One of this year's standout haunts is The Host: a turn-of-the-century themed nightmarescape where guests will encounter serial killers, plague doctors, and other creatures from the dark alleys of London. For the price of admission, guests will also have access to five other attractions, including genetic testing gone wrong at Breach 2.0, and a cabin in the woods controlled by darkness at Curse. As if that weren't enough, Hundred Acres Manor also offers two escape rooms, the Scream Bar beer lounge, and a low-key wagon ride perfect for their Kids Day on October 20.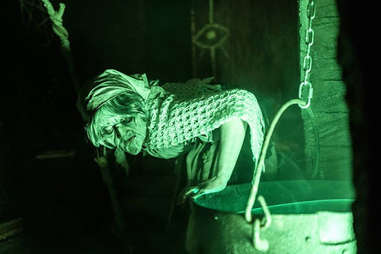 Demon House

| Stephen Hazuga
Monongahela
Price:
General admission starts at $20 with other packages available. Sunday admission $15.
Dates:
Fridays - Sundays from September 6 through November 3.
With a convoluted and creepy history that would make any historian's head spin, Demon House doesn't need much to make it a terrifying destination. The 17-room mansion is over 150 years old, and is even feared by the owners themselves who have admitted they don't venture in alone at night. Each room in the house has its own story with a talented group of actors creating a unique and ominous experience for each guest. Those in attendance are also encouraged to explore the grounds where they'll find fires and, to lighten the mood, an outdoor movie theater showing classic horror movies. And don't worry, we're sure all of those rumors about the house being atop an old burial ground are totally bogus.
Haunted Hills Hayride
North Versailles
Price:
Individual attractions are $13 each and both attractions are $18 on Wednesday, Thursday, and Sunday. Individual attractions are $15 each and both attractions are $20 Friday and Saturday. Group rates are available.
Dates:
Fridays and Saturdays September 13 - November 2. Extended dates in October.
Following a dirt road off the main drag in North Versailles, you'll know you've come to the right place when you see a fire blazing in the distance and the sound of dad rock filling the air. Haunted Hills is back for its 19th year of classic scares in the dark forests of Western PA. Guests can choose to take a hayride, a walk through the woods, or both. The Haunted Hills Hayride takes you through Jurassic Park-style gates that lead to chainsaw clad maniacs lurking beneath the trees and plenty of scary characters that just might be able to hop up onto the hayride with you. Prep yourself for interactive theater. If you're looking to get a bit more up close and personal, The Valley of Darkness Haunted Walking Trail will lead you through 23 different stations including an abandoned school bus guarded by the scariest monster of them all: teenage boys. Proceeds benefit the Autism Society of Pittsburgh.
Scarehouse

| Scott Simmons
Strip District
Price:
GA for The Basement starts at $33. GA for Stalked by a Killer is $26.25
Dates:
The Basement runs Thursdays through Sundays from October 18 to November 9. Stalked by a Killer runs Thursdays through Sunday from October 18 to November 17.
Scarehouse is a Pittsburgh institution; this year, a whole new set of terrors can be found at their new location in the Strip District. Enter The Basement (but not before proving you're 18 and signing a waiver), where you get to become part of the haunt by engaging with characters in dark rituals, confessions, and a game of hide and seek with a killer clown. Unlike most haunted houses, The Basement has upped the stakes and allows only two guests to enter at a time for a more intimate experience. If you're looking to combine fear with strategy, look no further than Scarehouse's escape room Stalked by a Killer. As the room fills with gas and the clock begins to tick, you and your friends have exactly one hour to solve a series of puzzles that have been designed by a deranged lunatic. Grab a ticket before they sell out. Because they always do.
Monessen
Price:
General admission $20 with upgrades available. Matinees $8
Dates:
Friday through Sunday all October
Built in the early 1900s, Castle Blood originally served as a funeral home. The historic house has been home to Castle Blood for over 25 years and is Pennsylvania's premier theatrical haunted attraction. If you've ever wanted to partake in your very own live-action game of Clue, you've come to the right place. Rather than jump scares and gore, Castle Blood challenges each guest to participate in the mysterious things happening around them. Stories and puzzles change every night with a rotating crew of classic monsters and archetypes to guide you through your haunting journey. And if you're looking for something family-friendly, Castle Blood hosts No-Scare Matinee Tours during the last two weeks of October.
Cheeseman Fright Farm
Portersville
Price:
General admission $20
Dates:
Friday-Sunday from September 20 through October 27
At long last, a Halloween activity that combines your need for terror with an intense cardio workout. All guests start their night with a dark hayride on the 650-acre farm, and are dropped off in the middle of a distant cemetery. This is where the real fun begins: lurking in the distance is a group of ravenous, undead creatures, and every guest will have to run for their lives to make it to the first haunted house and ominous corn maze that lies ahead. Layouts and attractions change every year, so even the most seasoned guest will be in for new scares. Cheeseman Farms also features a pumpkin patch during daylight hours for the faint of heart (and kids, I guess).
Sign up here for our daily Pittsburgh email and be the first to get all the food/drink/fun in the Steel City.
Julianna is currently turning her own home into a haunted house, one package of fake cobwebs at a time. She can't wait to permanently damage the children that live in her neighborhood this Halloween. Follow her @juliannalocal.