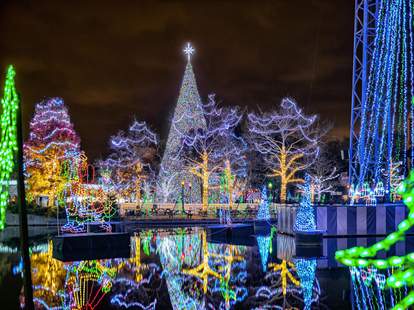 Everything You Need to Do in Pittsburgh This Winter
Winter's come to Pittsburgh in full force, using all of its icy power to turn you into a blanket-wrapped hermit for the next three months. But it needn't be that way! We've compiled a list of winter events and things to do that will make shoveling your driveway for the third time this week totally worth it. Bundle up and embrace the cold for a season of film festivals, parades, and dance parties that will keep your spirits high on even the gloomiest of days.
November 22 - December 30
Kennywood
With nearly 2 million twinkling lights, the return of The Gingerbread Express, and a choreographed light show on the lagoon, Pittsburgh's favorite amusement park has transformed itself into the winter wonderland of our childhood dreams. Every Friday, Saturday and Sunday in December you can check out the state's tallest Christmas tree, Rudolph the Red-Nosed Reindeer 4-D, holiday songs performed by local choirs, and all attractions -- including a tree lighting ceremony, Doc Dixon's interactive magic show, and a variety of rides -- are included with the price of admission.
Cost
: General Admission starts at $18.49 with discounts available
December 12
The Oaks Theater
Perfect for those among us who love the more cynical and chaotic side of holiday cheer, the Oaks Theater will be throwing a National Lampoon's Christmas Vacation BBQ. Grab a $10 boxed dinner from Burk's BBQ and get ready to party because, in the words of this movie's endearingly flawed patriarch, "Nobody's walking out on this fun, old-fashioned family Christmas!"
Cost
: Tickets are $8 (but must be purchased in advance)
December 13
Carnegie Museum of Art
This year, CMOA is giving you the chance to get dressed up in your most exquisite finery for the 2019 Winter Wonderland. At this 21+ event you'll get to peruse the Hall of Architecture and the 18th-century Neapolitan nativity scene under the winter night sky Aside from two dance floors and special gallery tours, guests will get to create their own screen-printed cards, craft a winter keepsake, and draw live models who will be adorned in elaborate costumes
Cost
: General admission is $25. $20 tickets available for CMOA members.
December 14
Carnegie Museum of Natural History
Super Science Saturdays is a family-friendly program that will be highlighting the traditions of other cultures through a variety of crafts, artifacts, and holiday foods like Italian pizzelles. The special holiday program will be led by museum experts from noon to 4pm, and its different holiday-themed stations will feature interactive activities like a Santa letter writing station and the opportunity to pet Sven the reindeer! The museum will also offer a sensory friendly event on December 28th.
Cost
: Free with museum admission
December 14 & 15
The Commoner
Holidays got ya stressed? Take a break from the hubbub and bring the whole family out for a rooftop brunch with Santa and his reindeer! While kids create ornaments and decorate some holiday cookies, parents can head over to the bar for a festive cocktail or some hot apple cider made by Santa's very own elves. And be sure to visit Santa's reindeer crew up close for a truly one-of-a-kind holiday experience your kids won't soon forget.
Cost
: Rooftop visit only is $10. Brunch buffet/rooftop visit is $38 for adults and $18 for children.
December 15
Ace Hotel
Whether you're just a sucker for regional wares or you kind of, completely forgot it was the holiday season, the Made + Found special holiday market is here to soothe your woes. With 40 vendors to choose from, hawking everything from artisan bowties to soy candles to botanical provisions, you'll have trouble NOT finding what you're looking for. Bring your kids, bring your dogs, grab some brunch, go buckwild.
Cost
: Free
December 24 - 25
Row House Cinema
Few things can get us into the holiday spirit quite like a nostalgic movie marathon and Chinese delivery. Starting at 6pm on Christmas Eve, Row House Cinema will be screening a selection of holiday favorites including
Krampus
,
The Muppet Christmas Carol
,
National Lampoon's Christmas Vacation
and, of course,
Die Hard
. And before you settle in for your film of choice, Row House will be taking orders for Chinese food and sushi from Zen Asian Diner that will be delivered to your seat halfway through the movie.
Cost
: $10
December 31
Revel + Roost
Are you sick of spending New Year's Eve at yet another house party with a lukewarm Miller High Life in hand? Revel + Roost is here to give you the glamorous night of champagne toasts you've been dreaming of: for $50, you'll have full access to an open bar from 10pm-12am, two floors of live music, giveaways, and a selection of charcuterie, small bites, and crudites.
Cost
: Starts at $50
December 31
Il Tetto
OK, high rollers, here's your chance to have the Great Gatsby New Year's Eve you've always dreamed about. This 1920's-themed soiree on Sienna Mercato's glass-enclosed rooftop will feature retro cocktails, an hors d'oeuvres buffet by Mezzo, free party favors, a photo booth, and a panoramic views of the city. At midnight, guests will greet the new year with champagne in hand and an extravagant balloon drop.
Cost
: Tickets start at $99
January 13 - 19
Various locations
The Winter 2020 Restaurant Week has returned, and will be filling our bellies with all of Pittsburgh's finest cuisine from January 13th to the 19th. Dozens of restaurants will be offering special menus to offer a unique experience for both new and returning patrons. You can check out a map of all the restaurants involved, and see new menu options as they become available.
Cost
: Varies by restaurant
January 23 - 26
PPG Paints Arena
World class acrobats and performers will be coming to PPG Paints Arena for a performance inspired by the unique movement and captivating appearance of insects. Cirque du Soleil: OVO is an extravaganza of light and movement featuring high rise acts with performers dressed like butterflies and contortionists creating gigantic "webs" on stage.
Cost
: Tickets start at $54
January 26
Couch Brewery
You managed to drag yourself through the holiday with all of your limbs still intact, so use those precious hands of yours to create a Bob Ross inspired masterpiece. Grab some brunch and then head over to start your day drinking at Couch Brewery. Sandy Hughey, a Bob Ross certified instructor, will give you all the supplies you need to paint your way to bliss. Your painting session will be accompanied by your choice of two glasses of beer, wine, or cider.
Cost
: $55 (must be purchased in advance)
February 7 - 9
PPG Paints Arena
BIG TRUCKS! SMASHING THINGS! YEAHHH!
Cost
: Tickets start at $40
February 8
Location TBD
Possibly the stupidest thing you'll do all winter, take off your hat, scarf, coat, shirt, and pants for your quickest mile run ever in Cupid's Undie Run. Suffer for eight-ish minutes for a good cause: the proceeds go to discovering a cure for Neurofibromatosis.
Cost
: Registration starts at $35
February 9
Squirrel Hill
2020's Lunar New Year Parade will be celebrating the year of the rat; the day long celebration beginning at 12:30pm will include appearances by dozens of groups in full costume and regalia. Come down to Murray Avenue for a chance to check out traditional instruments, Chinese folk dancing, and authentic food and drinks.
Cost
: Free
February 18
Spirit Hall
Pittsburgh's fifth annual Fermentation Festival is returning for a day of workshops and activities. Experienced and first time fermentors alike will get a chance to make their very own creations to take home. Experts and professional fermenters from around the region will be leading workshops throughout the day and selling their wares. For the bravest among you, there will be a table covered with moldy things that participants will get to poke at with childlike wonderment.
Cost
: Free
February 28 - 29
David L. Lawrence Convention Center
For the seventh year in a row, Pittsburgh Winter Beerfest returns to the David L. Lawrence Convention Center with two days of all things beer. One of the 10 largest craft beer events in the nation, this beerfest will feature over 400 types of craft beer from more than 125 different breweries, food trucks, free samples, appetizers, and much more. As always, all proceeds will benefit Animal Rescue Partners Inc and Biggie Bullies of Pittsburgh.
Cost
: Tickets start at $45
February 28 - March 5
Row House Cinema
Do you enjoy watching our oft-misunderstood feline companions performing awe-inspiring feats, like sitting up on the couch and jumping on babies? Then this is the event for you. Internet Cat Video Fest 2020 has arrived, and brought with it some of the best kitten content ever produced. Ticket sales will help cats in need and get you access to hours of curated submissions, animations, and the internet classics you know and love.
Cost
: TBD
February 29
Heinz Field
The Pittsburgh Polar Plunge invites anyone and everyone to register for a dip into the Ohio River, for a minimum donation of $50 that will benefit thousands of Special Olympics athletes. If you're not feeling quite up to the below-freezing dip, you can still join in as a spectator with tons of family games, entertainment, free food, and hot beverages.
Cost
: Free to spectators, $50 minimum donation to participate
Sign up here for our daily Pittsburgh email and be the first to get all the food/drink/fun in the Steel City.
Julianna wrote this without any leftover Halloween candy to aid her journey. Also, she couldn't find her fuzzy writing socks and had to continue on with cold toes. Her life is pure tragedy. Follow her @JuliannaLocal.