Where to Watch 4th of July Fireworks Around Pittsburgh
Pittsburgh loves fireworks. In fact, an hour's drive up the road will take you to New Castle, PA, known as the "Fireworks Capital of America," where the iconic Zambelli and Pyrotechnico fireworks companies have their origins. As such, you'll find plenty of July Fourth fireworks shows all around the city -- some including festivals, concerts, and fun family events, while others are just the display themselves. Whether you live in the city limits or north, south, east, or west of the 'Burgh, there's a fireworks show for you. Here's our guide of where to go, how to get there, what to do beforehand, and when to bring your blanket or chairs to set up for the perfect viewing spot.
WHEN DO THE FIREWORKS START?
While there are fireworks displays all over the city, most of them start around 9:30pm. For the Downtown display, you'll want to get there as early as possible and plant yourself somewhere, because as it gets closer to fireworks time, the roads become gridlocked with cars. Most of the fireworks displays include pre-event activities that start around noon, like live bands, family events, and free giant sundaes.
WHERE ARE ALL THE FIREWORKS SHOWS THIS YEAR?
Downtown
Festival: 12pm
Fireworks: 9:35pm
Presented by the EQT Pittsburgh Three Rivers Regatta, Celebrate America Pittsburgh includes free entertainment and activities all day long leading up to the fireworks festivities. There are so many spots to watch the fireworks from, including the Riverhounds stadium if you want to catch a soccer match beforehand (an admission ticket is worth this prime viewing spot). Wherever you plan to be when the fireworks start, though, don't count on a quick getaway; the city pretty much shuts down when the first pyrotechnics start crackling.
Mt. Lebanon
Festival: 12pm
Fireworks: 9:30pm
Starting at noon, Mt. Lebanon kicks off the Fourth of July with games, food, and other activities to keep the whole family entertained, with vendors and other businesses selling items throughout the day. At 7:30pm, The Nied's Hotel Band will be performing a free concert at the basketball courts. Plus, the Outdoor Swim Center is open all day from noon to 7pm if you want to take to take a dip in the pool. Just make sure you dry off for the fireworks at 9:30pm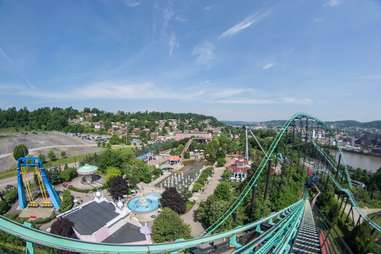 Rankin
Festival: 12pm
Fireworks: 9:30pm
Sure, it costs the price of Kennywood admission, but is there a more magical place to catch a fireworks display than Pittsburgh's iconic amusement park? They don't just have one Fourth of July fireworks show, but five -- every evening from Sunday, June 30 through Thursday, July 4. In addition to fireworks, Kennywood Fourth of July events include a hot dog eating contest and the weiner 100 dachshund races (yes, 100 cute pups running wild).
Canonsburg
Festival: 10 am
Fireworks: 10pm
Do you have a bow tie and a panama hat you've been saving for the right occasion? Pull them out for Canonsburg's Fourth of July event, which honors the celebration's founding father Tony Colaizzo by asking everyone to don this attire for the parade (which starts at 10am). Following the parade, there are free balloon animals, face painting, and rock climbing -- plus musical entertainment including polka at 1:30pm and the Tom Terling Band at 3pm. If you're not exhausted by all the activities Canonsburg has in store for you (and haven't gotten sick of your bow tie and panama hat yet), stick around for fireworks produced by Zambelli, which start at 10pm.
South Fayette Township
Fireworks: 9:30pm
For those fireworks fans who just want to ooh and ahh at the display and not have to wait around all day via a festival and activities, South Fayette Township/Upper St. Clair's fireworks are for you. The fireworks are launched from a hill in Fairview Park at 9:30pm, and you may not even have to the park to see the fireworks, as the illumination in the sky can be viewed from various areas around the township.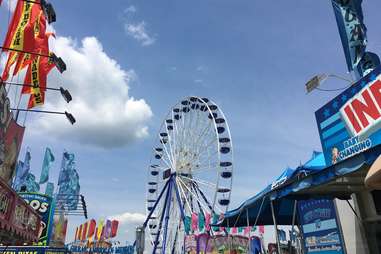 Butler
Festival: 9am
Fireworks: Dusk
The Big Butler Fair runs Saturday, June 27 through Saturday, July 6, with a daily carnival and events including horse shows, a square dance, and a school bus demolition derby (for those who want to release some pent-up gradeschool aggression). On Thursday, July 4, there will be a Celebrity Milking contest (which presumably means celebrities milking cows, and not celebrities being milked), truck pulls, a free giant sundae, and a giant fireworks display at dusk. General Fair Admission Tickets are $8, and kids 6 and under get in for free.
Ligonier
Fireworks: 9:30pm
If you've got a troop of kids in tow, head to Idlewild & SoakZone for the Fourth of July, an ideal location for families especially if it's a hot one outside. There are family-friendly shows like Daniel Tiger's Grr-ific Day, plus rides like the Ferris Wheel, Tilt-A-Whirl, Doodlebug trolley, and more. If the kids haven't had a meltdown yet, the fireworks start at 9:30pm. Plan ahead and purchase FunDay 4Packs and LateDay FunDay (admission after 4pm) tickets here.
Ford City
Festival: 4pm
Fireworks: 10pm
The four-day Ford City Summerfest actually kicks off on the Fourth of July, with the opening ceremonies at 4pm followed by a performance by the Armstrong Festival Chorus, some games of bingo (bring your daubers!), and more music from singer Ale Gibson and '70s and '80s band 56 East. If you're not dancing the night away, look up at the sky at 10pm for the fireworks, displayed behind the clock tower.
Monongahela
Festival: 6pm
Fireworks: 9:45pm
The Monongahela Aquatorium plays host to fireworks on the Fourth of July. If you have a boat, throw anchor in the guest docks; if you don't, you can sit in the supersized outdoor auditorium that sits along the Monongahela River for a one-of-a-kind viewing experience. Get there early for a seat, and for the food and music starting at 6pm.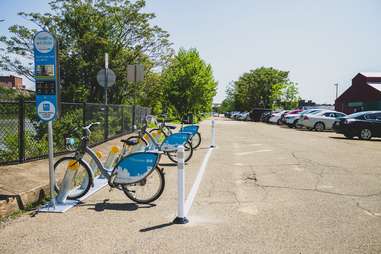 How should I get around?
Warning: Traffic is going to be heavy in and around Downtown. Bus, carpool, Uber, or Lyft if you can -- or if it's a rare sunny day in Pittsburgh, you may want to bike or try a Pittsburgh Healthy Ride public bike system if you want some somewhat-sweaty adventure. If you're in the South Hills and are trying to get downtown, consider taking the T, which offers free-fare zones once you get downtown.
Where should I pregame?
Most of the festivals and events offering fireworks activities will have food and drinks, and it's a fair bet that the farther away from the city you go, the cheaper things will be. If you're going Downtown for the fireworks, once you get down there you'll want to stay for a while (and avoid banging your head against the steering wheel in traffic). If you're looking to truly elevate your pre-pyrotechnic day drinking experience, you should make your way to one of Pittsburgh's finest rooftop bars and soak up as much sun as possible; hit up BRGR for an excellent (surprise surprise) burger paired with a boozy milkshake, or Steel Cactus for a Yinzerita (which is just a margarita with an upside-down beer in it).
What will the weather be like?
There's no telling what Pittsburgh weather will be like, but if it's anything like June, there's probably rain in the forecast. Right now, it looks like it's going to be in the high '80s with a possible thunderstorm, so bring an umbrella and keep your fingers crossed that it doesn't ruin the fireworks festivities.
Sign up here for our daily Pittsburgh email and be the first to get all the food/drink/fun in the Steel City.