Like most party holidays, Halloween can be a never-ending gauntlet of bridge and tunnel rookies running wild like they've never spent a night out on the town before. But there's still plenty of dark and spooky fun to be had if you know where to look, and there's all sorts of kooky cover band fun out there in case you'd rather spend All Hallow's Eve like every other night, e.g. bobbing your head to some guitar rock with a beer in one hand and your cell phone in the other. 
The schedule is jam-packed at any rate, and we've got a handful of highlights worth looking at just in case you're still on the fence about bingeing on candy corn and watching Troll 2 all night instead of staying out late socializing. Behold, our annual list of the best things to do this Halloween season!
Spending Halloween outside of town? Check out our guides to the best Halloween parties and events in NYC, LA, Chicago, Las Vegas, Houston, Nashville, San Francisco, New Orleans, Miami, Seattle, Atlanta, DC & Boston.
Friday, October 11-Wednesday, October 30
Lloyd District
Forget that time you saw Rob Zombie or Marilyn Manson at Veterans Memorial Coliseum -- the Underhill Haunted House is where you'll encounter real horror, not just a couple aging rockers cosplay as satanic auteurs. A massive section of Portland's oldest, most rickety sports arena gets done up like a three-tiered festival of Halloween delights, complete with a scary clowns symposium, an Outbreak-esque pandemic simulation, and the titular haunted mansion setup. 
Cost: $20-$99
Friday, October 11-Thursday, October 31
Ridgefield, Washington
Armed with a trio of haunted houses with themes ranging from a pandemic scare to a homage to Stranger Things Season 2, the Clark County Scaregrounds is a fine excuse to visit our neighbors up north for a spook and a spoof. There's also a full complement of Halloween-themed carnival rides on offer as well, which means you're bound to lose your lunch on the Tornado or the Ali Baba if being chased by a fake Demogorgon doesn't get you first.
Cost: $15-$40
Friday, October 11-Thursday, October 31
Sauvie Island
Speaking of Stranger Things, the rotating theme of the ironic corn maze at Bella Organic Farm has gone topical as well, shifting its focus from the pipe dream of bringing the MLB to Portland to the insanely popular HBO throwback horror series. If getting lost on Sauvie Island isn't your bag, there's also a pumpkin patch, a petting zoo, a gift shop with farm-centric fare and plenty of beer and hot cocoa to sip fireside whilst all the basic people from the suburbs run amok and document their #fallAF adventures in their fresh new flannel for the whole family.
Cost: All ages 6 and older: $20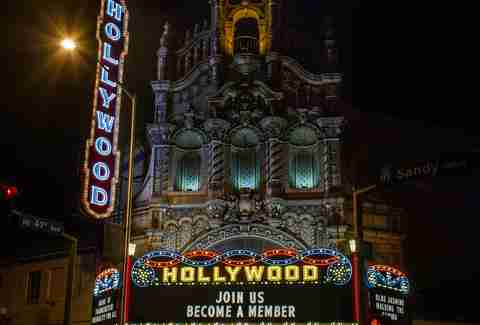 Saturday, October 26
Hollywood District
Upon its release in 1968, no one had seen anything quite like Roman Polanski's Rosemary's Baby. Though it's hard to top the film in its original form, watching a 35mm print at the Hollywood Theater during the season of the witch -- or in this case, the satanic demon Mia Farrow gives birth to -- is a surefire way to elevate the experience and get freaked out all over again. 
Cost: $8
Saturday, October 26
Buckman
Rather than convert it into a haunted house, Phantom Productions has turned historic party venue The Redd into a trippy Halloween-themed party palace, complete with stilt walkers, a glowing geodesic dome, live music, and an "off-site" party bus for whatever herbal refreshments the evening may require. 
Cost: $30-$50
Saturday, October 26
Concordia
Considering the number of excellent horror films that take place in creepy old buildings, it makes plenty of sense that McMenamins Kennedy School throws a wicked Halloween party. The six bars in the old school will be pouring fresh pints of some of the best beer in the McMenamins properties portfolio, a handful of which are brewed fresh on-site, and live music and a costume contest will keep the party moving well into the evening. 
Cost: $12
Wednesday, October 30
St. Johns
Anyone over the age of 30 is likely to shudder when they learn that Nirvana and Alice In Chains are neatly filed under classic rock these days, so you might as well accept reality and finally realize that may not be such a bad thing. Devoted cover bands of those grunge icons -- along with spry youngsters spreading the gospel of Electric Light Orchestra and Tom Petty & the Heartbreakers -- will do their best imitations of a pair of bands whose careers were cut, as well as one that lasted longer than it should, and one that's still kicking against their better judgement. At $8 a head, this may be the rock and roll value of the century. 
Cost: $8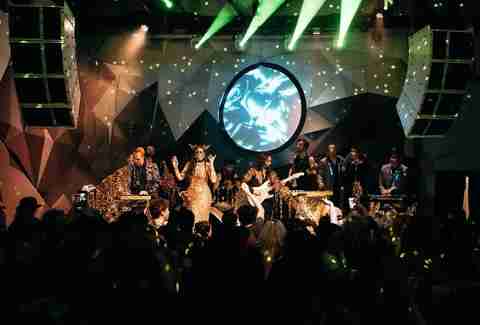 Thursday, October 31
Buckman
No vampire worth its salt is complete without an iconic nightclub in its universe, and Joss Whedon's classic TV series Buffy the Vampire Slayer is certainly no exception. Crowd-pleasing indie nightclub Holocene will transform into Buffy's "The Bronze," complete with local musicians like Shannon Entropy and Souvenir Driver providing covers of popular songs from the soundtrack, with the former taking up the mantle as the stand-in for Nerf Herder, the SoCal nerd-core band who penned the shows iconic theme. 
Cost: $7-$10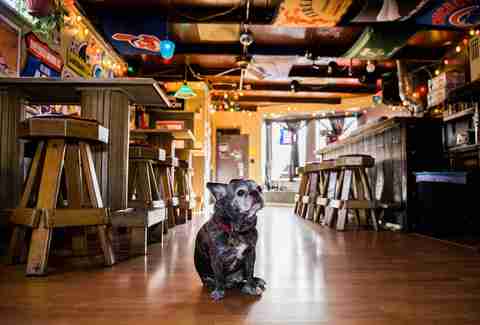 Thursday, October 31
Foster-Powell
Beloved for its offbeat humor, Midwestern sensibilities, and dirt-cheap wine coolers, the Starday Tavern is exactly the kind of anything-goes weirdo bar you'd expect to be the unofficial mantle of the Foster-Powell neighborhood. They're doubling up with their new-ish neighbors Five & Dime to throw a Halloween party headlined by local scumbag punk heroes Stumblebum alongside the Latter Day Skanks and Bastard Salt, to name just a few. Bring a treat for the dog and don't forget to call a cab home, because this one's gonna be a real ripper. 
Cost: $5
Thursday, October 31
Buckman
The Conquistador is always dimly lit and filled to the brim with characters, so there's no reason for the weirdness to ratchet up just a wee bit when Halloween rolls around. Local fixture DJ Gregarious will be spinning a set heavy on the post-punk and goth tunes that the season calls for. And for once, the klatch of ultra-hip regulars may actually get out of their booths and shake their shit between fistfuls of nachos and sips of Tecate & tequila. 
Cost: Free
Thursday, October 31
Hosford-Abernethy
Have you ever wondered what would happen if Scooby, Shaggy, Freddy, Daphne and Thelma took a crack at uncovering the masked murder in Scream? That's basically what happens Thursdays at the Funhouse Lounge during Murder Myster Machine, a stage production in which the plot of a famous horror film is acted out in double-time so Scooby and Co. can figure out what the hell happened. It turns out Scream was sorta campy and Scooby Doo was a terrible detective, and the results couldn't be funnier in this modern punch-up of outdated pop culture schlock.
Cost: $12 advance, $16 day of show
Thursday, October 31
Kenton
Keeping with the theme of local musicians paying homage to genre pillars of the past, the delightfully scummy and "World Famous" Kenton Club will be hosting a trio of cover acts that are not to be missed by diehard punks of all ages. The Lobotomen -- a no-frills tribute to the Ramones -- will be headlining, but the real treat here is Danzig Fever, which is a playful reimagining of the erstwhile Misfits frontman as a cheesy '70s AM gold superstar akin to the Carpenters or the Moody Blues. If you've shelled out the cash to see Glenn Danzig himself murder the memories of the Misfits at a real music venue at any point in the past, there's a good chance you'll want your money back after this one. 
Cost: $5
Thursday, October 31
Old Town
If you're worried you'll turn into a werewolf when you cross the Willamette River on Halloween, a night out in Old Town may be just what the doctor ordered. The entire district will be bedlam as usual, so you may as well class is up just a wee bit with a night of dueling pianos and an extended happy hour at what may be the most civilized bar in the area that's not attached to a hotel. 
Cost: $10
Thursday, October 31
Industrial Southeast
Beach House sells out the Schnitz every time they're in town, Interpol is a reanimated corpse of what they once were, and Alice In Chains hasn't really been themselves since Layne Staley bit the dust 17 years ago. That being said, their music is still plenty good enough to carry some modicum of goodwill when played by capable (and mortal) youngsters tasked with upholding their past and current greatness, and the Water Avenue location of Bunk Sandwiches is right where you want to be if this unholy trinity of cover bands is what you need this Halloween.
Cost: $8
Friday, November 1
Buckman
With the ethos of the Colombian and Peruvian folk genre Cumbia and the scope of a classic big bang, Orquestra Pacifico Tropical functions as a sampler platter of the musical wonder native to many parts of South America. The indie rock roots of its many band members lends the group an air of familiarity with spots like Holocene, and they're sure to blow the roof off the popular warehouse space when the day after Halloween proper brings out the real party that honors the varied roots of the annual holiday. 
Cost: $10-$12
Friday, November 1-Saturday, November 2
Woodlawn
Goth and post-punk aren't necessarily married to the idea of Halloween per se, but you won't find a better fusion between holidays and rock and roll subgenres no matter how hard you try. Since no one can get enough of Out of the Shadows, its organizers have created Into the Shadows, an autumnal precursor to the popular microfest that happens every April and features a veritable buffet of all things dark, dreary and somehow danceable in spite of all the sadness. This year's fest is headlined by Siouxsie & the Banshees tribute band Bad Juju, favored Portland acts like Disco Volante and Lizard Skin, as well as a Joy Division tribute band from Seattle called She's Lost Control. 
Cost: $15
Sign up here for our daily PDX email and be the first to get all the food/drink/fun Portland has to offer.