Dust off your daisy dukes and start inflating the ol' inner tube: it's July in Portland. It's a time for reflecting on the summer of 2014 and hatching plans for improvement. What events did you miss on your bucket list last year? In what weird places did you wake up that you'd prefer to avoid in 2015? And who was it exactly that said something about eating waffles in bed with 600 people? Find these answers and more, at this year's July events in Portland.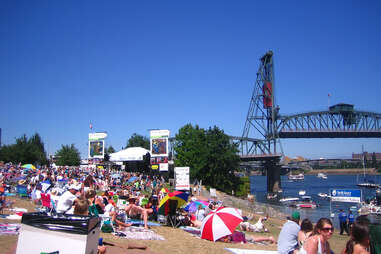 This year's celebration of music and loosely using the term blues includes legendary bluesman Buddy Guy, plus Greg Allman, Galactic, Big Bad Voodoo Daddy, and other not-blues legends.
Marijuana prohibition is over. You can finally smoke weed for the first time! And at this event, you can score free samples from some of Oregon's best growers.
Summer gets yet another beer fest, and this one's keeping it local. Held at The Fields Neighborhood Park in the Pearl, it stands out from other beer festivals by only pouring beers brewed within the Portland city limits.
This year, the city put together quite a lineup, including Freak Mountain Ramblers and Tony Ozier & the Doo Doo Funk All Stars. All month, the shows are free and most start at 6:30pm.
Eat waffles in bed with 600 people in Pioneer Courthouse Square for a Guinness World Record. The most important record of them all, in fact.
With a parade, 200 vendors, six stages, 40 bands, and the Ecliptic Beer Garden, the Street Fair basically turns the neighborhood into a day-long party. Just stay out of the dunk tanks.
Put on a beret and celebrate French freedom! Always on the move, this year's festival serves up French culture, from Bordeaux blends to Brie, on the grounds of the Portland Art Museum.
Love running and wine? This is your half marathon! The challenging course winds through vineyards and it all ends with a big, sweaty wine-country party.
Held at Portland's
most renowned bottle shop
, Belmont Station, this festival serves up excellent and hard-to-find sour beers every day for a week, beginning at noon.
Get to the Hotel deLuxe rooftop for food, movie-themed cocktails, and NW Film Center-curated movies like Song of the Thin Man, Sexy Beast, and The 10th Victim. Having the Portland skyline in the background isn't so bad, either.
It's three days of free jazz performances in Cathedral Park beneath the St. John's Bridge. And it's also one more reason why Portland is absurdly amazing.
Last year, PBR thanked the city whose hipsters gave it a comeback with a crazy great music fest. This year, they're back to top it, bringing in Weezer, Blondie, Ghostface Killah, and, of course, a bunch of tallboys.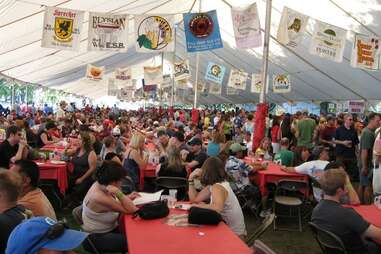 This festival has taken over Portland for nearly 40 years, and it's pouring roughly 90 craft beers in 2015. This is basically the granddaddy of beer fests.
Don't miss this huge conglomeration of Portland's top musical acts in a variety of genres under the Hawthorne Bridge. Oh, and it's all free and all ages are welcome.
For four years, the folks at The Big Float have told us that the Willamette River water is safe. Since none of them have come out glowing green, they're clearly onto something. Decorate your best floating device and dive in!
Portland's most nationally acclaimed music festival is back! Head out to Pendarvis Farm for a weekend of camping and one of the most diverse lineups of musicians in the country.