Nightlife in Portland is, for lack of a better term, weird. There's a good chance your friends would rather turn in than turn up, probably because they're skipping town to hit a swimming hole or go for an epic hike in the morning. The churn of gentrification and, tangentially, the wake of the Ghost Ship tragedy have created a tumultuous environment for club owners who are simply hoping to break even, and it seems like legendary venues both old and new go by the wayside almost monthly. Besides, why go clubbing when the dive bar down the street is plenty rowdy as it is?
But the party perseveres, and there's still an incredible amount of fun to be had after the sun goes down. Whether you prefer the thump of a subwoofer or the bump of a pinball machine, Portland has almost all of your bases covered when it comes to a wild night out. Read on for a starter guide to getting the party going any night of the week here in the Rose City.
Lower Burnside
Say what you will about its reputation as a "hipster" bar (as if that even means anything anymore), Rontoms is still one of the few spots in Portland that almost can agree on. And when ascendant indie bands take the sleek stage for the space's weekly Sunday Sessions, music fans and club kids of all stripes flock to Lower Burnside to bask in the energy.
Buckman
Though Holocene often hosts touring musicians as well as spoken word, comedy and storytelling events, their real bread and butter is a handful of themed dance nights that have earned this old warehouse-turned-club the reputation as a reliable place to get wild on the dancefloor at least one or two nights a week. Emo Night, Snap! and Dance Yourself Clean are just a few of the recurring events that pack the house, and there's a good chance you'll find a reason to party there no matter what your niche may be.
Woodlawn
The High Water Mark isn't exclusively a punk and metal bar per se, but the impending closure of the infamously Bar Rescue-d hesher bar Tonic Lounge means the vibrant scene of hirsute, drop-tuned Gibson-loving fanatics that rallied around for so many years will soon need a new place to bang their heads. There's a good chance their northeastern migration will create the critical mass of heavy music that HWM presents so well, and that's great news for anyone in search of a venue with a more singular focus on booking the loudest bands possible.
Inner Southeast
Named after the seminal horror author who brought the world Cthulhu, The Lovecraft is about as on-the-nose as it gets when it comes to goth aesthetics. It's a shadowy, smoky fantasyland for diehards and scenesters alike, and the majority of their events revolve around the tangled web of microgenres that all find common roots in post-punk and new wave. We can't predict what the next big thing will be when the coldwave revival goes bust, but you can count on the Lovecraft to devote an entire night to it that will be at capacity by midnight no matter what.
Lower Burnside
Portland is an essential stop for bands of all sizes touring the West Coast, and we certainly have no shortage of music venues that can accommodate arena rockers and underground heroes alike. The latter group has a soft spot for literally playing underground at Doug Fir Lounge, a beloved indie rock venue known best for its kitschy log cabin aesthetic and its uncanny ability to book bands that are often too famous for the basement by the time they arrive. The result is an electric experience in an intimate environment that can't be missed, left you're ready for some serious FOMO the morning after.
Sip rare sake at a micro-bar in Buckman
Buckman
Sake is technically wine, yet most restaurants and bars treat it as an accessory to sushi or another hyped-up beverage to pound with your raucous group of friends, respectively. At Chandelier, you'll find owner and Multnomah Whiskey Library alum Matthew Ellis dressed to the nines while doling out flights of rare sake in a manner you'd expect at fancy wine or whiskey establishments. The dark, heavily-adorned space only seats about 7 or 8, but the fact that it's more or less hidden behind an East Burnside apartment building means it's never impossible to find a spot to belly up and enjoy esoteric beverages from a true believer in the ancient craft.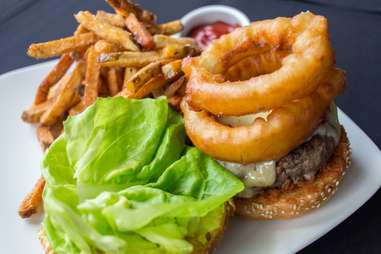 Crush burgers with bartenders at a legendary service industry haunt
Industrial Southeast
Lots of proper drinking establishments in Portland close before last call, which means a legion of bartenders are on the prowl for a place to tie one on around 1am every night. You'll find quite a few of them drinking the night away at Slow Bar, the preeminent dimly-lit post-dive in a neighborhood that has more than just a few. Most are there for the strong cocktails, the late night happy hour, and the Slow Burger, a hulking monstrosity that features a pair of sweet and crispy beer-battered onion rings atop a half-pound of locally-sourced beef. If that's not your thing, there's plenty of catty insider convo and punishing metal on the jukebox to keep you entertained well into the early morning.
Break a sweat at an all-vinyl soul party
Buckman
The Goodfoot has a mild case of schizophrenia. On most nights the upstairs functions as a wook-approved poolhall where couch surfers, Burners, and oddball neighborhood folks drink pitchers of kinda-cheap craft beer. Then there's the basement, which is famous for hosting everything from Ween cover bands to their most popular event, Soul Stew. It's a jarring evening where Aretha Franklin pounds from stereo, sweat drips from the 7-foot ceiling, and every weirdo you've ever met on Tinder is silently judging you from afar. That is to say, it's an absolute blast if you check your shame and sobriety at the door.
Old Town/Chinatown
Along with craft breweries and third wave coffee roasters, seemingly every mid-sized city has what one may refer to as a "barcade." Ground Kontrol is certainly of that ilk, but they were one of the first, and one of the best -- courtesy of a recent remodel that included the assimilation of the defunct all ages venue Backspace right around the corner. The result is hundreds of pinball and arcade machines both retro and modern, with all the requisite tournaments, side events, and comedy shows hosted in the space that make it an absolute wonderland for nerds of all ages who needs more than just a dartboard to be entertained while drinking.
Belt out old-school punk classics with a live band
Old Town/Chinatown
Dante's is what would happen if the set designers of VH1's Rock of Love set out to create a social club for old scumbags who enjoy cheap whiskey, talking shit about Art Alexakis, and the aesthetic of the band Buckcherry. It's not a strip club, but plenty of strippers hang out there. And you can catch them every Monday night at Karaoke From Hell, belting out classics by the Ramones, the Misfits, and Blondie with the support of a live backing band that's been known to include a cadre of local celebrities like Voodoo Doughnut co-founder Tres Shannon, among many others.
Foster-Powell
If you want to sing karaoke with actual strippers on stage, then Devil's Point is exactly where you want to be. It's by far one of the most unique strip club experiences in Portland, let alone the US, with celebrities like Dave Chappelle and the Eagles of Death Metal allegedly having taken a particular fancy to the famous FoPo spot. Each Sunday night is your chance to sing sleazy strip club anthems with a slew of dancers at your side, and if that's not your idea a glorious night out then you may want to look somewhere else for nightlife tips.
Head down to Chinatown for a great night out
Chinatown/Old Town
Everyone was 21 for exactly a year, and even if your glory days of dousing yourself in cologne and chugging vodka… or PBR… or Whiteclaw until you can't see straight are over, one can always dream of that epoch in your life when hangovers were irrelevant, right? Anyways, it's our duty to get you hip to the right places in case special circumstances require you to wander the Inner Westside while someone's fraternity brother celebrates their last night as a "free man." Tryst is an endearingly creepy lounge with a fantastic burger, Valentine's is a twee little indie kid bar that's rarely packed to the brim, Shanghai Tunnel has plenty of pinball machines and cheap tallboys to kill an hour or two while your crew throws their cash around at Spyce, and the DJ scenes at Tube and Maxwell are surprisingly East Side-y despite the fact that you may have to remove your hat on the way in.
Use the term "hot tub" as a verb
Various neighborhoods
As the boomer folklore goes, there was an era right around the nadir of '70's coked out SoCal cool when hitting up other people's hot tubs was considered a hobby of sorts. Those days have gone the way of fondue sets, pet rocks, and Walter Becker, but it's high time the youth bring back the time-honored tradition of getting weird in a sous vide cooker of strangers' juices. If you're a hippy who prefers to do it in the buff, you'll love the all-inclusive experience at Everett House, which features a dry sauna, a steam room, a communal hot tub outdoors, and an unfathomable amount of body hair worn with the utmost pride. If modesty is a must, head to Montavilla for an hour at Tub and Tan, a delightful and somewhat outdated bathhouse of sorts that promises only two things: unquestioned privacy and pristine sanitary conditions.
Industrial Southeast
Haters who bemoan Portland's lack of a proper club scene have clearly never spent a night at 45 East. It's one of the premiere stops in town for touring DJs and indie-adjacent dance acts, with artists like Toro Y Moi, A-Trak, and Travis all having spent some time on stage within the past year.
Sign up here for our daily PDX email and be the first to get all the food/drink/fun Portland has to offer.
Pete Cottell prefers a quiet night by the fire with a snifter of Fernet, and the spicy Thai funk of Khruangbin on the stereo, but he's never one to say no when his friends entice him to hit shed his beanie and hit the club every now and then -- just as long as he's come by midnight. Follow his pre-middle aged pursuits at @Vanifestdestiny.