With fake summer transitioning to real summer this month, it's time to go full throttle on the Portland traditions of beer, cocktails, bacon, and nudity. These eight essential June events tick off all those boxes. Oh, and there's cider for good measure.
The first week of June is dedicated to every hipster's not-Pabst favorite drink, the Negroni. Dozens of bars and restaurants around the city are putting their own spins on the classic. And it's all for charity -- so you should absolutely get another round. Or six.
One of the best additions to Portland's growler-shop scene turns one, and they're pouring commemorative glasses full of some of the area's best beer and cider to celebrate.
Contrary to Steve Martin's insistence on the SNL anniversary show, Jon Lovitz isn't dead. To prove it, he'll be at Helium to tell jokes and endure cries of "it stinks" from the seats of Portland's most intimate comedy club.
Most cities have beer weeks. But when you're the
best damned beer city in the US
, you have to go big. Luckily, the week includes the Fruit Beer Fest, the Battle of the Belgians, the Rye Beer Fest, the Beer & Cheese Fest, beer dinners, a pig roast, and, um, more fests.
The Geeks Who Drink are putting on a trivia night for the people that pirate Game of Thrones, and presumably their dates/siblings, because Game of Thrones.
The 11th annual Brewfest at the Oregon Garden brings together 68 breweries and a dozen bands in an 80-acre botanical garden in the tiny town of Silverton.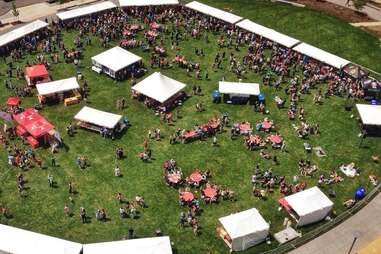 Now in its fifth year, the Cider Summit returns with a roster of 150+ reasons that apples are better than oranges and that cider is the new beer.
Portland's storied tradition of nudity and bikes returns to give the city its annual dose of grossed-out prudes and horrifying cases of road rash.