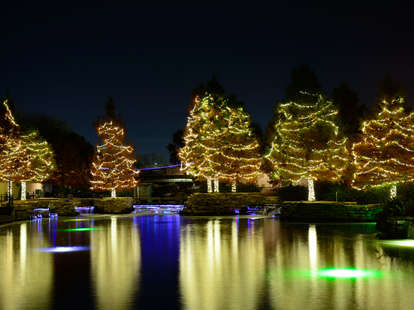 The Most Festive Things to Do in San Antonio This Holiday Season
Celebrating the year-end holidays in San Antonio is special since they're always full of tamales, river decorations, and time spent with loved ones -- actual loved ones, that is, not the aforementioned tamales. In between your gorging sessions and family quality time in the coming months, make sure to take a gander at a few of these not-to-miss San Antonio events, including dazzling light shows, seasonal shopping fests, and outdoor movies.
Live ice sculpting, local vendors for your shopping list, and free hot chocolate to warm your bones from the frigid, sub 70-degree weather. Is there anything more holidays-in-San-Antonio than that? All 25,000 lights will turn on at 8pm, so don't be late! If you miss the Christmas tree lighting at Travis Park does Christmas actually happen?
What it costs: Free
If you're not still battling your food coma from the previous night's feast, head down to the SAMA for free admission and access to the entire range of galleries from around the world. This is a great activity for any relatives you need to get out of the house, too.
What it costs: Free
One of the most beautiful holiday events in San Antonio, Fiesta de las Luminarias has guests walk along the banks of a calmly lit River Walk as candles set in small paper bags lead the way. If you're lucky, you might catch the holiday boat carolers as they float by singing popular holiday jams. Other dates include December 8-10 and 15-17.
What it costs: Free
You're certain to find something for even the pickiest relative on your list at Christmas Market Days, during which the already-idyllic town of Gruene, Texas somehow becomes even more special. With more than 100 different vendors offering unique gifts and tasty Texan foods, not to mention live entertainment and wine tastings, you'll forget all about the fact that you're too old to take a photo on Cowboy Kringle's knee.
What it costs: Free
Watch a showing of 'National Lampoon's Christmas Vacation' with Slab Cinema
San Antonio's favorite outdoor movie screening series is getting with the spirit of the season by bringing a classic back to the big, inflatable screen. Pack yourself some blankets, food, and comfortable chairs, and feel sorry for the Griswolds as they string up that tangled mess of lights. Clark Griswold is all of us.
What it costs: Free
If you (or your little ones) want to meet Santa, this is the place to do it. He'll be there with food trucks, games, crafts, and a special performance by the Magik Theater. After all the eating, Santa will be available for pictures in 15 minute increments. Tell him what you want for Christmas, and maybe you'll get it?
What it costs: $10-$15
Tamales are a mystery, and if you've ever wanted (needed) to know more, La Gran Tamalada is the best place to start. The annual workshop teaches guests the ingredients, recipes, and cooking methods used in making our favorite holiday tradition.
What it costs: Free
If you're not in the mood to make your own tamales, and you don't have a tamale hookup, well, now you do. Try them from dozens of local vendors for $1 each, or buy them in bulk after you've had your favorite. There'll be opportunities to buy gifts, eat pan dulce, and drink great beer. What else do you need, really?
What it costs: Free
Perfect for kids and adults, the Quarry Village's Holiday Block Party will entertain you with a tree lighting, a live DJ, and a play zone filled with real snow, plus complimentary beer and snacks from local restaurants. This is the best day of the year to hang out at the Quarry, bar none.
What it costs: Free
Carolyn Wonderland and Guy Forsyth both cut their teeth in Austin with acts like Jimmie Vaughan and Lucinda Williams and are well versed in what it takes to put on a good show. Order a few stiff drinks and let the pair serenade you with blues renditions of your favorite holiday jams.
What it costs: $20-$120
In partnership with Young & Jewish San Antonio, the folks at the Pearl will throw a Chanukah event like no other. The Menorah will be lit each evening of Chanukah, but the community will gather to celebrate from 6pm to 7:30pm on December 18. Make sure to stop by one of the Pearl's many restaurants before or after.
What it costs: Free
The biggest, loudest, and most impressive firework show in San Antonio will take place once again at Celebrate San Antonio. In addition to the skyward explosions, there'll also be three live music stages featuring some of our city's best performers, as well as carnival games, fun rides, and fair food. There's no better way to welcome 2018.
What it costs: Free
This show is sure to help you forget hellish 2017, as Heat's slicked back hair and psychobilly rock 'n' roll blasts through your body. The band is currently touring in support of its 11th studio album, so you might even catch a few new songs, too. San Antonio's own Two Tons of Steel will open the night.
What it costs: $35-$100
Sign up here for our daily San Antonio email and be the first to get all the food/drink/fun in the Alamo City.