Everything You Must Do in San Diego This October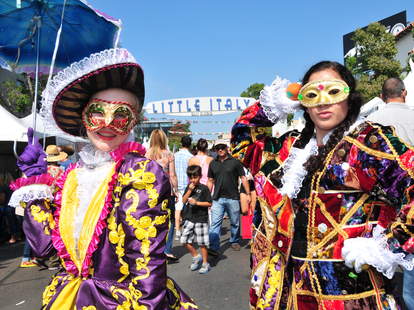 Courtesy of Little Italy FESTA
Fall is here, which means it's time to take advantage of the nice weather before the arrival of all the… slightly less nice weather. Here are 13 things you shouldn't miss this month.
October kicks off with the final four days of the San Diego Film Festival, so keep yourself busy with an endless parade of movies, parties, panels, actors, and filmmakers.
Only in PB can you run a 5k and then be rewarded with free sunglasses and a complimentary beer upon completion. The Pacific Beach 5k will start at Joe's Crab Shack, race to Belmont Park, and then head back up the boardwalk to finish off the last quarter mile on the sand. There will also be a pro surf competition, pro volleyball competition, food vendors, a beer garden, live music, and a PB fish taco competition.
Pride at Dive is happening at Harrah's Resort Southern California with an all-day pool party and live revue. Three DJs will be spinning poolside from noon-6pm and the revue kicks off in the courtyard at 8pm with Mistress of Ceremony Candis Cayne.
Courtesy of Bankers Hill Bar + Restaurant
Starting this month, Bankers Hill Bar + Restaurant is hosting Sunday School Tastings one Sunday each month featuring wine varietals or craft beers. This Sunday, sommelier Molly Brooks-Thornton will be leading a wine tasting from 2-4:30pm featuring California wines. Guests will be learning about the history of vinification in California and enjoying bites from Chef de Cuisine Ted Smith.
The Westgate Hotel is teaming up with Modern Times Beer for a BEERology tasting event at 6:30pm. The tasting will be led by Modern Times' "Beer Jesus" Phil MacNitt who will discuss the SD craft beer scene and its history while guests sip on five Modern Times brews including two special-release beers, two year-round beers, and a seasonal beer.
The La Jolla Art & Wine Festival will be taking over the half-mile stretch of Girard from Prospect St to Torrey Pines Rd and filling the street with artists, a silent auction, live entertainment, gourmet food, and a beer & wine garden. On Saturday night, the BraveCort Brewfest will be going on from 8-11pm with unlimited beer samples from local breweries and a Bavarian beer stein-holding contest to support cancer research.
From classic to luxury, Fifth Ave will be lined with must-see cars from E to K St. It's free to stroll down Fifth and check out the cars from 11am-4pm and you can even vote for your favorite to win the People's Choice Award. If your think your hot rod has what it takes to compete, there's still time to enter.
The Sicilian Festival and FESTA are teaming up this year for the largest Italian festival in the country. FESTA has been happening for 21 years in SD and this year, the streets of Little Italy will be full of authentic live Italian entertainment, Italian food, stickball, bocce ball tournaments, and beautiful Gesso Italiano painting the sidewalks.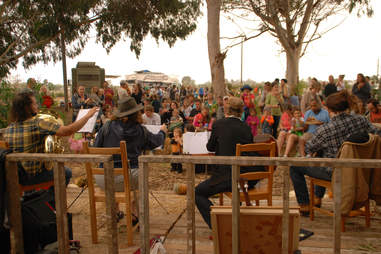 Courtesy of Suzie's Farm
Go to Suzie's Farm from 10am-3pm for its annual Pumpkin Palooza autumn festival. Spend the day picking heirloom pumpkins right from the field and enjoying local music, food, and artisan vendors.
From 5-10pm, comedian Monique Marvez will be hosting the Boobs and Beaus event at Harrah's Resort Southern California with all proceeds from the evening going to the American Cancer Society. There will be a live bachelor auction, a designer bra auction, and you can vote on the best employee-decorated bra all for National Breast Cancer Awareness Month.
The Chef Showdown to support Domestic Violence Awareness Month is going down at the Port Pavilion at Broadway Pier from 6-9pm. Ten San Diego chefs and mixologists will go head to head to create the perfect food and beverage pairing. There will be a people's choice judging panel as well as six industry professionals to choose a winner.
The party will get started at 8pm with photo booths, carnival games, carnie treats, black lights, and fog machines at WaveHouse. SKYY Vodka will be hosting happy hour with free drinks from 8-9pm and there will be live music from Beach Party and DJ Ayla Simone all night.
The streets of Downtown will be shut down by a mob of costume wearing-party people from 6pm to midnight this Halloween for the 15th Annual Monster Bash. There will be live performances on eight stages, five different experiences (including a freak show, dollhouse, and VIP Zombie apocalypse), plus 20 top DJs from all over the country.