Where to Watch San Diego's Fireworks This 4th of July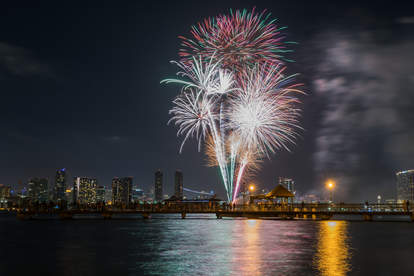 We San Diegans love our pyrotechnics and look for any excuse to celebrate, whether it's a Padres win, a concert by the bay, or best of all, Independence Day. This year, San Diego commemorates the nation with dozens of parades, picnics, beach parties, festivals, and yes, fireworks displays all around the city, from the border to the bay. Grab your sunscreen, soak up some rays, drink some beers, and snuggle under a blanket while you watch the dazzling displays after sunset. We've rounded up all the best places for you to catch every jaw-dropping moment.
Where should I pregame?
As you're undoubtedly aware (because we've told you countless times), San Diego has no shortage of bars at which to tipple. For July 4, though, elevate your game by hitting up some of San Diego's best rooftops; if you need some immediate picks, check out Kairoa Brewing Company for a chill New Zealand-influenced vibe, Altitude Sky Lounge for luxe bird's eye views, or Catania for some quality Italian food in La Jolla.
What will the weather be like?
It's San Diego, so you probably already knew the forecast before asking: on the Fourth, you can expect sunny weather with mild temps in the low 70s (dropping down to the 60s at night, in time for the fireworks). Put on your favorite pair of American flag shorts, coat yourself in a layer of sunscreen, and you're good to go. 
SAN DIEGO
Downtown and surrounding areas
Time: 9pm
San Diego's Big Bay Boom is one of the largest pyrotechnic displays on the West Coast. There's a glittering show from four coordinated barges, strategically located around the North San Diego Bay and choreographed to a live music simulcast on several IHeartRADIO stations, including STAR 94.1 and ROCK 105.3. Free, prime viewing spots include the shores around Point Loma, Shelter Island, Harbor Island, Liberty Station, Spanish Landing, Little Italy, the North Embarcadero, Seaport Village, and the South Embarcadero to the Coronado Ferry Landing, as well as by boat.
Parking: People arrive early to picnic and spend the day on the water, so parking around the bay fills up fast. Use our handy guide for public transportation, ride sharing, parking, and shuttle information.
Pacific Beach
Time: 9:40pm
SeaWorld celebrates Independence Day with a 15-minute display of fireworks set to a musical soundtrack. The show is free with your admission ticket, and is visible from anywhere in the park -- or, get reserved seating in the Bayside Amphitheatre, including the Cirque Electrique show at 9:15pm followed by fireworks for $20, or $30 for early entry to the reserved seating area.
Parking: On-site, it's $20 per motorcycle, $22 per car, and $27+ for up-close parking. VIP parking is $35+ for a car, $40 for RVs and campers.
Ocean Beach
Time: 9pm
Ocean Beach is the perfect low-key holiday celebration. Spend the day swimming and walking in the sand, stroll along Newport Avenue for dinner or shopping, then grab your blankets and snuggle up for the spectacular fireworks launched from the OB Pier. Tune into a synchronized soundtrack on KyXy 96.5.
Parking: Free parking is available at the Main Beach Parking Lot and the Pier Parking Lot.
Coronado
Time: 9pm
Coronado's Independence Day celebration is jam-packed with fun things to do, beginning with three different races -- the 45th Annual Independence Day 12K Run – 5K Run/Walk, a rough water swim, and a 1-mile sprint down Orange Avenue. The races are followed by a parade, Art-in-the-Park, a concert in Spreckels Park, and capped off by a fireworks display over Glorietta Bay, complete with a soundtrack broadcast by KyXy 96.5. Locals like to bike or walk to the Coronado Golf Course or Stingray Point for top notch viewing.
Parking: Unless you live on Coronado Island, finding street parking is notoriously difficult, so consider carpooling, ride sharing services, or taking the ferry over (your bike rides free).
NORTH COASTAL
Del Mar
Time: 9pm
The San Diego County Fair goes out with a bang and a breathtaking fireworks program that includes more than 3,600 aerial display counts, with 500 shells in the grand finale alone. Enjoy a full day at the fair and fireworks, visible from most areas of the Fairgrounds, with your entry fee, or purchase a reserved ticket in the Corona Grandstand for premiere seating and comedian Brad Upton's show afterwards. For a full dinner and show, head to the Wicked Wahine rooftop speakeasy for a luau-style dinner, specialty cocktails, prime fireworks viewing and preferred parking.
Parking: On-site, $17-27 per car or motorcycle (no vehicles over 27 feet in length), free off site parking includes shuttle service, or take public transportation, which will deliver you right to the admission gate.
Carlsbad
Time: 8:30pm
Grab the kids and head to Legoland for the day. Enjoy over 60 rides, shows and attractions along with some all-American picnic games like burlap races, water-balloon tosses, a family build contest and hamburger relay races, plus a patriotic costume parade, character meet-and-greets and live entertainment. Top it off with an awe-inspiring fireworks display set to a patriotic musical tribute with great viewing in designated locations throughout the park.
Parking: On site, $25/car or motorcycle, $35/motorhomes, oversized vans and vehicles with trailers. Preferred parking is $35 per car.
Oceanside
Time: 9pm
The city of Oceanside celebrates Independence Day with a free, family-friendly event at the beach (the day before Independence Day itself). Arrive anytime after 6pm (park in the nearby lots) and walk to the viewing area on Rancho Del Oro Drive, where there will be food trucks and live music. The fun continues on July Fourth with a Red, White and Blue Attire Festival from Oceanside Pier to Tyson Street Park, the Yankee Doodle Dinghy Parade, and the Star Spangled Sunset Market. On July 5th, you're invited to return to the beach for the annual "Morning After Mess" beach cleanup, followed by the city's July First Friday Oceanside Art Walk downtown that evening.
Parking: Free parking is available in the nearby Ocean Ranch Business Park.
NORTH INLAND
Escondido
Time: 9pm
Escondido's 56th Annual Independence Day Festival & Fireworks is a free event featuring live music by Anthony "Fallbrook Kid" Cullins, Rosa's Cantina, and UPSTREAM, as well as incredible food vendors, inflatable activities by Wow Factor Attractions and artist Cecelia Lanayao providing chalk art demos and workshops. Guests 21 and over can enjoy free entrance to a beer garden located around the City Hall fountain. A special performance by the 3rd Marine Aircraft Wing Band will take place just before the dazzling fireworks display.
Parking: Free but limited, so consider carpooling or using ride share services.
Mira Mesa
Time: 9pm
Independence Day starts early in Mira Mesa with a pancake breakfast, hosted by the Black Mountain Masonic Lodge at the Mira Mesa Senior Center from 7-11am, before moving the festivities to the Mira Mesa Community Park for a day-long party featuring a parade at 11:30am, food vendors, a Kid's Zone with activities and shows, and plenty of other entertainment. The park provides prime viewing of the extravagant fireworks display, with over 600 rockets and a soundtrack broadcast by KyXy 96.5.
Parking: Free, but limited street parking, as the park is located in a residential neighborhood.
Poway
Time: 9pm
Bring your family and friends to Old Poway Park for a turn-of-the-20th-century-style event featuring children's crafts and games, train rides, western reenactments, and train displays.  After the party, head over to the Poway High School Stadium ,where the skies above the grandstand will light up with spectacular fireworks while games, activities, and a DJ spinning the tunes round out the fun. Entry to the stadium is $5, but kids 11 and under get in free. Note: The party and the fireworks take place at different venues -- allow plenty of time so you don't miss out on anything!
Parking for the party in Old Poway Park: Free Shuttles to and from the event from two different locations: Poway City Hall parking lot, and the Poway Adult School parking lot. Shuttles will run throughout the event.
Parking for the fireworks: Free at the school, but allow plenty of time.
Rancho Bernardo
Time: 9pm
The Spirit of the Fourth Community Fair celebrates its 50th year in beautiful Webb Lake Park, opening at 9am with an array of food vendors, food trucks, drinks, handicrafts and other items. Activities include a classic car show, a patriotic pet costume contest, a magic show, and a rubber ducky race. At 6pm, the gates to the fireworks show open at the Athletic Field of Bernardo Heights Middle School with live music by the local "Us" Band. The "Sky Concert" fireworks display ends with a grand finale of nearly 400 high altitude shells, and seating is on the grass, so be sure to bring blankets or lawn chairs for comfort. A donation of $10 per person or $20 for a family is requested at the entrance of the event to support the fireworks show. Note: The fair and the fireworks take place at different venues here, too -- allow plenty of time so you don't miss out on anything!
Parking for the fair: Free parking is available around the office buildings in the vicinity, but avoid parking in the Pearl Chinese Restaurant parking lot.
Parking for the fireworks: Free in the student parking lot off Avenida Venusto.
San Marcos
Time: 9pm
The City of San Marcos is home to one of the most spirited Fourth of July bashes in North County, so celebrate this Independence Day at the annual San Marcos Fireworks Extravaganza at Bradley Park. Live entertainment starts at 6pm, with music by Liquid Blue Dance & Party Band, carnival games, jumpers, food sales, and kids' activities, culminating with a phenomenal fireworks celebration that's free to residents and their guests. The fireworks display is entirely dependent on private donations, so if you enjoy the show, fork over a few bucks to keep it going.
Parking: Limited parking at Bradley Park and surrounding residential area.
Vista
Time: 9pm
Celebrate the Fourth of July in Vista at the Moonlight Amphitheatre at Brengle Terrace Park. The festivities begin with an honorary ceremony saluting local military heroes and live music by the Sensation Show Band followed by an extravagant fireworks display. Food and non-alcoholic drinks may be brought into the amphitheatre, and beer and wine are available for purchase. Admission to the Moonlight Amphitheatre is $5 per person, but free for children five and under, active and retired military, and their immediate family.
Parking: $15/car, $30/RV
EAST COUNTY
Santee
Time: 9pm
Santee salutes our nation's 243rd birthday at Town Center Community Park East, beginning at 2:30pm with live music by the 80z All Stars, a patriotic ceremony with Santee's adopted Marine Unit, a food frenzy, and carnival fun zone. The evening concludes with East County's best fireworks show.
Parking: $10/car for onsite parking with no in and out privileges; a continuous free shuttle service will be available from 3:30-11pm, running between the Costco parking lot on Cuyamaca near Rio Seco school to the event site.  
El Cajon
Time: 9pm
Honor Independence Day in El Cajon with a good old-fashioned picnic at John F. Kennedy Park, Rec Center & Skate Park. The Fourth of July event starts at 2pm with food, games, prizes, kiddie train rides, and more; live musical entertainment begins at 3pm, and the fireworks kick off at 9pm. Arrive early to find the best spot for your picnic and to view the fireworks!
Parking: Free parking at JFK Park and surrounding areas
SOUTH BAY
Chula Vista
Time: 9pm
Chula Vista's Fourth Fest is held at the splendid Elite Athlete Training Center, with gates opening at 6pm; the event is free and open to the public. Fern Street Circus will be providing free shows and kids' activities at nearby viewing area Mountain Hawk Park. Find your perfect spot to watch the fireworks and tune in to one of these participating stations for specially coordinated music: 91X, Magic 92.5, and Z90.3. Even if it's warm during the day, the evening weather can be cool in this neighborhood, so bring blankets and cozy clothing to layer on.
Parking: $10/car, cash only at the training center; free parking at New Hope Church, 2720 Olympic Parkway.
Imperial Beach
Time: 9pm
The fireworks in Imperial Beach are set off from the Imperial Beach Pier, so the best viewing is on the beach from Imperial Beach Boulevard to Palm Avenue, facing the end of Portwood Pier. Pack a picnic (or purchase some snacks from nearby restaurants), spread out a blanket, and tune into KyXy Radio 96.5 for a synced music playlist set to the fireworks show.
Parking: There is some free street parking in residential neighborhoods, along with public lots.
San Ysidro
Time: 9pm
The Independence Day celebration at Larsen Field, Cesar Chavez Park in San Ysidro is the perfect free event for family and friends. Starting at 3pm, the festival presents an outstanding musical lineup and features a range of music, dance, and live performances in English and Spanish. There's also a children's area with an inflatable city, Lucha Libre, interactive children's activities, face painting, and more to keep everyone busy before the fireworks display.
Parking: Limited free street and surrounding residential areas
Sign up here for our daily San Diego email and be the first to get all the food/drink/fun in town.
Mary Beth Abate is a San Diego-based freelance writer by way of Chicago and Los Angeles. Her hobbies include yoga, pickling and fermenting various vegetables and beverages, reading cookbooks and traveling around Mexico. Keep up with her experiments @MaryBeth_Abate.