10 Normal-ish Things We're Looking Forward to in San Diego in 2021
America's Finest City still has so much to offer.
Now that we've kicked 2020 to the curb, we've been daydreaming about what we're going to do once COVID-19 is under control and safer-at-home orders are lifted. Of course, there's a lot of work to be done before that happens, like continuing our routine of hand washing, mask wearing, and social distancing, but with two new vaccines rolling out, there's definitely a feeling of hope in the air. After nearly a year of lockdowns, we're all ready to bust loose and groove to the hottest bands, chomp the spiciest tacos, and guzzle the hoppiest IPAs on the planet. Here are ten things we just can't wait to do again in San Diego.
Checking out the latest restaurant openings
After a year of seeing COVID-19 lay waste to our restaurant community, there's a glimmer of hope on the horizon with the coming launch of several new venues. Chef Claudette Zepeda of Top Chef fame is developing VAGA Restaurant and Bar at Alila Marea Beach Resort Encinitas, award-winning chef Phillip Esteban is gearing up to launch White Rice, his first-ever concept within Liberty Public Market, and Top Chef All Stars winner Richard Blais has an as-yet unnamed project slated for the Park Hyatt Aviara Resort, Golf Club & Spa in Carlsbad. Meanwhile, a Point Loma favorite, Cesarina, is expanding to include a bakery and retail pasta shop across the street from their restaurant, another Fig Tree Cafe is landing in the East Village, and acclaimed chef Travis Swikard is hoping for an early 2021 opening of his on-again, off-again solo venture, Callie. While we eagerly await their debuts, we'll continue to enjoy our favorites from these San Diego's icons.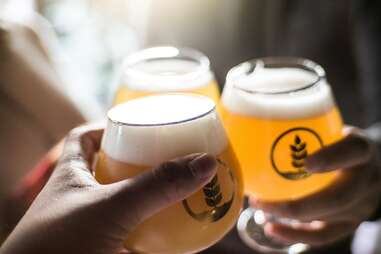 Sitting at a bar, any bar
Of all the things we took for granted in the pre-COVID-19 days, none are so sweet, and so sorely missed, as the simple act of sitting down at a bar and ordering a stiff drink or a craft beer. We're still getting boozy slushies to go from Fernside, picking up high octane milkshakes from Metl, and ordering growlers, crowlers, and bottles from Modern Times and Alesmith, of course; while we look forward to the post-COVID-19 reopenings of Sycamore Den and Starlite; and the "sometime in 2021" openings of Kingfisher's anticipated craft cocktail program in Golden Hill, Mabel's Gone Fishing, a gin and oyster house in North Park, and a new tasting room from Pure Project, also in North Park.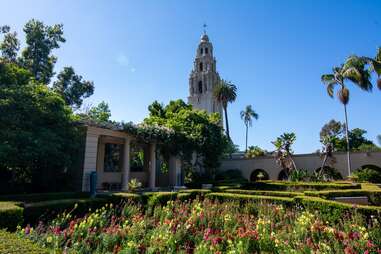 Grabbing the brass ring at Balboa Park
There's so much we miss about Balboa Park, from the museums and galleries to climbing the California Tower to get a bird's eye view of San Diego and beyond, but we secretly love the old timey Balboa Park Carousel situated near Spanish Village the best. While current conditions have brought it to a temporary standstill, Friends of Balboa Park seized the opportunity to push forward with a $3 million, privately funded effort to overhaul the more than 100 year old attraction. The restoration includes repainting several animals (all but two are originals) and rewiring the entire electrical system to include safer LED lighting, which also allows them to bring back several lighting fixtures that were retired due to safety concerns. The carousel is a menagerie model, meaning there are animals other than horses to ride, including a camel, cats, dogs, frogs, a dragon, a couple of giraffes, and more than a dozen others, as well as being one of the few in the country to still offer the brass ring game. We don't know when Balboa Park will fully reopen, but when it does, the carousel will be waiting, and we're calling dibs on the tiger.
Table hopping during San Diego Restaurant Week
Oh, how we've missed San Diego Restaurant Week, those eight glorious days when more than 180 destinations all over the county, from casual to special occasion, offer delicious prix fixe meals at rock bottom prices. Mark your calendars and keep your fingers crossed for an April 11-18 relaunch, and in the meantime, help keep our local restaurants afloat by ordering takeout or delivery, and of course, tipping as generously as you are able.

Partying with the nerd universe
There's that one weekend where San Diego suddenly becomes the epicenter of insanity known as Comic Con. It's weird, it's fun, and we'll admit that seeing Deadpool buying flaming hot Cheetos and a six-pack in Vons is the sort of absurdity that makes life worth living right about now. Comic Con 2021 is currently scheduled for a reasonably realistic July 21-25 time frame, so until then, we'll eagerly await news of the Comic Con Museum in Balboa Park, also slated to open in Summer 2021.

Catching a sunset cocktail hour
With more than 70 miles of coastline and beaches that range from wide, powdery expanses to small enclaves surrounded by dunes, you're never further than a stone's throw from a beach bar and a cocktail, preferably when the sun dips to the horizon and the ocean takes on the glow of molten gold. Although we can't visit temporarily shuttered favorites like Wonderland Ocean Pub or Bub's at the Beach right now, there are still plenty of sand-and-sun watering holes that are serving to-go and delivery, from swanky spots like JRDN in Pacific Beach and Duke's La Jolla to laid-back venues such as Cannonball and Miss B's Coconut Club.
Listening to the San Diego Symphony Orchestra by the bay
We've been watching The Shell, the San Diego Symphony Orchestra's brand new outdoor venue on Embarcadero Marina Park South, sit idle since COVID-19 put its July 2020 debut on hiatus until this summer. With 13,000 square feet of performance and backstage area, the new digs will be able to accommodate more elaborate productions, while the enhanced levels of seating give nearly every spot a clear view of the stage. Finest City Eats, the expanded culinary program, features local faves like Lola 55, Bread & Cie, Urban Kitchen, Biga and Blais by the Bay, an upscale pre-order dinner menu available in select sections. While we wait, we'll have to satisfy ourselves with watching glorious sunsets from the park while streaming one of the symphony's audio broadcasts, videos, or podcasts.
Rocking out at a live concert
Sweating it out at The Casbah, the tiny, 200-person capacity music venue in Little Italy, is a rite of passage for San Diegans, who are completely spoiled by the quality and diversity of the acts that pass through our city because of the good will and national reputation built by three guys who took a chance on creating a music venue out of an old Kettner Street beer bar called The Pink Panther back in 1986. In addition, The Casbah also produces shows in larger locations like Belly Up Tavern, House of Blues, Music Box Theatre, Spreckels Theatre and a dozen or so others. They're optimistically booking live shows for early February, but until then we'll tune into past concerts on their YouTube Channel and rock out in our jammies.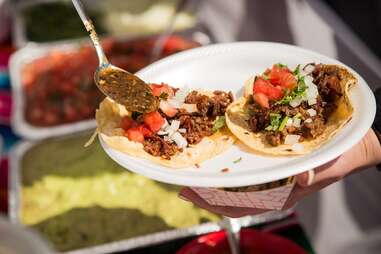 Eating our weight in tacos
Second only to the beer festivals that happen nearly every weekend in San Diego, we miss stuffing ourselves with dozens of tortillas filled with our favorite birrias, barbacoas, and pastors at our city's frequent taco festivals. So far, 2021 has three of the best on the horizon, Reader Tacotopia and SoCal Taco Fest 2021 are slated for May, and the San Diego Taco and Beer Festival 2021 is booked for July, but we're optimistic that we'll be able to fill our bellies up with plenty of our favorites while we wait for summer to arrive.
The Mission Federal Art Walk, currently scheduled for April 24-25, 2021, is one of Little Italy's most popular events, attracting more than 300 fine artists from all over the world as well as tens of thousands of art lovers from San Diego County and beyond. Covering sixteen square blocks, artists in nearly every media type and style show and sell their works, from miniature sculptures and glass art to enormous, wall-sized paintings. It's a perfect opportunity to purchase affordable, one-of-a-kind art while supporting local artists. We'll prep for it by tuning into the San Diego Museum of Art's virtual gallery experience.
Sign up here for our daily San Diego email and be the first to get all the food/drink/fun in town.
Mary Beth Abate is a San Diego-based freelance writer by way of Chicago and Los Angeles. Her hobbies include yoga, pickling and fermenting stuff, reading cookbooks and drinking fabulous gin. Keep up with her experiments @MaryBeth_Abate.