The 15 All-Time Greatest Things to Do in San Diego
Celebrate the season with beer and chocolate festivals, fun runs, and more.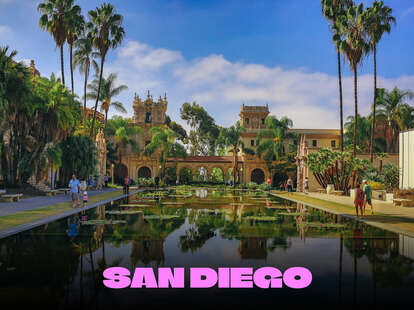 Casa de Balboa at Balboa Park

| Lingxiao Xie/Moment Open/Getty Images
Casa de Balboa at Balboa Park

| Lingxiao Xie/Moment Open/Getty Images
Perfect weather, gorgeous beaches, and practically limitless activities ranging from entertainment to adventure are at the top of the list of reasons why we all love living in San Diego. We've got scores of sparkling beaches, an award-winning brewery scene, and plenty of picturesque hikes to remind us why it's called America's Finest City. But our wealth of options can make deciding what to do incredibly challenging. To help you narrow down the selection, we've rounded up the very best the city has to offer, whether you're looking for a casual hang, cocktails with friends, entertaining out-of-town guests, or celebrating special occasions. These are our picks for the best, most quintessential things to do in San Diego this fall and winter.
Things to Do in San Diego in Fall and Winter
Liberty Station
From Thursday, November 16, to Sunday, January 7, the Rady Children's Ice Rink in the Arts District at Liberty Station is open for ice skating fun for the holiday season. A staple event in Liberty Station's Salute the Season holiday program, net proceeds goes to the Rady Children's Hospital's Peckham Center for Cancer and Blood Disorders at Rady Children's Hospital's Thriving After Cancer program. Your ticket is good all day, so you can skate long enough to work up an appetite, visit the Liberty Public Market or one of the many restaurants, bars, and tasting rooms scattered through the neighborhood, then return to the rink and burn off all those calories.
Various locations
From Wednesday, February 1, until Thursday, February 29, head to any San Diego County Public Library and pick up a free Museum Month Pass, which is good for half-price admission at more than 40 museums during the month of February. Each pass admits up to four people for half-price at participating venues, including the USS Midway, the Birch Aquarium at Scripps, the San Diego Natural History Museum, the San Diego Museum of Art, and the Comic-Con Museum at Balboa Park. Museum Month Pass is free, but museum entrance fees vary depending on the venue and exhibits.
Coronado
Board the Coronado Ferry at either the Broadway Pier or the Convention Center for a quick, 15-minute ride across San Diego Bay to Coronado Ferry Landing, where shopping, dining, and activities ranging from biking to stand-up paddleboarding can be found within walking distance. Fares are a mere $8 one-way, and you can bring your bicycle for free. The Silver Strand Bikeway begins at Coronado Ferry Landing and takes you along the 9-mile flat, sandy tombolo all the way to Imperial Beach. Perfect for riders of all levels, you'll be treated to views of the Pacific Ocean on one side and the San Diego Bay National Wildlife Refuge on the other. Don't miss a stop at Silver Strand Beach for a quick swim or a walk along the sand. Bike rentals are available at the ferry landing if you haven't brought your own. Ferry tickets can be bought at the ticket booth or online.
Balboa Park
Balboa Park is referred to as the "Jewel of San Diego" for good reason. With more than 1,200 acres of museums, attractions, restaurants, and gardens, you can easily spend an entire day ambling through the beautiful grounds and stunning architecture without spending a penny.
A total of 15 dedicated gardens turn even the most casual stroll into a stress-busting nature walk. The best place to start is at the iconic Botanical Building and lily pond, one of the park's most recognizable and photographed structures. The building itself is temporarily closed for renovation, but the area around the lily pond is still a popular spot for picnicking, lounging, or meditation. Afterward, learn about California flora and fauna in the California Native Plant Garden or trek through lush Palm Canyon.
Among the twenty-one museums in the park, several of the most popular offer free admission on Resident Free Days. These include the San Diego Natural History Museum, the oldest scientific institution in Southern California, and the Fleet Science Center and planetarium, where the first-ever IMAX Dome Theater resides. The Timken Museum of Art and the San Diego Mineral & Gem Society Museum are always free.
Balboa Park isn't just full of culture; it's also full of hiking trails. If you don't have time to drive off into the wilderness but still want some exercise and fresh air, try a little urban hiking. Nineteen trails at varying difficulty levels will take you 65 miles through the park. Access the trails from one of five trailhead gateways, where you'll find info on length, difficulty, and type of trail and can download maps of specific areas or the entire park.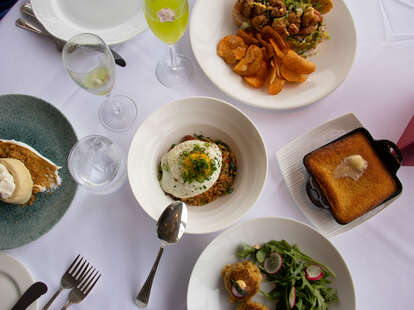 Photo courtesy of Mr. A's
Photo courtesy of Mr. A's
Where to Eat and Drink in San Diego
Various locations
Hopefully, you have plenty of vacation days saved because this is the best 10 days for beer drinking in America's Finest City. San Diego Beer Week runs from Friday, November 3 to Monday, November 13, with events happening at breweries and beer bars all over town, and with over 120 participating breweries, that's a lot of hop-centered celebrating. Check the SDBW calendar to get updates on events happening all week long.
University Heights
First of all, it's a pizza shop, but don't let that stop you—ever since The Friendly opened six years ago, it's been an industry favorite for its Dirty Flat Top burger. Order a slice or two with your burgers; they'll be up and piping hot for you to munch on while you watch the flat-top magic happen. Two smashed patties, all crispy edges, and juicy pink middles, get layered with melted American cheese, softly caramelized onions, and a swipe of garlic aioli in a buttered, griddled, squishy white bun. It's not pretty, but it's one of the best damn $7 burgers you'll ever eat. By the way, don't bother asking for fries, ketchup, pickles, or other accouterments here, but you can get them at their other locations in North Park, Kearny Mesa, and Pacific Beach. Check their Instagram for their popular random specials.
Various locations
Just in time to celebrate spring, San Diego Restaurant Week begins Sunday, March 3, and continues through Sunday, March 10. Nearly 100 restaurants all over the county are participating, from our favorite brunch spots to romantic date destinations, vegetarian restaurants, and more, each offering discounted prices compared to what you'd usually find there. A word of caution: Tables at popular venues fill up quickly, so be sure to make reservations well in advance. And remember, tax, tips, and drinks are not included in the discounted pricing.
University Heights
Introduce yourself to smoky mezcal at Cantina Mayahuel, where over 100 different mezcals, sotols, bacanoras, and raicillas line the wall behind the bar. Order a margarita if you like, but the best way to experience the agave spectrum is to sip them neat, and the friendly, knowledgeable bartenders will gladly guide you through your tasting experience. If mezcal isn't your thing, there are also 250+ varieties of tequila, including the house brand Don Lorenzo Reposado Reserva. Their expanded patio can accommodate in-house drinking and dining on a first-come basis.
Various locations
The San Diego Bay Wine & Food Festival (November 6-12) is the largest culinary and wine gathering on the West Coast. Events include The Grand Decant at JULEP Venue, a tasting with the country's top sommeliers, wineries, and winemakers representing more than 200 domestic and international wines on Friday; a star-studded Grand Tasting at the Embarcadero Marina Park North on Saturday, where you'll enjoy wine and spirit vendors, along with San Diego's top chefs who will compete for bragging rights as well as cash and prizes; and Sunday's Grand Fiesta at Liberty Station's Ingram Plaza, a cross-border tasting event that includes, Taco TKO, the ultimate showdown where you taste and decide who makes San Diego's best taco. Check out the website for all the details, tickets, and packages.
Bankers Hill
There's a reason Mr. A's perennially on "best of" lists—best view, best date, best special occasion, most romantic—it checks all the boxes for a memorable night out. The view, of course, is the first thing you'll notice, and it's breathtaking from the 18-seat sunken bar and 72-seat indoor-outdoor lounge. Chef de Cuisine Stephane Voitzwinkler deftly blends American, French, and Alsatian influences into classic dishes; think rosy pink duck breast with huckleberry gastrique or modern takes on local swordfish and Georges Bay scallops. Make reservations well in advance, especially if you want a window seat, and yes, they do have a dress code.
Arts and Culture Events in San Diego
Downtown
The WNDR Museum is an immersive art and technology experience that invites guests to fully engage with local and international artists, collectives, technologists, designers, and makers in a completely new museum experience. Dance across the Lightfloor, which reacts to the visitors' every move and touch, step into Inside Out by Leigh Sachwitz and flora&faunavisions, a mesmerizing, translucent garden house where you'll weather a digitized storm, or encounter nearly 20 other hypnotic exhibits.
Live local music
Various locations
Nothing beats seeing a live band, and San Diego's music scene is as exciting and diverse as the venues that provide them. The Music Box's three tiers of seating include opera booths with bottle service, two outdoor patios, bars on two levels, and a private VIP skybox overlooking the stage, as well as a menu that includes Kobe sliders, charcuterie, flatbreads, and cocktails on tap. The Belly Up in Solana Beach welcomes acts ranging from Saharan folk music to alt-reggae, with a good sprinkling of legendary early rockers from the '60s and '70s. See up-and-coming underground alt-rock at the famously divey Casbah, where past guests have included Nirvana and Smashing Pumpkins, or hit Winston's Beach Club in Ocean Beach for a jam band/reggae vibe.
Mission Valley
The 31st Annual San Diego Latino Film Festival features 160+ films from Latin America, the United States, and Spain, all conveniently presented at the AMC Mission Valley 20 and Digital Gym Cinema from Thursday, March 14 to Sunday, March 24. There are also parties on opening night (and closing night), Q&A sessions with visiting filmmakers, concerts, and more. You can purchase tickets to individual screenings on the film schedule or opt for passes with varying levels of VIPness.
Downtown
When not in use as a performance venue, Jacobs Park, home to The Rady Shell, is open to the public, who can use grassy areas and seating for picnicking, lounging, and other activities. If you're fortunate, your visit may coincide with performance rehearsals by the San Diego Symphony Orchestra, who invite the public to enjoy their practice sessions for free and without reservations unless your group numbers over 15 guests. Check their website for rehearsal schedules and attendance guidelines, and note that rehearsal times may change or be canceled without notice.
Listening Bars
Various locations
A combination listening bar and record shop, North Park's Part Time Lover is a visually dazzling room with an open layout for optimal sound, cushy seating, a custom sound system built by Chicago-based Uncanned Music, and music chosen by San Diego's own Folk Arts Rare Records store. The bar program focuses on Japanese highballs and amped-up takes on traditional cocktails. Convoy Music Bar in Kearny Mesa cultivates a chill atmosphere, decked out with a custom-built Japanese sound system for the best listening experience, and specializes in Japanese whiskey. It's somewhat hidden, accessed via the alley behind The Taco Stand (hint: look for the red light.) Owner Ernie Becerra recreates his grandmother's home bar at La Bamba Room in Barrio Logan, repurposing her bar and credenza, her original speakers, and even her favorite crushed velvet chair to bring a high-end listening experience to the neighborhood.