Events
Presented By
All The Coolest Things to Do in San Diego This Weekend
BBQ, brunch, and brew your own booch!
Presented By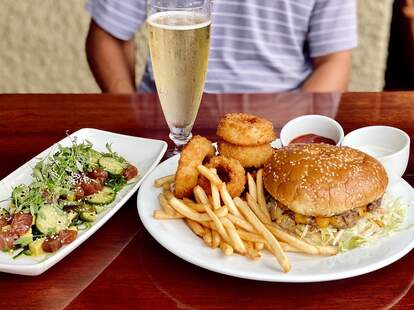 Photo courtesy of The Grille at Torrey Pines
TGIF, San Diego! It's been a long time since we've said that, what with a year of working from home and sheltering in place making the days run together. Let's not go nuts, though, wearing a mask and social distancing is still the order of the day until further notice. In the meantime, we've got a full weekend left of San Diego Restaurant Week, a new brunch hotspot to try, and a beer pairing dinner you can enjoy at home. Here's everything you can eat, drink, and do in San Diego this weekend:
Sunday, April 11-Sunday, April 18
Various locations
You still have the whole weekend to enjoy San Diego Restaurant Week! Take advantage of discounted lunches and dinners at more than 180 restaurants across San Diego County.
Cost: Two-course prix fixe lunch menus range from $10-25; three-course prix fixe dinner menus range from $20-60, not including tax and tip.
Thursday, April 15–Tuesday, April 20
Outside
This weekend's planetary and stellar events aren't as dramatic as a lunar eclipse or even a random meteor, but they still make for some pretty cool stargazing. Beginning on April 15, the moon crosses through the Winter Hexagon, a huge grouping of first-magnitude stars, or those that are bright enough to be seen without a telescope. To view it yourself, face southeast and find Sirius, the bright blue star at the bottom of the hexagon, then moving clockwise to Procyon (Canis minor), Castor and Pollux (Gemini), Capella (Auriga), Aldebaran, the brightest star in Taurus, and finally Rigel, at Orion's bottom left. You can also spot the red giant Betelgeuse, just above and to the left of Orion's three-star belt. This same lunar crossing takes place monthly starting in November, and this will be your last chance to see it until Winter 2021.
Cost: Free
Friday, April 16
Your house
Join Gwen Conley, Cutwater Spirits' Director of Quality and Innovation, for the latest installment of their Virtual Sensory Experience, this time with sweet and salty treats to go with your cocktails. Your curated kit includes a can of Cutwater Mango Margarita, a can of Cutwater Tequila Paloma, and a 50ml bottle of Tequila Blanco, along with an assortment of unconventional, sensory science-backed food pairings, plus access to a guided tasting via Zoom. Order your tasting kit online for pickup at the Cutwater Tasting Room any time before April 16.
Cost: $25
Friday, April 16-Saturday, April 17
Gaslamp Quarter
You'll arrive at Illusions Theatre and Bar via a secret entrance that leads to safely distanced seating for a dazzling performance of parlor magic and sleight of hand by Magician Vic Terrific, followed by a delicious dessert. After the main show, stay for more illusions in the magic lounge and browse the magic store for a trick to learn for yourself. Reserve tickets online.
Cost: $40 per person.
Advertisement
Tanqueray
Weekend plans change fast, so grab a drink that's ready when you are. Tanqueray's Crafted Gin Cocktails come ready to drink and are the perfect addition to any occasion. Made with real Tanqueray gin and natural flavors, they deliver premium, bar-quality cocktails whenever you want. Grab a can and enjoy.
Saturday, April 17
Any national park
Saturday marks the beginning of National Park Week, when national parks across the country celebrate with special programs, events, theme days and digital experiences. As part of the week, enjoy a fee free day on Saturday and get out in nature to refresh and recharge. Find a list of national parks here.
Cost: Free
Saturday, April 17
Your home
Pure Project Brewing and Chef Philip Esteban's new venture, White Rice, take you on a culinary journey with beer! Enjoy Chef Esteban's four-course global flavors paired perfectly with Pure Project brews, like palabok pork and local box crab paired with Black Pine West Coast IPA, and braised short rib dinuguan and Euphorik with Double Peaches Barrel-aged Feral Ale. Each dinner is plenty for two people and includes a pre-recorded online discussion featuring Chef Phillip Esteban and Pure Project's Advanced Cicerone, Chris Leguizamon, sharing their thoughts on the menu, beers, and pairings. Order online for pickup at Pure Project Miramar on April 17 between 4–6 pm.
Cost: $96 for a four-course meal for two.
Saturday, April 17
North Park
Fake a great summer barbecue without all the work when you let Pitmaster Ryan Sharpe at The Wise Ox take over the smoker duties. Every other Saturday, he's serving up brisket, pulled pork, smoked turkey, and smoked sausages by the half or full pound, along with your favorite house-made sides like barbecue beans, potato salad, corn pudding, and mac and cheese, plus original, tomatillo or Carolina gold sauces. Stop by or order online via Toast for takeout, but get there early, they start serving at 11 am, and when it's gone, it's gone!
Cost: Meats are $14-22 per pound, sausages are $5 per link and sides are $6 each.
Sunday, April 18
Gaslamp Quarter
You'll have a new Sunday morning favorite at Lionfish in the elegant Pendry San Diego boutique hotel. For the first time, they'll be serving brunch every Sunday from 11 am–3 pm. Executive Chef JoJo Ruiz has created a seasonal menu filled with his signature twists like duck confit hash with poached eggs and duck fat hollandaise, or a butter-poached Maine lobster and chorizo scramble. Add an all-you-can-drink Bloody Mary, Campo Viejo mimosa, Campo Viejo sparkling rosé or aperol spritz option for just $25. Reservations are recommended and can be made by calling 619-738-7200 or via OpenTable.
Cost: Varies
Sunday, April 18
North Park
Tired of paying $4-5 for a bottle of kombucha? Make your own for pennies with help from the San Diego Fermenters Club and San Diego Fermentation Community at their well-spaced outdoor patio venue (zip code 92104, exact address provided at registration). You'll learn how simple it is to make fermented foods and beverages at home, the benefits of making and eating/drinking fermented foods, and a little history about kombucha and ins and outs of carbonating and flavoring, followed by making your own bottle of kombucha to take home with you. While you work, you'll have the chance to sip some Boochcraft high-alcohol kombucha (21+ only).
Cost: $45, save $5 by bringing a friend.
Mary Beth Abate is a San Diego-based freelance writer by way of Chicago and Los Angeles. Her hobbies include yoga, pickling and fermenting stuff, reading cookbooks, and drinking fabulous gin. Keep up with her experiments @MaryBeth_Abate.