It's Thanksgiving weekend, so while we'll gladly highlight the best events the town has to offer this weekend, ideally you're going to spend your weekend with friends and family eating as much food as your stomach allows. But, if you find yourself looking to get out of the house this weekend (which, let's face it, isn't that weird of an urge on Thanksgiving weekend) then we've got just the guide for you here, with everything from a Harry Potter-themed beer fest to a little late-fall horse racing to give you an excuse to get away.
Recommended Video
Proof That Iceland's Ring Road Is the World's Most Beautiful Road Trip
Wednesday, November 21
The Pearl Hotel
Between the Rooftop Cinema Club and Cinema Under the Stars, San Diego is all about the novelty movie viewing experiences -- and in that vein The Pearl, has introduced its Dive-In Movie series. With classic movies projected on a 10'x13' screen around The Pearl's heated, saltwater oyster pool, it's a great way to kick back, relax, and catch a great flick while enjoying food and drink from Charles + Dinorah. This week, have a soak and watch Marty McFly in Back to the Future.
What it costs: Free; check food and drink prices for Charles + Dinorah
Wednesday, November 21
Spin Nightclub
Instead of spending another Thanksgiving Eve bar-hopping around the same spots you hit literally every Thanksgiving Eve, dial the hooch back a bit and spend the night dancing to the subdued, dance-heavy tunes of Walker & Royce and Will Clarke at Spin. Every event the FNGRS CRSSD crew seems puts on seems to attract the coolest crowd in town, and it will leave you feeling much better Thanksgiving morning than another year slamming well liquor in dive bars.
What it costs: $37
Thursday, November 22
Balboa Park
The Father Joe's Villages Thanksgiving Day 5K is San Diego's longest running 5K, with proceeds going to help Father Joe's Villages serve and feed the homeless population in San Diego. It's the perfect way to burn off some calories before stuffing your face for Thanksgiving, and comes replete with live music, a costume contest, and a post-race beer garden. Go for a run, and help those less fortunate than you.
What it costs: $35
Thursday, November 22
Anywhere around town
Look, maybe you're not near your family, maybe you aren't into cooking, or maybe you and your friends just want some fresh air. If that's the case, there's no shortage of great Thanksgiving options within the city. Want to try a Thanksgiving taco? Cerveza Jack's has you covered. How about an entire smoked turkey for you and your friends? Moonshine Flats will smoke one for seven hours that'll feed 20 friends for you. Looking for more of a four-course French meal? Bleu Boheme's prix fixe menu is perfect.
What it costs: Prices vary; Moonshine Flats charges $125 for a smoked turkey; Bleu Boheme's Prix Fixe is $60
Friday, November 23
Fleet Science Center Planetarium
The Fleet Science Center's Planetarium is presenting Mesmerica: a multi-sensory journey that combines hypnotic, 3D animated art with the sounds of Grammy-nominated composer James Hood. Inside the Planetarium's dome, the entire experience is designed to help you relax, disconnect from the world, and meditate. It's a trippy experience all around.
What it costs: $34
Friday, November 23
Casbah
The Schizophonics are one of the best San Diego bands out right now, and they play a style of music they describe as "fuzzy, psychedelic rock mixed with nasty funk, played with energy, passion, and freakiness." All of that amounts to a sound that's part Jack White, part punk, and all fun.
What it costs: $10
Saturday, November 24
The Irenic
The Historic Irenic in North Park will be transformed into Hogwarts for a one-day beer fest unlike the scores of other beer festivals in San Diego. With more than 20 winter, holiday and pumpkin ales to be tasted, as well as adult butter beer and a slew of Harry Potter-themed attractions and music provided by -- no joke -- DJ Dumbledore. If you grew up with the books, and if you're looking for a beer fest less inclined to beer snobs and more towards fun times, this is a solid bet.
What it costs: $35
Saturday, November 24
The Observatory
Singer-songwriter Cat Power has an airy, haunting voice, and beautiful, blues-inspired lyrics that blend perfectly for her indie folk style. It might not have you stomping your feet quite like The Schizophonics, but the sheer quality of her voice will leave you floored.
What it costs: $30
Sunday, November 25
Del Mar Thoroughbred Club
Holiday shopping is always a bit of a bore, so why not spice it up with a little horse racing? Del Mar's shortened fall racing schedule is in its penultimate week, and the track is hosting Holiday at the Races -- with pop-up boutique shopping available for anyone who may be looking to cross off some shopping after a lucky bet.
What it costs: Stretch run admission is free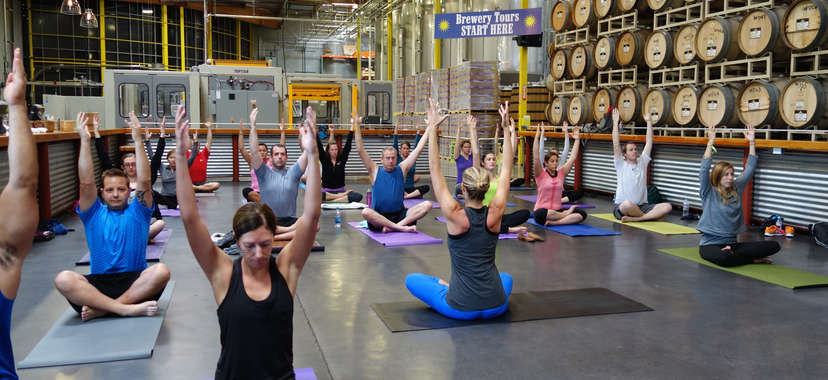 Sunday, November 25
Green Flash Brewery and Tasting Room
After stuffing yourself full with food, take a little time to get your mind (and body) right with Hoppy Yoga as they host two classes, one at Green Flash and one at Culture, that combine two of the world's greatest relaxants: yoga and beer. Enjoy an hour-long yoga flow followed by a beer social and hopefully defeat your turkey hangover in preparation for the post-holiday work week.
What it costs: $20
Sign up here for our daily San Diego email and be the first to get all the food/drink/fun in town.