Hopefully, you've knocked the cobwebs loose after the four-day extravaganza that was Independence Day weekend, made it through the work week, and you're onto the second weekend of the month bright-eyed and bushy tailed. If so, you're in for a treat–this weekend features the return of two of the finest traditions this city has to offer: the annual OTL Weekend and Pride weekend. If neither of those quite fit your tastes, there's everything from interactive art shows to French food extravaganzas to keep you happy. 
Friday, July 12
B Street Pier
San Diego's own Wonderspaces interactive art exhibit has become something of a national phenomenon since it opened in America's Finest City a few years ago. Now with installations and Arizona and Austin upcoming, the latest edition of the show "In Common" opened about a month ago and is a tech-heavy experience that investigates the connectivity of the human race.
What it costs: Tickets start at $27
Friday, July 12
The Casbah
The Silent Comedy's folk/blues/Americana blend is always performed bombastically live, and their new album, Enemies Multiply, lends itself to foot stomping and whiskey-swilling. Playing in front of their hometown crowd at The Casbah, there will be ample opportunity for both.
What it costs: $20
Saturday, July 13
Fiesta Island
OTL is as San Diegan as the zoo and impenetrable County Fair Traffic on the 5. Now in its 66th year, the delightfully unrefined, boozy, and uncouth sporting event returns to Fiesta Island for a day of fun in the sun on the beach with proceeds going to support multiple local charities.
What it costs: Free
Saturday, July 13
Hillcrest
It's San Diego Pride Weekend, which means roughly 250,000 people will flood the streets of Hillcrest on Saturday to celebrate equality. Go support your fellow San Diegans and party in the streets -- it's guaranteed to be more energetic than any other parade you've been to this year. Check out our comprehensive San Diego Pride guide for everything you need to know about the parade, including the best bars to party at afterwards.
What it costs: Free
Saturday, July 13
Embarcadero Marina Park South
The San Diego Symphony's summer concert series is in full swing, and this weekend, they'll be showing the sixth installation of the Harry Potter series, Harry Potter and the Half-Blood Prince, outdoors on the big screen with a live orchestral score conducted by John Josensky. If you've never watched a film with a live score, it's absolutely mesmerizing.
What it costs: $31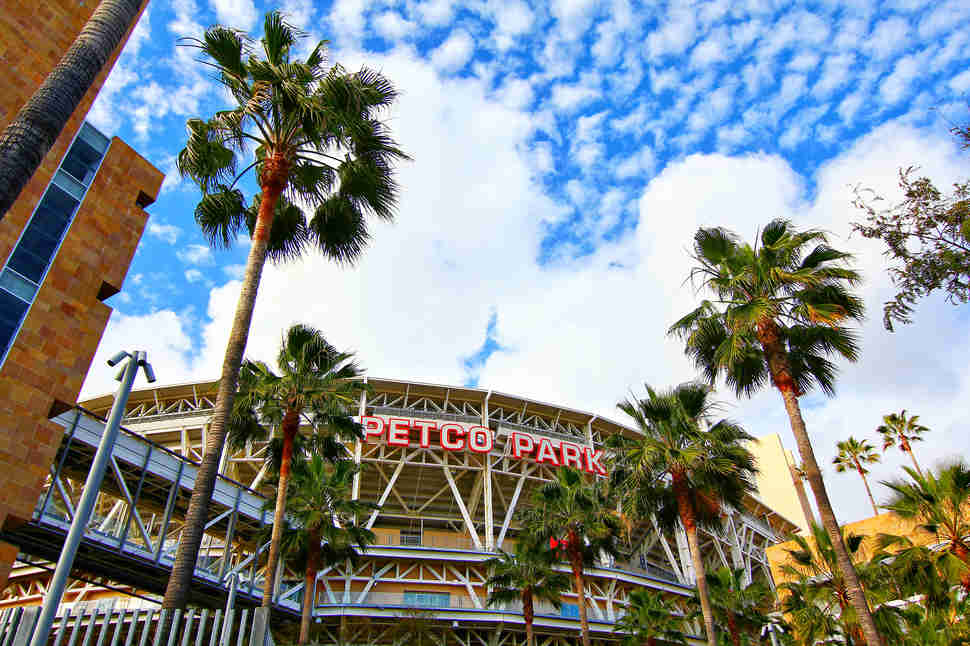 Sunday, July 14
Mission Brewery
It's a new year in San Diego baseball! They're .500! That, and an extremely promising young core of players is reason enough to go enjoy a game in America's best ballpark. If you needed more reason, though, the East Village Association is teaming with Mission Brewery and the Pads to offer a Sunday morning guided bike ride through downtown to the game after a prenoon Sunday Funday pre-game at Mission. Go ride your bike around downtown, have a beer or two, and watch a great baseball game for under $30.
What it costs: $25
Sunday, July 14
Humphrey's Concerts by the Bay
If you're looking for an incredibly relaxing way to cap your weekend, go enjoy Jake Shimabukuro -- one of the best ukulele players on Earth -- as he takes the stage at Humphrey's. There might not be a more picturesque or fitting venue in the city for Shimabukuro's music, and having covered classics like "Eleanor Rigby" and "Time of the Season" on his newest album The Greatest Day, you're guaranteed to know some of the iconic songs he closes the weekend with.
What it costs: $50
End your weekend with a French feast for Bastille Day
Sunday, July 14
Any French restaurant in town
It's Bastille Day, so let your inner Francophile and your appetite run wild at any one of the city's spectacular French eateries. With most French haunts in town running a special to celebrate the day, it's worth checking Google or picking up the phone to see if your local favorite is doing anything to commemorate the French holiday. If you want our suggestions, you can never go wrong with the menus at Et Voila or Blue Boheme.
What it costs: Et Voila's three-course meal starts at $50, and Blue Boheme's prix fixe is $58
Sign up here for our daily San Diego email and be the first to get all the food/drink/fun in town.