Get Scared Silly at the Best Halloween Events in San Francisco
From haunted houses to creepy cruises here are the best Halloween events in San Francisco this year.
Photo by Tyler Wang
Photo by Tyler Wang
The magical mayhem of October is upon us, bringing with it pumpkin pandemonium, spine-tingling haunted adventures, and, of course, lots and lots of candy. And even though Halloween isn't until the last Tuesday of the month, there's no reason you can't start celebrating now. From the creepiest haunted houses that'll have you shrieking with delight to the secret potion parties at our favorite haunts, plus family-friendly and furry companion-ready escapades, we've conjured up over 25 of the best Halloween events in San Francisco that'll tickle the fancy of even the most spirited (or should we say, un-spirited?) creatures of the night.
Through Saturday, November 5
The Mint, SoMa, $55 to $85
If you've ever wanted to join a cult, this is your chance. The Terror Vault is consistently SF's most thrilling Halloween experience, and The Initiation, the latest spine-chilling masterpiece from Into the Dark (which includes Peaches Christ as one of its members), delivers. Your goal: To survive the INsight Institute's membership process while simultaneously thwarting a murderous plot, all while journeying through an immersive haunted house full of (literal and metaphorical) twists and turns, terrifying characters, jump scares, gore, and even a little full frontal nudity. The cost if you fail: Oh, only your eyesight. The best part of the theatrical experience is how interactive it is, but if you're more of a voyeur, you can opt out. Be sure to check your coat (it is very warm inside of the INsight Institue), and if you need some liquid courage, you can find it at Fang Bang, the 80's New Wave/goth vampire-themed pop-up bar with Halloween-themed cocktails and members of the undead. (Fang Bang is open to the public, so you can drink and mingle with the Nosferatu even if you don't have tickets for the show.
Thursday–Sunday nights (October 19–October 29) and Tuesday, October 31
San Jose, $65 to $100
A new couple has moved into this bizarre maze-like estate known for its haunting architectural curiosities, and they're inviting you to their housewarming party. Just go in with your eyes wide open (or shut, depending on how much of a scaredy cat you are) because the evening will unravel in terrifying ways. Add on more excitement with a 1920s-themed garden party, a museum full of Halloween nostalgia, and creepy cocktails to give you liquid courage to survive the night of screams and scares.
Friday, October 20–Saturday, October 21 and Thursday, October 26–Saturday, October 28
Pacific Heights, $30
In normal times, this 11,500-square-foot Victorian home is open for tours so people can learn about Queen Anne homes and 19th-century living, but for five nights in October, it transforms into a mansion of mayhem where a benevolent host will still give you a tour of the home but with mysterious lurking surprises along the way. Enjoy libations and snacks in the Ballroom saloon before or after.
Thursday–Sunday nights (October 19–October 29) and Tuesday, October 31
Alameda County Fairgrounds, Pleasanton, $40 & up
Get scared over and over (and over and over) again at the Pirates of Emerson Haunted Themed Park at the Alameda Fairgrounds, where you'll be able to walk through not one, not two, but four different terrifying and theatrical haunted houses where your nightmares will become real as you encounter demented dolls, angry pirates, Halloween Hell, and a SeeSawz Circus. All tickets are for timed entry, only available online, and will likely sell out in advance.
Thursday, October 19–Saturday, October 21; Thursday, October 26–Friday, October 27
Oasis, SoMa, $45 to $100
Do the time warp at this live, immersive, and musical experience put only by the fabulous performers at Oasis. And when they say "immersive," they mean it. The show unfolds all around you and in every inch of the club as you walk from room to room before entering "the lab" for the full show. (Entrances are timed; standing/dancing room only with the exception of the VIP seated sections/)
Thursday, October 26
Saint Joseph's Arts Society, SoMa, $150 to $5000
Don a costume inspired by the City by the Bay for this elegant event taking place inside the Ken Fulk-designed former church. There will be bites and sips from the Bay Area's best, karaoke in the courtyard, and performances from Rufus Wainwright, Lucius, Ouida, and more.
Friday, October 27
The Power Exchange, Tenderloin, $20 to $100
There are people who like sexy costumes, and then there are those who prefer no costumes at all. The latter attend Hell-o-ween, the Power Exchange's legendary Halloween party for anyone who wants to exercise, not exorcize, their inner exhibitionist. You can wear anything from a "three-piece suit to your birthday suit," with fetish-wear and lingerie encouraged.
Saturday, October 27
Berber, Russian Hill, $75
Enjoy a "horror-themed cirque competition" while enjoying a delicious three-course meal (with optional wine pairings) at this sexy Moroccan restaurant known for its Michelin-acclaimed food, live music, aerialists, and dancers.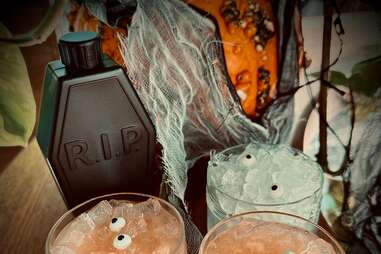 Friday, October 27–Saturday, October 28
SoMa, $55 to $100
If you want to go to an all-out Halloween bash, head to the W Hotel, which is throwing a two-night party throughout four rooms with 10 DJs playing everything from Top 40 to '80s to EDM. Costumes are required; if you're not wearing one, you can't get in. Get tix for Friday night here and Saturday night here.
Through Tuesday, October 31
SoMa, Admission is free
Channel your inner goth kid and head to Black Lagoon, a creepy pop-up bar with macabre elements of goth and metal, that's taking over Kona's Street Market for the month of October. "Enjoy" dungeon-like decorations while sipping on eerie elixirs, including Book of Blood, a take on a Mai Tai, and Hellfire Fizz, an "evilly earthy cocktail."
Friday, October 27, Saturday, October 28, and Tuesday, October 31
Check-in bars: Russian Hill, Marina, and North Beach, $12 and up
Don your best Halloween costume and head to this pub crawl with over 40 participating bars, including R Bar, Shanghai Kelly's, Wreck Room, Silver Cloud, Blue Light, Westwood, and more, all of which will have beer, cocktails, and shot specials. Don't feel like walking between all of the locations? Or think maybe walking might get a little challenging? There will be party buses to take bar hoppers to different locations on the map.
Friday, October 27–Tuesday, October 31
The Madrigal, Civic Center, Cocktail prices vary
Beginning Halloween weekend, this bi-level bar will transform into a haunted forest with fog machines, creeping vines, ghouls lurking in every corner, and a "SHOCKtail" menu with Halloween-themed cocktails. Go on Saturday to hear DJ No Popcorn spinning tunes. And while entry is free, reservations are encouraged.
Saturday, October 28
Union Square, $15 to $150
Spend the Saturday night before Halloween in the glamorous and historic Redwood Room, which will get a theatrical makeover for the occasion. The party will take place in two rooms with DJs spinning Top 40, house, and more. Masks and/or costumes required (it is a masquerade party, after all).
Saturday, October 28
SoMa, $20 to $100
This spacious wine bar and lounge is getting even more mystery and intrigue for its Halloween masquerade ball. Enjoy refreshments and specialty cocktails before hitting the dance floor, where DJs will be spinning Top 40, '80s, and '90s. Elaborate masks and costumes are encouraged, but if you're a Halloween Grinch, you can also come in cocktail attire.
Saturday, October 28
Alameda, $30
Do the Monster Mash at this dance party when, for one spine-chilling night, the USS Hornet transforms into the most haunted ship in America. Get carried away by music from The Cocktail Monkeys, who will play everything from classic rock to today's hits, and be sure to go all out with your costume because first prize takes home $300 cash.
Halloween parties on boats
Saturday, October 28 and Sunday, October 29
Various docks in SF and Oakland, $55 & up
There's literally nothing more terrifying than being stuck on a boat with no way off, which makes a costume cruise the perfect Halloween adventure. There are several boat parties to choose from, including Hornblower's Halloween Cruise Party, a three-hour cruise with four floors of live music and seven bars; the Pier Pressure San Francisco Black Pearl Halloween Yacht Party, a three-hour cruise with two DJs on three decks play house and Top 40, cash bar, and VIP options; Halloween Costume Cruise on the Bay, a boat party that departs from Jack London Square, a three-hour cruise with two levels of music and fully stocked bars; and the Titanic Masquerade on the San Francisco Spirit, which includes three hours on the water with two DJs on two floors.
Sunday, October 29
Noe Valley
Halloween is going to the dogs in the best way possible at Mr. Digby's. There will be a dog costume contest with lots of good prizes, complimentary brush-and-ink portraits, plenty of treats (and bandanas) for the pups, and all of the things that make brunch fun for humans, including chicken and waffles, biscuits and gravy, and plenty of delicious cocktail concoctions. Brunch goes from 10:30am to 2:30pm, and reservations are encouraged.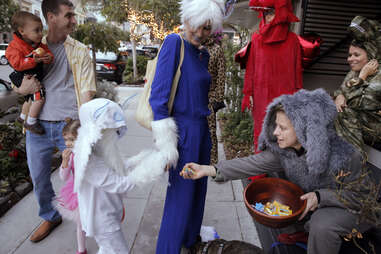 Friday, October 27
The USS Hornet, Alameda, $60
Spend the evening eating a catered spaghetti dinner with a world-recognized paranormal expert before taking a flashlight tour to see all the haunted locations aboard the ship. All participants must be at least 12 years old, and anyone under 18 needs to be accompanied by an adult.
Saturday, October 28
Mission Bay, Free
Enjoy family-friendly festivities, including trick-or-treat stations, mini pumpkins to decorate, magic shows, food trucks, face painting, slime-making, live music, and more at this daytime Halloween party for kids of all ages. Costumes encouraged.
Saturday, October 28
Jerry Garcia Amphitheater, McLaren Park, Free
Local arts nonprofits and Illuminate Live are teaming up for this all-ages, family-friendly Halloween party featuring everything that makes SF amazing: live music, drag performances, art activations, a costume contest, craft stations, and more. And it's all to bring attention to the increasing need for public funding of local art and the revitalization of underutilized music spaces. The party starts at 11am and goes until 4pm, at which point some of the attendees (the adults) will probably be ready for a much-needed nap.
Saturday, October 28 & Sunday, October 29
Castro, Free
After a 17-year hiatus, Halloween is returning to the Castro (albiet is with a few changes). On Saturday, there will be Halloween activations up and down the street, as well as trick or treating (12pm to 8pm) and on Sunday, there will be face painting and pumpkin-carving stations, pop-up drag performances, and more trick-or-treating. The Castro Theatre will also be showing classic movies, like "Death Becomes Her," "Edward Scissorhands," and "Hocus Pocus" for $5, plus an interactive screening of "The Rocky Horror Picture Show" (although saying "interactive" is probably redundant). There will also be costume contests for humans and dogs, so show up in your best one!
Sunday, October 29
Nob Hill, Free
This all-ages event promises games, challenges, visits from the SFPD, and, best of all, a treasure hunt inside Grace Cathedral. The fun happens from 2pm to 4pm, and adults—don't even think about going unless you're with a kid. Advance registration required.
Sunday, October 29
Embarcadero, Free
Explore the Ferry Building Marketplace by way of trick-or-treating from 11am to 1pm. Kids pick up a bag in the front of the building and then visit shops inside for treats. There will also be a Halloween character scavenger hunt, face painting, and tarot card readings, and it's the perfect excuse to stay and enjoy a delicious lunch at one of the many amazing restaurants!
Daisy Barringer
is a San Francisco-based freelance writer with over 15 years of professional experience as a copywriter and editorial journalist. Her areas of expertise include hamburgers, road trips, the 49ers, and anything and everything NorCal. She grew up in San Francisco and has a BFA in Dramatic Writing from New York University and an MFA in Creative Writing from UNC Wilmington, the latter of which she commonly refers to as "the time she spent three years at creative writing summer camp." Follow her on Instagram
@daisysf
, where you're guaranteed cute pics of her 160-pound Saint Bernard named Monkey.