13 Spooky Ways to Revel in Halloween in San Francisco This Year
You don't have to trick-or-treat from your computer.
What a difference a year makes. In 2020, Halloween was mostly relegated to drive-thrus and virtual events. Some of us didn't even have enough Halloween spirit (get it?) to be creepy or crawly while sheltering at home. This year, however, thanks to the Bay Area's high vaccination rates, some IRL events are back. While acknowledging the seriousness of the pandemic we're still experiencing (and there are definitely still plenty of virtual options), it's nice to be able to celebrate All Hallow's Eve with a few more folks around us this year. That means group costumes can return with a vengeance—and we all know they're going to be Squid Game-themed. Here are 13 spooky events you can attend in the Bay Area this year:
Editor's note: Many events are requiring proof of vaccination and/or a recent negative COVID test for entry. Make sure you check the requirements for any events and plan accordingly.
Friday, October 29 through Sunday, October 31
Various locations
If you're mad that 2020 stole one of your "hot" years, here's a chance to make up for lost time. The annual bar crawl is ripe with mostly 20-somethings in spandex and crop tops, seemingly invincible to the city's fog. Maybe those superhero outfits actually do have powers against the cold—or it's the warmth of the booze capes. Stay with your friend pod, or mix and mingle (safely) with some new beer buddies at more than 25 bars. Those who also have super stamina can even purchase a three-day Superpass to the crawl.
Cost: $25-$45
Sunday, October 31
UC Theatre, Berkeley
Did you miss throwing toast at people IRL last year? Well, bring your carbs and corsets to Berkeley for classic cult Halloween hijinks. See Brad and Janet lose their innocence on the big screen while the live cast, Barely Legal!, brings another level of Transylvanian realness to the stage. If that doesn't get your Furter Frankened enough, there will also be a burlesque show and costume contest.
Cost: $16.50 GA; dance floor standing room only.
All Hallow's Eve Deluxe Tour through October 31, regular daily tours through November 30
525 S. Winchester Blvd., San Jose
It's back! Arguably the best part about Silicon Valley before it was Silicon Valley, the sprawling, winding estate crawling with rumored spirits is open again to give you goosebumps. Its labyrinth of rooms is the product of Sarah Winchester's personal superstition that constantly building would confuse and ward off ghosts. See for yourself if it worked with a special seasonal All Hallow's Eve Deluxe Tour, which features an indoor theatrical paranormal investigative adventure and the Jack O' Lantern Trail through the Victorian Gardens
Cost: $41.99 GA, $69.99 GA for All Hallow's Eve Deluxe Tour.
Friday, October 29 and Saturday, October 30
Pier 43, San Francisco
Hooray for indie cinema houses. The Mission's beloved Roxie Theater is partnering with Red and White Bay Cruises this year to present a Floating Features experience with the beloved Tim Burton film Beetlejuice. Also—you're on a boat! An electric one, at that. The ticket price includes complimentary popcorn and non-alcoholic hot drinks. There will also be a cocktail bar for the adults in the room. Both indoor and outdoor seating will be available, as multiple screens throughout the vessel will be showing the movie. Masks required for all, and proof of vaccination required for those who want to be inside.
Cost: $50 ages 18+, $38 ages 5-17, free for under 5
Friday, October 29 through Sunday, October 31
Golden Gate Park, San Francisco
2020 presented us with Inside Lands (natch). But the now-iconic SF music festival has to stay true to its name and be, well, outside. (Is this Halloween-y? You can make it holiday-appropriate by dressing up! We're just excited this is back.) Elder millennials can rejoice that they can still recognize headliners like the Australian psychedelic outfit Tame Impala and the Paul Simon-inspired prep school band Vampire Weekend. Gen Z can revel in its own hipness with newer acts like the 20-year-old Panamanian singer-songwriter Sofía Valdés. Don't forget the smorgasbord of food available, too. The culinary selection at Outside Lands has grown so huge that it has garnered its own following over the years.
Cost: $165–$375 single-day GA (sold out, but maybe you'll get lucky); swanky Golden Gate Club passes still available for $1,795–$3,995
Saturday, October 30 and Sunday, October 31
298 11th Street, SoMa, San Francisco
Local drag queen and hostess with the mostess Kochina Rude keeps the creeps coming this year with co-host Lisa Frankenstein. At the Oasis nightclub, be dazzled by daring aerialists, fire artists, and drag royalty. If you need to come up for air from the fiery pits of hell, make your way to the rooftop maze, featuring interactive performance installations, a costume contest, photo booth, and demon go-go dancers. And of course, dance your sinner's ass off to 48 Hills's Best Bay Area DJ of 2020, La Frida.
Cost: $35 GA, $60 2-day pass.
Friday, October 29 and Saturday, October 30
Fox Theatre, Redwood City
The name of the event might not be so hip, but this preview video looks pretty cool. Think Salem witch trial vibes combined with dubstep beats and ominous red-and-black lighting. There will be no shortage of scary clowns breakdancing, perhaps to some Yeah Yeah Yeahs remixes by Bay Area DJs. Also be impressed by the most limber versions of Dr. Frankenstein and the Wolf-Man you'll probably ever see.
Cost: $40 GA; $30 seniors/students/youth; advance ticket sales only
Through October 31
185 Verde Road, Half Moon Bay
There are many great places to pick your pumpkin in and around Half Moon Bay, like Andreotti Farms or Lemos Farms. But the massive Minotaur's Labyrinth hay maze at Arata's Pumpkin Farm takes the cake (candy corn?) this year for its two-acre spread. That's pretty freaky if you think too hard about getting lost in it. Scaredy cats can go during daylight hours. Daredevils can go at night, with the farm open until 10:30 pm on the weekends. There's also a haunted barn, six-acre cornfield to explore, pumpkin river, petting zoo, hayrides, and more. The pumpkin variety is also fantastic and you'll definitely find something you love.
Cost: $5–$40 per activity or package
Wednesday, October 27
KQED Headquarters, 2601 Mariposa Street, San Francisco or livestream online
The wildlife and nature YouTube series takes a terrifying real-life turn as the focus for this Halloween-themed event is all about creepy crawlies. The video producers will interview the scientists who conduct the hair-raising research for the show. Afterward, brave souls in the audience can give Aracnophobia a run for its money and encounter real live bats, scorpions, spindly spiders, ticks, and leeches!
Cost: $10 in-person, livestream is free.
Thursday, October 28 (online), Saturday, October 30 (in person)
2 Marina Blvd, Bldg. B, Fort Mason Center, San Francisco/online
The BATS Mainstage company presents both virtual and in-person Halloween improvisational shows, which means no two performances will be alike. The audience will get to throw out suggestions, from disturbing to funny, and see what the theater pros do with the daring ideas. Thursday's virtual event will look to the future with a Black Mirror-themed show (how meta!). Saturday's in-person show will be in the form of four Twilight Zone episodes, complete with low-res black-and-white TV screens.
Cost: $10–$20
Friday, October 29
Milk SF, 302 Valencia St., San Francisco
Local drag queen Dot Comme (sometimes drag king when being Jay Pegg) and Glama-Rama team up to bring you spooky takes on feminine archetypes of horror—all across the gender spectrum. Mixing the intellectual with the outrageous, see what performers Lucinda Puss, Trixie Salope, Loma Prietta, and Elsa Touche have in store for the all-ages audience at the #gayallday queer cafe.
Cost: $5–$10 sliding scale suggested cover, all ages.
Thursday, October 28
Livetream from San Francisco
Calling all piano nerds. An event is a big deal if it's co-hosted by both the San Francisco Conservatory of Music's Music Director Edwin Outwater and the legendary underground drag performer and filmmaker Peaches Christ. Fans of the ivories will be treated to a tour of works titled Devilish Inspirations: Summoning Witches, Demons & Black Magic that's inspired by the devil and other harrowing Halloween themes. New music videos by Bay Area pianists will also be featured, providing a delight for the eyes as well as the ears. The event is a benefit for the Ross McKee Foundation, which has supported Bay Area pianists with grants, scholarships, and a competition since 1989.
Cost: $25 GA, additional donations welcome.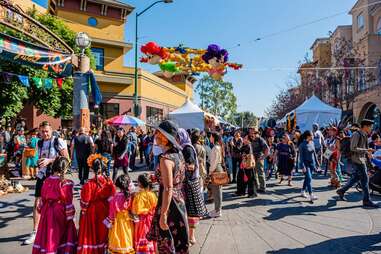 Sunday, October 31
International Blvd. & Fruitvale Ave., Fruitvale
Congresswoman Barbara Lee inducted this Unity Council festival into the U.S. Library of Congress as a "Local Legacy," noting Fruitvale's rich Latinx heritage. Taking into account the pandemic era, this year's festival will have activities physically spread out on a smaller scale. The emphasis will be on Danza Azteca, ofrendas, and low-riders. It'll also be a community health fair, complete with COVID-19 vaccines and healing activities. Instead of food vendors, the whole week leading up to the festival will be Fruitvale Restaurant Week, where participating eateries will offer $20 menus complete with beverages. As Fruitvale was hit hard by COVID-19, the event will be masked, and the Muertos Mercadito will be virtual.
Cost: Free admission to the festival.
Margot Seeto is a Bay Area freelance writer and a contributor for Thrillist.