We Hosted a Taco Takeover in San Jose and Here's What It Looked Like
The sun was blazing in San Jose on Saturday, but things heated up even more thanks to the Taco Takeover (presented by Thrillist and Cannonball Productions), an all-day fiesta with unlimited margaritas, beer, tequila samples, and tacos, at Avaya Stadium. Tacos were the hero of the day as the Fan Zone lawn was lined with taco trucks and tents from all over the Bay. Throw in bartenders serving up adult beverages at the bar, and tons of fun and games, and the result was an enthusiastic crowd who came ready to enjoy all of it. Taco 'bout a party! (Sorry, we had to.) And, in case you couldn't make it, here's a look at what the restaurants and food trucks served: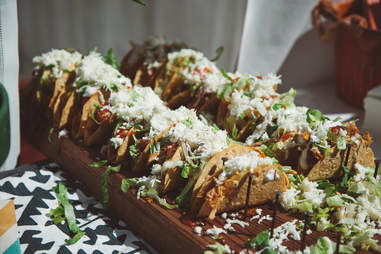 Ashleigh Reddy/Thrillist
Tacos Dorados
Tacolicious
Crispy-shell tacos al charro, achiote-rubbed chicken, crema, Oaxaca cheese, shredded romaine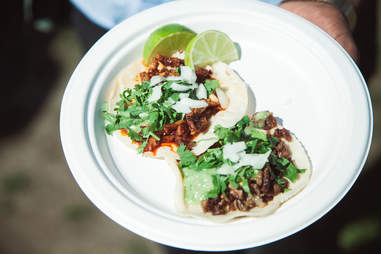 Ashleigh Reddy/Thrillist
Tacos de Pastor y Asada
Araujo's Mexican Grill -- El Paisa
Soft shell taco with marinated pork and steak and a buffet of salsas and toppings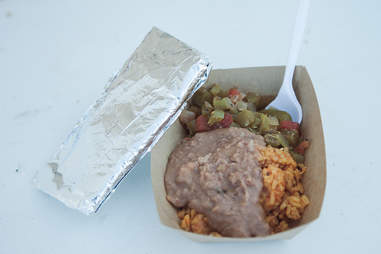 Ashleigh Reddy/Thrillist
Chile Verde Taco
Las Cazuelas Restaurant
A play on a green chile stew with a tortilla chip garnish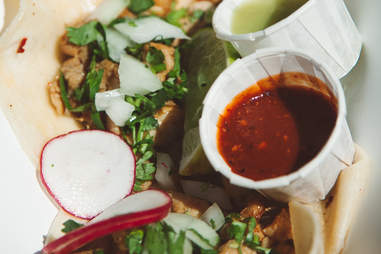 Ashleigh Reddy/Thrillist
Asada Taco, Chicken Taco, Chorizo Taco
Tacos El Pelon
Three soft tacos topped with onion and cilantro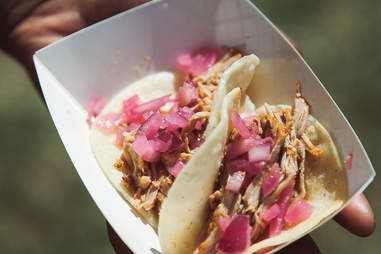 Ashleigh Reddy/Thrillist
Cochinita Pibil Tacos
Cochinita
Slow roasted pork tacos with pickled red onions
Ashleigh Reddy/Thrillist
Vegetarian Street Taco
Taco Annex
Soft taco with zucchini, mushroom, cilantro, and salsa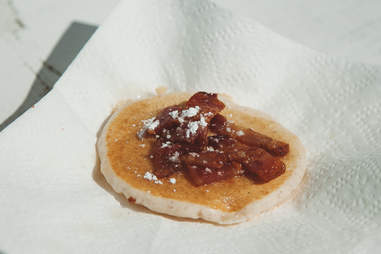 Ashleigh Reddy/Thrillist
Pancake Taco
Sunny Side Up Food Truck
Mini pancakes with applewood smoked bacon and maple syrup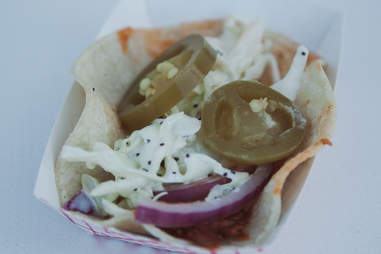 Ashleigh Reddy/Thrillist
Pulled Pork Taco
7 Stars Bar and Grill
Soft taco with slow-cooked pulled pork, coleslaw, spicy barbeque sauce, house-pickled jalapeño, and onion
Ashleigh Reddy/Thrillist
Sushi Taco
Akita Sushi
Seared salmon with unagi sauce or seared tuna with a spicy mayo, both served in a crispy wonton shell
Ashleigh Reddy/Thrillist
Tacos al Pastor
San Jose Giants
"Taco shot" with smoked pork, pico de gallo, onion, cilantro, and tortilla chips
Ashleigh Reddy/Thrillist
Handmade Churros
Churros el Guerro
Handmade churros with a choice of vanilla, chocolate, strawberry, or caramel sauce
Ashleigh Reddy/Thrillist
Italian Ice
Mustache Mike's Italian Ice
Italian ice in 12 different flavors, including root beer float, strawberry, cherry/lemon/blue razz swirl, and manic mango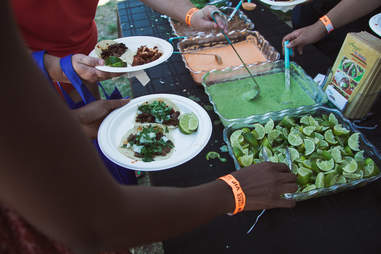 Ashleigh Reddy/Thrillist
And to go on the side...
There was also a guacamole bar for the VIPs, a rice and beans station, as well as blue cotton candy for anyone who needed even more of a sugar high than the churros provided, which technically was no one, but also seemed to be everyone.
Ashleigh Reddy/Thrillist
There were unlimited  beverages at North America's longest outdoor bar
The 3,647-square-foot redwood and terrazzo stone bar at Avaya Stadium just happens to be the longest outdoor bar on the continent (seriously, they didn't build it with that intent; it just happened) and that's where the drinks were being poured as fast as humanly possible. People lined up to order one of three cocktails -- palomas, classic margaritas, and strawberry frozen margaritas -- or a choice of Modelo Especial, Modelo Negra, or Model Chelada.
There was also a tasting station, where people could take a break from the tacos to sip on Xicaru Reposada Mezcal, Gran Centenario Plata Tequila, and Pueblo Viejo Anejo Tequila. Needless to say, there was something for everyone. And everyone took full advantage.
Ashleigh Reddy/Thrillist
Game On
Avaya Stadium usually hosts soccer matches, but on Sunday it was home to games even people who'd had a few margaritas could play, like corn hole, ladderball, and giant Jenga. And for those in the mood to dance, roving mariachi bands were there to provide the music. It was definitely warm out, but anyone not afraid to suit up could also get in on some inflatable sumo wrestling or try to attach themselves to an oversized inflatable wall covered with Velcro, which, turns out, is a lot harder than it looks. There was also a wrestling ring right in the middle of the lawn where lucahdores wearing colorful masks showed off their lucha libre holds and maneuvers.
Ashleigh Reddy/Thrillist
Time to Guac and Roll
The day ended with a nacho eating contest during which four contestants (some more eager than others) used just their mouths to gobble up an entire tray of nachos. It wasn't pretty to watch, but after a few agonizing minutes, Peter Casey of San Jose walked away with a very stylish taco hat, some awesome prizes, and most importantly: bragging rights. (Okay, actually the taco hat was most important.)
And the Winner Is…
The judges tasted everything (tough job!) and rated all of the food based on taste and creativity. It was a close race, but ultimately they agreed that the winner was Araujo's Mexican Grill -- El Paisa who were slicing the meat for the tacos al pastor right off of the trompo. The tacos were simple, but the flavors were perfection. Akita Sushi's sushi tacos were the runner-up and also a favorite with everyone at the fiesta who raved about the creativity and tasty wonton shells. Want more? Well check out a full spread of our best photos from the event: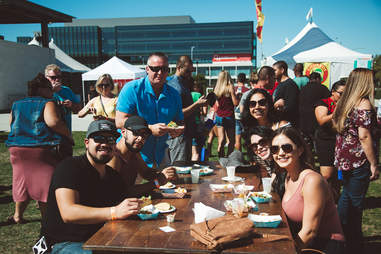 Ashleigh Reddy/Thrillist
Ashleigh Reddy/Thrillist
Ashleigh Reddy/Thrillist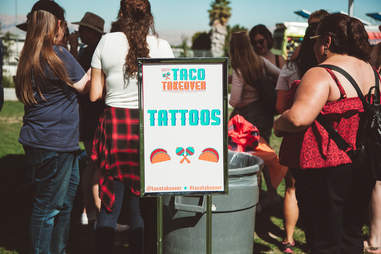 Ashleigh Reddy/Thrillist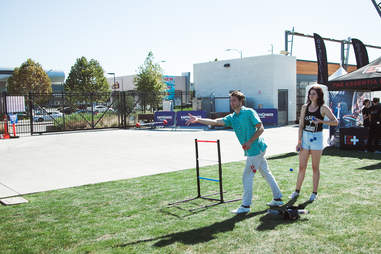 Ashleigh Reddy/Thrillist
Ashleigh Reddy/Thrillist