How to Support SF's Queer Community During Pride
Here's how to do your part.
Pride is cancelled. Pride is also not cancelled. With large-scale events on hold indefinitely in the wake of COVID-19, Pride organizations worldwide have been staring down a dilemma: How do you support the LGBTQ+ community and its shuttered small businesses in the absence of a big gathering?
Here in San Francisco, a few trappings of #SFPride50 -- like Market Street's rainbow flags and City Hall's lit-up rotunda -- are still apparent. But after nearly three months of shelter-in-place, SF's queer community is simultaneously reeling and coming together like never before. The Stud announced its departure from its South of Market home of more than 30 years in May, but a fundraiser for Aunt Charlie's, the beloved Tenderloin dive, quickly secured the $100,000 necessary to keep the bar open beyond August 1.
While the city collectively awaits The Stud's promised return, the havoc wrought by the coronavirus and its economic ripples is particularly painful during what would otherwise be a time of celebration. All the same, the LGBTQ+ community has been a model of resilience and solidarity -- so here's how to help the queerest city in America stay that way.
The Tea Dance is still every Sunday
Having disbursed more than $150,000 in their first fundraising series, the nightlife professionals behind the Queer Nightlife Fund continue to produce five-hour, multi-DJ "Quaran-Tea Dances" every Sunday afternoon. In a post-Hard French and Daytime Realness-free world, 2020's it party has blown up so much that they're going for another $200,000 to help support San Francisco's laid-off and queer-identified servers, bartenders, bouncers, and more. (If you don't know what a Tea Dance is, imagine if Emperor Caligula's estate were at Fire Island Pines in 1977, but at like 2pm.)
Drag yourself to happy hour
The Stud is dead; long live The Stud. The 54-year-old venue was always going to have to vacate the premises and find a new home at the end of the year, but its premature departure was no less painful. If you didn't get enough of the Twitch-streamed funeral in May, Drag Alive takes place every Friday evening as a sort of virtual Stud-in-exile. Hosted by VivvyAnne ForeverMORE!, its performers stay true to the freaky spirit of the now-shuttered bar -- and it's an ideal way to tip the queens while helping the 17-member ownership collective pay down the debt the bar accrued over months of laying idle.
Paint the Void

| Inga Bard
Beautify the Castro
It's widely accepted that vacant storefronts were a problem in the Castro long before COVID-19 swept the neighborhood's proverbial leg. But the Castro Merchants Association is no fan of unadorned plywood, so they've contracted with muralists like Elliot C. Nathan, Josh Katz, Inga Bard, and others to give the place a zhuzh. "Paint the Void" has already refurbished more than 20 commercial properties, and the Merchants are organizing a fundraising campaign to combat blight with messages of hope (or just lovely flowers).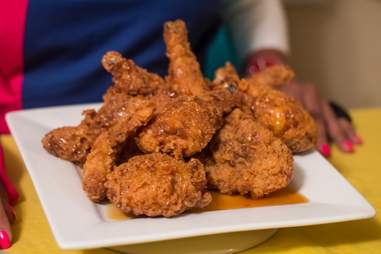 MOREfood Juanita Fried Chicken at Lookout

| Juanita MORE!
Eat MOREfood at Lookout
Indefatigable drag impresario Juanita MORE! is also an accomplished chef, and she's teamed up with the philanthropic second-floor gay bar Lookout to serve entire meals-to-go every Friday. If there's one positive thing about our current predicament, it's the lax enforcement of laws prohibiting outside alcohol consumption, so consider walking off with a bottle of strawberry rhubarb margaritas with one of Juanita's four-course dinners.
Pink like the Paradise Found
For 25 years, activist Patrick Carney has assembled teams of up to 300 people every Pride weekend to install the Pink Triangle, an acre-sized symbol of hope just beneath Twin Peaks. That's impossible this year, so he teamed up with Illuminate -- the brains behind large-scale public artworks like the Bay Lights -- to Illuminate the Pink Triangle. They're raising $85,000 to bedazzle the hillside with 2,700 LED nodes that will remain in place for nearly two weeks. [Disclosure: the writer works at San Francisco Pride, which is the project's fiscal sponsor.] In terms of triumphing over oppression, you don't get brighter than that.
Who's still serving?
While San Francisco has yet to set a date for the return of sit-down dining, a number of LGBTQ-owned or -frequented businesses are open for business. Get some soda bread and Irish stew at Casement's or order a pre-made cocktail for delivery through their "Casemates" service. Await some truncated sportsball seasons with an Impossible Burger and nachos from Hi Tops. Occupy a socially distant white circle at Dolores with pintxos and raciones from Mat Schuster's noted tapas restaurant Canela. Feeling proud of that new sourdough starter? Put it to good use on a cioppino from Anchor Oyster Bar. Or get ready for a virtual Folsom Street Fair with online bondage demos and boot-worship workshops via kinky cafe Wicked Grounds.
Remember that LGBTQ people still bear the brunt of it
Look: It's 2020, and this is San Francisco. Never in history has there been a more queer-friendly time and place. But some stubborn facts remain, like how LGBTQ people disproportionately represented among the unhoused, and people without stable housing are at an enormous risk of contracting the novel coronavirus. (This is especially true for unhoused young people, trans people, and queer people of color.)
Because women still earn less than men for performing the same jobs, lesbian couples are often at a particular economic disadvantage. People with nonstandard occupations may be fabulous, but they're often uninsured or underinsured, and they can't file for unemployment, either. If you know a nice boy from Nebraska who moved to SF to let his freak flag fly, and he's also taking classes at City College, he may find that he can't apply for CalFresh (food stamps) as a student -- even though City College is tuition-free!
Lastly, queer workers aren't just highly visible drag performers. They also mop the floors at 2am or chop vegetables at 6am. As a restaurant owner who asked for anonymity said, "Anyone undocumented who's working under a false Social Security Number in a kitchen today -- probably two-thirds of the kitchens in San Francisco -- the government is more than happy to take their money. But those people are not eligible for unemployment. It's a serious problem that no one is talking about, because no one wants to admit they employ those people." So don't forget the most marginalized among us. Only solidarity will see us through!
Sign up here for our daily San Francisco email and be the first to get all the food/drink/fun SF has to offer.
Peter Lawrence Kane is the Communications Manager for SF Pride and a former editor of
SF Weekly
.