9 Reasons to Attend Outside Lands Festival in San Francisco This Year
Make this Hallo-weekend one to remember.
Photo by JN Silva, courtesy of Outside Lands Festival
It was February 2020, the 13th Outside Lands Festival was booked with an epic lineup— featuring acts like The Strokes, Tame Impala, Lizzo, and J. Balvin—and set to rock Golden Gate Park in early August. Eager Beaver tickets were set to go on sale in early March, with the lineup announced shortly after.
"Then COVID hit… and everything started to lock down," recalls Allen Scott, co-producer of the festival and Director of Concerts and Festivals at Another Planet Entertainment, the Bay Area-based concert production outfit. "We didn't know what was going to happen."
A state of a emergency, a year and a half of shutdowns, masking, anxiety, glimpses of hope, descents into panic, vaccines, closures, and reopenings later, and the world is not "back to normal," but is, perhaps, approaching a new kind of normal. And since it's one that live music gets to be a part of, we're here for it.
As such, we couldn't be more thrilled at the glorious return of Outside Lands this weekend, rescheduled from the early August fog to a Halloween weekend that's sure to be unlike any other. If the festival's near-instant sellout is any indication, we're not alone in our desire to get back to the things we love.
"Concerts and festivals are our lives! That's why we're in this business," Scott said. "When we announced the festival last summer, a year out, we wanted to give people something to look forward to, something to be hopeful about."
The pause in nearly all live performances in the Bay was, of course, a major challenge for promoters and artists alike, but Scott believes the last year and a half gave the team time to really think about the big picture future of the festival.
"We're always thinking about how to refresh Outside Lands and keep it moving forward. But last year, we had more time to dig in without getting stuck in the minutiae."
Now, the festival's stacked music lineup and stellar showing of local Bay Area restaurants feel all the sweeter having missed it for so long.
Allen agrees that now, more than ever, is a time to come together as a music-loving community.
"This is just a great time to come out and celebrate," he said. "We've all been cooped up for so long! Do it respectfully and responsibly, for the people around you and the neighborhoods nearby. But come on out and celebrate with us."
You don't have to tell us twice. Here are nine reasons that we can't wait for this weekend, poised to be the best Outside Lands yet.
It's Halloweekend!
We're just going to state the obvious here: Outside Lands, which is usually in August, is happening in October. Specifically, over Halloween weekend, which, per Scott, "is probably the biggest holiday in San Francisco." He's not kidding—this is a city that takes its costume box seriously, and we can't wait to see how that manifests in a festival atmosphere. What's more, this is not going to be a permanent change—except future Outside Lands to return next August—so make the most of this year's special Halloween edition.

It's going to get darker, earlier.
About that whole October thing, we're expecting two key differences. One, we might actually get some sun during the day (we exaggerate—it's been known to be sunny at OSL, despite the Fogust reputation. Never forget 2009, when it was in the 90s!). Two, and perhaps more importantly, the sun sets much earlier. This means that the final sets of the evening will be in darkness, rather than just the closers. Epic light shows, times two? Yes, please.
Even more opportunities to dance your face off.
Outside Lands has always had a diverse lineup with a nice mix of musical genres. But this year, for the first time, DJs are getting a dedicated space with the SOMA Tent (proof of vaccination is required to enter). From Amorphous to Boys Noize, the party is going to be nonstop. Then again, there will be plenty of chances to dance outside the tent, too…
Lizzo.
'Nuff said.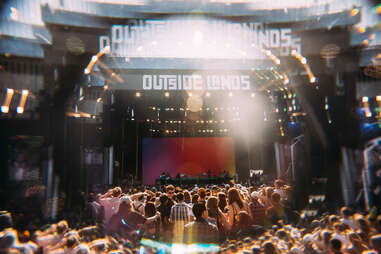 Tame Impala! J. Balvin! Khruangbin! Brittany Howard! Nelly! Angel Olsen! Glass Animals! Dr. Dog! Sharon Van Etten! Sofi Tucker! Kehlani! Vampire Weekend! The Hu! The Strokes! See it all for yourself! In case our excessive use of exclamation points didn't make it clear, we are very stoked.

Don't forget about the food.
Outside Lands was the first festival in the U.S. to showcase local restaurants, and they've upped the ante every year since. This year is no exception, and is perhaps all the more celebratory after the challenging year our local restaurants have faced. Look for festival favorites like Azalina's and Woodhouse Fish Co. alongside craveworthy newcomers including Cambodian fried chicken from Oakland standout Nyum Bai and legendary quesabirria from Richmond's El Garage. Be sure to checkout creative combinations of food, performance, and more at Gastromagic.
And the drinks.
Wine Lands, Beer Lands, Cocktail Magic, Bubble Tea Party… there's something for everyone in every corner of the park. Expect stellar local purveyors across the board.
A return to Grass Lands.
The third year of Grass Lands at OSL ups the ante with a commitment to cannabis. In addition to plenty of products to sample and enjoy (which you can preorder through the Outside Lands app), stop by for demos, performances, and conversations with the leaders in the space (21 and over only).
A festival that's safe for everyone.
We're in a very different place than we were this time last year, but we're appreciative of the steps that Another Planet has taken in making this year's Outside Lands as COVID-safe as possible. In addition to requiring proof of vaccine or a negative COVID test (Scott recommends downloading the CLEAR app for extra-efficient entry), APE has had the benefit of running concerts around the Bay since July (in addition to the Life is Beautiful festival in Las Vegas in September), so they've learned a thing or two about how to navigate productions in our current climate. They'll be cleaning surfaces throughout the day and overnight, and prioritizing safety for festival attendees, staff, and artists alike. Read up on the festival's health & safety policies before you go.
Lauren Sloss is a San Francisco-based travel, food, and music writer who has done stints in Philadelphia, New York, London, Istanbul, and aboard a 32-foot sailboat. Follow her on
Instagram
and
Twitter
.