Everything You Need to Know to Have the Best Outside Lands Experience This Year
From must-see acts to the weed and water situation.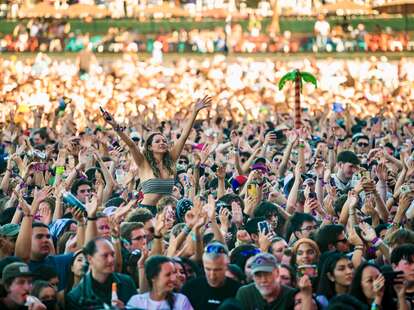 Photo courtesy of Outside Lands
Photo courtesy of Outside Lands
Outside Lands, San Francisco's beloved three-day festival in Golden Gate Park, is back from Friday, August 11 to Sunday, August 13, and this year promises to be better than ever.
The largest, independently owned festival in the US is celebrating its 15th year with a massive lineup of fantastic music, food, drinks, cannabis, art, and more. There's truly something for everyone.
Whether you've already secured your three-day pass, grabbed a single-day ticket, or are on the fence (don't wait—it will sell out), here's everything you need to know to maximize your fun all weekend, including must-see acts, transportation, and the best ways to stay sated. So grab your friends, jacket, and water bottle, and read on for our ultimate guide to this year's Outside Lands.
As always, Outside Lands takes place in Golden Gate Park, specifically the Polo Field, Hellman Hollow, Marx Meadown, and Lindley Meadow. Check out this map of Golden Gate Park to get a better sense of the location.
What Are the Ticket Options?
There are a bunch of ticket options, including 3-Day GA, GA+, and VIP Single Day GA, GA+, and VIP. The 3-Day passes range from $449 to $1029, and Single Day passes range from $199 to $499.
GA is precisely what it sounds like, while GA+ gets you expedited entry, an exclusive lounge with flushable bathrooms, complimentary water, soft drinks, and a full-service bar and food for purchase.
VIP gets you dedicated entrances, VIP viewing areas with dedicated bars, a courtyard lounge with exclusive food vendors, premium bars, upgraded restrooms, and more.
Hopefully, if you wanted a 3-Day pass, you've already snagged yours because they're totally sold out unless you're prepared to throw down for the 3-Day Golden Gate Club option, which gives you access to Ken Fulk's Golden Gate Club, front stage viewing, travel from stage to stage in our fleet of golf carts, dedicated entrance, plus food and drinks from beloved Bay Area chefs and cocktail legends. That will cost you $4,899 + fees, but if you've got that kind of cash, it is a pretty baller experience. (See a video here.)
Tickets are available on the Outside Lands website.
Your wristband is your ticket. Wristbands purchased before July 29, 2023, will be shipped in the mail. Any passes purchased after July 29, 2023, will be available for will-call pick-up.
I've Got My Wristband; Now What?
It's time to register your wristband. This will help you avoid delays at the entrance gates. You can also use it to go completely cashless at the festival. Wristbands cannot be removed once put on, and you can only enter the festival gates once a day.
Entrances are located at Middle Drive and Metson Road (around Lincoln and 34th Ave on the southern side of the park) and 30th Ave and JFK Drive (on the park's northern side). There is also an ADA-accessible entryway at 36th Ave and JFK Drive. Outside Lands organizers highly recommend taking advantage of public transportation, free bike parking, or the paid shuttle.
The N Judah is your best bet if you want to be dropped off on the Lincoln side of the park, and the 5 Fulton is the bus to take if you want to be dropped off on the JFK side of the park.
Typically, you'll have no issue taking a rideshare *to* the festival, but good luck getting one on your way out (if you leave after the headliner).
Outside Lands has free bike parking near the entrances on both sides of the park.
A free pre-paid shuttle picks up at the Bill Graham Civic Auditorium at Civic Center and drops off at the southern entrance. Shuttles run all day starting at 11 am. Keep an eye on the website/app for more information about this closer to the date.
Don't unless you absolutely have to. Golden Gate Park is surrounded by residential neighborhoods, which means limited parking spots. If you do drive, be sure not to leave any valuables in your car.
Who Are the Must-See Acts?
There are over 90 scheduled performances, which means the weekend will be full of difficult but amazing choices. The headliners are Kendrick Lamar (Friday), Foo Fighters (Saturday), and ODESZA (Sunday), the first EDM act to headline on the main stage. Here are just a few of the must-see acts.
Kendrick Lamar, Zedd, Janelle Monáe, J.I.D., Interpol, WILLOW, aespa, Cuco, Claptone, BLOND:ISH, Alex G, Monolink, Diesel (Shaquille O'Neal)
Foo Fighters, Lana Del Rey, Maggie Rogers, FISHER, Father John Misty, L'Impératrice, Nora En Pure, Alvvays, NIKI, Mariah the Scientist, Trixie Mattel, Daniel Avery
ODESZA, The 1975, Megan Thee Stallion, Lil Yachty, Noah Kahan, Cigarettes After Sex, Tobe Nwigwe, Poolside, Soccer Mommy, Âme Live, WhoMadeWho
What Are the Set Times?
On Friday and Saturday, the gates open at 11 am, and the music starts at noon and ends promptly at 10 pm. The starting times are the same on Sunday, but the music ends at 9:40 am. Check out the detailed lineup for more info.
You should plan to spend most of the day at the festival. After all, you bought the ticket—why not take advantage of everything there is to see, do, eat, and drink outside of the music?
Is There an Outside Lands App?
Of course there is! In fact, the app will be your best friend throughout the weekend as you can use it to create your schedule and follow your friends' schedules, set reminders for sets, check out all of the food and drink options, look at a map, and more. Download the app here.
Can I Bring Weed?
This is San Francisco. Of course you can! In fact, Grass Lands is the first curated cannabis experience at any major American music festival. You can procure all kinds of cannabis products and smoke in designated areas.
Can I Bring Water?
Beer, wine, and cocktails alone will definitely not keep you hydrated. There are water refill stations throughout the festival. Bring your own empty reusable container for free refills.
Hydration packs with a bladder capacity of under 2.5L/150 in. and no more than one additional pocket are also allowed.
What's the Bathroom Situation?
With all of that hydrating, the bathroom situation is key. Check the map on the app for Porta-Potty locations (although it's pretty obvious). The lines can get a little long and all of the other stuff you'd expect with Porta-Potties. Frankly, the bathrooms are one of the best reasons to upgrade to VIP as the bathroom situation is a serious upgrade, complete with real flushable toilets, sinks, mirrors, and short (or no) lines.
There are accessible restrooms next to all of the ADA viewing platforms and at the end of all restroom areas.
What Should I Wear?
This answer varies considerably based on SF's finicky weather. However, a good quote to remember is the one that Mark Twain definitely did not say despite what many people say: "The coldest winter I ever spent was a summer in San Francisco." SF is not Southern California, and Outside Lands is not Coachella.
Last year the weather was terrific. Sunshine all day. Clear skies at night. A light jacket or sweatshirt was all that was needed when the sun went down. In other years, even our warmest puffy jackets were barely enough. This is why the locker rental is an excellent idea.
Keep a close eye on the weather and dress accordingly, remembering that temps can drop considerably if the fog rolls in.
A footnote (heh) about shoes. This is important. Outside Lands involves a lot of walking—more than you're imagining. The stages are "close" to each other but not that close to each other, so you'll be hoofing it between sets. Comfortable shoes are imperative. Even better if they're close-toed as the trails can get dusty and crowded between sets.
Can I Wear a Backpack?
You can, but backpacks and bags larger than 6" x 8" x 3" must be made of clear plastic, clear vinyl, or clear PVC. Small bags, fanny packs, and purses up to 6" x 8" x 3" do not have to be clear.
Whatever you use to carry around your stuff, be extra mindful. Outside Lands' security is topnotch, but pickpockets are still an issue. (In fact, the person writing this may have some firsthand experience with this when her iPhone was stolen out of her zipped cross-body bag last year while in a crowd surge going from stage to stage.)
Are There Lockers?
If you don't want to lug your stuff around all day (especially that jacket that you hopefully won't need until the sun goes down, you can rent a locker complete with a phone charger. Lockers do sell out, so reserve yours ASAP.
What Can't I Bring?
To keep everyone safe, here's a list of what is not permitted at the festival:
Non-clear backpacks and bags larger than 6" x 8" x 3"
Drawstring backpacks
Weapons of any kind (including pocket knives)
Illegal substances
Glow sticks (glow bracelets and necklaces are permitted)
Alcohol (will be sold at the festival)
Glass or cans of ANY kind
Video or audio recording equipment (including GoPros - no video recording will be allowed)
Professional still camera equipment with a detachable lens longer than 2 inches, tripods, big zooms, or commercial-use rigs
Skateboards, scooters, or personal motorized vehicles
Bicycles (not allowed inside festival grounds)
Strollers, wagons, or carts of any kind
Hammocks or slack lines
Fireworks and explosives
Instruments and laser pointers
Umbrellas
Selfie sticks of ANY kind, including GoPro sticks
Spray paint, large markers, or Aerosol cans
Picnic baskets
Coolers
Liquids (excluding personal-sized hand sanitizers, which will be permitted)
Lawn furniture or any chairs with legs
Large inflatables
Tents
Pets (except service animals)
Drones
Totems or flags
Threatening signs or apparel
American Indian Headdresses
Where's the Official Afterparty?
The Outside Lands Night Shows lineup includes 12 after-shows at eight SF venues. Shows start on Thursday and include acts like No Vacation, Cobra Man, Justin Jay, Soccer Mommy, and Âme Live + Trikk. Get more information here, and don't sleep on these, as some are already sold out, and the rest of them will be.
How Is Outside Lands Giving Back to the Community?
Outside Lands has injected more than $1 billion into the local economy since its inception, but it does a lot more good than just that. Outside Lands Works is a charitable fund that invests in the cultural vitality of the Bay Area through grants to regional music and arts education programs.
The festival is also highly focused on reducing its environmental impact (last year, 87% of all waste was diverted from landfill) and has booths that showcase local organizations focused on sustainability and social consciousness.
Daisy Barringer is an SF-based writer who definitely had her iPhone stolen on the first night of OSL last year (and got a lot of steps walking home as a result) but still had the best time. Follow her on Instagram @daisysf.