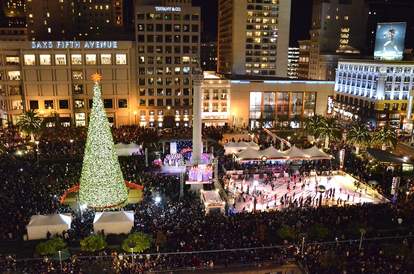 The Most Fun and Festive Things Happening in SF This Holiday Season
Whatever -- and however -- you celebrate this season, there's one thing that remains true: 'Tis the time for merry-making, festive fun, and consensual kisses under the mistletoe. San Francisco may not turn into a literal winter wonderland during the holidays, but metaphorically we do a pretty good job thanks to an abundance of holly jolly events, performances, and parties -- the best of which we have listed below so that you can get into the holiday spirit and we can maybe finally find ourselves on Santa's "Nice" list.
Well, probably not, but it's worth a shot.
Now - January 20
Union Square
The holiday ice rink in Union Square is one of SF's most iconic pop-up outdoor ice skating rinks thanks to its proximity to the Macy's Christmas tree (which will be lit on Black Friday).
Cost: $18 (includes skates)
Now - January 5
Embarcadero
The holiday ice rink in the Embarcadero is the largest one in the city and has pretty amazing views of the Ferry Building. The rink stays open until 11:30pm on the weekends for grownups who like their ice skating without the chance of running over a child.
Cost: $12 with an additional $5 to rent skates
Winter Park at Civic Center
November 22 - January 5
Civic Center
This outdoor skating rink, modeled after the internationally-famed Wiener-project -- an ice-skating rink located in the City Hall Square of Vienna, Austria -- has a skating track that weaves through a lighted tree forest and offers curling lessons on Sundays at 10:30am. There will also be a yoga/dance Daybreaker party on Saturday, December 7 from 10am to 1pm.
Cost: $18 (includes skates)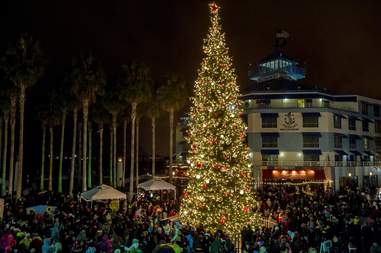 Courtesy of Jack London Square
November 22
Oakland
Jack London Square's annual Holiday Tree Lighting takes place from 5-8pm and will feature live music and entertainment from local talent and holiday pop-up shops, plus eating and drinking at all of the local bars and restaurants.
Cost: Free
Macy's Union Square
November 22 - January 1
Union Square
Macy's festive holiday windows will once again feature kittens, puppies, chinchillas, rabbits, and guinea pigs, all of which are up for adoption to take home that day. The window unveiling happens on November 22 from 5 to 7pm and on Thursday, December 5. You can pay $10 for 10 minutes of cuddling from noon to 2pm. 
Cost: Free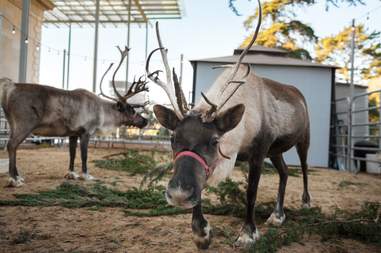 © 2016 California Academy of Sciences
November 22 - January 5
Golden Gate Park
The Academy's holiday exhibit, 'Tis the Season for Science: Life on Ice, explores how animals survive and adapt in extreme ecosystems. There are also twice-hourly snow flurries in the Piazza, and a "Reindeer Rendezvous" daily at noon. It's the next best thing to a trip to the North Pole.
Cost: Free with admission 
Great Dickens Christmas Fair & Victorian Holiday Party

| Philip Pavliger
November 23 - December 22
Daly City
The Cow Palace is transformed into the winding lanes of Victorian London every weekend from November 23 to December 22 for The Great Dickens Christmas Fair. There are music halls, theaters, plenty of pubs, dance parties, and traditional British food (including high tea), as well as 800 roaming costumed characters and charming shops. You don't have to dress up, but you'll have more fun if you do. 
Cost: $32
November 26 - January 5
Fisherman's Wharf
The Pier 39 tree transforms into a "kaleidoscope of swirling colors," accompanied by synchronized holiday music every half hour, from 5pm to 10pm during the holiday season. Go on Tuesday, November 26 to see it happen for the first time.
Cost: Free
November 29
Union Square
There are tree lightings all throughout the Bay, but this is the most iconic. Watch as the tree (reusable, 'cause that's who we are in this town) is decorated with more than 700 ornaments and lit up with over 43,000 lights. The ceremony starts at 6pm and the tree lighting happens around 6:50pm.
Cost: Free
November 29 - December 8
SoMa
ODC/Dance brings "The Velveteen Rabbit" to life (see what we did there?) in this holiday performance featuring festive costumes, music, and dance.
Cost: $15 to $100
November 29 - December 22
Mission
Say "thank you for being a friend" and take your bestie to this show, where four of SF's most hilarious drag performers parody two Christmas episodes of The Golden Girls in this party that has become an SF holiday tradition for good reason.
Cost: $30 to $60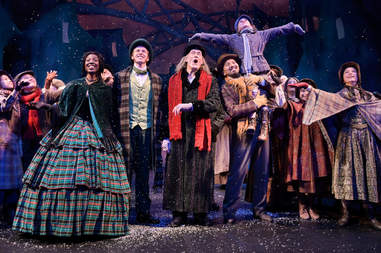 Kevin Berne
November 29 - December 24
Union Square
A.C.T.'s music-infused production of the Charles Dickens classic "A Christmas Carol" is the perfect way to remind yourself not to be a Scrooge this holiday season.
Cost: $10 to $150
November 29 - December 31
Union Square 
The streets around Union Square transform into an SF-style winter wonderland for five weeks of performances and entertainment, family-friendly activities, food trucks, beer and wine gardens, and craft holiday cocktails during the month of December.
Cost: Admission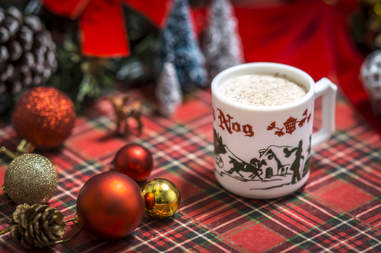 Miracle

| Courtesy of Noah Fecks
November 29 - January 4
Union Square
Miracle, a Christmas Cocktail Pop-Up Bar that takes place all over the world, is popping up at Pacific Cocktail Haven again this year. The bar will be transformed into a kitschy and nostalgic destination with over-the-top decorations, a soundtrack of holiday songs, and a special menu of Christmas cocktails. 
Cost: Most cocktails are $16 with 10% of all sales donated to Action Against Hunger
November 30 - January 1
Nob Hill
The life-sized gingerbread house at the Fairmont San Francisco is iconic and a must-see every year. It stands more than 25 feet high and 35 feet wide and is made with more than 6,000 gingerbread bricks and 1,650 pounds of candy. Make an afternoon of it and partake in the Gingerbread Holiday Tea (select days of the week from November 30 - December 31) or make an evening of it and get a drink at the historic (and usually closed) Cirque Bar, the first bar to open in SF following Prohibition. The hotel is reopening the bar just for the holidays (Thursday - Saturday from November 22 - December 31), so don't miss your chance to experience it.
Cost: Admission to see the gingerbread house is free
December 3 & December 6
Civic Center
The San Francisco Symphony will perform the score of this beloved holiday film while the film places on a large screen above the stage and everyone is reminded that every time a bell rings, an angel gets his wings.
Cost: $50 to $170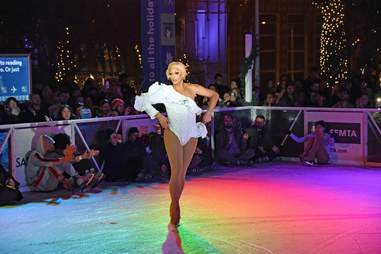 Drag Queens On Ice

| Alaska Airlines
December 5
Union Square
Some of SF's fiercest drag queens take over the Safeway Holiday Ice Rink in Union Square for one night. Watch as they skate, lip sync, and wow the audience with new acts and surprises from 8pm to 10pm.
Cost: Free to watch; $25 if you want to skate alongside the queens
December 6
Presidio
Sing carols with the Golden Gate Carolers and watch the tree light up at this annual event that's followed by lantern-lit forest walks every 15 minutes. Food and beverage will be for sale.
Cost: Free
Courtesy of JP Lor
December 6 - December 7 & December 24
Sydney Goldstein Theatre, Castro Theatre 
Nothing says holidays in San Francisco like a "romp through holiday favorites old and new" performed by the legendary San Francisco Gay Men's Chorus. You can be sure to expect everything from Liza Minnelli's outrageous "Ring Them Bells" to a new arrangement of SFGMC's beloved tradition of "Silent Night," as well as a few surprises along the way.
Cost: $25 to $110
December 7
All over SF
SantaCon may not make everyone's spirits bright, but for those who are participating, it never fails to be a fun and debaucherous time. Dress up like Santa, one of his elves, a reindeer, Jesus, whatever, and drink your way around SF at whatever bars will let you in.
Cost: Free
December 7
Civic Center
Holiday Gaiety with the San Francisco Symphony promises to be a gay old time. The show is co-emceed by conductor Edwin Outwater and premiere drag star Peaches Christ and features festive hits played by the SF Symphony, guest stars, and drag queens galore.
Cost: $20 to $89
December 10
SoMa
Every year, the Wender Weis Foundation for Children takes over Oracle Park for "Holiday Heroes," a party where 1,500+ attendees, including 500+ underserved children, experience a night they'll never forget. This year guests will meet their sports heroes, make arts and crafts, face painting, cookie decorating and more, access the batting tunnels and dugout, run the bases, and partake in a silent auction. It's their biggest fundraiser of the year with proceeds benefiting underserved children throughout the Bay Area.
Cost: Adult tickets start at $225
December 11 - December 29
Civic Center
The SF Ballet was the first company to perform The Nutcracker (on Christmas Eve 1944) and this year, they're celebrating its 75th anniversary. Watch as over 150 costumed characters dance to Tchaikovsky's timeless score, the Christmas tree grows to over 30 feet tall, and over 600 pounds of "snow" fall on the stage in this holiday classic that never grows old.
Cost: $25 to $325
December 12
Golden Gate Park
The Holiday Bazaar Nightlife at the Academy of Sciences is one of the best Nightlifes of the year, because you can see all of the exhibits whilst sipping cocktails, listening to live music, and finishing your holiday shopping. No word yet if the live reindeer will be out to play, but one can always hope.
Cost: Tickets start at $13.75
December 17 - December 18
Civic Center
Feel it in your fingers, feel it in your toes, Christmas is all around you… at this screening of Love Actually where the SF Symphony will play the score as you watch the movie on a screen above the stage.
Cost: $70 to $170
December 19 - December 20
Civic Center
'Twas the Night for a Festival of Carols at Davies Symphony Hall. The SF Symphony will feature its popular brass section and the San Francisco Girls Chorus at this concert where you'll hear all of your favorite holiday bangers.
Cost: $20 to $79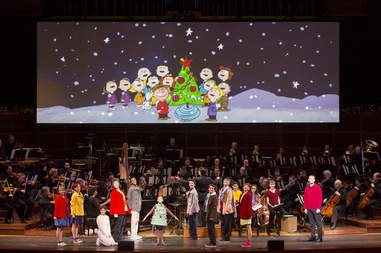 A Charlie Brown Christmas

| Kristen Loken
December 21 - December 23
Civic Center
Let Linus remind you what Christmas is all about at this screening of the one of the best Christmas there is and made even better thanks to a live accompaniment by the San Francisco Symphony.
Cost: $30 to $95
See a colorful fireworks show over the Bay 
December 31
Embarcadero from Mission to Folsom
Ring in 2019 by watching fireworks that will be launched off of barges just south of the Ferry Building. The display starts at 11:59 and lasts about 15 to 20 minutes.
Cost: Free
Sign up here for our daily San Francisco email and be the first to get all the food/drink/fun SF has to offer.
Daisy Barringer is a freelance writer who only has one thing on her Christmas list this year: A 49ers Super Bowl win. Tell her how delusional she is on Twitter @daisy.