How to Experience Peak Holiday Cheer in San Francisco This Year
From outdoor fun to indoor performances, there's plenty to do and see this holiday season in San Fran.
Velveteen Rabbit

| Fairmont San Francisco
Velveteen Rabbit

| Fairmont San Francisco
The holiday season in San Francisco pretty much starts the second the trick-or-treaters all go home on Halloween, which means it's beginning to look a lot like Christmas. And Hanukkah. And Kwanzaa. And the Winter Solstice. Whatever and however you celebrate, one thing remains true: 'Tis (already) the season for merry-making, festive fun, and (consensual) smooches under the mistletoe.
San Francisco may not turn into a literal winter wonderland during the holidays, but metaphorically, we do a pretty good job thanks to an abundance of holly jolly events, performances, and parties, the best of which we have listed below so that you can get into the holiday spirit and maybe finally find yourself on Santa's "Nice" list. Or at least have fun trying.
Holiday Outdoor Activities
Wednesday, November 1–Monday, January 15
Union Square, $20 (includes rentals)
Get in the holiday mood by taking a spin around The Safeway Holiday Ice Rink in Union Square to clear your mind. There are 60-minute sessions every day and special events, including "Simba Saturdays," "Flashback Fridays," and "Drag Queens on Ice." Just try not to fa-la-la-la-fall while you fa-la-la-la-la.
Saturday, November 25–Saturday, December 16
Fort Mason, $65 and up
Pick up this year's Christmas tree at the Guardsmen Tree Lot, and all of the proceeds from your spire of comfort and joy will provide underprivileged youth in the Bay Area with opportunities to attend summer camps, after-school programs, and more. It's also not too late to get tickets to the Guardsmen's annual Tree Lot Party, which takes place on December 16 and includes drinking, dancing, and lots of holly jolly fun.
Tuesday, December 12
SoMa, $300 and up
Help make the holiday season magical for underserved Bay Area families. Every year, the Wender Weis Foundation for Children takes over Oracle Park for "Holiday Heroes," a party where attendees, including 500+ underserved children, experience a night they'll never forget. This year, guests will meet their sports heroes, make arts and crafts, get their faces painted, decorate cookies, access the batting tunnels and dugout, run the bases, and partake in a silent auction. It's their biggest fundraiser of the year, with proceeds benefiting underserved children throughout the Bay Area.
Ongoing through Monday, January 1
Union Square, Free
The "Great Tree, an 83-foot-tall tree decorated with more than 33,000 LED lights and 1,100 ornaments," is shining brightly over Union Square for the entire holiday season. Perfect for photo ops with the puppy you just adopted!
Holiday Arts and Culture
November 19, December 6, December 16, December 17, December 23
Mission, $24
"The best way to spread Christmas cheer is singing loud for all to hear" or by seeing Elf at the Alamo Drafthouse, an interactive holiday party with games, props, elf hats, singing, and, if you're in the mood, plenty of adult beverages delivered to your seat.
Thursday, November 30–Saturday, December 23
Mission, $40 and up
Grab a pal and a confidant to watch what has become one of SF's most fabulous Christmas traditions: hilarious drag performers parodying and paying tribute in the most loving way possible to Dorothy, Blanche, Rose, and Sophia (and, of course, drag icon Heklina) with two Christmas episodes of The Golden Girls. Tickets include a meet and greet, and there's a cash bar in the lobby.
Thursday, November 30–Saturday, December 23
Civic Center, Prices vary
There is truly something for every kind of human at the Symphony during the holidays, including an adult-themed holiday variety show co-emceed by conductor Edwin Outwater and drag sensation Peaches Christ (Friday, December 15), a screening of A Charlier Brown Christmas with the Symphony playing the live score (Wednesday, December 20–Saturday, 23), Holiday Brass (Thursday, December 21), Home Alone in concert (Friday, December 22–Saturday, December 23), and A Merry-Achi Christmas (Sunday, December 10) which is exactly what it sounds like.
Saturday, December 2–Sunday, December 10
Yerba Buena, $30 to $125
In this holiday performance featuring festive costumes, music, and dance, ODC/Dance brings The Velveteen Rabbit to life. Suitable for ages three and up.
Wednesday, December 6–Sunday, December 24
Union Square, $15 to $137
Enjoy a reminder of what Christmas is really all about at A.C.T.'s classic version of A Christmas Carol, a moving rendition of the classic Dickens' tale that returns to the stage this year with gorgeous costumes, a lively cast, and haunting (and hilarious spirits). If you've never seen A.C.T.'s version, get tickets ASAP because this is the last year the theater company will perform this beloved version. It's getting a visit from the Spirit of Christmas Yet-to-Come for next year.
Friday, December 8, Saturday, December 9, and Sunday, December 24
Hayes Valley and Castro, $25 and up
Nothing says holidays in San Francisco like a romp through holiday favorites old and new performed by the legendary San Francisco Gay Men's Chorus. These are not your grandma's yuletide carols, so buckle up for an evening of fun. Can't make it to the SF performances? There are also shows in Berkeley and Sonoma.
Wednesday, December 13–Saturday, December 30
Civic Center, $25 to $388
Going to a performance of Nutcracker is a quintessential holiday tradition, especially in San Francisco since the SF Ballet was the first ballet company ever to perform the show in the United States. This version stays true to the original with giant mice, a growing Christmas tree, and Tchaikovksy's timeless score, but with some SF-specific twists you'll want to keep an eye out for.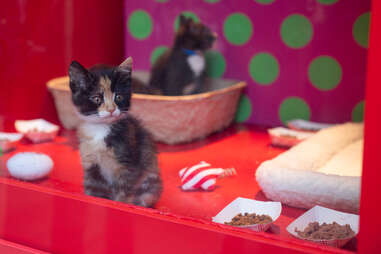 More Holiday Activities
Holiday Pop-Up Bars
Ongoing through Sunday, December 31
Various locations, Prices vary
Make your spirits extra bright at one of several holiday bars popping up around SF. Pacific Cocktail Haven (Union Square) transforms into "Miracle," the beloved pop-up that occurs all over the country (but only in one bar per city), and its sister bar, Kona's Street Market (SoMa), is taking a tropical twist on the holiday with a "Sippin' Santa" theme. If you're willing to plan ahead, book a reservation for Tinseltown: The Christmas Speakeasy (SoMa), where you'll find the halls have been fully decked, and you may get to interact with some of Santa's helpers and maybe even the jolly old man himself.
Friday, November 17–Sunday, December 31
Union Square, Free to look at, but donations are appreciated
Adorable (and adoptable) puppies and kittens will be frolicking in Macy's windows during the holiday season, Thursdays through Sundays, from 12 pm to 5 pm. Stop by to see the overwhelming cuteness or to take them back to their forever home. There will also be snuggle sessions and live cams where you can look at the animals every day if you can't make it in person.
Weekends from November 18–December 17
Cow Palace, $45
Wander the streets of Victorian London without leaving SF at The Great Dickens Christmas Fair. As you wander the winding lanes, you'll find music halls, pubs selling British fare, ale, mixed drinks, absinthe, and hot buttered rum; colorful characters including Father Christmas, Tiny Tim, the ghost of Jacob Marley, chimney sweeps, and more; theaters, dance parties, ye old shoppes full of holiday treasures, and more.
Wednesday, November 22–Tuesday, January 2
Union Square
After you go ice skating or to visit the tree, pop inside the Westin to see the 12-foot-tall sugar castle that weighs over 1200 pounds and has over 20 grand circular towers, approximately 30 rooms, illuminated windows, and is surrounded by a running train. Then, pop into Pop! Lounge, a glamorous champagne bar just off the lobby with a DJ and bubbles (open Friday-Sunday), and finally, stop by the Sweet Boutique, where you can find all kinds of holiday treats.
Saturday, November 25–Monday, January 1
Nob Hill, Free
Nob Hill always feels special during the holidays, especially The Fairmont, which has a two-story, life-sized Victorian gingerbread house made with over 8,000 baked bricks and thousands of pieces of See's Candies (and there will be no need to steal any of it off of the walls as there will be a See's pop-up shop in the lobby where you can get your fill of chocolates and lollies). The ribbon cutting and photos with Santa take place on Saturday, November 25 (11 am to 4 pm), but you can make it an extra special on any afternoon by sitting down for a Holiday Tea in the delightful Laurel Court.
Thursday, December 6
Golden Gate Park,$20.25
Santa Claude (the beloved albino alligator) is coming to town at the California Academy of Science's Holiday Bazaar Nightlife. This is one of the best Nightlife parties of the year because you can see all the exhibits while sipping cocktails, listening to live music, and finishing your holiday shopping.
Daisy Barringer
is a San Francisco-based freelance writer with over 15 years of professional experience as a copywriter and editorial journalist. Her areas of expertise include hamburgers, road trips, the 49ers, and anything and everything NorCal. She grew up in San Francisco and has a BFA in Dramatic Writing from New York University and an MFA in Creative Writing from UNC Wilmington, the latter of which she commonly refers to as "the time she spent three years at creative writing summer camp." Follow her on Instagram
@daisysf
, where you're guaranteed cute pics of her 160-pound Saint Bernard named Monkey.