San Francisco puts on a great fireworks show for the Fourth of July. The only problem is that when you watch them through the fog, they look like muted, muffled bursts of color. BUT, if Karl decides to go elsewhere for Independence Day, you'll get a pretty fantastic show with a finale that never disappoints. The fireworks over the Bay start around 9:30pm, and, because they're set off from barges by Aquatic Park and Pier 39, the best place to watch them is obviously Fisherman's Wharf. Which means it's also the most insanely crowded place to watch them.
Getting there is actually pretty easy because everyone arrives at different times, but it can take hours to get out, especially if you drive. So... maybe don't do that. There are over a dozen different buses and streetcars that will deliver you within blocks and save you the hassle of finding parking. Wherever you decide to watch, you should dress in lots of layers. July can be one our coldest months and a lot of the best spots don't allow beer blankets.
Now, without further adieu, here are a bunch of awesome -- and mostly totally free -- places to see the fireworks show, including a few that won't be overflowing with tourists. Not into watching from land? There are also a couple of fireworks viewing cruises, which you can find here.
Treasure Island
You'll have to battle bridge traffic, but if you want a great view of the fireworks with less intense crowds than at Fisherman's Wharf, Treasure Island is a great option. The official spot to watch is the Great Lawn, but anywhere along the south side will be good. Get there early and check out some of the wine tasting rooms or grab a drink and some food at Mersea. It is closing at 9pm right before the show, but is going to have live music all day, plus its usual tasty food, putting green, bocce ball, and amazing views.
Telegraph Hill
The parking is going to be gone in two seconds at Coit Tower, so you'll likely need to hike up the scenic Filbert Street stairs to get there, but the panoramic views are worth the huffing and puffing. The spot to sit is on the retaining wall, but you'll absolutely need to get there early to snag one.
Angel Island
Heading to Angel Island is probably the best way to watch the fireworks, but it's definitely a big commitment simply because you have to travel by land and sea -- and the entire experience is about six hours. You'll take a round-trip ferry ($73) from either Tiburon or Pier 41/39 and then a round-trip shuttle to Battery Ledyard for the fireworks. There will also be a live band at the Cove Café from 6 to 8pm and you can buy a box dinner with fried chicken, potato salad, a biscuit, and a brownie for another $20. The good news is that if you leave from SF, by the time you get back to Pier 39 (11:15pm or so), the crowds will have dispersed.
Fisherman's Wharf
Ghirardelli Square is exactly in between the two places where the fireworks are set off, which makes it a great location to watch the show and avoid the crazy crowds by the water. We're not saying it won't be a little crowded, but you should be able to show up right before the show starts and get a good position. SF Brewing Co. has an outdoor beer garden with a full bar and fire pits, but it's first-come, first-served, so you'll probably have to get there pretty early and set up camp. No matter what, sine you're there, you should definitely get a Ghirardelli ice cream sundae. (Pro tip: The line at the Marketplace is always shorter than the one at the Original shop).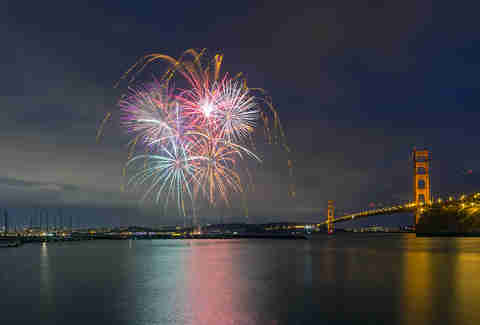 Fisherman's Wharf
They shoot the fireworks off of barges right in front of Pier 39, so it's even more hectic on the Fourth of July than a typical Saturday. That being said, the decks are a great spot to watch and don't start filling up until an hour or so before the fireworks start. Go there early to watch Tainted Love, SF's favorite '80s cover band who will be playing at the entrance from 3-6pm. And, if you can get a reservation at Fog Harbor Fish House, it has waterfront views and good seafood, but good luck with that if you're getting to this late in the game.
Fisherman's Wharf
This Italian seafood restaurant on Pier 43 1/2 will have great views of the fireworks, but it is not accepting reservations on the Fourth, so you'll have to try your luck walking in. If it's full, the promenade next to the restaurant is a stellar spot to see the action.
Russian Hill
The rooftop terrace next to the SFAI Café has incredible panoramic views facing the Bay and is open to the public. It's also one of those secret places that isn't really a secret anymore, but still somehow manages to fly under-the-radar, which means there's a good chance it won't be overflowing with people on the Fourth.
The Presidio
Crissy Field will be packed, but not as packed as any of the spots along Fisherman's Wharf. Go early to find a spot and bring a picnic (it's also free). Best of all, unlike Aquatic Park, beer and wine are allowed at Crissy Field, as long as they're not in glass bottles.
Alameda
Spend your Fourth of July aboard a historic aircraft carrier in the East Bay. There will be live music from 2:30pm to 7:30pm, family activities, tours of the (haunted) ship, food and beverages to buy, and you'll also be able to see the SF fireworks. Tickets are $25.
SoMa
This rooftop lounge has good views of the SF skyline, Bay, and Bay Bridge, as well as fire pits, heat lamps, and two full service bars. The only problem is that it's exclusively for hotel guests. There are still rooms available starting at $239.
Fisherman's Wharf
Since the fireworks are shot off from a barge right in front of Aquatic Park, this is probably the most popular place to watch the fireworks, which means you need to get there in the early afternoon if you want to claim a spot. There will be live music later in the afternoon to keep you entertained and you can bring a picnic, but alcohol isn't allowed.
Sign up here for our daily San Francisco email and be the first to get all the food/drink/fun SF has to offer.