Where to Watch the Bay Area's 4th of July Fireworks
America is turning 243 this July Fourth and, as usual, we'll be celebrating with parades, festivals, pyrotechnics in the night sky, and consuming 150 million hot dogs (seriously). If you're really, really into a fireworks show, then we have some bad news: it's a huge gamble if you'll even be able to see more than muffled colors bursting in the fog if you plan on watching in San Francisco, which is just to say that if seeing colorful explosions and light the sky is super important to you, you'll probably want to head to one of the many other fireworks shows around the Bay Area where the weather has a much better chance of cooperating.
Regardless of where you choose to go, here's a list of the best shows in the Bay and how to maximize your Fourth of July fun. And to keep the party going, we've put together the ultimate weekend guide to make sure your Monday is filled with great memories and lots and lots of coffee.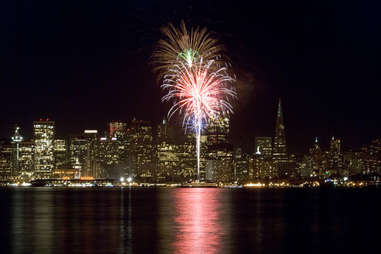 When do the fireworks start?
The times vary, but all of the shows start shortly after the sun finishes going down, with most of the shows starting around 9:30pm. Of course, depending on where you plan to watch, you'll probably need to get there a lot earlier if you want a "front row" seat.
Where are all of the fireworks shows this year?
July 4th at the Wharf
San Francisco
Festival: 9:30am
Fireworks: Approximately 9:30pm
Despite the fact that they're obscured by fog a solid 60% of the time, San Francisco shoots off the Bay Area's biggest fireworks display from two locations in Fisherman's Wharf: the end of Municipal Pier and several barges in front of Pier 39. That means the best place to see them is on the waterfront anywhere from Aquatic Park to Pier 39. You'll need to lock down a spot pretty early in the day (and pray for clear skies) if you want the best views, but if you're pretty much anywhere that faces north, you should be okay. Pier 7 on the Embarcadero, Crissy Field, Coit Tower are also popular spots and, if you're willing to make a trek halfway across the Bay, the south shores of Treasure Island offers amazing views. As far as what to do during the day, there's stuff going on at Pier 39 and Fisherman's Wharf all day, including a yacht rock explosion in the form of Mustache Harbor from 3pm to 6pm at Pier 39. The Blue & Gold Fleet, Red and White Fleet, Hornblower, and a couple of other boats also offer cruises so that you can watch the fireworks while on the water.
Parade, Picnic, and Fireworks in San Jose
San Jose
Parade: 10am
Picnic: 12:30pm
Fireworks: 10pm
The Rose, White, and Blue Parade in San Jose's Rose Garden neighborhood along The Alameda includes classic cars, costumed characters, and marching bands, and is followed by a picnic in front of Westminster Church with appearances by elected officials and live music. That all winds down around 3pm, which gives you plenty of time to throw some burgers on the grill at home and still make it to The Rotary Fireworks at Discovery Meadow in downtown San Jose before they start at 10pm.
Fourth of July Parade, Festival, and Fireworks at American Canyon
American Canyon
Parade: 10:30am
Festival: 12pm to 9:30pm
Fireworks: 9:30pm
If you want to celebrate the Fourth from the second you wake up until it's almost bedtime, head to this southern Napa County town that celebrates all day long starting with a pancake breakfast at the Boys & Girls Club ($10 for adults, $5 for children, or $20 for the entire family) from 7am to 11am. After you've filled up on sugar-drenched carbs, head to the "Celebrating America's Heroes Patriotic Parade" at 10:30am, the family-friendly festival where you'll find more food, games, and live entertainment, and finally a fireworks show at Community Park II. If seeing just one fireworks show won't satisfy your pyrotechnics cravings, join the Fireworks Hike at Newell Open Space Preserve at 8pm ($5 per person or $10 per family). You'll hike a short half mile to a viewing spot and then sip on hot chocolate while you watch the fireworks shows from American Canyon, Vallejo, Crockett, and Marin.
Festival and Fireworks at the Berkeley Marina
Berkeley
Festival: 12pm to 10pm
Fireworks: 9:35pm
The Berkeley Marina hosts an all-day family-friendly (read: no alcohol and lots of stuff for the kiddos to do) party complete with an Adventure Playground where kids are given hammers, saws, nails, and paint to play with (seriously), pony rides, a petting zoo, carnival rides, face painting, a protected beach where you can wade and build sand castles, and every kind of fair food you could ever want. The star of the show is the live entertainment, which includes a Latin funk, classic soul dance band, a classic rock cover band, an Afro-Cuban drumming circle, a couple of circus performances, a guy in a beret who plays disco music (and more) on his accordian, and a one-man band where a man plays the banjo, bass drum, and tambourine all at the same time. Again, while you're dead sober. The festival goes until 10pm, but be sure to the seawall south of the pier to get a good spot before the fireworks start at 9:35pm.
"Celebrate Concord" Parade, Festival, and Fireworks
Concord
Parade: 10am
Festival: 4pm
Fireworks: 9pm
Earn your funnel cake by starting the day at Todos Santos Plaza with a "Stars and Stripes" 5K run or walk at 8:30am (8am for the kiddos) and then cool down while you watch the parade. You'll have time to go home and shower and drink a beer or two because the festival at Mt. Diablo High School doesn't start until 4pm and the live entertainment, the 562nd Air Force Band and The Big Jangle, doesn't start until 6pm, followed by a fireworks show at 9pm.
Barbecue Picnic and On-the-Water Fireworks at Shoreline Lake
Mountain View
Barbecue: 11:30am to 6pm
Fireworks: 9:30pm
Shoreline Lake allows boats on the water after sunset just one night a year, so that people can watch the fireworks from the a pedalboat, rowboat canoe, or kayak in the middle of the lake ($50 to $100). And since the park doesn't allow for people to throw their own barbecue picnics, the American Bistro by the Boathouse is hosting a waterfront cookout with burgers, veggie burgers chicken, hot dogs, sausages, sides, and desert ($13 to $17), as well as special picnic baskets ($30 for two people).
San Francisco Symphony with Fireworks at Shoreline Amphitheatre
Mountain View
Show: 8pm
Fireworks: After the show
Bring a blanket and settle in on the grass at Shoreline for an evening of music from the SF Symphony that will make you wonder why you don't ever go to the symphony. You can expect to hear things like the music from Star Wars and other famous films, top 40 hits, and a salute to the Armed Forces, all culminating in a grand finale complete with fireworks.
Independence Day Parade, Festival, and Fireworks in Redwood City
Redwood City
Parade: 10am
Festival: 9am to 5pm
Fireworks: 9:30pm
Redwood City hosts the largest Independence Day parade in Northern California with entries from all over the state, including floats, drill bands, equestrian demonstrations, color guards, and more. (You'll know when it starts when you hear the canon.) After the parade, head to the festival where you can do some shopping, see a Battle of the Bands at 1pm, eat some food and drink some beer or wine, get your face painted, and more. The day ends with a fireworks show over the Port of Redwood City, which starts at around 9:30pm and can be seen all over the mid-Peninsula.
Fourth of July Celebration in Pleasant Hill
Pleasant Hill
Parade: 9:30am
Picnic Party: 10:30am to 1:30pm
Fireworks: Around 9:10pm
Enter the 5K run/walk ($30) at 8am to help raise money for Pleasant Hill schools and then head to the "Rockin' in the USA" parade that starts right at 9:30am. The free family day in the park starts as soon as the parade is over and has games and activities for the kids, like face painting, sack races, and inflatable slides), live music, a watermelon eating contest at noon, and food for purchase. Pleasant Hill's fireworks show at College Park High School begins at dusk, but get there around 7:15pm to claim a spot, buy some barbecue (starting at 6:30pm), and enjoy music by The Ripplers.
Dog Parade, Celebration, and Fireworks Display in Foster City
Foster City
Parade: 11:05am
Celebration: Noon
Fireworks: 9:30pm
Anyone can enter the Family and Dog Parade for free (registration is from 9:30 am until 10:50 am at the Recreation Center, Main Parking Lot entrance) for a chance to win prizes like Most Patriotic, Most Unique, and Best Group (for the people), and Most Handsome, Most Beautiful, and Faster Eater (sadly, only for the dog). Afterwards, the party moves to Leo Ryan Park where there will be live music, a kids play zone, beer gardens, and food trucks, until the fireworks show over the lagoon at 9:30pm.
How should I get around?
If you're planning to watch the fireworks along the waterfront in San Francisco, we highly recommend you do everything in your power to avoid driving, as you'll be just one of thousands of people with the same idea, and the traffic in the northeastern part of the city reflects that. Parking is impossible and when the show is over, it's bumper-to-bumper traffic for several hours. Basically, as with any big event in the city, public transportation is your best bet. If you do have to drive into the city, we recommend parking in another neighborhood and taking public transportation. Muni usually runs shuttles and extra trains/busses; check their website for more information.
If you're watching the fireworks elsewhere, just use your best judgment. If you plan on drinking, plan on taking a taxi or rideshare. Traffic will be crazy everywhere after the fireworks, even in smaller towns, so just be patient and remember you'll get home to your bed eventually.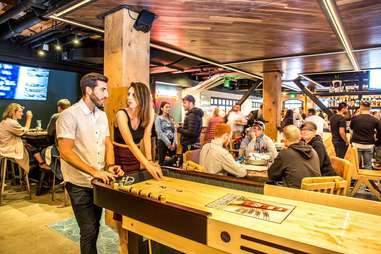 Where should I pregame?
Most of the towns with fireworks display have food, music, and entertainment beforehand, so you can show up and hang out all day, though it's worth nothing that they don't all have alcohol for purchase since this is such a family holiday, so if that's a priority (hence, the word "pregame,") you should check ahead of time.
If you plan on watching the fireworks in SF and don't want to deal with the crowds, now is the time to hit up your friend who lives on the north side of the city and has roof access and convince them to throw a party. If they're headed out of town, your best bet is to just suck it up and play tourist for the day at Fisherman's Wharf. Get an Irish Coffee at Buena Vista Cafe, eat clam chowder in a bread bowl, drink some beer at San Francisco Brewing Co. (or any of the other dozens of place to drink), and then give into the fact that you'll need to claim your spot at Aquatic Park around 5pm (people get there hours earlier though) if you're committed to an unobstructed view.
What will the weather be like?
Well, it's San Francisco in July, so the chances that there will be copious amounts of fog is high. That said, the forecast looking pretty great right now (partly cloudy with no chances of rain and mild temps). If you're watching outside of the city, you'll have a much better chance for warmer temps and clear skies, but no matter where you are, bring layers. Especially if you're watching in SF. Mark Twain never said that quote about the coldest winter he ever spent blah blah blah, but the sentiment still rings true.
Sign up here for our daily San Francisco email and be the first to get all the food/drink/fun SF has to offer.
Daisy Barringer is an SF-based writer who once braved the Fisherman's Wharf crowds to watch the fireworks and lived to tell the tale. Barely.