We're about halfway through summer, which means our robust free outdoor concert season is in full swing. From The English Beat and Starship to The Revolution (yup, the ones who played with Prince), there are tons of shows to enjoy under the sunshine or stars that won't cost you a cent. This list has all of the ones in SF, plus a bunch of great acts happening around the rest of the Bay Area. As an added bonus, many are BYOB/BYOP (bring your own picnic).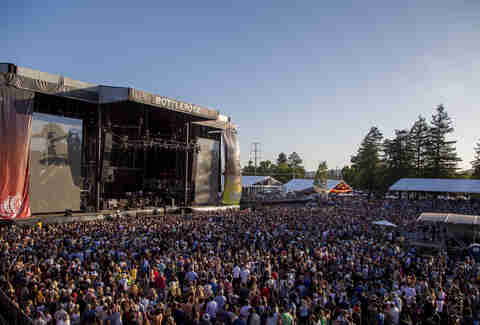 Jul 25-Aug 31
Courthouse Square, Redwood City
Every Friday from 6 to 8pm, you can catch a show meant to get you on your feet and dancing in the Courthouse Square. There will be tributes to Journey and Michael Jackson, as well as '80s and Top 40s cover bands.
Jul 24-Oct 11
Yerba Buena Gardens
This festival has free performances during lunchtime on the weekdays and in the afternoon and early evening on the weekends. You'll find classical, world, salsa, and jazz music, as well as lots of other cultural events.
Jul 25
Union Square Park
This Northern-California based American blues/rock band will perform a high-energy show from 6 to 8pm in the heart of Downtown SF.
Jul 25-Aug 22
Los Gatos Town Plaza, Los Gatos
Listen to free jazz every Wednesday from 6:30 to 8:30pm through August 22. Performers include Paula West, Sarah McKenzie, and Chris Cain Band.
Jul 27
Santa Cruz Beach Boardwalk
Get your British rock fix and your rollercoaster fix all in one evening. There are two shows: one at 6:30pm and one at 8:30pm. Blankets the size of a beach towel and low-back chairs are permitted. Alcohol is not.
Aug 1
Union Square Park
Lost Dog Found has a modern take on Americana genres, like blues, swing, rock, and soul, and is known to sing about "happiness, heartbreak, and hangovers." They'll be performing from 6 to 8pm.
Aug 3
Santa Cruz Beach Boardwalk
"Summertime Girls" was a hit in 1985, but it will probably be just as fun to hear this hard rock/glam band play it now. Shows are at 6:30 and 8:30pm and you can bring a beach towel-sized blanket and a low-back chair, but no alcohol.
Aug 5
Stern Grove
The AfroBeat legend is sure to have everyone on their feet. Get there before the show starts at 2pm if you want a good spot to put down your blanket. Pack a picnic or get food at Tante's in the Esplanade. BYO beer and wine.
Aug 8
Union Square Park
This band of seasoned musicians play American roots/folk music and have a single "It's 4:20 Somewhere" that's been downloaded more than six million times. Unfortunately, it will not be 4:20 when they play as the show goes from 6 to 8pm.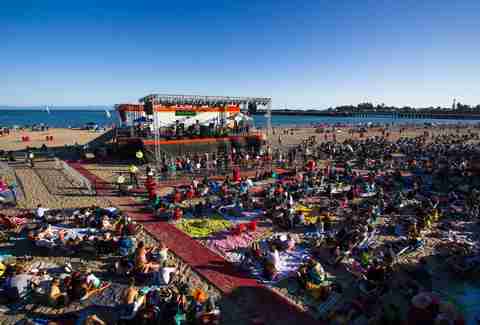 Aug 10
Santa Cruz Beach Boardwalk
It's up to you if you bring a cowbell to ring during "(Don't Fear) The Reaper," but you should definitely bring a small blanket or low-back chair. Shows are at 6:30 and 8:30pm. Alcohol is not permitted.
Aug 12
Stern Grove
You're definitely going to hear their Number One hit "Be My Baby" at this concert in the park. The show starts at 2pm, but you'll need to get there before noon if you want a spot to put down your picnic blanket. You can buy food there, but most people bring a picnic with beer and wine.
Aug 12
Union Square Park
Ride the wave of surf music at this double-header show that goes from 2 to 4pm.
Aug 15
Union Square Park
The five-piece ensemble will be filling Union Square with the sound of old school blues from 6 to 8pm.
Aug 17
Santa Cruz Beach Boardwalk
This British band just released a new album, but it's pretty much guaranteed they'll also play their hits from the '80s. Bring a small blanket or a low-back chair, but no alcohol.
Aug 19
Stern Grove
The final show of the Stern Grove season is the band behind Prince. They reunited after he passed away to pay tribute to him and play the music they helped create. This show will absolutely be packed, so you'll likely need to get there around 9 or 10am to find a good spot to put down your blanket. Bring a picnic with wine, beer, and water so you don't get hungry or thirsty while you wait for it to start at 2pm.
Aug 19
Union Square Park
This trio that has been called "the world's most sophisticated jam-band" is known for its "twisted sense of humor" and improv skills. They'll be playing from 2 to 4pm.
Aug 22
Union Square Park
There's nothing like watching a group of talented youth musicians performing to make you wish you hadn't quit the violin after all. The performance goes from 6 to 8pm.
Aug 24
Santa Cruz Beach Boardwalk
Nothing's gonna stop you from seeing this '80s band play all of their hits at 6:30 or 8:30pm... except maybe the commute. Small blankets and low-back chairs are okay. Alcohol is not.
Aug 26
Union Square
Check out these seven guys from the Bay Area's Latin Rock scene performing dance music with Caribbean and Latin flavors from 2 to 4pm in the afternoon.
Aug 29
Union Square Park
If you like to move your feet, don't miss the acoustic SF-based collective that plays world music, flamenco, jazz, and more. The show runs from 6 to 8pm.
Aug 31
Santa Cruz Beach Boardwalk
Enjoy all of the classic rock hits from the '60s and '70s (with an emphasis on the Beach Boys) at the 6:30 or 8:30pm shows. Bring a small blanket or a low-back chair if you don't want to sit in the sand, and leave the alcohol at home.
Sep 9
Robin Williams Meadow, Golden Gate Park
This al fresco performance is an annual tradition to open the SF opera's season. This is one of the most popular free concerts of the summer with around 20,000 audience members, so get there before the 1:30pm start time to claim your spot. Also be sure to grab a paper program so you know who's singing.
Sep 23
Music Concourse, Golden Gate Park
All Star Family Band, Katdelic, S.O.U.L Twin Messiah, Third Thursday Band, and Pamela Parker will perform at this "rejuvenating picnic of peaceful activities." FYI: It's alcohol free and all of the food is vegetarian.
Sign up here for our daily San Francisco email and be the first to get all the food/drink/fun SF has to offer.