9 Events You Can't Miss at This Year's San Francisco Beer Week
The 2017 San Francisco Beer Week is quickly approaching (February 10 through the 19) and if you haven't done so already, you seriously need to make a plan.
Arguably the best beer week in the country, SFBW has something for everyone (including people who drink wine at beer events). From the signature kickoff Opening Gala on Friday, February 10 to an international beer pong tournament at Black Hammer, there are more than a thousand events planned during the course of these nine glorious days, where more than a million pints of the world's finest beers will be consumed.
As expected there's a growing buzz about what some of our newbies (albeit award-winning newbies) like Barebottle, Sufferfest, Epidemic Ales, and Novel Brewing will feature during the extended week. And beer fans will undoubtedly flock to our local heavy weights for perennial favorites, or their recent collabs and edgy one-offs. If you're hitting the Opening Gala, Russian River promises that there will be enough Pliny the Younger for everyone to try, and word is that Sierra Nevada will roll out a couple of sour and fruit-forward styles that they have been sharing behind the scenes for the past couple of months.
But where to start, there's just so much going on? Here's a game plan for some select events during the week that you might want to start tracking...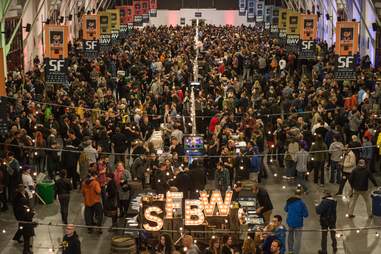 SF Beer Week
This beer event is the mother of all beer events. The gala, hosted by the SF Brewers Guild, will sell out (tickets at
sfbeerweek2017.eventbrite.com
). Get there early and you might make a beeline to the Russian River booth for some very limited release Pliny (Younger), or pull out the map to chase down some of the regional favorites from Track 7 (Sacramento), Berryessa Brewing (Winters), or Faction (Alameda) that you might not get to taste much. There will be hundreds of brewers in the house pouring their best, including most of the 100 SF-based breweries.
This event won't suck -- pretty much a guarantee. Societe Brewing Company, The Bruery and The Rare Barrel are back at it for the 3rd Annual Reunion. Five brews from each in the RB space, with BBQ in the parking lot. Starts at 1pm.
It's SF vs. LA vs. SD all over again in the Presidio. With 45 breweries from three regions, you'll experience a bit of everything. Sunday presents a brewing competition two-fer with Local Brewing hosting the Second Annual Lighthouse Homebrew Competition (to find the best homebrewer in SF) across town in SOMA.
Speaking of Local Brewing, owners Sarah Fenson and rockstar brewmaster Regan Long have organized and are hosting an SF IPA-centric event to raise money for the Boys and Girls Club. Come out for a couple of pints and to help raise some dough. This is one of dozens of events hosted by community-minded brewers and breweries to raise money for local charities throughout the week.
Alamanac's Save the Whalez Sourfest is considered by most to be the premier sour beer event this week. Sure, you'll have to plunk down a few bucks for this one, but part of the $75 price tag will help support the Bay Leaf Kitchen (you'll also get a glass, a little food, and probably some swag too).
This event is great fun and you'll roll out of there at the end of the night totally satisfied. Like many of the other events this week, the local craft beer will share the spotlight with some great food. And if you like them both, this one shouldn't be missed (for tickets call 415.501.9100). Anchor, SF Brewing, and Thirsty Bear will pour at both of the two seatings (5:00 and 7:30pm).
Super Beast Oakland Circus
Everyone knows AI is brewing good beer, but did you know the freaking circus is coming to the brewery during SFBW? Makes pub darts seem a little pedestrian, right? Actually AI will have a friendly dart competition the night before (seriously), but on Friday the high-flying performers are back for another go around inside the brewery! Aerialists start flying through the air at 6pm.
The first part of a Saturday two-fer on the calendar on the other side of the bay with this beerfest within a beerfest. Stop by the incredible Drakes Dealership space for some sampling of the East Bay's finest as the week comes to an end. Doors open at noon and close at 4pm.
Some might say this is the second, but unofficial, Gala of SFBW. This low-key, chill event has been outstanding in years past. Best part, it supports the California Craft Brewers Association. Host brewery Trumer opens their warehouse at 4pm for a few hundred folks to enjoy beer from more than 30 breweries, including a couple you won't see at the Opening Gala. Tickets at
www.eventbrite.com/e/celebrator-beer-news-29th-anniversary-party-tickets-28901561348
Sign up here for our daily San Francisco email and be the first to get all the food/drink/fun SF has to offer.
Seann Rooney was born and raised in the East Bay, but now calls the Sacramento Delta home. He spends countless hours researching and chasing down the best beer, wine and food in the area.