San Francisco Summer Self-Improvement Muni Map
New Year's resolutions are a ton of pressure, but summer self-improvement? That's an idea we can get behind. And from culture and physical fitness to food appreciation and social awareness, there's a ton happening in San Francisco in these... slightly warmer months. We've rounded up 30 San Francisco happenings you need to hit around the city, and their nearest Muni metro stops, for a more scintillating you by fall.
$40 gets you a pass to 10 days of weekday matinee screenings of films from the Gay and Lesbian Film Festival.
Take in a movie, gourmet popcorn, and fine wine at the stunning Top of the Mark at the Intercontinental. Each week features a different film, selected around a theme. And what's more San Francisco than Bullit?
A one-ring circus takes over the Yerba Buena Garden Festival for an hour of static trapeze, rope walking, juggling, contortion, unicycle, clowning (in the professional sense), and acrobatics, set to original music.
<a href="https://flic.kr/p/dAPv13" rel="nofollow" target="_blank">Marco Oliani/Flickr</a>
When's the last time you read Shakespeare? If the answer is "high school," take in a free production of Romeo and Juliet, featuring a cast of the Bay Area's best actors and resident artists from SF Shakes'.

Calling all Kerouac fans. This collection of panel discussions, movie screenings, art exhibits, books signings, parties, poetry readings, and jazz, celebrates San Francisco's great Beatnik generation in the epicenter of the movement -- North Beach.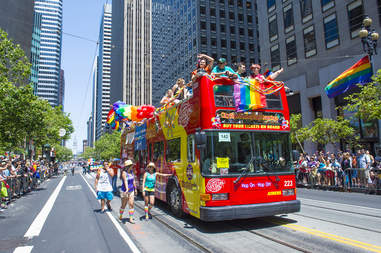 Kobby Dagan/Shutterstock
The festival of equality (and outrageous costumes), and one of San Francisco's most beloved. The Parade marches down Market Street from Beale to 8th Street and terminates with a celebration at Civic Center.
Tickets get you a five-course prix-fixe menu at Nob Hill's Stone's Throw, by a rotating roster of guest chefs. This particular night features Namu Gaji's farm-grown Asian-inspired cuisine.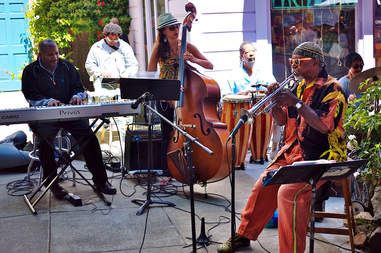 <a href="http://| https://www.flickr.com/photos/dsiao/4762497708/in/photolist-8fR3FQ-8fR3Ds-Qs4R7-Qs4Po" rel="nofollow" target="_blank">Derrick S./Flickr</a>
San Francisco jazz lovers gather on Fillmore Street between Jackson and Eddy streets to celebrate jazz culture. Stages throughout the festival feature up-and-coming jazz-fusion, Latin-flavored acts, and classic crooners belting out standards.
Be a better dog owner by bringing your best friend to dinner on the back patio of one of San Francisco's most beloved restaurants. In honor of the city's furry friends, enjoy $10 off a bottle of wine.
Bands, booze, and bites descend on the park for a day-long festival featuring local and visiting artists and food trucks.
The ultimate karaoke tribute to pop royalty at legendary music venue Neck of the Woods, backed by DJ Dave Paul.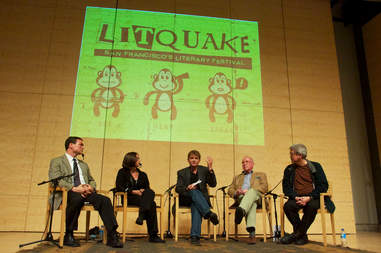 <a href="http://bit.ly/1N1Rk2P" rel="nofollow" target="_blank">Steve Rhodes/Flickr</a>
Get inspired on your lunch break by listening to local poets, spoken-word artists, and musicians, read their work in picturesque Yerba Buena Park.

Grab unique clothing, home wares and art, handmade by hundreds of local, independent makers -- all in one spot.
No it has nothing to do with that song: The SFFFF is a nonprofit organization dedicated to gaining as wide an audience as possible for independent, youth, socially conscious, and underserved filmmakers. Oh and the name? Inspired by San Francisco's "summer."
Drew Altizer/Legion of Honor Museum/<a href="http://on.fb.me/1dclrIA" rel="nofollow" target="_blank">Facebook</a>
Brush up on your fashion smarts at this last glimpse of design evolution throughout the 20th century, as told through the creations of Chanel, Givenchy, Dior, and more.

Join Michael Cecconi, Bar Chief, for an educational evening of tequila and mescal. He'll guide tasters through flights and debunk myths along the way.
Now in its 25th year, this celebration of Jewish identity opens with the British film Dough, in which Jonathan Pryce plays an aging kosher baker who revives his dying business with the help of a young Muslim immigrant from Darfur.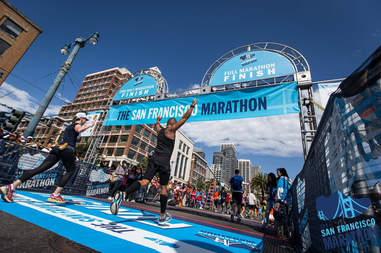 Gameface Media/The SF Marathon/<a href="http://on.fb.me/1K7UDYt" target="_blank">Facebook</a>
Join in, or cheer runners as they pass the city's best scenery and most iconic landmarks. It kicks off at the Ferry Building, where you can lace up and join in or yell, "Good luck with that."
Travel back to your angsty teen years with this alternative rock collaboration's summer tour.
Celebrate man vs. machine at the largest juried show west of the Rockies dedicated to all things handmade, from clothing, furniture and jewelry to things for your pad.

Support a mentoring platform for Asian-American youth at this festival of performance, art, music, food, and community outreach -- now in its 42nd year. More than 30,000 people attended last year, so get down the front at the two music stages early.

Celebrate the legendary Grateful Dead leader, and San Francisco native, with an outdoor concert at his eponymous venue -- located in his childhood neighborhood.
<a href="https://flic.kr/p/adm7vp" rel="nofollow" target="_blank">Alejandro De La Cruz/Flickr</a>
This festival takes over the park with musicians, art, comedy, and tons of food and wine. This year's highlights include performances by Wilco, Billy Idol, The Black Keys, and Elton John.

The Bay's "Queen of Swing" takes over Yerba Buena with her signature R&B and jump blues, plus covers of greats like Billie Holiday, Etta James, and Patsy Cline.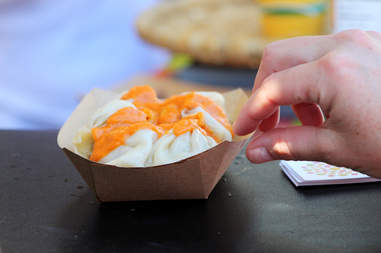 Eddie Hernandez/Courtesy of San Francisco Street Food Festival
La Cocina joins Noise Pop and Midway to produce a two-day celebration of food and music that supports San Francisco's inspiring food entrepreneurs -- many of whom got their start as street food purveyors.
Make like you're escaping from Alcatraz with this challenging mile-and-a-half swim between the infamous prison and the East Beach at Crissy Field.

An interactive urban food and wine festival that features a series of tastings, classes, dinners, and events to celebrate local talent and cuisine. The highlight is the Grand Tasting at Fort Mason, where you can sample creations from 30 top restaurants while imbibing on local wine, spirits, and beer.

A neighborhood block party to celebrate local business, the fifth annual wine walk from Diamond to Chattanooga features wine samples, finger food, and special treats.
<a href="http://| https://www.flickr.com/photos/streamishmc/6090585912/in/photolist-" rel="nofollow" target="_blank">streamishmc/Flickr</a>
Half marathon, 10K and 5K distances wind through San Francisco's historic streets, finishing at AT&T Park's baseball field. Proceeds benefit Project Open Hand.
Anthony Correia/Shutterstock
The Piano Man himself will descend on AT&T Park for a night of feel-good hits you definitely know all the words to.