The Best Kinky Events in San Francisco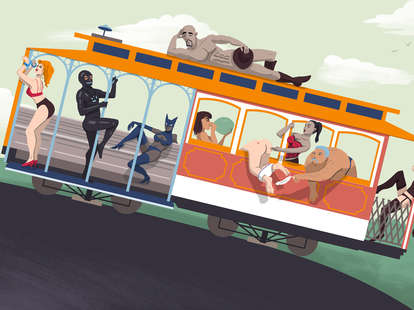 Jason Hoffman/thrillist
Jason Hoffman/thrillist
San Francisco is, without question, the No. 1 spot for kink in America. Despite our city's smaller size, this place is filled with BDSM stores, dungeons, clubs -- even a BDSM coffee shop. Here in The City by the Bay, you can find a full spectrum of BDSM options to explore all 50 shades of your sexuality: from serious Master/slave gatherings to public events aimed at vanilla couples testing the waters.
Wednesdays
SoMa
Every Wednesday night, local BDSM celeb Stefanos Steward hosts this long-running kink night. Bondage-A-Go Go is a fetish themed dance party. Dress in all black or more, ahem, formal attire -- guests are encouraged to avoid street clothes. Unlike many other area BDSM events, you must be over 21, so bring your ID. This is a good one for folks who are starting out in the scene -- there are two bars, a dance floor, and a play-space that's monitored by some people who know what they're up to: there's no nudity or explicitly sexual activity allowed (the event takes place in a bar, after all).

All the time
Union Square
The SF Citadel is arguably the best dungeon in San Francisco and hosts a number of parties with names like Transmission, Master's Den, and Taboo, each catering to a specific fetish. BDSM practitioners frequently play here on the weekends. If you're looking for your first spanking or have been fantasizing about meeting a domme, this should be your first stop. If you're new, you're encouraged to watch and learn -- this place is all about safe, sane, and consensual play. Most parties are under 30 bucks.

Fridays and Saturdays
Email to find out
This place has a club setting with a dance floor... but there are also play areas, massage tables, and showers (towels included, natch). If you're a single dude, grab a friend -- the party doesn't take single guys. You have to email for an invitation, but if you're more into group sex than more hardcore kink, this is going to be your spot.

Monthly
SoMa
LDG is a really big deal in San Francisco and has won numerous awards. Once a month this group meets to discuss a leather/fetish/BDSM skill or topic relevant to kinky guys. It is mostly for gay men but anyone is welcome. It is considered one of the best places to meet and socialize with fellow male kinksters, and some 100 people show up each time -- plus, it's free.

April
Oakland, CA
Queer Sphere is a club for people of all genders who identify as kinky and queer. They have a ton of events around the Bay Area including happy hours, parties, and classes. This is a very social group and the picnic is a good way to meet new people and have some outdoor fun... plus, it's one of the few kinky events where you're likely to both play frisbee and get tied to a tree.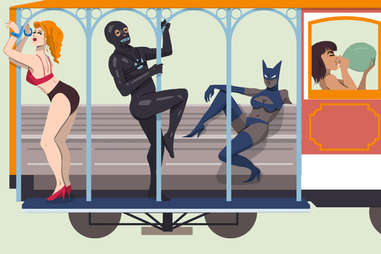 May
Silicon Valley
Thousands of people gather for this well-attended, three-day conference in Silicon Valley. The conference is a mix of socializing, hands-on workshops, and play gatherings. If you're interested in meeting real Masters and submissives, this is the place: you'll find everyone from sadists and masochists to tops and bottoms... straight and queer kinksters of all stripes. The highlight of the conference is the annual Master/slave competition on Saturday night. Tickets'll set you back between $80-140.

September
SoMa
If you go to one kinky event in San Francisco, go to this. The annual BDSM and leather subculture fair is beyond legendary -- and quite eye-opening. If you have never seen a man spanked in broad daylight, or a woman suspended by hooks, here's your chance. Some 400,000 people converge on 13 city blocks around historic Folsom St for this public event which caps off "Leather Pride Week." There are numerous demonstrations aimed at demystifying BDSM, and many folks show up in full leather or latex -- though it's fine to wear jeans.

November
Downtown San Francisco
The Society of Janus is one of the go-to organizations for education and support around BDSM and the second oldest in the US. Each year they throw a private party called the Society Of Janus Member Appreciation Party where people socialize and play; activities include flogging, suspension, and bondage. In order to attend, you have to be a SOJ member, but according to the organization, "a lot of people join just for the party." And for only $40, it's well worth it -- some 300-400 people usually attend, and this inclusive group is a good choice for those looking to attend their first party. Fetish or formal attire required.

December
SoMa
This one is for the ladies. Hosted by the Exiles, a BDSM educational organization, this is a safe space for women with a personal interest in BDSM, so you have to identify as female to attend. This space is packed with kink, music, snacks, and debauchery: basically, it's loads of fun. Activities include play piercing, impact and violet wand play, and "vibrator races." Tickets are under $25.

New Year's Eve
Mission District
This annual New Year's Eve party at The Armory is off the goddamn hook. As you're probably already aware if you live here, the landmark San Francisco Armory was acquired in 2006 by the adult entertainment production company Kink.com, which has turned it into a set for their porn videos, movies, and parties. Even among The Armory's spectacular regular parties, New Bohemia stands out for its over-the-top debauchery and theatrics. Skip the downstairs party (which is open to the public), and get tickets to the VIP party at the Upper Floor, a private, exclusive dungeon located in a space that's usually closed off -- and be prepared to dress to the nines. On the Upper Floor, you'll see slaves wearing collars on leashes abiding to strict BDSM protocols, others in their finest corsets and fetish wear, Kink.com staff, and rich tech-bros. Downstairs: curious vanilla folks and plenty of voyeurs. Tickets: $75-175; VIP start at $150 for The Upper Floor -- and up to $5,000 for private room rentals.
Sign up here for our daily San Francisco email and be the first to get all the food/drink/fun SF has to offer.
Jennifer Mattson loves that old John Steinbeck quote: "San Francisco is a golden handcuff with the key thrown away." You can follow her on Twitter.