8 Very SF Things We Can't Wait to Do When Quarantine is Over
Chartreuse slushies anyone?
Hey, Bay Area. How's it going? Hanging in there? We've been sheltering in place for more than two months now, and it's hard not to long for Before, when we went out to restaurants and bars and danced until the lights came up; when we'd bask in the sun at beach and in parks, carefree and hugging each other tightly as the late afternoon fog came rushing in. It's hard not to miss the places and people and things that make San Francisco a weird, wonderful, delicious, debaucherous, and simply magical place to live.
We asked some of our favorite local luminaries -- musicians and chefs, writers and psychics -- what they've been missing lately, and how they'll be spending their "First Day Back," when San Francisco opens up in all its glory. Consider it inspiration for your own plans, or even just fodder for daydreams until we're all back in action.
We'll get there. And in the meantime, it's easy to feel proud -- proud that we've flattened the curve, taken care of each other, and howled at the moon together every damn night.
Stay safe. Stay weird. Stay San Francisco.
Thao Nguyen

| Thao & The Get Down Stay Down
Early morning at Lands End and two days worth of eating
"We will wake up incredibly early and go hike
Lands End
and then have breakfast at
Louis'
on the Cliff and then walk to the Inner Richmond and eat a million things and then walk to North Beach and eat more and then walk along the Embarcadero and then take the ferry around and around. This is probably two days' worth of plans, but I miss everything so much." --
Thao Nguyen, musician and lead singer of Thao & the Get Down Stay Down
Stuart Schuffman

| Courtesy of Brendan Mainini
A fat-ass burrito by day and weird, boozed-up karaoke by night
"Oh man, I'm gonna spend so much money in local bars and restaurants on the 'First Day Back.' I'm gonna have a fat ass burrito at
Taqueria Los Coyotes
for lunch while I watch soccer and listen to Norteño music. Then for dinner I'm gonna take my fiancée to
Sodini's
in North Beach. Afterwards we'll crawl through bars like
Specs
and
Vesuvio
before ending at
Bow Bow Lounge
for weird drunk karaoke. How glorious does all that sound?" --
Stuart Schuffman, a.k.a. Broke-Ass Stuart, writer, editor, and former San Francisco mayoral candidate
Jeremy Fish

| Courtesy of Chris Michel
Three cheeseburgers fresh off the grill and a whole lot of tequila
"My first day back will be pretty much the same as everyday before, during, and after these Covidian times. I wake up, cross the street from my apartment to my studio, and sit by myself drawing pictures. However on the 'First Day Back' I will enjoy a coffee sitting inside
Caffe Trieste
with all of the other loyal patrons. I will go to
Wesburger
on Mission Street and eat three cheeseburgers fresh off the grill. Then I will finish the day at
Specs
enjoying time catching up with the bartenders, chugging tequila, and listening to drunk old people. I will sleep really well that night knowing that the greatest city on earth survived the weirdest time in history, and came back stronger." --
Jeremy Fish, illustrator and artist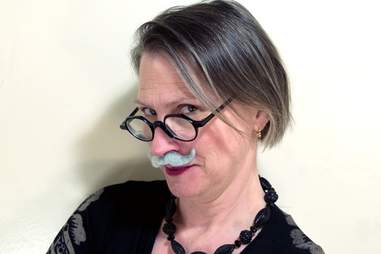 Carol Queen

| Courtesy of Good Vibrations
Going out to a restaurant. Any restaurant!
"After the Center for Sex & Culture closed its doors in early 2019, I basically coped by letting my inner introvert out, and so I'm not climbing the walls the way some quarantine folks are, though of course I'm worried about everyone and trying to stay as informed as possible about Covid-19 both for my own sake and for
Good Vibrations'
reopening. That said: On my first day out, I want to go to a restaurant! I live in a rent-controlled Hayes Valley flat, and the boarded-up restaurants just make me so sad and eager to support them again. Chefs and their creations represent one of the signature kinds of Bay Area creativity, one of the big reasons I love living here."
-- Carol Queen, Staff Sexologist, Good Vibrations and former-director of the Center for Sex & Culture
A Chartreuse slushie, an entire duck, and a bottle of something Burgundian
"On my first day back, I want to grab a bar seat at
The Morris
for a Chartreuse slushie and give Gavin and Kosta and my brother Paul a big squeeze. And then I will eat the entire
Morris Duck
by myself. With a bottle of something Burgundian. Yes I will." --
Pim Techamuanvivit, chef-owner of Nari & Kin Khao
Gillian Fitzgerald

| Courtesy of Molly DeCoudreaux
From Coffee and Bloody Marys to Mai Tais and pork chops
"I'll grab coffee at
Cafe Cole
in my neighborhood while taking a quick walk through
Decades of Fashion
on Haight. Then brunch at
Zazie
; I'll grab a Bloody Mary at
Finnegans Wake
while we wait for a table. After brunch, a walk to the
de Young Museum
via the
Conservatory of Flowers
; from there, I'll hop on a bike and head to North Beach where I'll grab a tasty, cold beer and some cheese and crackers at
Specs
while reading all the postcards from behind the bar. Then, I'll meet up with the gang at
Li Po Lounge
for some Dutch courage in the form of a Mai Tai, followed by a swift round of karaoke at
Bow Bow
. Finally, I'll finish it off with a fine glass of wine and dinner at the bar at
Nopa
, where I'll order whatever the special is... and the pork chop." --
Gillian Fitzgerald, co-owner of Casements Bar and co-creator of Proud Mary Bloody Mary Mix
Jessica Lanyadoo

| Courtesy of Nicole Scharf
First Fridays followed by an epic tour de nosh of Oakland
The first thing that I want to do when this all passes is enjoy one of my favorite things to do in Oakland --
First Fridays
; I'm going to show up early and stay out late. This will kick off a tour de
nosh
for all that Oakland has to offer! It'll have to start on Saturday morning at
Beauty's Bagels
for some Montreal style bagels and lox, and then I'll take a walk over to the Oakland institution,
Marcus Books
to shop and connect with people IRL. Lunch will be delicious Ethiopian finger food with friends at
Barcote
. Then I'll pop over to
Raven's Wing
and take a nice long walk around Lake Merritt working up my appetite for an evening of good people, great drinks, and amazing food over at
Miss Ollie's
. Until then I'll be at home, washing my hands vigorously and stretching out my stomach to make room for it all. --
Jessica Lanyadoo, astrologer, psychic, and writer
Alanna Hanson

| Courtesy of Michael Woolsey
A week's worth of eating, from the Outer Sunset to Divisadero to the Mission
My first day back (or week, really) would involve rock climbing with a belay partner (and the best power yoga) under the Golden Gate Bridge in San Francisco's Presidio at
Planet Granite
. Then shopping for vintage finds and well-loved denim at
General Store
, and perusing some beautifully handmade local pottery & goods from
Earthen Shop
. I miss the happy hour oysters, mussels, and chowder and the whole staff at
Bar Crudo
, and trying new fun natural wine suggestions from the guys at
Fool's Errand
while sitting out on Divisadero Street people watching with friends. I can't wait to get back to enjoying bonfires at Ocean Beach and late nights at
Madrone Art Bar
that usually end up at
Nopa
for a super late night pork chop (cooked to perfection). Meals I miss the most? The perfect bread from
Outerlands
in the Sunset; grabbing a pizza and sitting at the outdoor bistro tables at
Pizzetta 211
; skewers and silken tofu from
Izakya Rintaro
; the poke burrito (that comes with the local surf update) from our friends over at
Hook Fish Co
; and pasta from
Flour & Water
. --
Alana Hanson, co-founder and marketing director of Sonoma's Hanson Distillery
Sign up here for our daily San Francisco email and be the first to get all the food/drink/fun SF has to offer.